Support NRA American Hunter
DONATE
Human hunters and domestic dogs have been working together for more than 30,000 years, and today's dogs are the product of millennia of selective breeding. In my opinion, there are few things more enjoyable in the field than watching a well-trained hunting dog work, whether that's a lab breaking ice to retrieve a duck, a setter locking up on point or a beagle bellowing in the winter woods on the trail of a cottontail rabbit. As much as we enjoy hunting with our four-legged partners, though, it's essential to remember that the world can be a dangerous place for a dog. We owe it to our canine hunting companions to take every precaution to eliminate risks.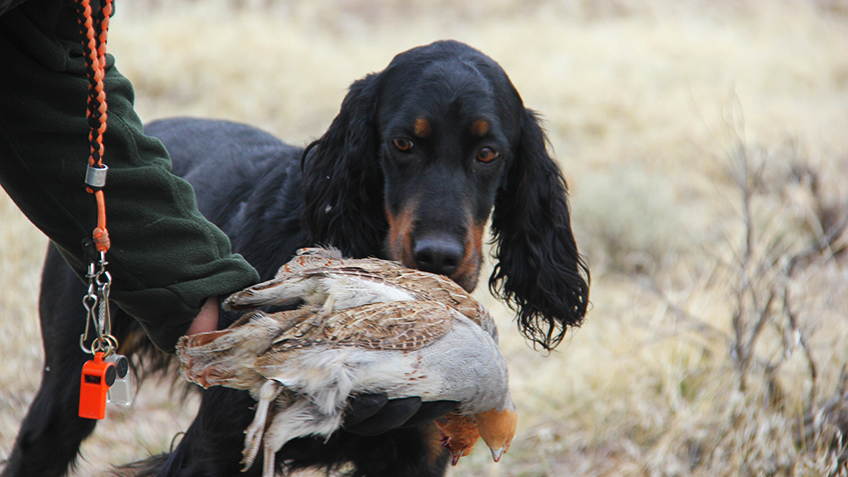 Before the Hunting Season
Dog safety begins well before the season starts with a trip to the veterinarian for vaccinations and a check-up. Diseases like heartworm and parvovirus can be fatal, and I once purchased two hunting dogs that, it was soon discovered, had Lyme disease. Thankfully, my veterinarian discovered the disease during routine vaccinations and a series of antibiotics saved both dogs.
Conditioning is also key prior to the start of the season. Overweight and out-of-shape dogs, like humans, face additional health risks, so it's crucial to keep your dogs on a summer workout routine. In July and August, daytime temperatures can be dangerously hot, so it's best to work your dogs in the cooler hours. When daytime temperatures warm to dangerous levels, I begin working my dogs in the evening, which allows them to stay in shape without overheating.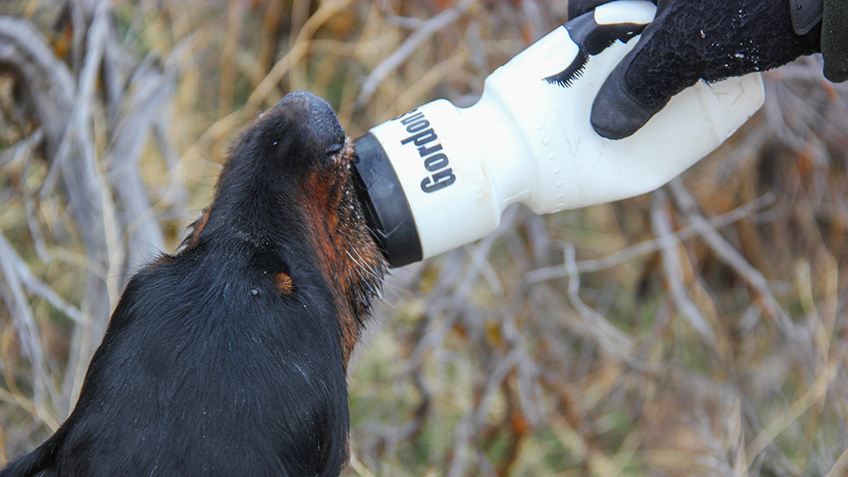 While you're in the field, be sure to have a water bottle in your vest to rehydrate your dogs and, if possible, keep an emergency vet kit on-hand with dressings, antibiotics and any medication that may be necessary. Save your veterinarian's number on your cell phone, and if you're far from home, take the time to locate the closest vet should you need to contact someone in an emergency.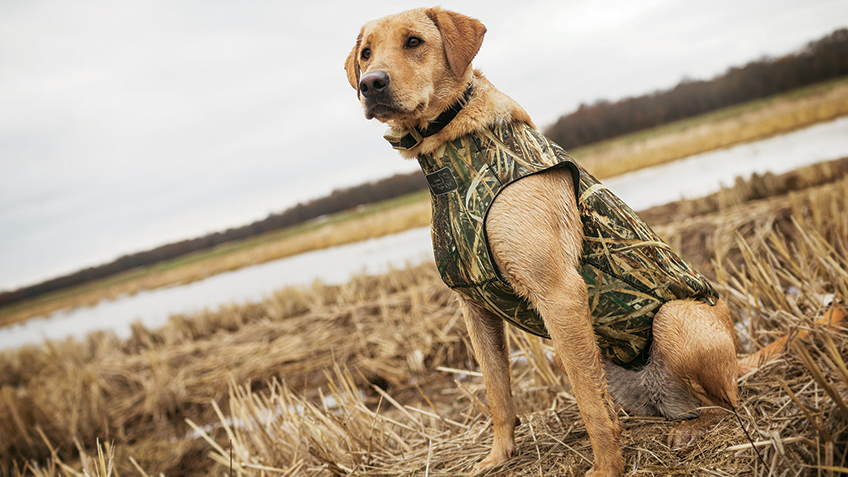 Collars and Vests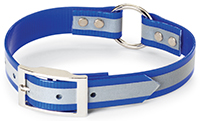 Every dog I own—regardless of whether it's an upland dog, retriever or hound—wears a Day-Glo Ring-N-Center safety collar that includes a reflective band. Center ring collars became were popularized by hound hunters, particularly beaglers, because they're far less likely to choke a dog if the collar hangs-up than traditional one-piece D-ring collars. Since they're constructed from two separate pieces joined by a metal O-ring, center ring collars allow the collar to flex when it hangs on brush, fence wire, limbs or other hazards, and if the collar is loose enough, the dog can actually pull free when hung.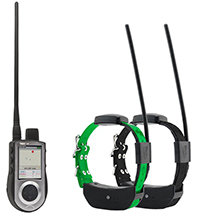 GPS training collars like the SportDOG TEK 1.5 are also beneficial for hunting dogs, particularly wide-ranging pointers and any of the hound breeds. This allows you to quickly determine not only where the dogs are located, but the direction and speed of their travel. I've intercepted dogs that were heading onto private property and before they crossed major highways. Compared to the emotional and financial cost of losing a dog, the price of a GPS collar is relatively low. GPS collars like the TEK 1.5 also offer training features which eliminates the need for two separate collars.
Many hunters—particularly upland hunters who pursue grouse and woodcock in very thick cover—elect to outfit their dog with a bright safety vest, which is a worthwhile consideration. Retriever owners often outfit their dogs with neoprene vests, and these serve two critical functions. First, a fitted vest helps retain core heat, and this reduces the risks of hypothermia in waterfowl dogs. Second, these vests offer some level of protection against underwater hazards like unseen stumps and logs.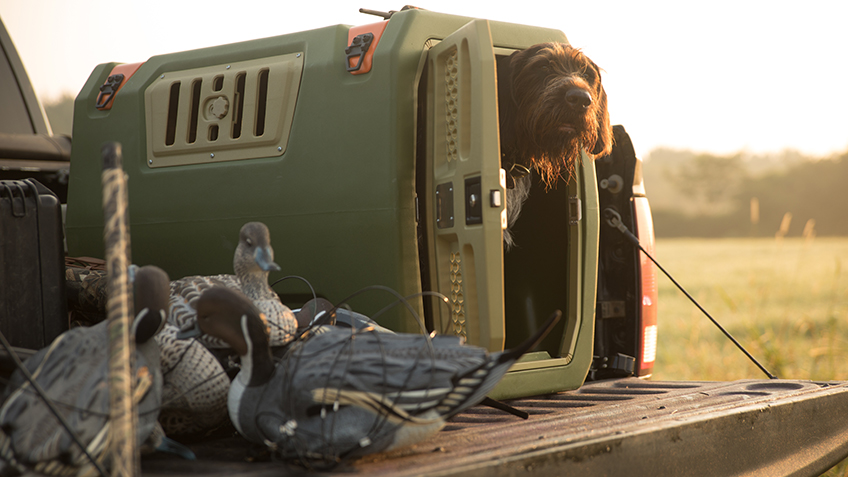 Travel
Dog safety doesn't begin and end in the field, so be certain that you have a method to safely transport your dogs to the hunting area. Dog kennels don't need to be fancy or expensive, but they must be well-built and should offer plenty of ventilation while allowing the dog to stay warm. The new KennelUP one-piece rotomolded kennel from Primos weighs just 37 pounds, yet it is durably constructed with heavy-duty grab handles and a convenient floor drain. These kennels offer plenty of space for large breeds, ample ventilation and their durable exterior protects your dog while in transit. In addition, they offer durable rubber feet, which prevents the kennel from sliding during transport—an important consideration.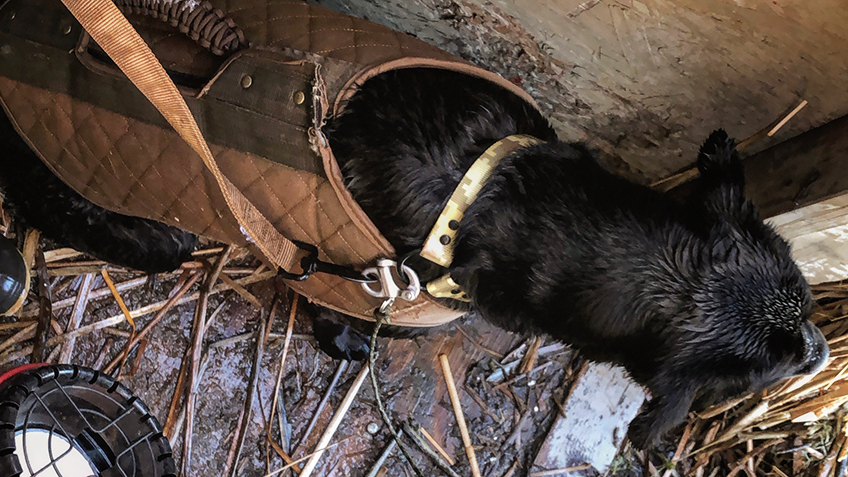 Gun Safety
It's critically important that you and every member of your hunting party carries their firearm in a safe position (generally with the barrel angled upward), and that the finger only enters the trigger guard when you're ready to shoot. Flushing dogs are at particular risk of accidental shooting when they leap into the air after a bird, so be certain that you and all those you're hunting with allow birds to rise well above ground level before firing. Retrievers are also at risk if they break early, in which case your dog can find itself between the gun and birds, and sadly it's all too common to hear of a hunter injuring or killing a retriever when the dog breaks early. For that reason, I believe that GunDog Outdoors' GDO Quick-Release Safety System is a must-have item for waterfowlers. A quick-release marine-grade shackle prevents the dog from breaking early and scaring birds, and more importantly, the unit keeps the dog away from the line of fire until the handler pulls a cord and releases the dog. It's a simple yet effective system, and with a starting price of just $39, it's a worthwhile investment for any retriever owner.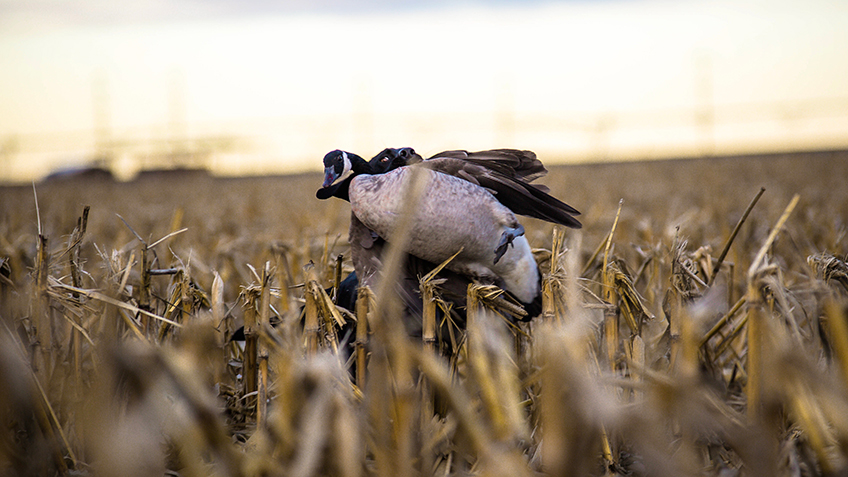 Safe gun handling is always a priority, but this is particularly important when hunting with dogs. For this reason, most retriever owners don't want anyone else shooting injured birds on the water for fear that the shooter won't see a dog in mid-retrieve. A friend shared the image above of a retriever carrying a downed goose, and it illustrates how a dog carrying a large bird could be shot if the hunter isn't paying close attention and believes, mistakenly, that the bird is moving under its own power.