Support NRA American Hunter
DONATE
You've been hearing and reading about this year's new guns for a month. If you want to see them up close, handle them and get information directly from their manufacturers, plan a road trip to Harrisburg, Pa., to visit the Great American Outdoor Show. Continuing at the Pennsylvania Farm Show Complex until Feb. 10, the Great American Outdoor Show fills 650,000 square feet of floor space with more than 1,100 exhibitors from the hunting, shooting and outdoor industry.
It can be easy to become overwhelmed, so we've put together a plan to help you out. Enter the Shooting Sports Hall via the Cameron Street lobby, and work the aisles to see the following new firearms.

1. SIG Sauer M400 Elite Vanish—Booth 488
Predator hunters will appreciate the Kuiu Vios finish and streamlined Magpul MOE buttstock of the Vanish. A 20-inch .223 Rem. barrel helps boost velocities with heavier bullets, while the free-floating handguard is compatible with the Magpul M-Lok system for attaching a sling, bipod, light and other accessories. MSRP: $1,336; sigsauer.com.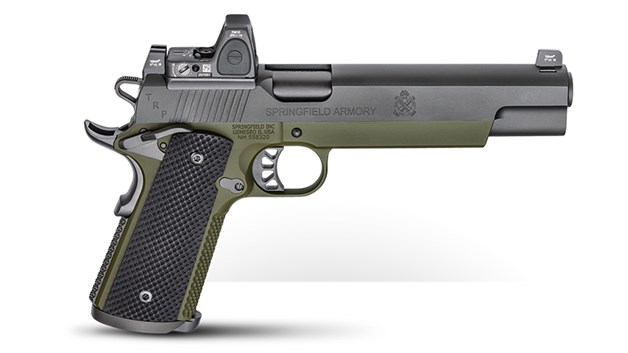 2. Springfield Armory 1911 TRP 10mm RMR—Booth 589
Here's a 1911 made for hunting—and it even comes with an optic. This 10mm TRP is available with a 5- or 6-inch barrel and slide. The slide is milled to accommodate a Trijicon Ruggedized Miniature Reflex (RMR) sight, and the iron sights are raised to allow use with the optic in place. With a forged steel frame and slide covered in Black-T finish, the 6-inch-barreled pistol weighs 50 ounces. MSRP: $2,238-$2,289; springfield-armory.com.

3. Traditions Crackshot XBR—Booth 693
The Crackshot XBR may be the surprise of the show: It's a break-action single-shot upper that uses a .27-caliber Traditions XBR Powerload blank to propel a 16-inch aluminum arrow at 385 fps. The hollow, open-ended arrow loads from the muzzle and slides over an inner barrel, while the outer barrel shroud keeps it in place. Load the blank as you would a traditional break-action gun, and cock the hammer to fire. The Crackshot XBR upper is interchangeable with the standard Crackshot .22 LR upper, and the two are available as a package that includes the Crackshot frame and buttstock assembly. MSRP: $449-$499; traditionsfirearms.com.

4. Thompson/Center Impact SB—Booth 481 (Smith & Wesson)
Thompson/Center's new entry-level Impact SB line of .50 caliber break-action muzzleloaders feature a hand-removable triple lead thread breech plug (requiring only five turns to screw in, which not only saves time, but reduces seizing), and a Power Rod aluminum ramrod for simple loading. Available in black composite and multiple popular camo patterns, the new muzzleloaders are offered in either a Blued or Weather Shield corrosion-resistant finish. A 1-inch removable buttstock spacer is also included to adjust the length of pull to fit hunters of all ages and sizes. All Impact SB models feature a 26-inch barrel, have an overall length of 40 inches and weigh 6.95 pounds. MSRP: $263-$324; tcarms.com.

5. Mossberg Patriot Predator .450 Bushmaster—Booth 663
Fans of the .450 Bushmaster will be pleased to know that Mossberg has added the chambering to its popular Patriot Predator rifle line. Built with the rigors of predator hunting in mind, the Patriot Predator features a durable flat dark earth synthetic stock with a raised cheek piece, textured stippling on the grip and forend, Mossberg's proprietary LBA adjustable trigger, a fluted, threaded matte blued 16.25-inch barrel, an oversized bolt handle and top-mount Picatinny rail/scope bases. The Patriot Predator .450 Bushmaster has an overall length of 36.5 inches and weighs 6.25 pounds. MSRP: $441; mossberg.com.

6. Henry Long Ranger 6.5 Creedmoor—Booth 605
The Henry Long Ranger lever-action rifle in 6.5 Creedmoor uses a 22-inch blued steel sporter-contoured, free-floated barrel with a 1:8″ twist to get the most accuracy out of the high BC bullet. The American walnut stock sports deep checkering, a soft rubber recoil pad and a steel forestock cap. The rifle utilizes a chromed-steel bolt and a six-lug rotary head, worked via a geared action to provide a solid lockup similar to that of a bolt-action rifle. Other features include a detachable, 4-round box magazine and a drilled and tapped receiver. MSRP: $1,066; henryusa.com.

7. Hi-Point 1095TS Edge—Booth 301
The 10mm Auto cartridge continues to grow in popularity among hunters, and this year Hi-Point offers its 1095TS 10mm carbine cloaked in Realtree Edge camo. The semi-automatic 1095TS has a 17.5-inch barrel and feeds from a 10-round detachable box magazine. Its rear aperture and front post sights are fully adjustable, and its polymer stock keeps weight at about 7 pounds. MSRP: $439; hi-pointfirearms.com.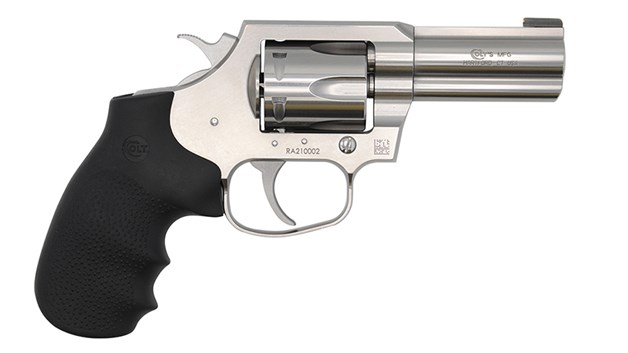 8. Colt King Cobra—Booth 319
Colt's reboot of its double-action Cobra revolvers has a new King. The first new .357 Mag. in 20 years from the company that invented the wheelgun, the King Cobra teams a heavy-duty stainless steel frame complete with full-underlug 3-inch barrel and a six-round, fluted cylinder. That's a lot of firepower from a short-barreled handgun, but Colt made sure it isn't all that punishing to the shooter. Foremost, all new Cobras rely on the company's proprietary LL2 spring trigger that results in an inline hammer drop, and they wear ultra-comfortable Hogue Overmolded rubber grips with finger grooves. In both single- and double-action modes, the trigger breaks evenly without excessive loading. Upgrades also include an enlarged trigger guard and a user-interchangeable brass-bead front sight. No doubt shootability is further aided by the fact that the new King weighs 28 ounces. That's a little heavy by today's everyday-carry standards, but compared to typical camp guns or backup sidearms, the King Cobra shouldn't be a burden. MSRP: $899; colt.com.

9. E.R. Shaw ERS-15 and ERS-10—Booth 217
Few AR-type rifles can boast a barrel equal to those fitted to every E.R. Shaw ERS-15 and ERS-10. That's because those barrels come from the same production lines that have made Shaw one of America's top custom and OEM barrelworks for 50 years. Recently, the Pittsburgh-area shop started building complete rifles (semi-autos and bolt-actions) that can be custom-ordered with myriad choices in barrel specs, triggers, sights, stocks, furniture and more. And while customers can create virtually any rifle they can imagine, one can opt for a base-model ERS-15 or ERS-10 for under $1,000 with these features: precision button-rifled 416R stainless steel barrel; nickel-boron-coated bolt; 15-inch free-floated handguard; Magpul stocks; wire EDM magwells; and a Shaw custom muzzle brake.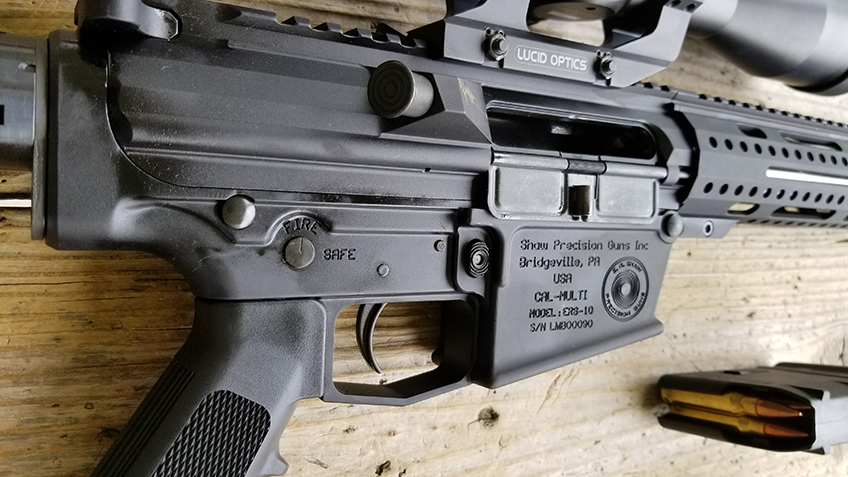 Standard chamberings for the ERS-15 include 5.56 NATO and .300 AAC Blackout, while the base ERS-10 comes in 6.5 Creedmoor or .308 Win. However, Shaw has vast experience chambering both production and wildcat calibers and has built ERS rifles in virtually every known AR-compatible round. Uppers and lowers of both models start as 7075-T6 aluminum forgings that are then finished by Shaw's expert machinists. Customers who want a bit more style can choose multi-colored stocks and/or barrel fluting, a Shaw specialty as the first maker ever to produce and offer helical (spiral) fluting. MSRP: $820-$1,225; shawprecisionguns.com.

10. Marlin Model 1895 .444 Marlin—Booth 363 (Remington Outdoor Company/DPMS)
Sharing floor space with Remington at the factory in Ilion, N.Y., Marlin is taking advantage of modern CNC machines to produce great quantities of lever-action rifles. Among those is the Model 1895, and this year the big-bore lever gun is available in .444 Marlin. The rifle has a 20-inch barrel with Ballard rifling and a four-round magazine. Traditional features include a blued finish, black walnut stock and an adjustable, semi-buckhorn rear sight. MSRP: $769; marlinfirearms.com.
11. Remington V3 Tac-13—Booth 363 (Remington Outdoor Company/DPMS)
Security-minded homeowners are voting in landslide numbers for a new home-protector, one that fires shotshells from a gun that appears to be cut short at both ends. Among the first built on a semi-auto action, the Tac-13 offers a couple clear advantages over earlier pump-action models. First, you don't have to manually shuck the action to reload after shooting; then there's reduced recoil, since some of the force is diverted to cycle the mechanism. In this design utilizing Remington's innovative Versa Max system, a considerable volume of excess propellant gas is vented out the bottom. Tac-13 specs show a 13-inch barrel and overall length of 26.5 inches. The metalwork's black oxide finish matches the flat-black polymer stock. The advanced VersaPort gas system reliably handles 12-gauge shells ranging from all manner of field loads to full-power buckshot and slug ammo. Unlike more-basic competing semi-autos, the Tac-13 wears with a vented rib barrel and front bead sight, as well as a barrel clamp to hold accessory rails for mounting lasers or lights. MSRP: $915; remington.com.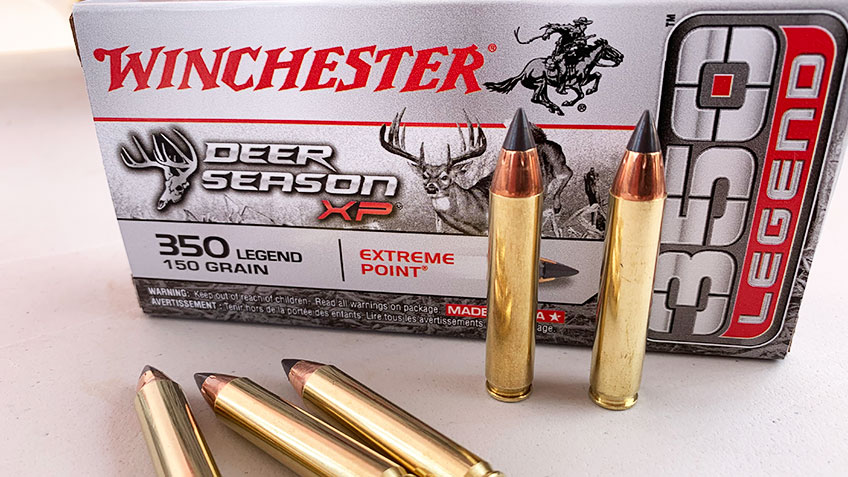 12. Winchester .350 Legend—Booth 381
OK, the .350 Legend isn't a new gun; it's a new cartridge. But deer and hog hunters are going to want to see it. The .350 Legend is a straight-wall cartridge that fires a .357-inch, 150-grain Winchester Extreme Point bullet from a 1.71-inch case to produce a muzzle velocity of 2325 fps. Winchester developed the cartridge and says it's the fastest straight-wall cartridge on the market. (Other Winchester loads for the .350 Legend include a 145-grain FMJ bullet at 2350 fps, 160-grain Power Max Bonded at 2225 fps, 180-grain Power-Point at 2100 fps and 265-grain Open Tip Range Subsonic at 1060 fps.) Winchester Repeating Arms currently chambers the XPR bolt-action rifle for the .350 Legend. The case is based on a .223 Rem., and is compatible with AR-15 bolts and magazines, so expect to see ARs chambered for the .350 Legend soon. For more information, visit winchester.com.