Support NRA American Hunter
DONATE
The days until Christmas are ticking down, and the frenzy of the holiday shopping season is upon us. No need to panic; the editors of American Hunter have assembled a handful of gift recommendations for every outdoorsman on your list. We've listed a variety of items to fit just about any budget. 
Happy shopping—and hunting—to all.
Under $50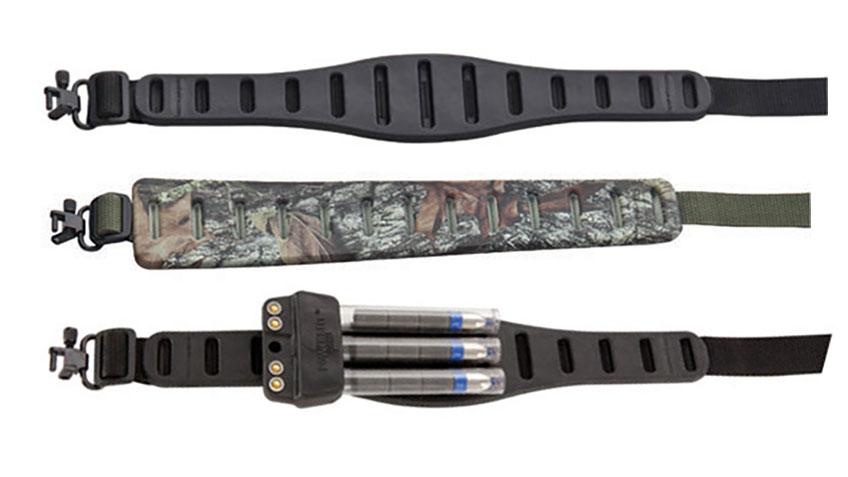 Quake Claw Sling System
While most hunters themselves don't put much thought into their sling, the hunter receiving this gift will appreciate that you did. The durable, odor resistant, non-slip pad molded into the sling webbing is the foundation for the Claw sling. It allows for a half-inch of stretch which disperses your firearm's weight evenly across your shoulder, and the pad remains flexible down to -40 degrees. The sling swivels can be mounted to any firearm with sling swivel studs. MSRP: $14-$40.95; quakeinc.com.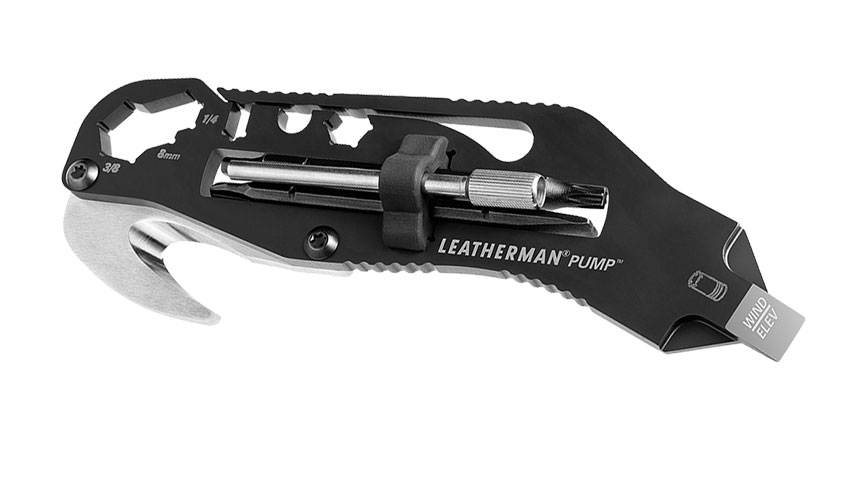 Leatherman Pump
If the shotgun hunter in your life doesn't already own a multi-tool, this gift is a sure winner. The 420 steel, 2.9-ounce Leatherman Pump is the multi-tool built for shotgunners, featuring a guthook, choke tube wrench, ¼ʺ hex bit driver, three box wrenches (¼″, ⅜″ and 8mm) and a scope adjustment tool. The rubber bit holder contains a firearm disassembly punch and four bits (#2 Phillips, ¼″ flathead, ⁷/₁₆″ hex, #15 Torx). MSRP: $20.76; leatherman.com.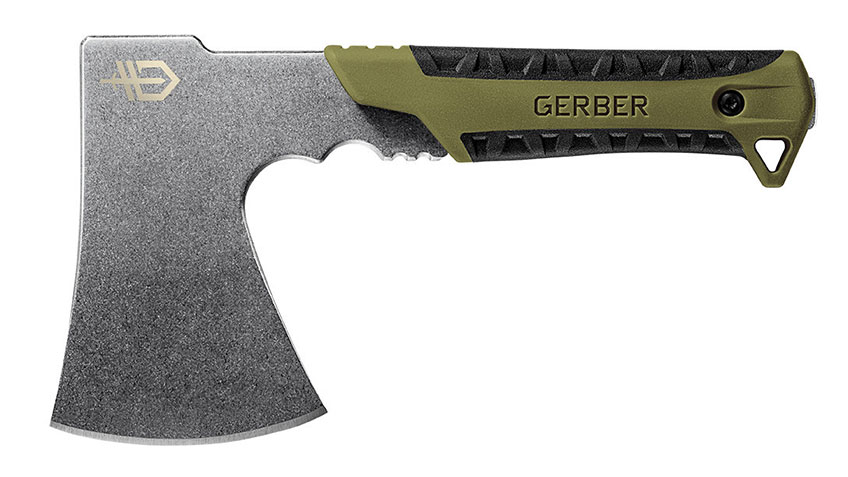 Gerber Pack Hatchet
How useful is a hatchet on a pack hunt? Go without one and you'll find out. Coming in at under 9.5 inches and only 20.8 ounces in weight, the Gerber Pack Hatchet is the perfect gift for someone looking for a lightweight, packable hatchet. The Pack Hatchet sports a full-tang and 3.5-inch stainless steel blade for ultimate durability. The rubber overmold handle provides a sure grip, and the lanyard hole and nylon sheath (included) allow for two methods of carry. Available in sage or coyote brown. MSRP $33; gerbergear.com.
Work Sharp Guided Field Sharpener
Every hunter, be they waterfowl or whitetail, needs a sharp knife. The Guided Field Sharpener provides five stages of sharpening and honing to give you the perfect edge on nearly any knife. The sharpener includes two diamond plates (220 grit for shaping and repairing, and 600 grit for sharpening), two ceramic rods (coarse and fine) that also sharpen fishhooks and serrated edges, and a leather strop conditioned with a micro-abrasive to finish your blades with a razor-sharp edge. It also includes a lanyard hole and a broadhead wrench. MSRP: $34.95; worksharptools.com.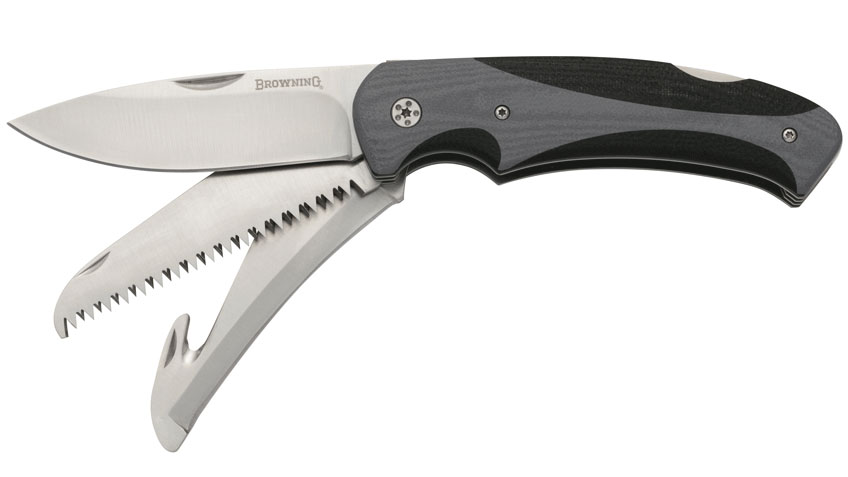 Browning Kodiak Folding Knife
Smart hunters carry a variety of knives into the field. So despite the number of knives he or she may already own, one more is only going to result in more options. The Kodiak, a combination folding knife featuring three locking brushed stainless steel blades—a drop point, guthook and bone saw—is an ideal addition on any hunt. All are contained in an injection-molded, 5-inch handle with finger grooves. A nylon sheath is also included. MSRP: $39.99; browning.com.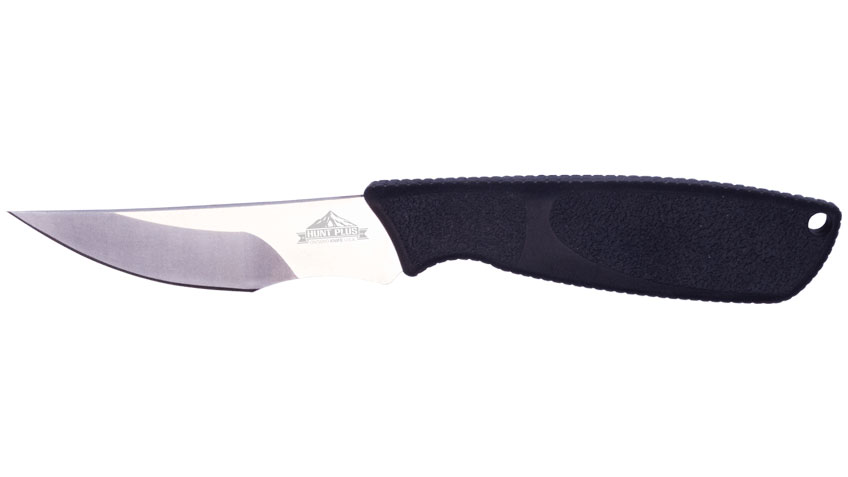 Ontario Knife Company Hunt Plus Caper
One of the most versatile knives we've seen this year, the OKC Hunt Plus Caper, features a stainless steel 4-inch blade, a flat-back edge, sweeping belly and a wide finger groove that permits hunters to use the point like a pencil for detailed work while still providing a large cutting edge. The synthetic rubber handle provides a sure grip in wet conditions. A nylon sheath is also included. MSRP $41.50; ontarioknife.com.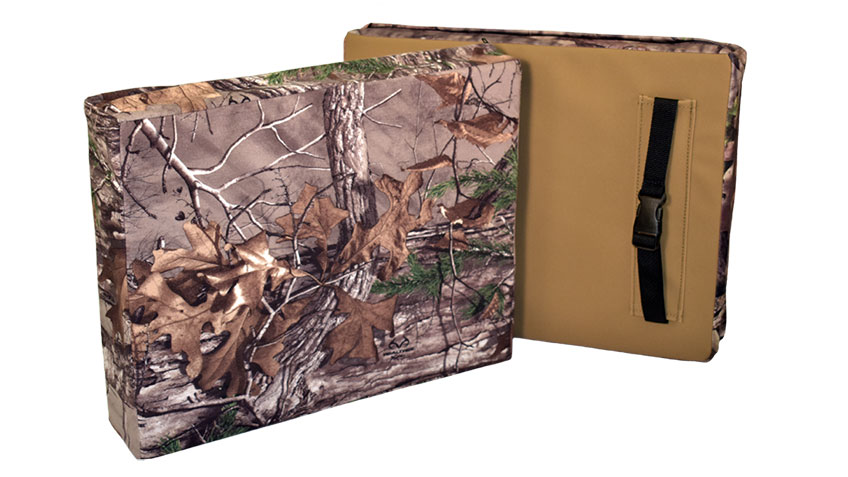 ThermaSeat Treestand Replacement Seat
Sometimes it's the simple things that are appreciated most, and any hunter will appreciate a warmer backside. Extend your hunt in cold temps with this insulating, 3-inch triple-layer foam seat from ThermaSeat. Thanks to its proprietary Silentouch fabric, the seat won't squeak when shifting weight, and the plush cushion provides the comfort necessary for an all-day sit. It fits most ladder stands and lock-ons via two quick-release straps that secure the seat. Available in Realtree Xtra and Mossy Oak Break-Up Country. MSRP: $48.99; thermaseat.com.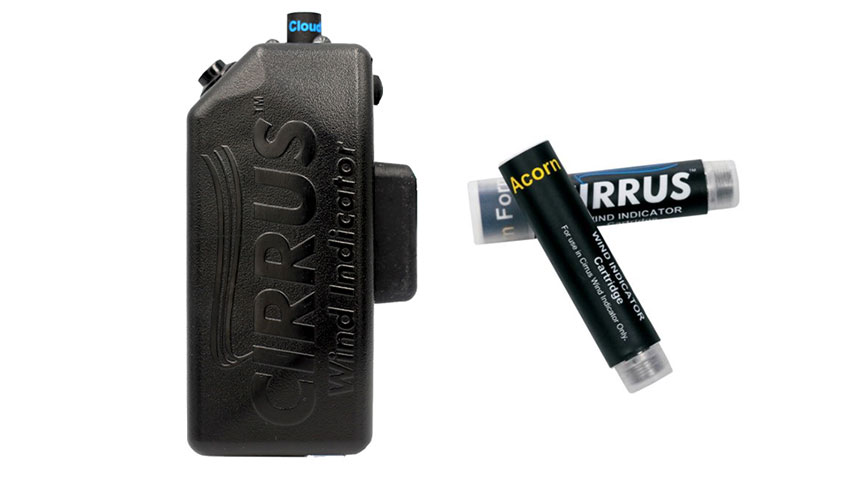 Cirrus Wind Indicator
A cool gift for the gadget-loving hunter, the Wind Indicator from Cirrus emits a vapor-like cloud, allowing the user to visually determine wind direction and thermals. Featuring a white and red LED light for use at night and a USB power bank charger, the Wind Indicator's cartridges are good for 1,400 puffs with a 100-hour battery life. The unit comes with one Cloud cartridge, and 2-pack replacement cartridges are available in cloud, earth, pine and acorn for $14.95. MSRP: $49.95, cirrusoutdoors.com.
Under $100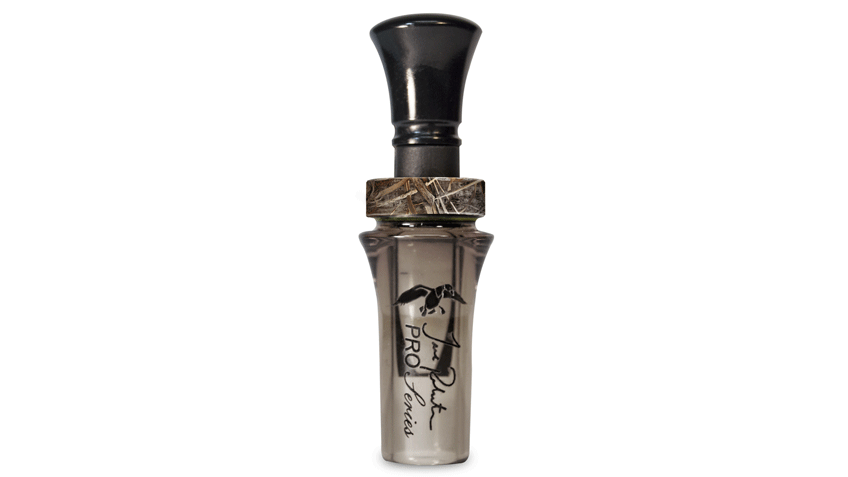 Duck Commander Jase Robertson Pro Series Acrylic Calls
What duck hunter doesn't like a new call? Designed with more combined years of calling expertise than should ever be in one duck blind, the Jase Robertson Pro Series Acrylic Call is the easiest-blowing duck call made by Duck Commander. Carrying well over open water due to higher pitches, Pro-Series calls can still finish with low, raspy tones, thanks to the patented riveted double reed housed within. Because the calls utilize an acrylic barrel, they're budget friendly, too. Available in OD green, chartreuse and smoke. MSRP: $64.99; duckcommander.com.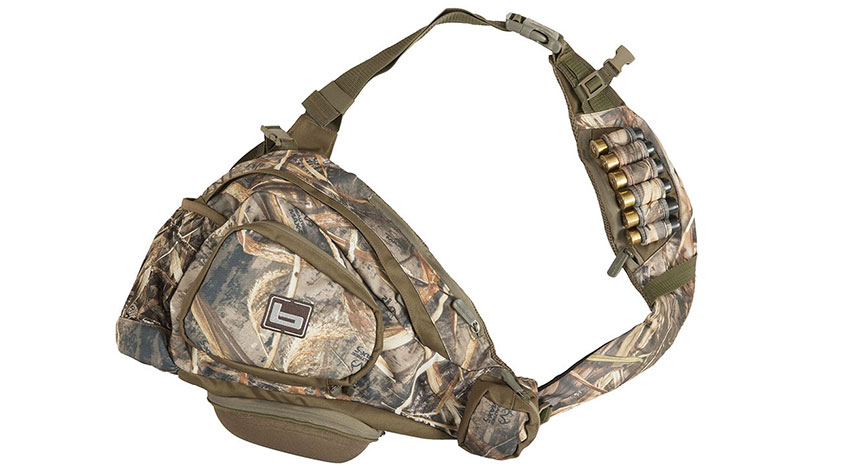 Banded Nano Sling Back Pack
A great gift for the waterfowl hunter who's not afraid to get up and move, this messenger-style bag was made to be worn behind or out front, with an adjustable shoulder strap with shell loops and waist strap. With six storage compartments, including a large zippered main storage compartment, integrated zip-locked dry bag, elastic water bottle pouch, zippered accessory pouch and hard-sided sunglass pouch, this compact bag will go wherever the birds take you. MSRP: $69.99; banded.com.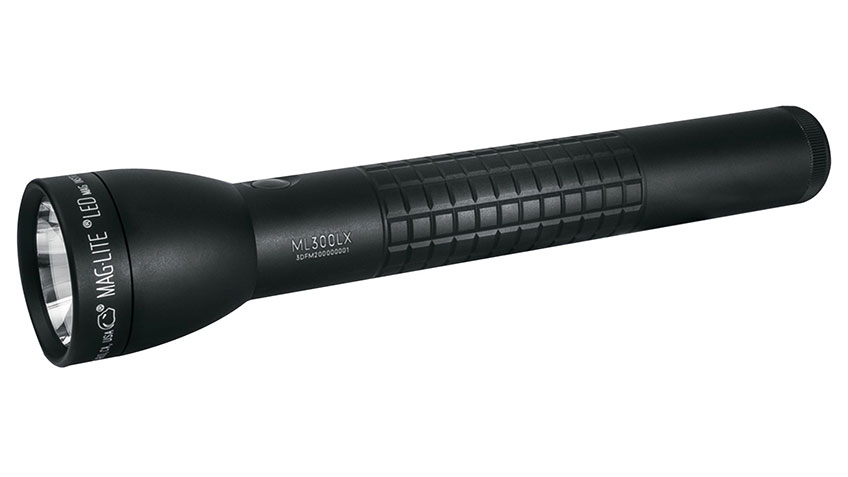 Maglite ML300LX LED Flashlight
Flashlights make great gifts for hunters. The Maglite ML300LX LED flashlight produces 625 lumens of light from 3 D-cell batteries. Lasting up to 117 hours on "Eco Mode" and 16 hours on "Full Power," this five-mode flashlight also functions as a floodlight and spotlight. The flashlight's aggressively knurled housing is water- and drop-resistant. It's available in black, gray or green, and a sheath is included. MSRP: $75.50; maglite.com.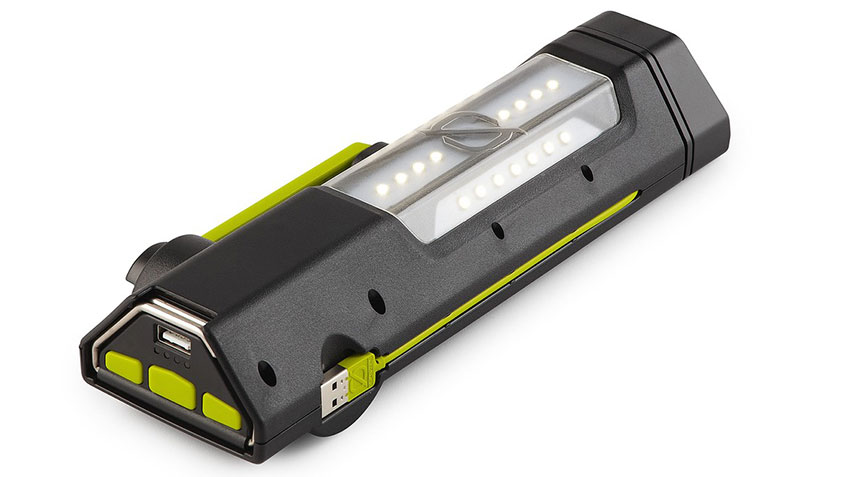 Goal Zero Torch 250 Flashlight
Get the hunter on your list the ultimate in illumination this holiday season. With a built-in USB charging cable, solar panel and hand crank, the Torch 250 Flashlight from Goal Zero was designed with emergency-use in mind. The red or white LED puts out 250 lumens in flashlight mode and 70 lumens as a floodlight. Spotlight function disseminates light 180 degrees, ideal for hunting camp. The hand crank produces two minutes of light for every one minute of cranking. MSRP: $79.95; goalzero.com.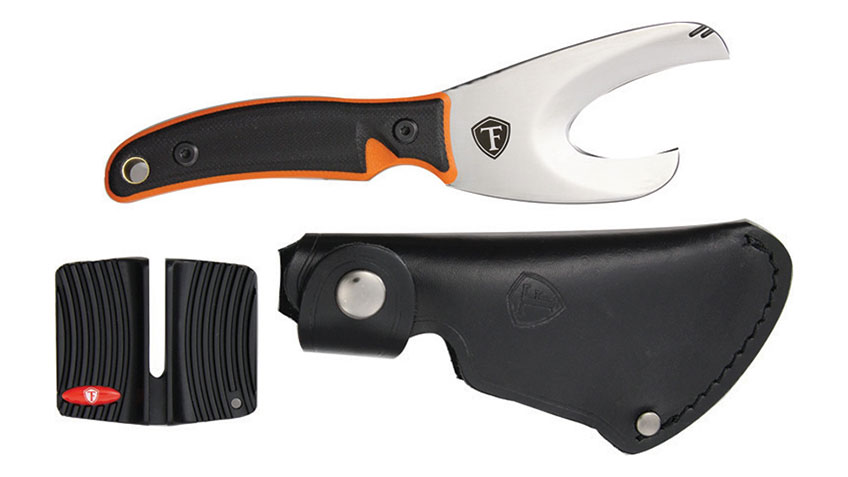 FieldTorq Field Dressing Super Tool
Nearly every successful hunt ends with field dressing, and so every hunter should own a tool for the job. This ¼-inch high-carbon stainless steel field-dressing tool combines a knife and a guthook, providing the leverage you need to get through dense bone. With no protruding edges or tips, it's a safe method, too. The tool is available with either a wood or nylon orange handle. A ceramic sharpener and ballistic nylon sheath are included. MSRP: $79.99; fieldtorqknives.com.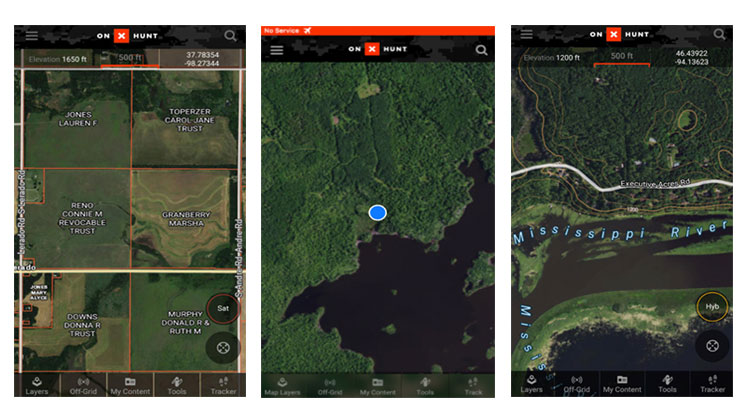 onX Hunt Membership
With features such as public and private land boundaries (with landowner names), various waypoint capabilities, hunting districts and management unit divisions, topo maps and aerial photos all in one app, it's never been easier to scout for a new spot. The new "Wind & Weather" feature displays current weather, wind direction, barometric pressure, sunrise/sunset times and has offline data caching. The app functions with no cellular service and can be used on multiple electronic devices. An onX Hunt chip can also be purchased to integrate the software with a GPS unit. Multiple subscription options and map packages are available. MSRP: $29.99 per year for one state, or $99.99 per year for all 50 states; onxmaps.com.
Under $200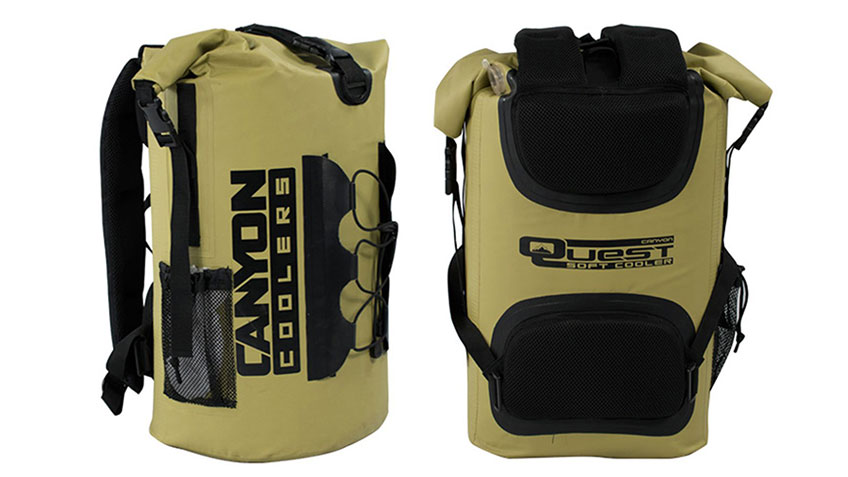 Canyon Quest Backpack Soft Cooler
Some gifts have year-round uses. The Canyon Quest soft-sided 25-quart backpack cooler's shell is made from 800 denier RF welded PVC. With closed-cell AirCore insulation and closed-cell IceSkin interior, contents stay cold up to three times longer than they would in a standard cooler. A roll-top closure with tie-down and lashing points seals the cooler tight. The pack also has a mesh hip pocket and a water-resistant zippered storage area. Available in sage and white. MSRP: $119.99; canyoncoolers.com.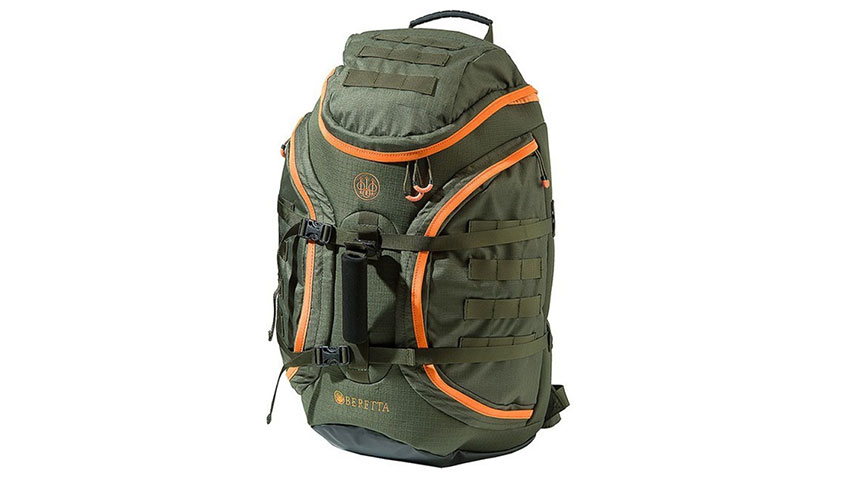 Beretta Medium Modular Backpack
If your hunter is in the market for a pack, look this way. With M.O.L.L.E. straps, a host of other modular accessories can be attached to the Modular Backpack from Beretta, including a water reservoir, spotting scope or tripod pouches. The backpack features two organized side pockets, removable sternum straps, a removable washable game bag, emergency rope and a high-visibility, reflective rain cover. The bottom of the backpack is water and wear resistant. MSRP: $149; beretta.com.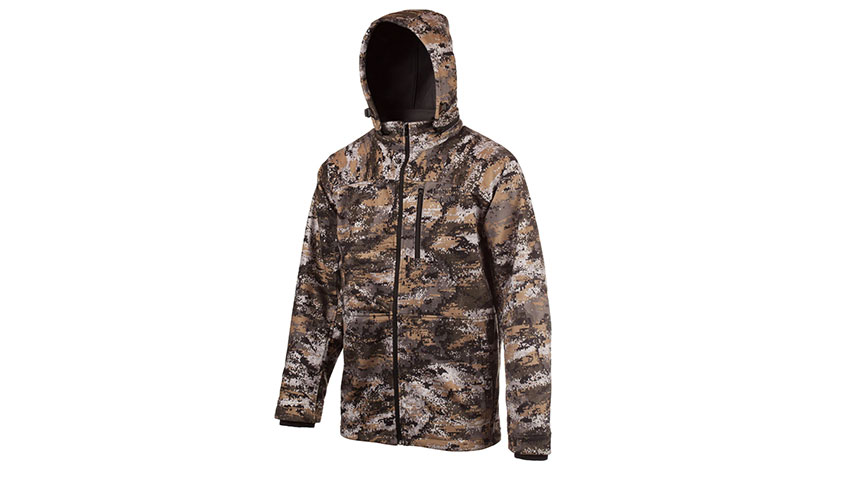 Huntworth Disruption Mid-Weight Soft Shell Hunting Jacket
A great gift at a great price, sporting Huntworth's unique Disruption digital camo pattern, the shell of the mid-weight hunting jacket is made from low-pile fleece bonded to a windproof, breathable film and warm waffle-fleece interior. The jacket is finished with a scent-reducing and water-resistant treatment and features three zippered pockets, plus a large split chest pocket. Removable, zip-off hood and treestand-safety-harness access hole complete the package. MSRP: $159.99; huntworthgear.com.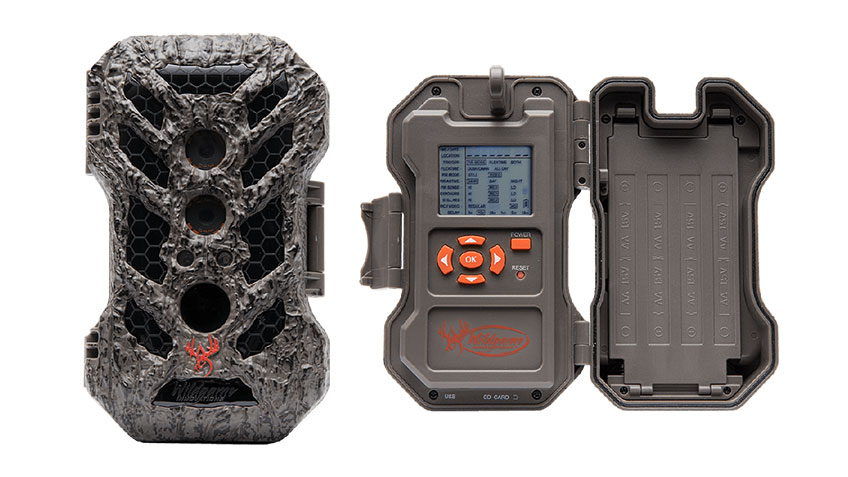 Wildgame Innovations Silent Crush 24 Lightsout Trail Cam
A game camera is one gift that keeps on giving. With an illumination range of 100 feet thanks to 42 invisible black infrared LEDs, this 24MP trail cam takes pictures in less than half a second. Two cameras operate independently (one in daylight, the other at night) for ultra-clear and detailed images. The camera also takes 720p or 1080p video for up to 30 seconds. Water-resistant housing and an anti-fog lens protects against moisture. MSRP: $159.99; wildgameinnovations.com.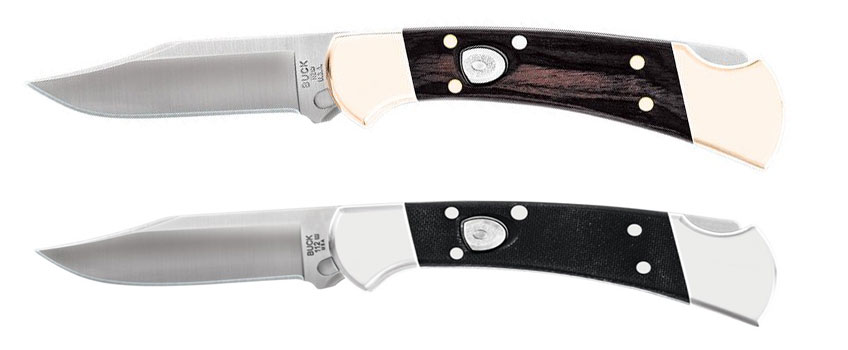 Buck Knives 112 Auto Series
Hunters own Buck knives for life. Start the process with one of Buck's two new American-made automatic push-button 112 Auto knives. Both feature a 3-inch clip-point style blade. The standard, 5.6-ounce 112 Auto's blade is made from 420HC steel and wears a wood handle with brass bolsters. The 6.1-ounce 112 Auto Elite's blade is made of S30V steel and uses a G10 handle with polished nickel bolsters. Both come with leather sheaths. MSRP: 112 Auto $175, 112 Auto Elite $225; buckknives.com.
Under $400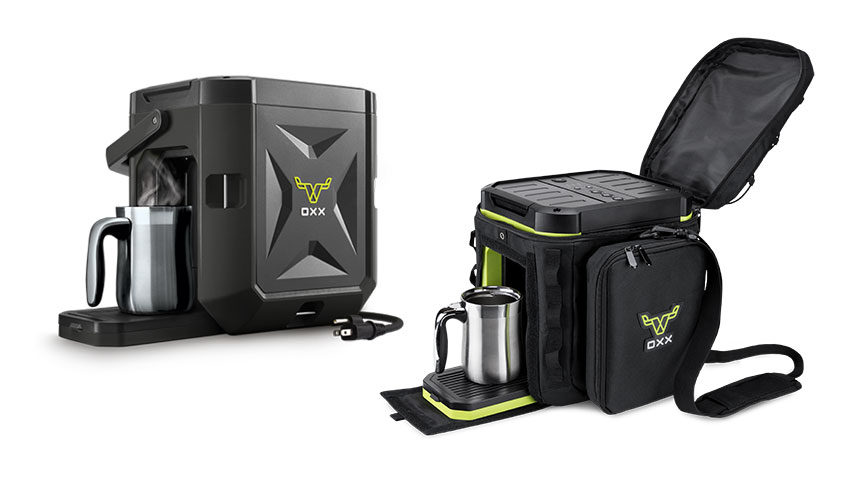 Oxx Coffeeboxx and Field Case
Give the gift of hot coffee anywhere a plug is handy. This heavy-duty portable coffee maker features a sealed 2.5-liter water tank, separate hot water dispenser, foldable drip tray, rubberized handle and 3-foot retractable power cord. The polymer shell and stainless steel hardware protects the unit from the elements. The Coffeeboxx uses standard K-Cup pods, and coffee is brewed in a quick 75 seconds. Available in green, black and tan. Field Case available for storage and easy transportation. MSRP: Coffeeboxx $229.99, Field Case $69.99; oxx.com.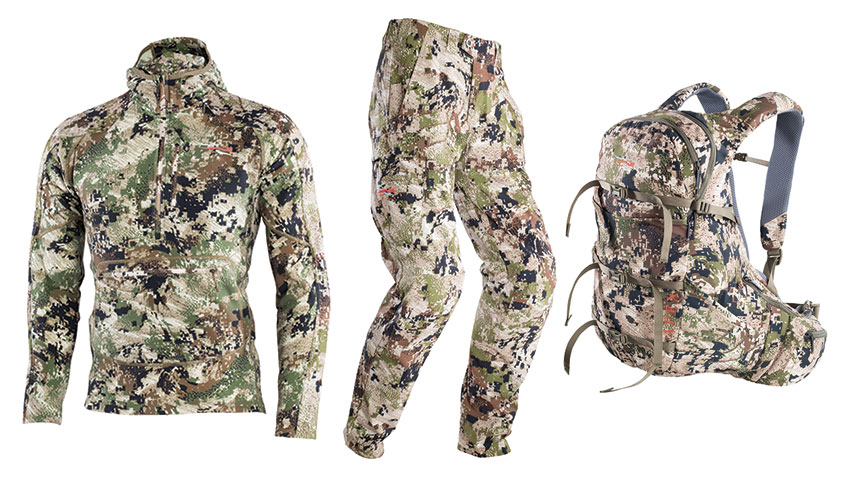 Sitka Gear Apex Series
The new Apex Series from Sitka Gear includes the Apex Hoody, Pants and Pack. Available in the company's Gore Optifade Subalpine pattern, the series is built for hunters seeking comfort, concealment and noise reduction on long stalks and when in close proximity to game animals. The merino-nylon blend Apex Hoody features a built-in face mask, reinforced shoulders, elbows and arms, and removable elbow pads for additional protection. The Apex Pant features a thermo-regulating micro-grid fleece interior, a silent weather-resistant polyester face and removable knee pads. Rounding out the new series is the Apex Pack with a low-profile frameless design and 1,800 cubic inches of storage. The pack's waist belt has multiple pockets and includes an easily deployable cam cable system to rest your bow and arm to keep you steady when taking a shot. MSRP: Apex Hoody $219, Apex Pant $209, Apex Pack $199; sitkagear.com.

Ruger 10/22 Compact
There's not a more ubiquitous .22 rifle on the market today than Ruger's 10/22. Every hunter should own one. One of the newest iterations—the 10/22 Compact—features a black synthetic stock with Ruger's Modular Stock System. The low comb and short 12.5-inch length-of-pull (other lengths available at shopruger.com) makes the rifle a great choice for young shooters. Ruger includes classic 10/22 components such as the detachable 10-round rotary magazine, and of course the 10/22 Compact is built around Ruger's legendary semi-automatic 10/22 receiver. The cold-hammer-forged barrel is just over 16 inches. Weighing only 4.6 pounds, the rifle is 34 inches long and features fiber-optic sights. A combination scope-base adapter for Weaver-style and .22-tip-off scope mounts is included. MSRP: $309; ruger.com.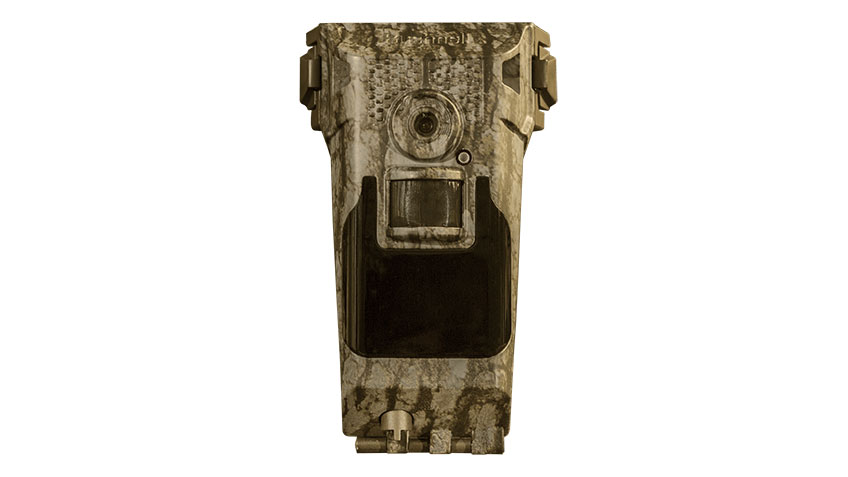 Bushnell Impulse Game Camera
One of the top cameras on the market today that is sure to bring a smile to anyone receiving it, Bushnell's newest trail camera features a 20MP camera with a 100-foot black LED flash, as well as 1920x1080 video resolution with audio recording. Geotagging, weather data tags and stamping capabilities provides crucial info to each image. Connection through cell service (Verizon or AT&T), Bluetooth and WiFi (within 150 feet) allows for instant viewing of images on your mobile device. MSRP: $355.95; bushnell.com.

Leupold VX-Freedom 3X-9X-40mm Riflescope
For the hunter needing a scope this holiday season, look no further than Leupold's VX-Freedom line. The 3X-9X-40mm VX-Freedom is available with or without Leupold's CDS dial system. Water- and fog-proof, it sports a 1² and ¼ MOA finger adjustments both windage and elevation. The VX-Freedom line features scratch-resistant lenses and Leupold's proprietary Twilight Light Management system. MSRP: $259.99-$389.99; leupold.com.