by
posted on May 28, 2016
Support NRA American Hunter
DONATE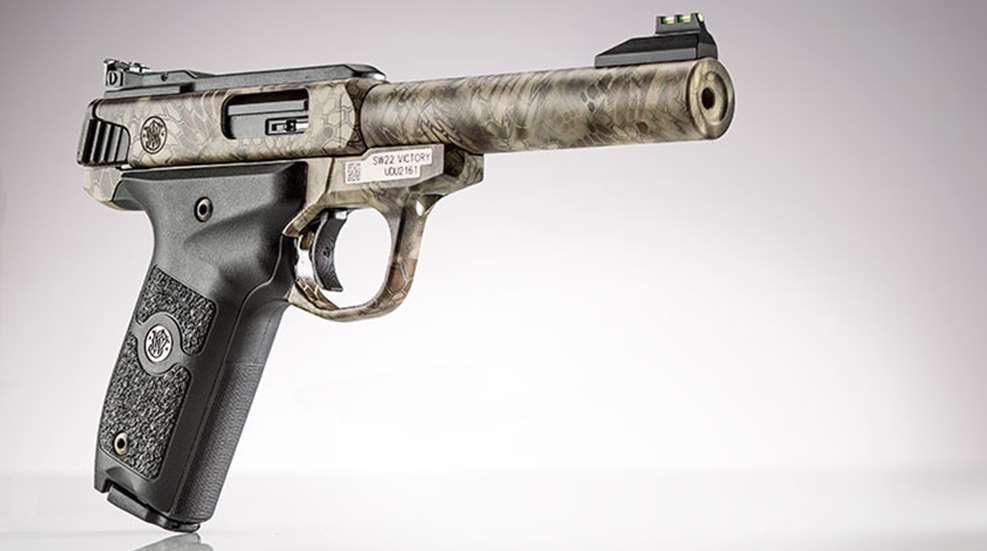 Towsley's law states that every properly equipped hunter should have a .22 LR handgun. You can shoot small game for the pot, rid the camp of pests and pass the midday doldrums plinking at makeshift targets. The new Smith & Wesson Victory semi-automatic is one of the best guns I have encountered for all these things.
At 36 ounces, the Victory is a bit on the heavy side compared to a lot of other .22 LR handguns. Its weight, a product of the stainless steel barrel, bolt and frame, is more or less in the same neighborhood as a Commander-size 1911 pistol. With this heft the Victory doesn't feel like a toy in your hands, as is the case with many .22 LR handguns. The weight is an aid in shooting. It helps keep the gun steady and dissipates recoil well. I ran this pistol through some fast drills primarily to function-test the gun, but I used the opportunity to work on improving my shooting at the same time. It was amazingly easy to keep the sights on target during rapid-fire drills, which left me feeling like a speed machine.
The adjustable sights installed on the Victory have fiber-optic pipes with contrasting colors: yellow in the back and green in the front. They are easy to see even for my aging, iron-sight-challenged eyes. The pistol comes with a Picatinny rail that can be installed in place of the rear sight for mounting an optic, and the rail has a built-in, fixed rear sight that serves as a backup. While most shooters will gravitate to a small reflex-style sight, which is fine for an all-around optic, I think that with a good pistol scope this gun would be a death ray on small game.
The trigger is a delight and is adjustable for over-travel. My test sample's trigger broke at 3 pounds, 10 ounces. It was clean and crisp and felt even lighter.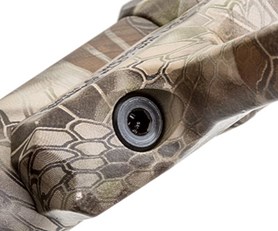 One of the few criticisms I have of the Victory regards its polymer safety lever, which is positioned for right-hand use. Apparently left-handed people like me are the last bastion where discrimination is allowed. Would it kill gun makers to put ambidextrous safeties on pistols
The slide release is also polymer, and the magazine release is on the left side, behind the trigger, where it should be. Two 10-round magazines come with the pistol. The polymer grip is large enough to feel like a real gun, but it's also manageable for a wide range of shooters. I had the Victory at a family shoot on Easter Sunday, and the participants ranged from petite ladies with little hands to giant 300-pound men. Everybody, without exception, loved the pistol.
The Victory is designed to be modular so that the match-grade barrel and the sights are easy to replace. The bull barrel is quickly removed by loosening a single screw and can be swapped out with optional barrels, including aftermarket offerings from Volquartsen. Clearly the concept is to make this gun easy to "kit out" to fit any personal wants or needs. For example, it would be a simple task to add a lightweight carbon-wrapped barrel or a barrel with a threaded muzzle for using a suppressor.
When testing a new gun on the market, before I start writing I usually go through what I call an immersion process: I go online to find and read everything I can about the gun, just in case I missed something. There are reports on the Web of shooting 1,500 rounds in a Victory with zero malfunctions. I suppose that's possible, but so are unicorns in theory. I have never seen a semi-auto .22 LR handgun that is 100 percent reliable with a wide range of ammo right out of the box, and that's not my experience here.
The cheaper, low-velocity ammo malfunctioned a bit more than the top-end, full-power stuff, as I could have predicted. By the end of the test and after about 400 rounds, the gun was running about 98 percent with good ammo. With the cheap ammo it was probably about 95 percent. The gun would run for several magazines without a flaw and then have two or three failures to eject in a single 10-round magazine. I could find no rhyme or reason why, except that's just what .22 LR semi-autos do.
One brand of ammo failed to extract the first two shots, and I was about to abandon it in the test. Then it started behaving and I finished shooting 100 rounds with no further issues. The slightly longer case used for CCI Stinger loads baffled the gun a bit, and I experienced about a 20 percent failure-to-eject rate, where the case hung up in the action and jammed the gun.
The accuracy results produced by the Smith & Wesson Victory are some of the best I have seen from a production semi-auto .22 LR handgun. This thing can really shoot, and it will easily handle head shots on grouse or squirrels. Plus, the version I tested is coated in Kryptek Highlander camouflage, which is a nice touch in a hunting handgun. (Plain stainless is also available.) I plan to turn it loose on the gray squirrel population this year.
Technical Specifications
• Type: semi-automatic rimfire pistos
• Caliber: .22 LR
• Capacity: 10+1 rnds.
• Barrel: 5.5"; stainless steel; 6 grooves, 1:15" RH twist
• Trigger Pull Weight: 3.63 lbs.
• Sights: adjustable, fiber-optic rear notch; fixed, ramped fiber-optic front
• Grip: stippled polymer
• Metal Finish: Kryptek Highlander camo
• Overall Length: 9.2"
• Weight: 36 ozs.
• Accessories: Picatinny rail for mounting optics; spare magazine
• MSRP: $459