by
posted on April 15, 2015
Support NRA American Hunter
DONATE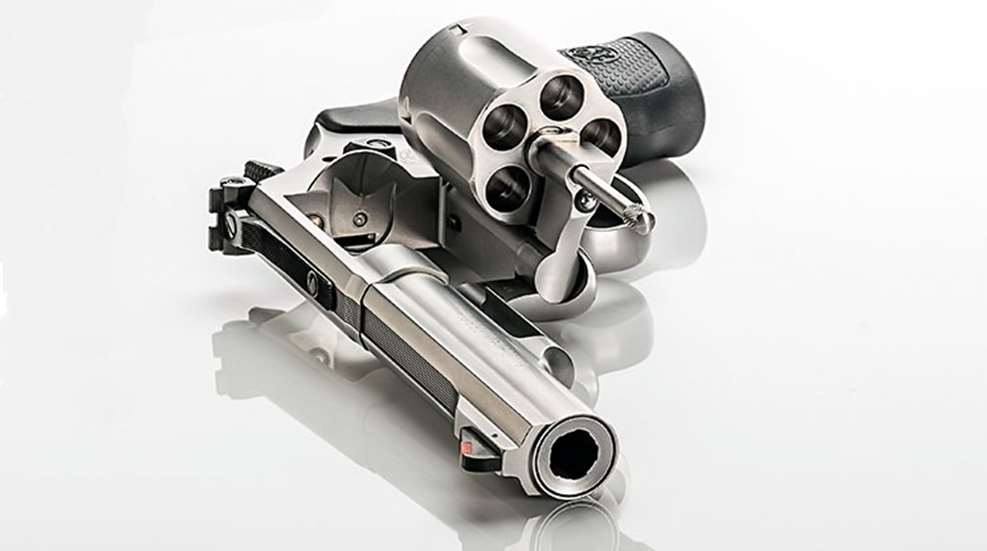 A handgun does no good on a shelf back in camp. But the trouble is, handguns chambered for cartridges appropriate for wilderness protection and/or big-game hunting tend to be a bit heavy. It's common enough to head into the hunt with good intentions, but after a few exhausting days when even your shoelaces become too heavy, you often find a reason to leave the handgun behind.
The best option might be a smaller, lighter handgun. Sure, the recoil will be a bit stiffer, but the old adage that you carry a gun a lot more than you shoot it is still true. Besides, recoil is subjective. Back when I first got into handgun hunting there was still a velociraptor tag on my license and the .44 Magnum was thought by the uninitiated to be "unshootable" by normal humans. Now its recoil is considered to be mild compared to some of the beast-mode cartridges we use in handguns today.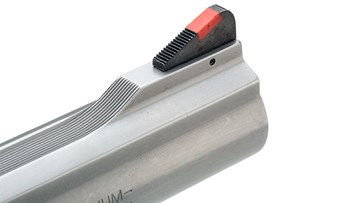 Traditionally, .44 Mag. revolvers have always been built on the large frame size—Smith & Wesson calls it the N-frame—making them big guns. So why not downsize the frame and make a .44 Mag. handgun smaller, lighter and easier to carry? Smith & Wesson did exactly that when it introduced the Model 69 Combat Magnum on the medium-size L-frame, which until now has been the domain of the .357 Mag. and lesser cartridges.
The Model 69 is a double-action revolver with a 4.25-inch barrel, weighing in at 37.2 ounces. Compare that with a 4-inch Model 629 N-frame gun that weighs 41.5 ounces.
This design is an excellent choice for a backcountry handgun, either for a backup gun or for a primary hunting gun. While it's called the Combat Magnum, it's going to see a lot more use in the wilderness than on the mean urban streets.
What you give up is capacity. The Model 69 has a five-shot cylinder instead of the conventional six-shot design. Another big change is how the cylinder locks up at the front. The traditional lockup point has always been at the end of the ejection rod and has been a source of constant problems in the older .44 Mag. revolvers. It is weak and wobbly. In the Model 69, a ball detent in the yoke mates with a notch in the barrel underlug to provide lockup in front of the cylinder. The cylinder rotates counter-clockwise, and its five chambers are not recessed.
The Model 69 is made from stainless steel and has a bead-blasted, matte finish. Unlike the traditional one-piece configuration, the barrel is a separate unit inside a shroud that has a serrated top rib, a ramp and a front sight. The serrated, ramp-style front sight is black with an orange plastic insert, while the adjustable rear sight is blued steel and features a white-outline blade.
The narrow, smooth trigger, relatively small hammer and cylinder release are all blued steel. Same goes for the two visible screws in the sideplate, giving a nice contrast to the look of the frame. There is a lawyer-designed screw above the cylinder release that locks the hammer, making the gun inoperable. This screw is activated by a key, two of which are shipped with the gun.
The rubber grip has molded-in finger grooves as well as a rough gripping surface. It's shaped well and fits my wide, stubby hand nicely. Single-action trigger pull is clean and crisp at 4 pounds, 3 ounces of pull weight. Double-action pull is smooth with little stacking; it breaks at 11 pounds, 4 ounces. Some folks will argue double-action is useless on a hunting handgun, but I disagree. If you are carrying for protection against predators, it's important you train for shooting double-action as well as single-action. You might be called upon to shoot very fast, and that's best accomplished in double-action.
I tested the gun with American Eagle 240-grain soft-point loads and some stout 300-grainers from Black Hills. The Model 69 is a powerful handgun, and the first thing everybody wants to know about is recoil. It's a handful, but on the grand scale of big-bore hunting handguns, the Model 69 probably falls just about in the center of the recoil bell curve. If you are an experienced shooter, or are willing to put in the effort to become one, you will find this revolver is manageable with any load.
Of course, the Model 69 is capable of firing .44 Spl. ammo, which is useful for small-game hunting and personal protection against two-legged predators. There are some very good .44 Spl. and reduced-power .44 Mag. loads on the market today for practice. I shot Hornady 165-grain .44 Spl. loads, which were pussycats in the recoil department. However, for most big-game hunting and wilderness protection I think a .44 Mag. handgun should be used to its potential.
All in all, this concept of a smaller, lighter .44 Mag. revolver makes good sense for hunters. If your plan is to shoot 100 full-power rounds every weekend, you might want to look at a bigger gun. But if you are like most hunters and shoot a few full-power loads to sight in and tune up, then do most of your practice with lighter loads, this is a great choice. The reduced size and weight make the Model 69 a fitting carry gun for your time in the woods.

Technical Specifications
Type: double-action revolver
Caliber: .44 Mag.
Capacity: 5 rounds
Barrel: 4.25"; 5 grooves, 1:18.75" RH twist
Trigger Pull Weight: 4.19 lbs. single-action, 11.25 lbs. double-action
Sights: adjustable rear notch with white outline, fixed front ramp with orange insert
Grips: rubber
Metal Finish: bead-blasted stainless steel
Overall Length: 9.75"
Weight: 37.2 ozs.
MSRP: $849