by
posted on July 24, 2014
Support NRA American Hunter
DONATE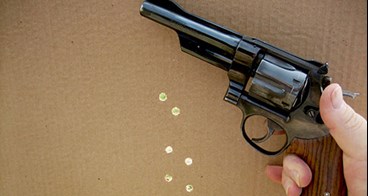 This morning I completed a task that has been on my "To Do" list for far too long. Perhaps task isn't the best depiction, because this was a most pleasant experience. I took my first centerfire handgun to the range for some trigger time. It has been too many years since I pressed its trigger and sent lead downrange in the old girl. That revolver is, of course, my Smith & Wesson Model 27.
I bought it in 1974—at that time when any Smith & Wesson revolver, but especially the N-frames, was very difficult to find. This was the era of the movie "Dirty Harry," and any Smiths—but, again, especially the N-frames—were as scarce as hen's teeth. A couple of friends and I had determined the shipping schedule of several gun shops in southern California and knew when the trucks would arrive. If you wanted to buy a Smith & Wesson revolver, you had better be there prepared to do the deal as the revolver exited the truck. The only alternative was to pay scalpers' prices on the open market. I had neither the cash, nor the inclination, to participate in that game. So when the mahogany-cased Smith came off the truck I was hoping for a .44 Magnum Model 29, but it was a Model 27. It took me about two seconds to say, "I'll take it," when the big .357 Magnum made its appearance.
Turns out it was one of the best decisions I have made. Trying to learn how to shoot a revolver chambered in .44 Magnum is akin to trying to learn how to drive in a Corvette. There was a problem with this particular Model 27, however. It had an 8 3/8-inch barrel—wonderful for target shooting or as a dedicated hunting gun, but like most young men, I wanted to learn how to draw fast. I briefly tried to use it with a crossdraw holster, but it didn't work out too well. Eventually I bit the bullet and took it to Bain & Davis in Los Angeles and had them shorten the barrel to five inches. I also had them slim the front sight to .100-inch wide and install a red ramp insert. Then I began to shoot the heck out of it—averaging some 500 rounds each week; every round handloaded and every wadcutter cast over a Coleman stove.
During the next four years or so the M27 was never too far from me. I manipulated it constantly when at home watching TV or even reading other gun tomes. If I went fishing or hiking, the big magnum was strapped to my hip in a Don Hume Border Patrol rig. I had a limited supply of .357 Magnum brass but had managed to scam a fair supply of .38 Special brass, including a horde of .38 Special +P+ brass that allegedly came via an unnamed source within the FBI. Since I was always generally broke because of spending my wages on other guns and ammunition and such, I was forced to learn how to handload a high-performance load in those +P+ cases. It consisted of a cast 150-grain semi-wadcutter bullet in front of 11.5 grains of (then) Hercules 2400 (now Alliant). I had no chronograph at the time but it felt like a magnum load and laid low any critter—pretty much all small game—that I pointed it at. A couple of years later I was showing my folks some of the backcountry assets of the Salt River in Wyoming when a cluster of rockchucks saw my truck and began to vacate the area. Channeling John Wayne, I bailed from the truck and began to engage the retreating marmots. I took three with three shots as they leapt from boulder to boulder along the Salt River.
Another time I had a friend visiting me from California. He wanted to do some shooting—we once did some shooting together in the southern California days—so we repaired to some Forest Service property nearby. I was quite full of myself and set about shooting a stick that was perhaps an inch-and-a-half in diameter and some 14 inches long with the revolver upside down and operating the trigger with my pinky finger double action. The stick was bouncing along marvelously when my friend held up his hand for me to stop shooting. He ran out to where the stick was, picked it up and said, "Hit this!" He threw it up in the air, and when I shot the stick was launched irretrievably into the timber. I still remember the look on his face. Sometime later those cocky feathers got trimmed rather substantially, but that's another story.
Eventually I became a sophisticate in all things revolver and amassed what I consider to be a relatively decent collection of .44 Special, .44 Magnum and .45 Colt revolvers. To this day I normally will have one of them with me as I venture out into the world. In other words, I became a snob. But I could never shake the warm feelings I had for that Model 27.
So after a profane amount of procrastination I dragged out my first love and pushed some lead down her gullet today. Given the amount of time I trained with it, I thought I just see what a decrepit old flatulent could do with six shots at seven yards dead cold. The image you see was that group, fired in 2.74 seconds from the low-ready position. Yeah, I was too lazy to bring along the leather and do a real test—I was shooting for fun today. Yeah, I know the string is vertical, indicating some other shooting flaw—so kill me because I'm human and not perfect. Still, I think I'll keep her around.