by
posted on September 5, 2014
Support NRA American Hunter
DONATE
With us in one form or another since 1956, the Smith & Wesson Model 29 is nothing if not iconic. The Model 29 is synonymous with the .44 Magnum, the pairing's popularity undoubtedly aided by the 1971 film "Dirty Harry," starring a Model 29—oh, and Clint Eastwood, too. It doesn't hurt that the Model 29 looks good and typically shoots well.While the new Performance Center Model 629 is decked out with modern updates and upgrades developed over the decades—including a stainless steel frame, cylinder and barrel implied by the "6" prefix—it is Model 29 to the core. It's typical Smith & Wesson: well-made, accurate, nicely finished, great trigger. Why mess with a good thing? Like all Smith & Wesson .44 Magnums of the past, this one is pleasing to the eye and feels good in the hand. Despite the longish barrel, it points well and doesn't feel nose-heavy.
When I took delivery of this Performance Center model, I was struck by its size. However, when I picked it up and handled it, I found looks to be deceiving, as the revolver comes in at 59 ounces empty. It's not light by plastic handgun standards, but for a large powerhouse, it could be heavier—much heavier.
Before any real testing took place, I attached the two Picatinny-style rails that came with the gun (adding a dab of thread-lock to the screws) and mounted an Ultradot HD-Micro red-dot sight to the top rail. My first trip to the range, following a thorough inspection, scrubbing and lubing, was cause for some concern, as the 629 didn't perform particularly well. I tried a number of loads from a number of manufacturers, with jacketed and cast bullets ranging in weight from 225 to 320 grains. Past experience with revolvers screwed together by the Performance Center, Smith & Wesson's quasi-custom shop, have all been rather stellar with regards to accuracy. Back to the drawing board.
I gave the barrel another good scrubbing, grabbed a representative cross-section of factory ammo and headed back to the range for round No. 2. Suffice it to say the barrel clearly needed a bit of "seasoning" to realize its potential. I shot groups at both 25 and 50 yards, and the 629 acquitted itself very well. Now it was shooting like a typical Smith & Wesson, albeit one with an especially smooth action, thanks to Performance Center tuning.
Like all Model 29 revolvers before it, this Model 629 features a 6-shot cylinder; however, this one is unfluted. The glass-bead finish, combined with the chrome trigger and hammer, makes for a business-like, but attractive, package. The fluted barrel adds to the aesthetics, and the two integral Picatinny-style rail mounts (and rails) make the revolver quite useful for the handgun hunter who wishes to add accessories like optics and lights. It's nice not having to engineer the mounting of an optic on your revolver. The checkered wood grips look great and resemble the classic Smith & Wesson grips of old, but feel much better in the hand. Recoil, even with the heaviest loads I tested, was comfortably tolerable (but being a big-bore aficionado, maybe I'm not the best judge).
With the release of the Performance Center Model 629, Smith & Wesson clearly targets the discerning handgun hunter. Chambered for the .44 Magnum, a cartridge that arguably offers more flexibility in revolvers than most others, the 629 is hard to beat for versatility. This is a revolver equally at home hunting whitetails or much larger game. While its price may rule it out as an entry-level hunting handgun, you would be hard-pressed to find a more user-friendly revolver. In typical Smith & Wesson fashion, the Performance Center Model 629 is a home run.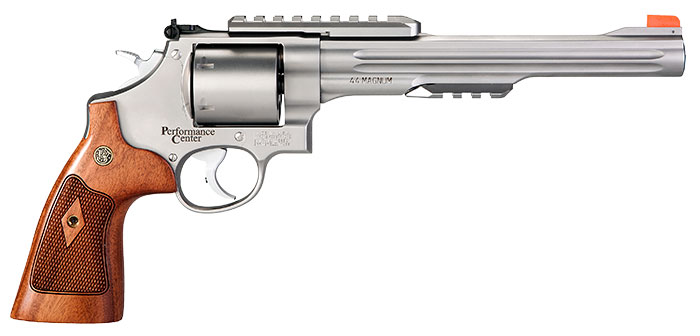 Technical Specifications:
Type: double-action revolver
Caliber: .44 Mag.
Capacity: 6 rounds
Barrel: 8.37"; 1:20" right-hand twist; fluted
Trigger Pull Weight: 3 lbs. single-action, 10 lbs. double-action
Sights: adjustable rear notch, fixed front Orange Glow blade
Grips: custom wood
Metal Finish: glass-bead stainless
Overall Length: 14"
Weight: 59 ozs.
Accessories: 2 Picatinny-style rails
MSRP: $1,399