by
posted on September 18, 2013
Support NRA American Hunter
DONATE
If our strength is in our diversity, Western bird hunters are Superman. Eastern bird hunters must be suffering under a load of kryptonite.
It's not that upland hunters in the Northeast, Southeast and Great Lakes states don't enjoy the grand traditions of walking the autumn woods for ruffed grouse and woodcock or coursing Southern fields for bobwhites. It's just that those three species are about all they've got. In a few Midwest cornfields they find the odd pheasant. But west of the Mississippi, west even farther, beyond the 101st meridian, you enter hallowed ground. Bird hunter paradise: A magical land where not four, not five, not even a dozen upland bird species greet the dawn—but 21. Twenty-one upland bird species!
Can you say smorgasbord? Can you say "Glory Land"? Six species of quail, eight grouse, two partridge and three ptarmigan. And ringnecked pheasants in numbers like the Midwest produced 50 years ago. And that's not all. If you order before midnight tonight, you also get to hunt this feathered Valhalla for free. Just pay shipping and traveling. That's right. This land is your land, this land is my land, more than 200 million Forest Service, Bureau of Land Management, Army Corps of Engineers, Bureau of Reclamation, U.S. Fish & Wildlife Service and state wildlife management acres. You can even camp for free on most of these lands.
Oh, did I mention that this is a bird hunter's paradise?
Why So Many?
A diversity of habitats creates the Western States' bird bonanza. As you travel west, the climate begins to dry. Human population begins to thin. Roads narrow, towns shrink. The land begins to undulate, then climb. Mountains loom. Canyons plunge. Rivers run. Wetlands sparkle in the sunlight. Vegetation diversifies. Microclimates erupt and birds adapt to meet the diverse conditions. Pheasants thrive where grasslands mingle with grainfields. Sharptails and prairie chickens dance amid prairie grasslands. Where sagebrush mixes with the grass, sage grouse strut. As grasses shorten and intermix with wheat fields, gray partridge coveys increase. Chukars laugh where cliffs, rocks and clay badlands make pheasants tremble. Up in the pines blue grouse haunt the dry ridges while ruffed grouse patter along the stream courses. Above about 8,000 feet, spruce grouse live lives of quiet isolation.
When the trees dwindle to alpine, three kinds of ptarmigan take over, but only the white-tailed is hunted south of Canada. From Washington through California, valley quail swarm around irrigated ag fields mixed with deciduous brush. The largely unknown mountain quail takes over at higher elevations in this same area. Gambel, scaled and Montezuma quail constitute the great triumvirate in Arizona and parts of New Mexico. Scaled quail blend with bobwhites in West Texas and Oklahoma. High in the highest, most isolated mountain ranges of Nevada, the rare, introduced Himalayan snowcock beckons the strongest adventurers. Meanwhile, from North Dakota through Texas you'll find some combination of sharp-tailed grouse, prairie chickens, gray partridge, pheasants and bobwhite quail in a mix of grass, brush and croplands.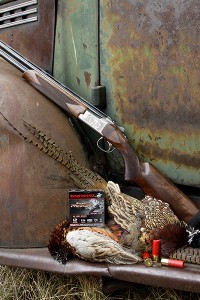 Sorting It Out
Of course, stepping into great flocks of these birds isn't quite as simple as entering a national forest and starting to walk. For all their diversity and relative abundance, Western birds can be devilishly difficult to pinpoint, especially when natural stresses like drought, floods, blizzards, wild fires and diseases sweep through an area. Before launching any trip, do your research or you could hunt a temporary dead zone.
Each state maintains its own website detailing information on species, distribution, relative abundance, season dates, bag limits, license fees, etc. Study these to get an idea what sort of hunting to anticipate. Most sites will include lists and maps of public hunting lands. Use digital mapping aids (Google Earth is great) to study these. On the ground, Hunting GPS maps on certain Garmin GPS units show land ownership. Used on a computer, Hunting GPS Maps can help you identify huntable lands from home.
Once you've identified a few potential hunting grounds, email or call government employees such as information officers, biologists and local game wardens for current or more detailed news on local conditions. Are bird numbers up or down? How was the hatch? Summer drought? Fires? Investigate at least two different hunting zones so you can switch if one isn't as good as you'd hoped. Peruse them with Google Earth and by the time you actually drive there, you'll feel right at home.
Guns Galore
Your upland gun on a big Western hunt should be at least two guns. You don't want to sit on the bench if one fails. Match gauges and you don't have to haul two sizes of ammo. An inexpensive pump will suffice. And make both guns fairly light, if you can handle the recoil. You'll climb more hills and bear down on more quick-flushing birds with a 6-pound gun than an 8-pounder. I employ a 5.5-pound Franchi 48AL 20-gauge or 6-pound Ruger Red Label 28-gauge for chasing chukars. Getting there is half the challenge, and an 8-pound gun doesn't help me get there.
Action and gun type is your option. Over/unders, side-by-sides, autoloaders and pumps are all popular and effective. More than two shots can save the day when big coveys flush after long days of searching. Few things are more frustrating than throwing two shots at a wild-flushing chukar and then fumbling to reload as a dozen more erupt practically up your pant legs.
The 3-inch 12-gauge is always the most versatile. It'll fire anything from 1-ounce "quail" loads to 1 7/8-ounce magnums. But 3-inch chambers and magnum shells are largely superfluous. Few upland birds can resist 1 1/8 to 1 1/4 ounces of No. 6 shot. Patterning is always more important than sheer pellet numbers or velocity. The minimal recoil of lighter loads increases your hits, too.
Don't worry about a 20-gauge being too light. With 1-ounce loads, it has proven deadly on everything including pheasants and sage grouse. Again, consistent pattern spread and "shootability" count more than pellet numbers. If you can swing and shoot a light 20-gauge without flinching, you'll likely bag more birds than you would with an overpowering 12-gauge. Many find that they bag more birds with a 28-gauge, particularly during early season. You can also carry more 28-gauge shells during all-day marathons into the chukar and grouse hills.
Regardless of gauge, I'd recommend a 26- to 28-inch barrel with improved-cylinder or modified choke. If you have screw-in chokes, bring the cylinder and full chokes for those special days. Cylinder can be perfect for quail, ruffed grouse and early-season pheasants. Full chokes earn their name on late-season ringnecks, chukars and prairie grouse, especially in the wind.
Fancy Footwork
Upland bird hunting is a walking game. Classic, lightweight, crepe-soled boots with moccasin-style toes are comfortable and provide adequate support for flat to rolling farmlands, but once you get into rough country, better grip and ankle support are mandatory. Always let terrain and habitat, not species, guide your boot choices. When pursuing mountain grouse, mountain quail, ptarmigan and chukars, I wear rugged mountain boots like LOWA's Hunter Extreme GTX. Stiff, aggressive, lugged soles with sharp outer edges cut into hillsides and grip projections of rock; tall and stiff leather uppers keep out debris and prevent ankle twisting; Achilles hinges facilitate natural flexing; instep lock eyelets fit custom lacing; high rubber rands protect leather from abrasion, especially over the toe; padded, soft leather collars prevent leg chafing. Gore-Tex linings keep feet dry when walking through dewy vegetation, crossing creeks and stomping through snow.
Insulation is a matter of personal comfort. Folks sensitive to cold may want as much as 1,000 grams of Thinsulate or equivalent insulation on winter hunts. Those with hot feet may want none. I like 200 to 400 grams of Thinsulate just for its padding. I find it adequate warmth during steady walking at temperatures down to the teens. Colder than that and 600 to 800 grams seem about right.
Vested Interests
Western hunts are often more like hiking expeditions or backpacking trips than quick jaunts through coverts. It's not unusual to hike 3 miles just to reach good bird habitat. A typical bird vest might be inadequate for carrying sufficient shells, water, lunch, dog paraphernalia and your bagged birds. It's not unusual to return with 16 birds in your bag. Consider vests with deep, voluminous game bags, additional pouch space behind that for stashing a coat or lunch, a water reservoir or canteen holsters and vast, roomy side pockets. The weight you haul may make traditional shoulder straps painful, so consider padded straps. In fact, look for vests like Browning's Bird N Lite Strap Vest and Quilomene Hunting Vest that include a waist belt engineered to spread some of the pressure onto your hips. Backpack-style vests might provide even more storage space. In early season you may need to haul as much as 2 gallons of water for you and pooch.