by
posted on September 30, 2016
Support NRA American Hunter
DONATE
It goes without saying that the pool of public properties available for hunting—especially for big game—is evaporating at an alarming rate, and it won't get better in the future, either. Suburban development and hostility toward hunters by misguided landowners, as well as the newer practice of leasing hunting rights (sometimes at astronomical per-acre prices) from farmers, has significantly reduced the amount of prime grounds available for free. Door-knocking marathons can still produce positive results, but be prepared for a heavily lopsided—and emotional toll taking— "no"-to-"yes" answer ratios—especially near large metropolitan areas.
To ensure that you'll have land to hunt in the upcoming months requires an "outside-of-the-box" approach. Below are suggestions for diversifying your hunting property portfolio.
Urban Archery Clubs and Seasons
Due to the burgeoning deer numbers in densely populated suburban areas, where discharging a firearm isn't permitted, lengthy "urban" archery seasons have been established to reduce the herds. Similar to rural areas, you can go door-to-door seeking permission; however, a more successful route is to join a local archery association or club that already has access to hunting properties.
The requirements for joining said groups can be rigorous, and rightfully so; there's a lot on the line for them. Be prepared to complete an International Bowhunter Education Program (IBEP) course, background check, and accuracy test, as well as provide verification of previous bowhunting successes and attend panel interview, among other things. The payoff is big, though, as you're guaranteed hunting grounds with high deer populations, which could easily include a wall hanger.
Quota Hunts
If you live in a state that offers "quota"-type depredation hunts, take advantage of them. Some of my most memorable and successful hunts were quota hunts. Success is often high, too. Obtainable through drawings or reservations, these hunts typically take place at state and municipal parks, National Wildlife Refuges (NWR), and other oftentimes-off-limit areas. I highly recommend that you consider hunting with archery tackle (bow or crossbow, if legal) and/or a muzzleloader, as you'll get more opportunities afield. Oftentimes, successful applicants can have a fellow hunter accompany them.
Entering a quota drawing in Virginia costs only $7.50 (per entry) and you can prioritize the hunt segments and/or dates that you want to hunt. If successful in the draw, an additional, low-price permit fee must be paid, too. Archery-only hunts are most easily drawn, last the longest, and you'll encounter fewer hunters during your time afield; in fact, last year I crossbow hunted a 400-plus-acre Virginia NWR parcel for three days during the peak of pre-rut and didn't see another hunter or vehicles. During that time, multiple bucks responded to my grunt call and I tagged a buck with an unusual rack. Moreover, due to the light hunting pressure, whereas that property was littered with scrapes and aggressive bucks, hunters where I generally hunt had yet to see the first scrape. My hunting partners and I have seen some big bucks on such hunts.
Unlike the random nature of quota drawings, hunts dispersed through reservations are first come first serve. Don't expect equity with this process, either. On the day that the reservation period opens, begin calling the reservation center about two minutes before it opens. Wait until it opens and you'll miss out. Why? I've been told that some hunters have their spouses, kids, and parents all call and, whoever gets through first, makes the reservation. I kid you not. Is it unfair? Yes, but it's a reality. You must be proactive to be successful. If you cannot call that first day, check back frequently for those who cancelled their reservations or didn't pay, thereby opening that slot.
In addition to deer, quota-type hunts can also be found for bear, turkey, upland species, and waterfowl.
Because there are cutoff dates for applying, don't procrastinate. Look into these immediately.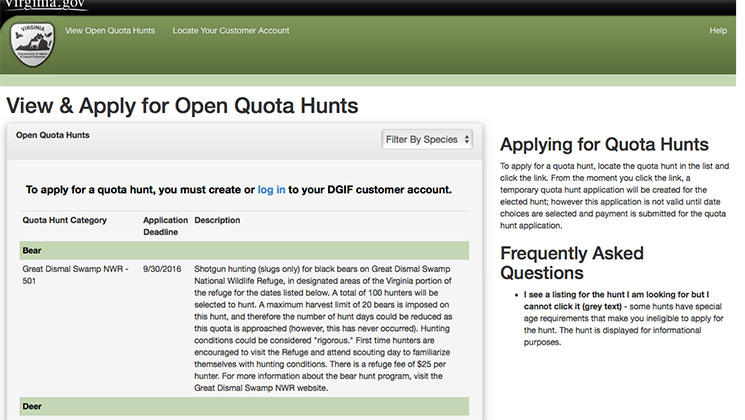 Military Bases
Many military bases permit civilian to hunt. In general, you'll need a background check, proper licensing (such as the required state hunting licenses and low-cost base permits), and weapon proficiency test (for archery), among other things. But, after completing the process you'll have access to top-notch grounds. Need proof? Google "Marine Corps Base, Quantico big bucks" or "Fort Riley big bucks."
Virginia's vaunted Marine Corps Base, Quantico (MCBQ) has approximately 58,000 acres open to hunters, with 7,600 acres dedicated to archery-only hunting. Moreover, it maintains and plants more than 300 acres of openings and has erected waterfowl blinds. Similar situations are found at Fort Belvoir and A.P. Hill (Virginia), Fort Knox (Tenn.), Fort Riley (Kansas), Fort Bragg (N.C.), and Fort Hunter Liggett (Calif.). That's only the beginning. A quick Internet search will reveal other bases open to civilians for hunting, as well as the quality of animals living there.
Depending on the base that you're hunting, pressure can be minimal or extreme. As previously mentioned, hard work and dedication, as well as holding out for a mature animal, can pay big dividends. Outside of outfitted and hard-to-draw hunts, some of the best hunts for tagging a trophy of a lifetime occur on bases.
Hunter Management Areas (HMA)/Game Management Units (GMU)/Wildlife Management Areas (WMA)/Cooperative Wildlife Management Units (CWMU)
Regardless of the name, areas set aside (or leased) by state game agencies for hunting are widely available and an invaluable resource. In Virginia, for example, the Department of Game and Inland Fisheries' 41 WMAs account for more than 203,000 acres available to sportsmen—including hunting. All you need is a hunting license (and tags for big game) to access these properties. 
What about the West? Wyoming has more than 60 HMAs, which are private lands or some combination of private lands, state trusts, and federal lands—available to hunters. In addition to the proper licenses and tags, these HMAs require permission slips, parking passes, and adherence to property-based rules. Some of the properties are so large and game filled that they've played a major role in me applying for antelope, elk, and deer tags. For obvious reasons, researching HMAs before applying for a particular unit is prudent. Montana, Utah, and other states have millions of acres (much of it private) land opened to hunters as well.
Depending on the specific unit, hunting pressure can fluctuate greatly, so as with military bases, commonsense approaches are applicable for hunting game-management units. In high-hunter-density areas, hard work is required; pre-scout the area, talk with those familiar with the area, such as conservation officers, and be willing to go further and push harder than the competition. Don't overlook anything; sometimes the highest-quality animals are found in overlooked "nothing will be there" hideaways. I've seen some thick-horned antelope bucks in tiny pockets that were bypassed by previous hunters. Take your time. My largest Wyoming antelope to-date was killed on a DIY HMA hunt. 
Regardless of where you hunt, be sure to follow the rules and leave the property better than you found it. This is critical to retaining hunter access to these lands, and it maintains a positive image of hunters. If you see the landowner be sure to thank them for allowing you (and fellow hunters) to hunt there.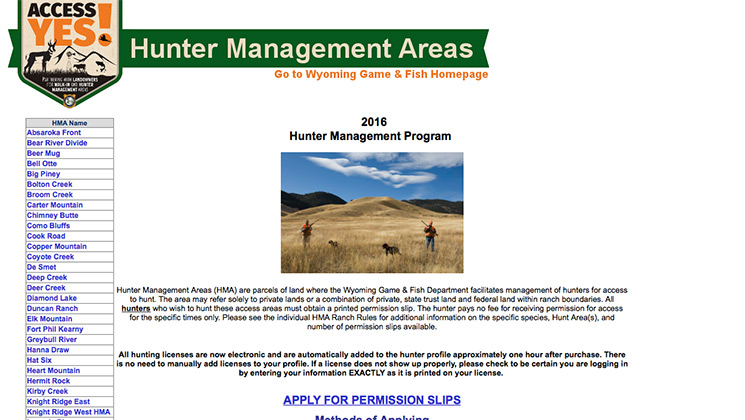 Timber Company Leases
That you can gain hunting properties through a company specializing in leases isn't earth-shattering news. But, there are some unconventional leasers, too. Timber companies, such as Weyerhaeuser and The ForestLand Group, have low-cost hunting leases in multiple states around the country. In fact, the latter had many properties available for around $2.00 per acre. That's a fraction of the price of well-known big-buck hotspots. Most such timber company parcels range from $2.00-$3.00 per acre per year. If you live near any of these properties or are willing to travel, it's a good deal. 
There are many places for the driven hunter to head afield in pursuit of game this fall. It just took an unconventional mindset to see them. Who knows, one might become your new hunting hotspot.