by
posted on September 18, 2019
Support NRA American Hunter
DONATE
The pay-to-play world of hunting continues to frustrate, but don't pass on the dissatisfaction to your pupil. Instead, teach him or her how to hunt available public lands with a resourceful attitude and approach.
Approximately 40 percent of the United States is publicly owned, and much of it is open to hunting. Granted, a whopping chunk of this is found in Alaska, but in the continental United States public hunting access is found on federal, state, county and even city land.
Investigate every option, even unnoticed hunts that occur on military posts and wildlife refuges. The same is true of urban areas that now offer archery-only deer hunts to help cull populations. A mandatory course and passage of an archery shooting test may be required, but venison gathering abounds in many neighborhoods. Plus, increasing efforts by states to lease private land and open it to the public for walk-in hunting are worth monitoring.
Rules and regulations may differ depending on the manager, but a thorough investigation oftentimes reveals opportunities on parcels of all sizes. Online searches, inquiries with state game-and-fish personnel and the use of hunting apps with property ownership overlays combine to reveal opportunities within a short drive of almost anywhere.
Assess the Area
Never skip an assessment of small tracts. Larger allotments provide space for everyone to spread out, but smaller plots may get overlooked due to their size. Size isn't everything, as the popular phrase suggests. A smaller area could include a busy game-travel corridor or an oak tree that consistently produces wildlife-attracting acorns.
Once you target several properties it's time to investigate. Google Earth or a hunting app like HuntStand can help. View the properties from above with your new hunter to show him the lay of the land. Mark any openings, edges and unique terrain features that attract nearly all game species.
Satellite images along with research also reveal parking areas and major access points. In some public areas you may be restricted to certain entrance locations, particularly on smaller parcels. Tracts that may cover a mile or more of land mass contain the possibility for other kinds of perimeter access. Coach your understudy to avoid the lemming mentality. By studying a property and locating back doors, it's possible to discover more efficient travel to high-quality locations and even escape some hunting pressure.
After a virtual tour of an area, secure a few preseason hours to confirm your findings firsthand. Check to ensure there is ample parking for any backdoor entries. Walk all trails in daylight to reveal any dangers that may lie in wait prior to a moonlit hike. Put your hunting app or GPS to work and mark parking areas, trailheads, routes and final destinations.
Adjust Your Schedule
Don't sugarcoat reality as you explore public hunting opportunities. Tell your apprentice to expect hunting pressure. After the frankness it's time to review evasive tactics. Begin with the early-bird idiom. Instruct her to set her alarm for at least an hour earlier than a normal hunting departure would warrant. Not only does this leave a discouraging clue at a parking area that someone is ahead, but you can push beyond the habitual hunting area of the masses. The strategy is to circle wide and set up in a pinch point where fleeing wildlife may pass as the crowds begin marching into the woods an hour later.
Midweek hunts also unlock prospects for less crowded hunting lands. Tradition dictates a Monday-Friday work schedule. But with more of the workforce working from home it's a good approach to work a Saturday and take off a Wednesday to hunt.
Also convey the fact that opening weekend tends to be a free-for-all. There's nothing wrong with jumping into the hunting fray, but if meeting fewer hunters is your goal, planning to hunt public lands the last half of the season may be the answer. It's not at all uncommon for hunting excitement to fade as the closing days near.
Outthink the Competition
Stress to your pupil that going the extra mile literally separates you from more than 70 percent of out-of-shape Americans. Navigate toward the most rugged terrain and you may never see another soul on public ground. Rocky slopes, steep canyons and a track through thick briars can equal lonely hunting benefits.
Water similarly serves as a great divider. Rivers, wetlands and swift-moving streams signify a roadblock to many. However, comprehensive scouting and planning may reveal safe passage. A downed log upstream could offer a hidden crossing. Pack in a pair of hip boots to wade across a stream. Paddle an inflatable raft across a body of water to create separation powers.
Finally, educate your hunter on the importance of borders. Sure, he shouldn't trespass, but more importantly, explain why private, adjacent borders represent safety for many game species and how the flow of game between properties offers additional chances for success. Public lands that adjoin private croplands or other attractions deserve attention, especially those in remote corners away from easy access. In addition to pointing out these promising peripheries, be sure to inform newbies that even a well-placed shot can allow an animal to run an additional 200 yards or more before expiring. Setting an ambush allowing safe space to the line can aid in avoiding a stressful recovery.
Public lands get an undeserved bad rap in many hunting circles. Nevertheless, with ingenious schooling you can launch a new hunter down the road to savvy practices for successful public-land outings.
---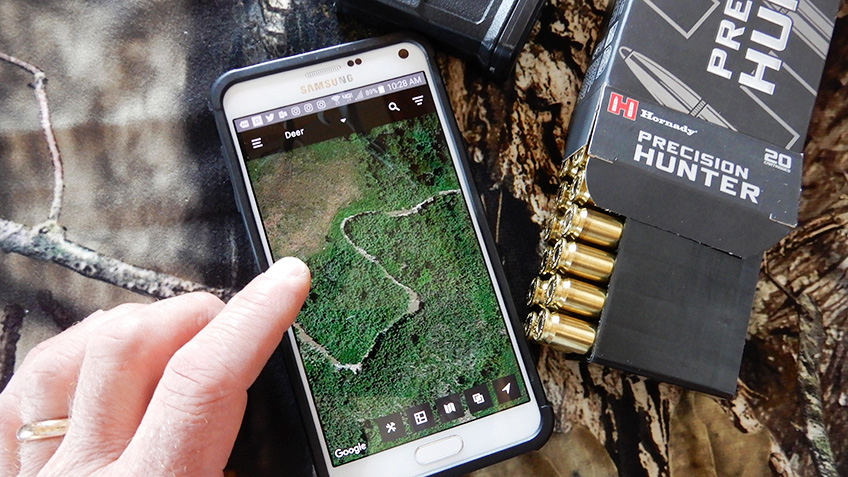 Take a virtual tour of public areas with Google Earth or the OnX Hunt or HuntStand apps to show your new hunter the lay of the land. Then take a few preseason hours to confirm your findings firsthand.