by
posted on February 24, 2018
Support NRA American Hunter
DONATE
The Scenario: Your grandfather used to tell you to beware the man with only one rifle, as he surely knows how to use it—or something like that. I'm pretty sure this adage applies to pistols as much as it does rifles. You have one handgun that performs triple-duty. It serves as your home defense piece, guarding your castle from unwanted intruders, it rides on your belt, concealed under your jacket to protect you from encounters with street predators, and lastly, it rides on your hip when you're hunting, to ward off whatever you encounter in the field that can do you harm. That's a tall order, but your one pistol performs all three admirably.
Let's assume you're on a limited budget, or you simply feel as though you need only one handgun. That handgun needs to cover a lot of bases and perform a number of functions in your already cluttered life. Simple is clean, simple is neat, simple is desirable. The one gun you have chosen is Colt's venerable Delta Elite, back now from a hiatus that lasted nearly a decade and a half. It's a full-sized 1911 single-action semi-automatic pistol, chambered in the raucous 10mm Auto, the darling of the late great Jeff Cooper. First iterations of the Delta Elite entered the market back in 1987, but reliability problems and lackluster sales drove them out of production in 1996 until 2009 when Colt brought it back.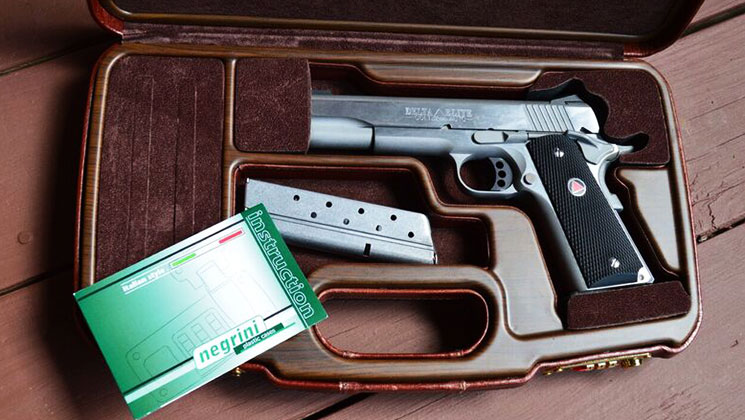 The factory magazines hold eight rounds, and the gun features fixed Novak sights with dots. The trigger is relatively light and it breaks cleanly. Like every 1911, it's thin enough that it wears closely to your body without advertising to the pedestrian world outside that you are carrying serious heat on your hip. The all-stainless construction is attractive, and the rubber grips feature the legendary delta insignia.
Every sidearm requires a holster for carry. In this case, we have chosen one that can serve double duty—concealed and open field carry—the Razorback by Barranti Leather Company. This simple, ergonomic design holds the Delta Elite high and close to your body. It features a tension screw to dial in the amount of grip the holster puts on your handgun. It's perfectly executed and just as much at home under a suit as it is over camouflage. We ordered ours with a matching magazine pouch.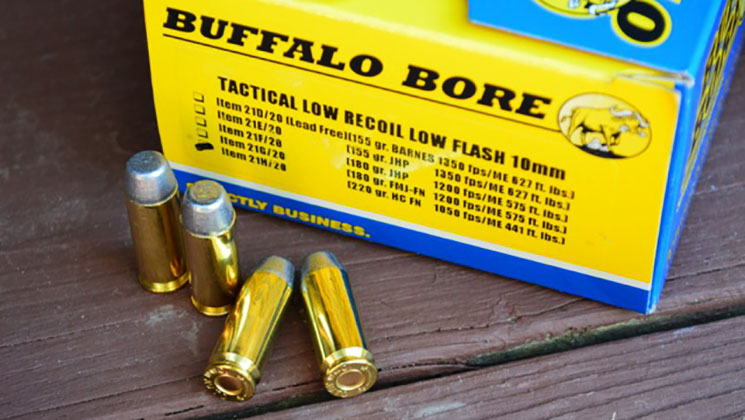 Our load of choice is one that has been getting a lot of attention lately, by Buffalo Bore Ammunition called the Outdoorsman line, featuring a wide flat-nosed 220-grain hardcast bullet at a modest 1,050 fps advertised velocity. We chose this particular load for two reasons: its reputation for uncompromised straight-line penetration, and the accuracy it exhibited in this particular gun. Where big, toothy animals are concerned, penetration is your best friend. Add to the fact that the low recoil of this load improves control dramatically over more hairy loads. Hardcast bullets tend to work best at moderate velocities. Contact with hard surfaces like bone can distort the bullet's nose shape, ultimately hindering penetration. When held to moderate speeds, hardcast bullets maintain their shape, and if the bullet in question features a good nose profile, will track straight and deep in flesh, and produce a larger wound channel than the bullet diameter would suggest. This is a good defensive choice for our triple-duty sidearm.
Triple-duty, one gun. The Delta Elite/Barranti leather/Buffalo Bore combination performs its roles flawlessly, and offers the user a versatile combination for any circumstance he or she may encounter.