by
posted on December 29, 2017
Support NRA American Hunter
DONATE
Thanks to the NRA, the American Suppressor Association (ASA) and politically active folks like you, suppressors—also called silencers—can now be used in 40 states for hunting. That's terrific news, because suppressors mitigate a rifle's report to decibel thresholds deemed safe by OSHA. Therefore, hunters who use them will ensure that they'll be able to hear, "Did I get him, Grandpa!?" years down the road. Plus, they'll have happier neighbors. As a bonus, a quality suppressor often enhances accuracy and lessens recoil. Here are five suppressors fit for several hunting scenarios.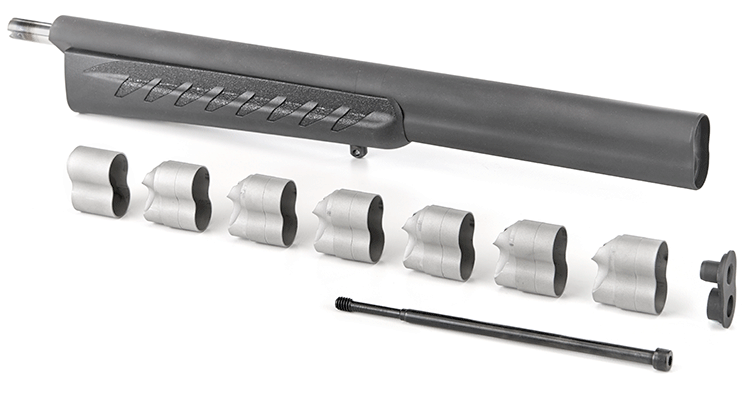 1. Ruger Silent-SR ISB
Millions of Ruger 10/22 rifles have been sold in America because these semiauto .22 LR's are fun, accurate and wildly effective for taking small game. If you want to make your 10/22 even more fun, buy a Silent-SR ISB (Integrally Suppressed Barrel) for it. I'll bet it will become your new favorite rifle. This Ruger-produced barrel system replaces the 10/22's factory barrel in minutes with no additional tooling, and will morph your tired old plinker into a veritable squirrel assassin by reducing the .22LR's report to 113 decibels. That means you can shoot it without hearing protection.
In essence, the Silent-SR is a 10.62-inch rifled barrel inside a 16.2-inch aluminum sleeve. Ahead of the barrel, in this sleeve is a 6-inch series of removable stainless steel baffles that form the suppressor. The sleeve is permanently attached to ensure that the barrel maintains a 16-inch overall minimum length to remain legal. With a simple hex tool, the baffles can be removed for cleaning, and believe me, with all the rounds that this thing will see, you'll need to clean it at some point. The 2.6-pound unit comes with a polymer forend to accommodate it. As such, the unit adds no net gain in weight or length to your 10/22. If you already own a 10/22 and you want to suppress it, the Silent-SR is the way to go. MSRP: $629; ruger.com.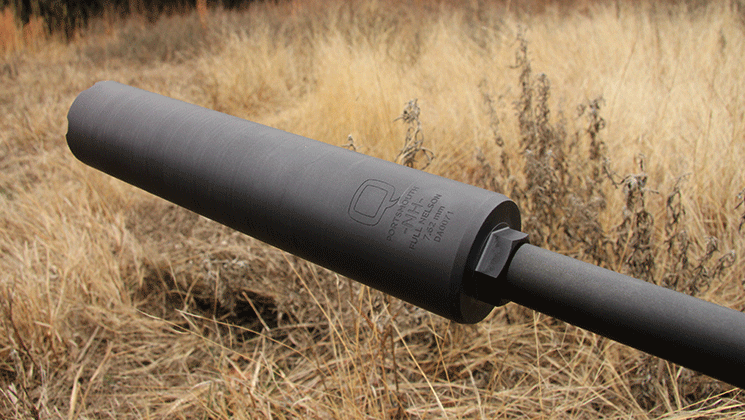 2. Q Full Nelson
Silencers by Q is one of the newest suppressor companies around, and it makes great stuff. It's Full Nelson is a giant can, but as such, it's likely the quietest one I've tested to date. It's intended for powerful, heavy recoiling rifles up to .300 Win. Mag., and it can be used for any smaller, lesser caliber rifles with amazing results. While actual decibel level testing is extremely subjective if not in a laboratory, what I can say definitively is that the Full Nelson is incredibly quiet—quieter than the others. Put it on your .308 Win., and you'll likely surprise your buddies when you show up to camp with a deer in the truck, because they didn't hear you shoot.
While it's big, it's also relatively light—considering it's 1.75-inch girth and 8.6-inch length—at 16.6 ounces, because it's made of 100 percent titanium. This is the suppressor you want if you shoot big rifles and need a quiet can that weighs less than a motorcycle muffler. MSRP: $899; liveqordie.com.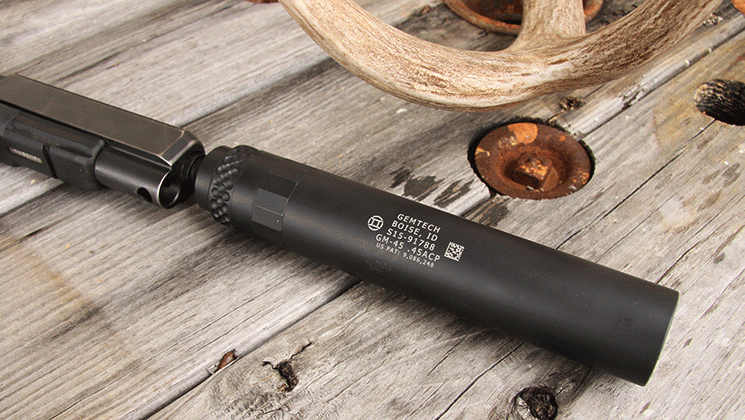 3. Gemtech GM-45
My go-to firearm for tooling around my property when I'm working on treestands or food plots is my Glock 40 MOS. That's because this 10mm handgun is good for wild hogs and anything on down the line—but it's also louder than hell. That's why I also wear Gemtech's GM-45 suppressor on my belt alongside the Glock. If I have a few seconds, I'll screw the can on the end of the Glock's barrel to save my ears. Although it's intended for a .45 ACP, Gemtech (one of the oldest and most respected names in silencers) builds its products robustly, so the GM-45 can also handle up to 10mm and all lesser calibers like 9mm. That makes it extremely versatile. It's specifically designed for semiauto pistols by way of its internal spring piston system that allows the gun to cycle without malfunction, despite the added weight on the end of the barrel.
What makes the GM-45 stand out is its threaded-tube-and-core design that facilitates cleaning. Simply untwist the end cap to clean the piston system, then remove the aluminum outer sleeve to expose the unit's inner "G Core" that can then be soaked and cleaned. While not the quietest suppressor I've ever tested, at a touted 23 decibel reduction when fired dry, it only weighs 5.5 ounces, and that's a tradeoff I'll take. All in all, it's one of my favorite suppressors on the market for high-velocity handguns. MSRP: $699; gemtech.com.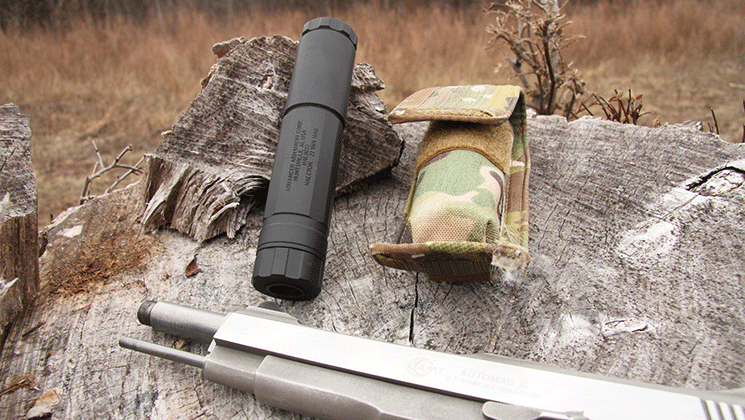 4. Advanced Armament Corp. Halcyon
One of my favorite calibers is a .22 Magnum because it's a rimfire, so its ammo is relatively cheap. Yet at ranges inside 100 yards, it's absolutely deadly. The only beef I have with the caliber is its report—it just seems like a rimfire should be quieter. But, there's a way to make it silent and violent. It's called the Halcyon. Made by American Armament Corp. (AAC), owned by Remington, the Halcyon is an aluminum bodied, titanium-baffle suppressor that screws directly on your .22 Mag's (or .22LR's) threaded barrel. While it's likely overbuilt, it still only weighs between 4 and 6 ounces. Why the disparity? It's completely modular.
The Halcyon consists of two end caps, two aluminum tubes and seven nesting baffles. Depending on the shooter's needs, the front tube and its three baffles can be removed so that the can is reduced to 3.4 inches long and weighs only 4 ounces. This is perfect for small squirrel-bagging handguns like the Ruger MKII or Walther P22. Or, use the full 5.2-inch unit when using your .22 Mag or .17 HMR rifles to draw maximum noise mitigation. Finally, the Halcyon's design allows for full thorough cleaning, thereby increasing its life and effectiveness. In sum, the Halcyon is a top-notch silencer that's versatile and affordable. It's also incredibly fun. MSRP: $449; advanced-armament.com.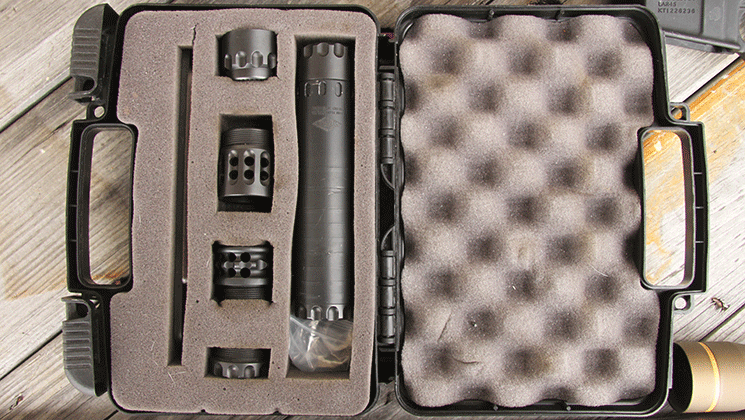 5. Yankee Hill Machine Co. Nitro 30 Stainless
Let's face it: Suppressors are artificially expensive. But until the Hearing Protection Act passes and more makers flood the market with them, they'll continue to cost as much or more than the firearm they're intended to suppress. Therefore, if you're going to buy one suppressor and jump through the legal hoops to own it, I believe it should be versatile. In my opinion, there are currently no silencers more versatile than YHM's Nitro 30 Stainless.
The deal is, you can use any suppressor on any gun, so long as the caliber is at or below the silencer's maximum caliber threshold. Nearly all hunters I know have at least one .30 caliber rifle, so I consider this the minimum-sized suppressor hunters need if they are budgeted for only one. The Nitro is another modular suppressor, but it comes with a kit of end caps and thread caps, so it can be used to maximum effectiveness from your AR-15 on up to your threaded .30-06, .308 and even .300 Win. Mag. You can safely shoot a .223 caliber bullet through a .30 caliber suppressor and it will quiet it, but the larger-than-necessary bore allows more gas to escape unhampered through the suppressor, causing a louder report. But with the Nitro 30, you can screw in the appropriate end cap to fit multiple calibers more efficiently. It also comes with a flash suppressor/muzzle brake or a regular, non-ported end cap for hunting.
I found the Nitro 30 about average in terms of sound mitigation, but that's because it's also average in size at 6.9 inches long and 18.2 ounces in weight. Keep in mind, average is a good trait for hunting suppressors, because sound mitigation is always a tradeoff versus size, therefore I prefer them middle of the road so they're not too cumbersome. While it's true that the Nitro 30 is one of the more expensive suppressors, it's likely the most versatile, so you'll get your money's worth from it. MSRP: $890; yhm.net.
Looking to Purchase a Suppressor?
The Silencer Shop of Austin, Texas, has made navigating the federal government's requirements for purchasing a suppressor as simple as possible. Just go to silencershop.com, choose a suppressor and fill out the online form. Next, use its website to locate one of its kiosks near you to get fingerprinted. The company's automated system will digitize, consolidate and send your paperwork and your $200 tax stamp fee to the ATF. Then just wait for the call—and your suppressor.