by
posted on April 15, 2013
Support NRA American Hunter
DONATE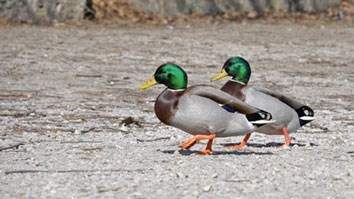 It's a dangerous time of year for us devotees of the mallard duck. The guns are oiled and put away. Labs are back on the couch. Yet it's still too cold to build wood duck boxes or duck food plots or anything else that might otherwise distract us from an unavoidable fact: Opening day could not be farther away.
Yes, friends, it's now that we must be careful, lest we fall prey to a serious ailment known as Duck Depression. I'm not too proud to admit that it's befallen me as well as numerous friends throughout the years. Therefore, to help you recognize the warning signs—before it's too late—I've concocted a list of five symptoms to watch out for. If you notice any cropping up in your household, seek help.
1. Use of Retriever Hand Signals for Everyday Tasks
You taught your Lab to take the perfect line, but, unbeknownst to you, the routine was equally drilled into your psyche. Removed from hunting season and drifting toward Duck Depression, you may find yourself using retriever hand signals for less appropriate tasks. You probably won't even be aware of it. Case in point: One time I considered asking my wife to refresh my drink, and the next thing I knew I had my hand in front of her nose giving her a "back" toward the refrigerator.
2. Avian Deficit Disorder
This mental condition commonly linked to Duck Depression typically appears toward the latter stages of the disease. Most frequently it plays out thusly: You're driving down the road, chatting with your spouse. As always, she's reminding you to keep your eyes on the road and quit looking for ducks. You do your best to comply, but Avian Deficit Disorder simply won't let you, and you end up uttering a phrase such as, "The doctor called with my test results today. He said the odds are 1 in 3 that—MALLARDS!"
3. Resumption of Hunting Routine
For nearly four months we enjoyed the grandest of routines: Up at 5 a.m.; meet our buddies for coffee; get tucked into the blind by first light. Duck season is the only time of year when it's actually exciting time to be awake at such ungodly hours. Then all of a sudden it's shut off. We go back to our normal, boring lives. But sometimes someone forgets to alert our subconscious. For instance, last March I received a call in the early morning hours from my friend Bill's panic-stricken wife. She woke up and he simply wasn't in bed. Immediately I suspected that Duck Depression had taken hold, so I went down to the local diner where we meet for pre-hunt coffee. There was Bill, stumbling around in his waders mumbling about northerly winds in the forecast. To this day he has no recollection of the incident.
4. Irresponsible Use of the Hail Call
Throughout duck season, the hail call is used to gain the attention of passing flocks, especially when migrators are on the move. It's important to practice during the off-season. However, given its extreme volume and resemblance to Taylor Swift's singing voice, we must be judicious in its use lest we annoy those around us. Unfortunately Duck Depression can impair this sense of right and wrong. Time to call the kids in for dinner? Hail call. Guy cuts you off in traffic? Hail call. Spouse gives you the silent treatment? Hail call. Consider avoiding the hail call during the next 6 to 8 weeks except under supervision.
5. Duckification of Your Home
The duck blind isn't just a place to conceal ourselves from ducks, but a refuge. A place for muddy-pawed dogs, bad jokes and eggs on the skillet. It's easy to long for such an escape and include elements of the duck blind in our homes. It starts innocently enough with a little camo wallpaper, duck mounts and waterfowl artistry in the man cave, but it can quickly spiral out of control. If one day you find yourself scattering decoys on the front lawn and brushing your porch with cedar branches, it's time to consult a professional.