Support NRA American Hunter
DONATE
If you're not a bowhunter but wish to take advantage of the extended bowseasons afforded bowhunters, there's a simple solution in most states, and that's a crossbow. In fact, this is the reason why some dedicated bowhunters don't like crossbows—because they reduce the skill required to shoot an arrow accurately. Indeed, with a simple understanding of a modern crossbow's function, a basic knowledge of shooting fundamentals and scope zeroing, just about anyone can punch an apple at 50 yards after a couple hours on the range. What this means is, crossbows are deadly for deer. While some guys must have all the latest and greatest gear, don't think you must pay $2,000 for a top-end bow. There are many in the $500 range that are great, and several in the $750 range that are superb. Here's a look at the top five crossbows under $1,000. 

1. Ten Point Titan M1

It wasn't long ago when you couldn't touch a high-end
TenPoint
crossbow for less than about $1,500. However, the arrow-shooting juggernaut has done a wonderful job at making great products and branding them. On its low end is the company's
Wicked Ridge
brand, while on the high end it positioned its flagship TenPoint models that are some of the best in the world, all totaled. In the middle was its Horton brand that I have consistently said represented some of the best value crossbows going. Well, in 2020, TenPoint brand incorporated what used to be its Horton line under the TenPoint name, and so now what would have been called a Horton is now TenPoint's
Titan M1
. In my view, it's the best quality/feature-to-value crossbow going.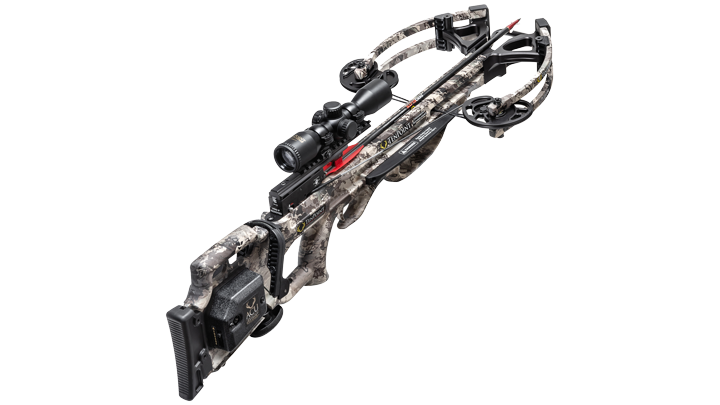 In essence, it's a premium TenPoint crossbow just without the Reverse Draw technology that the company must pay to license from the patent holder. This bow is just as narrow and delivers ample speed. To that end, it shoots a 400-grain arrow at 360 fps for 115 ft.-lbs. of energy. This is average these days, but it's all I want; this is the sweet spot for crossbows, as those under 400 fps tend to be more accurate on average, they tend to be quieter and they tend to hold up longer.
Where the TenPoint really shines is in its portability, safety and quality features. It's only 9 inches wide axle-to-axle, which makes it incredibly easy to wield in the woods. Its trigger is superb and its stock feels great. It is also available with the best cocking system available, the ACUdraw, which makes it a great option for kids and disabled or older hunters whose backs aren't what they used to be. TenPoint's accessories are world-class, and the bow comes all but ready to kill a deer.
While I haven't shot all of the crossbows here (namely the Swat) for accuracy, I can tell you that I've never shot a TenPoint that didn't shoot right around 1-inch groups at 30 yards. The Titan will be no different. In all, it's the best crossbow for under $1,000, and it's only $799-$899, depending on the accessory package chosen.
MSRP: $799-$899;
tenpointcrossbows.com
.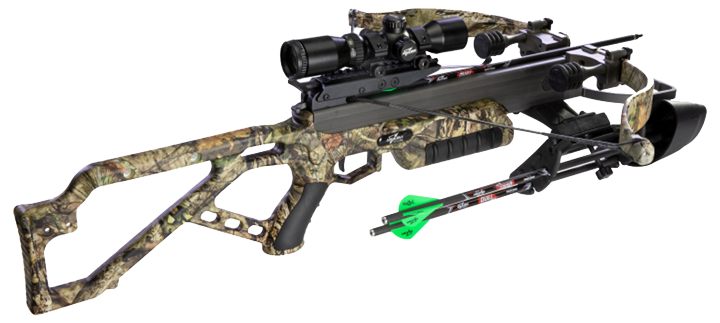 2. Excalibur Axe 340

I must admit that in the past I haven't been the biggest
Excalibur
fan, mainly because I simply thought that modern eccentrics—cams—were better than recurve-style limbs only for generating power. I am not totally wrong, but I am not entirely right either. Because a crossbow can be cocked and its string held mechanically, the Excalibur's no-let off issue isn't a problem like it is on vertical bows. Second, cam-based timing issues are solved; third, the camless-crossbow can also be made lighter and can be repaired much easier if something goes down. Then, on top of this realization, I tried an Excalibur. Plain and simple these crossbows are made well, and they shoot well. They only downside? They must be made with high draw weights to counter the lack of cams, so they're not the easiest to cock as shots add up. Still, the
Axe 340
has a ton going for it, so much that it's my No. 2 crossbow for less than a grand.
First, it's a light little bow at 5.5 pounds—the lightest on this list—and delivers 340 fps. It may not be the lightest or fastest on the market, but it sure is quiet, thanks to its very nature and its many sound mitigating, vibration dampening technologies. It's accurate, too. Its frame is made of aluminum, and its fire control system, including its anti-dryfire device, trigger and safety are quality-made.
What's weird about this bow is that it's more like a traditional crossbow in terms of its cocked width—about 25 inches—which is big these days; but I swear it handles like its smaller than it is, no doubt owing to its overall length, diminutive weight and tight, well-put-together feel. With less moving parts, something about it just lends confidence, and it's tough to describe until you feel it for yourself. Academically, this 270-pound draw weight bow delivers 340 fps, and while those numbers aren't outstanding, its accuracy is. I love the fact that it comes with all kinds of accessories and is ready to shoot out of the box. Be sure and try an Excalibur before you knock them; it's a wonderful crossbow for the real-world rigors of the deer woods.
MSRP: $749;
excaliburcrossbows.com
.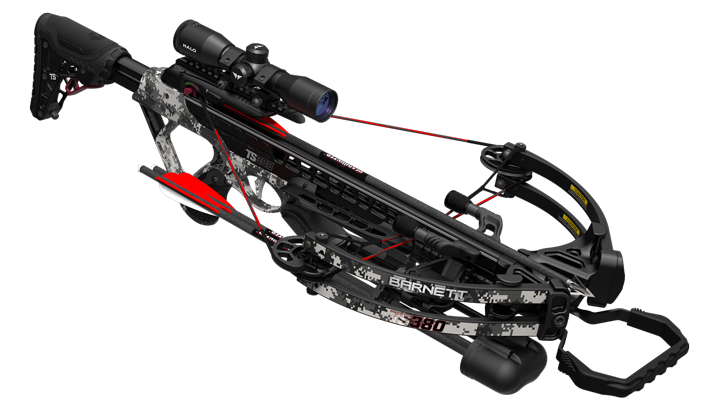 3. Barnett TS380

Barnett
may not be viewed as the Ferrari of crossbows, but that probably has to do with the fact that it offers many models at the lowest price-points. But that doesn't mean it doesn't make great crossbows. Indeed, its mid-range offerings like the
TS380
will do everything you want them to do and are amazingly accurate, all while saving you big cheese.
The TS380's frame is made of machined aluminum, so that tells you it's not a budget, all polymer bow. Split limbs, efficient cams and a modest 12.6-inch powerstroke deliver 380 fps. And here's a secret: A broadhead driven at 380 fps will kill any deer in the world at 60 yards if you hit it correctly. I'm not trying to blow smoke here, I'm just saying: If all things were equal, sure, I'd take extra speed, but all things aren't equal, and many times added speed means added noise and less accuracy due to erratic wind-plaining of the broadhead. So for me, 380 fps from a sturdy, quiet package is very desirable.
What's more, the TS380 features an improved
TriggerTech
trigger—perhaps the most important element of crossbow accuracy, and an adjustable buttstock so it fits a wide range of shooters and is made more easily packable. I also like Barnett's accessory attachment system for its included quiver. It's quick, easy and quiet to use.  All in all, the Barnett may not be the sexiest choice, because nothing is radical on it, but for under $500, I guarantee it will do its job if you do yours.
MSRP: $549;
barnettcrossbows.com
.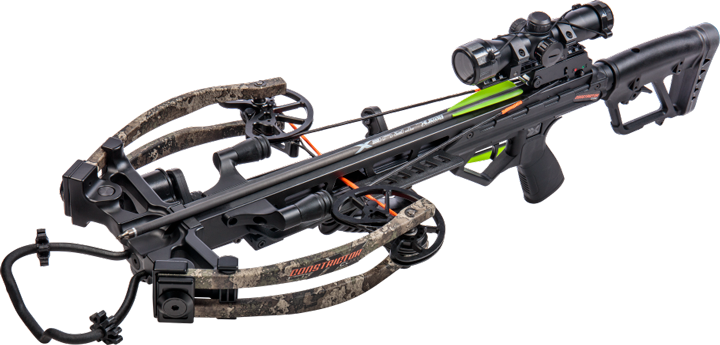 4. Bear Archery Constrictor
Bear Archery is one of the longest-running brands in all the archery world, and its products are great. Fred Bear's namesake has also learned to build a mighty decent crossbow, too. One of its latest is the Constrictor. I like it because it's a very narrow, easy-to-tote bow that is quiet, solidly built and stacks arrows so tight that you better only shoot one at a time.
The Constrictor measures just 10 inches axle-to-axle, yet produces 410 fps, thanks to a long powerstroke and efficient cams. It features an AR-15-style collapsible buttstock that serves two purposes. One, it adjusts to any size, and two, it collapses for travel and carry until you need it. The Constrictor is slightly long, but the first thing I'd do is take the stirrup off the front but keep it for target shooting only when you'll need to reload often. For hunting, you don't really need it, and this shortens the bow by about 5 inches, making it easier to lug up a tree. This bow's strong suit is twofold; first, it's very quiet, thanks to all its vibration-mitigating devices, and secondly, it's extremely affordable. If you are on a hard budget yet desire a quality bow, the Constrictor is probably it. MSRP: $599; beararchery.com.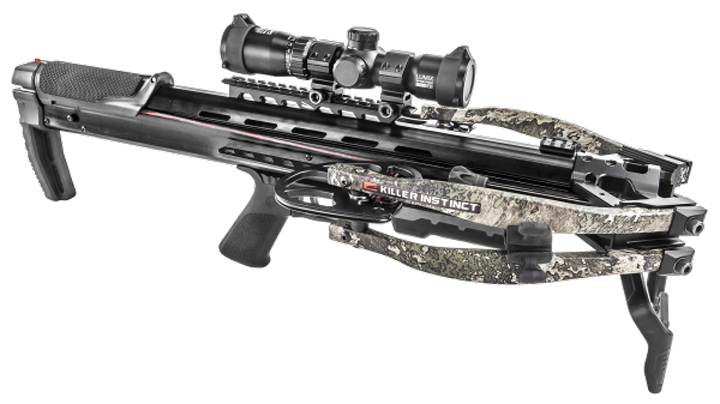 5. Killer Instinct Swat XP
The only reason Killer Instinct Crossbows' innovative and compact Swat XP crossbow doesn't rank higher on my top five is because the company is so new that I haven't had a chance to test its customer support yet, nor can I say with 100 percent certainty if this bow will hold up for years—because it hasn't been around for years. But by all measures, it should. What I really like about the Swat XP is its compactness and its features.
It utilizes a bullpup design and a bridge rail system (to support the scope), so the bow only measures 27 inches overall, yet features a 16.25-inch powerstroke for full blazing speed and 153 ft.-lbs. of kinetic energy. That, combined with its beefy, parallel split limbs to support its 200-pound draw weight and aggressive cams, produces 415 fps with a 400-grain bolt. That's impressive!
But I'm more about accuracy, portability and convenience once the minimum threshold of power required for killing a deer is met. The Swat XP is easy to carry in the woods and shoot, thanks to its tiny 9.125 cocked width and overall diminutive footprint. (You can add a couple more inches for the more honest cam-edge-to-cam-edge measurement, but still, this baby is one of the smallest bows available, period.) A couple other features also make the bow stand apart: First, I love its quality feeling machined-aluminum riser combined with its comfortable rubbery pistol grip and its actual cheekpiece, so you can get a consistent cheek weld. The string actually goes under the cheekpiece in a very innovative design to maximize space. Its "broadhead cage" at the end of the barrel protects you from the danger. Finally, its stirrup folds down to provide a stable rest, and when it is folded, it greatly reduces this bow's length. All in all, this is a heck of a crossbow, all for just under $1,000. MSRP: $999; killercrossbows.com.