Support NRA American Hunter
DONATE
As crossbow popularity advances like tumbleweed in the wind, so too does crossbow technology. Here is the author's top picks for 2016.
TenPoint Carbon Nitro RDX
TenPoint has been the Cadillac of crossbows for more than a decade. The small-town company owns numerous crossbow patents, innovates and makes all of its best-in-industry bows in its Ohio factory. Last year its sister brand, Horton, introduced perhaps the all-around best crossbow on the market in its Storm RDX. For 2016 Ten Point's taking the title back with its Carbon Nitro RDX. While its similarities to the Storm are striking, it contains several new features that improve it.
The Nitro features reverse draw technology, the equivalent to a bullpup rifle in firearm terms. One of only several companies that licenses this patented limb-orientation style, it lengthens the powerstroke—thereby increasing arrow speed—without increasing the bow's overall length. As a byproduct, when cocked the width between the parallel limbs shrink, reducing the bow to a mere 10-inches axle-to-axle.
The Nitro features ultra-aggressive cams, a 165-pound draw weight, a 16.5-inch powerstroke and split limbs to deliver 370-grian arrows at 385 fps—and does so accurately and more quietly than I previously thought possible. It also remedies perhaps the Storm's only flaw by utilizing a 100-percent woven carbon fiber barrel that shaves a half pound to get it under 7 pounds. It remains supremely safe with finger wings and a no-nonsense safety. An adjustable buttstock makes it compact for carrying (this should be standard on all crossbows), customizes fit, and houses an optional crank cocker that allows anyone to cock and use this bow. Like all TenPoints, it comes with everything you need to hit the field immediately—and also a meaty price tag. MSRP: $1,819.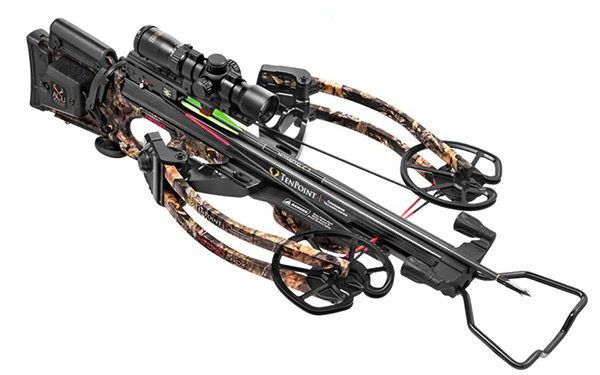 Browning Zero Seven One-Six Two
If you're like me, you like Browning because it doesn't make junk. Fact of the matter is, Browning doesn't actually make much at all, but rather it contracts other companies to make high-quality gear for it, to its demanding specifications. It contracted crossbow juggernaut Barnett to build it one of the world's best crossbows, the One Six Two. I learned this as pulled it from its included, high-dollar molder polymer case and shot it repeatedly.
Browning's Zero Seven One Six Two crossbow is an extremely high quality bow that's one of the quiet and most accurate I've ever shot. Plus it comes with a host of accessories and features that make it easy to transport, carry, load and shoot. Plus it looks sweet.
Like the Ten Point, the One Six Two houses an optional crank cocking system hidden within its buttstock that allows anyone of any strength level to cock it. It's safe with a dual-anti dryfire devices, a trigger safety, and safety wings built into its semi-soft rubber stock that goes a long way to quieting the bow when in the woods. Perhaps its only disappointing feature was its third-party Trigger Tech trigger that, with its 5.5-pound pull weight, didn't quite live up to the hype. Still, it's better than most.
Despite its radical looks, the Browning's performance, however, is where it really separates itself. Aggressive cams are the engines that combine with 12-inch split limbs and a 14.6-inch powerstroke to deliver blazing speeds of 371.2 according to my chrono. I averaged .92-inch groups at 30 yards, and I shot groups out to 80. What is the most amazing aspect of this bow, however, is its quietness. In shooting dozens of bows, it is in the top three of quietest, high-speed bows I've ever fired, registering 95 decibels on my non-official meter.
This bow comes with everything you need to start shooting moments after purchasing, and what's more, it's slightly less expensive than other top-end bows. MSRP: $1,400.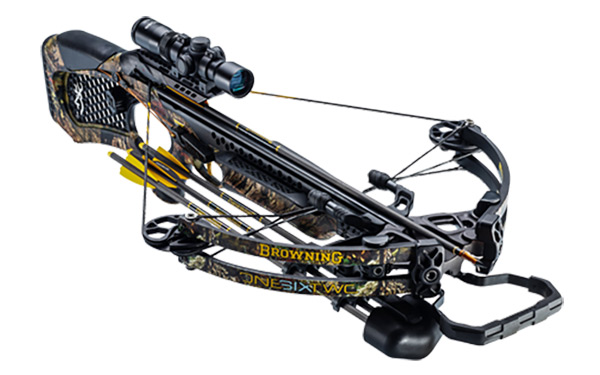 Barnett Ghost Revenant
Barnett has created what may be the fastest bow on the market with its new Ghost Revenant 415. That's right, the 415 means 415 fps, and I tested it: It shot 415 fps on the nose, according to Oehler. That speed, combined with a 400 grain arrow results in kinetic energy of 153 ft.-lbs. If only Hugh Glass—as portrayed recently in the Revenant blockbuster movie—would have had one as a backup to his flintlock, the world may have been spared from yet another Leonardo DiCaprio melodrama.
Prior to shooting this 185-pound draw behemoth, I anticipated it being as loud as Hugh Glass' screams—but I was surprised to find that it was much quieter than anticipated thanks to dual string stoppers and a copious amount of molder polymer. While it lacks the commercial sexiness of machined aluminum, molded polymer is darn-near indestructible. I shot 1.9 inch groups at 30 yards, while using my 10 yard pin. This is truly a one-pin bow out to 40 yards.
One final attribute I like about this bow was its integral stirrup that functions perfectly to provide an anchor while cocking, but yet doesn't add 6 inches to the bow's overall length like most foot stirrups. Look for other companies to copy this design in the future. A grip through-forend and excellent detachable quiver round out the package. MSRP: $1,199.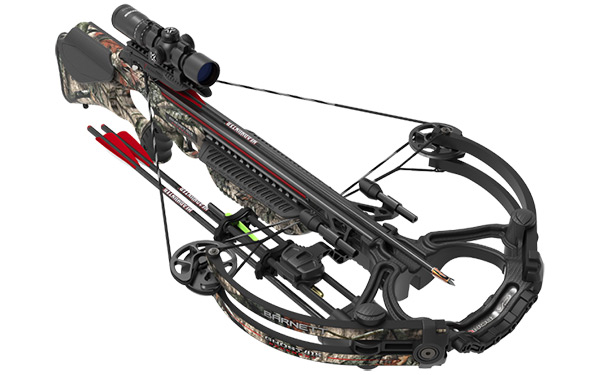 Bear Bruzer FFL
The Bear Archery company finally entered the crossbow market with its unique and robust Bruzer FFL. Its Forward Facing Limb technology, like the TenPoint's RDX, is a better mousetrap for crossbows if all else is equal. It enables this 125-pound draw weight crossbow (one of the lightest and therefore easiest to draw crossbows on the market) impressive arrow speeds of 335 thanks to its long powerstroke and very aggressive cams.
The Bear's Power V design is so called for it metal support beams that extend from it riser to its limbs, giving both strength. This and its excellent adjustable trigger no doubt contributed to the 1.2-inch groups I turned in at 30 yards. (While the trigger is adjustable, I'm not sure why anyone would opt for the heavier setting.) The only thing I have against this bow its nearly 9 pound heft.
Another unique feature is the Bruzers's open style stirrup that doubles as a bow hanger so you can simply place it over a limb while in your treestand. In sum, Bear's new Bruiser is easy to draw, accurate, and compact when drawn. Perhaps most notable, it may be the best value here at only $599.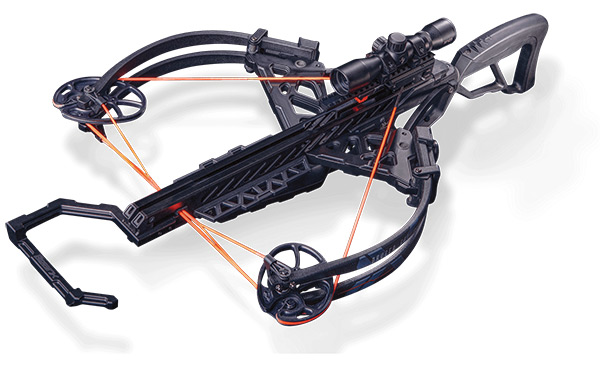 Darton Toxin 135 SS
The Michigan archery company Darton has been around for decades, and it because it doesn't spend tons of its cash on advertising, it may surprise some to know that it holds over 35 archery patents. A few years ago it entered the crossbow market. I'm including its Toxin 135 to this list because it's a nifty little bow that's solidly made, easy to carry and easier to shoot. While other bows may out-perform it in individual contests, I find myself reaching for this bow when it's time to go hunting.
Made almost exclusively of machined aluminum, most all its components are attached to a central machine aluminum "spine" that forms the stock, receive and barrel to which the riser is attached. Its bullpup design spares overall length. The barrel itself is beveled so the arrow has minimal contact. Darton engineers say it's a more accurate barrel, and my 2-inch groups seem to support the claim. No doubt the best-in-class, 3.1 pound trigger didn't hurt. Frankly I wish Darton would dial down the 180-pound draw weight and save of some noise too, but I can't argue with 340 fps even while shooting heavy 430-grain arrows.
At 29 inches in length, it's a shame that an ungainly metal cocking stirrup had to be added to the unit that adds additional inches. Even so, a 32-inch crossbow that accommodates a 13.5-inch powerstroke is notable. Combine its short length with a 17-inch axle-to-axle width and a 7.5-pound heft and you've got one of the smallest crossbows on the market—perhaps the smallest if reverse draw models are excluded. Consider its rubber grip points that are soft and quiet, and you can see why I reach for this bow routinely. It's also very fairly priced. MSRP: $892.