Given the ever-increasing demand for crossbows, it's little wonder that, with each passing year, the marketplace becomes more inundated with models from both established makers and startups. 2017 is no different. Below is an assemblage of standouts among a crowded field. Some offer tremendous value, while others epitomize efficiency and speed. One rewrites the rules. All deserve recognition.
Ravin R15
Even those "living under a rock" have heard of the Ravin R15; the newfangled crossbow stole the limelight at the recent Archery Trade Association (ATA) show. That's what happens when your crossbow has a 6-inch axle-to-axle width when cocked, and it's only 4.5 inches wider when un-cocked. Made possible by HeliCoil technology, which keeps the coiling cables above and below the cam for improved balance and 340-degree cam rotation, the compact crossbow attains 425 f.p.s. (for 160 ft.-lbs. of kinetic energy). Assisting in attaining that high velocity is the Frictionless Flight System. Unlike traditional crossbows, which have a barrel on which the bolt is propelled, those from the R15 are free-floating during forward movement. That eliminates friction and reduces string wear.
That's only the beginning. The R15's innovative Trac-Trigger firing system has a built-in trigger mechanism and slides forward to meet and capture the bowstring, ensuring alignment. Using the integral Versa-Draw cocking system, the Trac-Trigger unit—with string attached—is drawn with a 12-lb. cocking effort. An anti-dry-fire system and automatic safety are standard. Thanks to its unique design and skeletonized, Predator Camo-clad stock, the R15 has a weight of 6.9 lbs. Between its diminutive width and 34.5-inch overall length, the R15 will be at home in any environment—especially those with tight quarters, such as smallish ground blinds.
Technology is cheap, and neither is the R15. With a suggested price of $2,049 (with accessories), for most hunters the pre-tuned Ravin R15 is akin to purchasing a Ferrari—it won't happen. But, for those with deep pockets, you'll own the crossbow that's rewriting the rules on crossbow design.
Excalibur GRZ 2
"Come hell or high water." If this adage describes your perseverance, the Excalibur GRZ 2 is for you. Featuring a skeletonized, feather-lite, synthetic stock and barrel of the same material lends to the GRZ 2's imperiousness to weather—rain, sleet, snow ... no problem. The same applies to long treks; weighing a dainty 5.5 lbs. makes transport easy. The pistol grip and fore-end have purchase-enhancing, olive drab, rubber inserts. Overall length is a short 33¼ inches.
Keeping the velocity to 305 f.p.s. (with an 18-inch, 350-grain bolt) enabled Excalibur to use solid, recurve-style limbs with a lighter, 200-lb. draw weight and an 11.2-inch power stoke. Even without the supplied aid, cocking the bow isn't an onerous task. Neither is replacing the string, which can be done quickly and without the assistance of a bow shop—yet another reason for the diehard (and especially backcountry) crossbow hunter to consider it. Hunt frequently? The ability to de-cock the GRZ 2 without shooting saves wear on the string. The GRZ 2 has a manual safety.
Priced at $549.99, the GRZ 2 is a good value, particularly considering that it ships with a fixed-power, multi-range scope, rope-cocking aid, four-arrow quiver, and three Diablo bolt with field points.

Wicked Ridge Invader G3
A champagne taste with a beer budget can be fulfilled with the Wicked Ridge Invader G3. In fact, one reviewer on TenPoint Crossbow's website wrote, "Normally when I like something I end up upgrading to a better model but I don't see a need having the G3." Uh, oh. Did TenPoint make it too good? Did they hurt their bottom line? Perhaps.
Reaching 330 f.p.s. (for 96 ft.-lbs. of kinetic energy), the Invader G3 is Wicked Ridge's fastest and most powerful crossbow to-date. To attain that speed required a blend of traditional cams, split limbs—measuring 22.6 inches un-cocked and 19 inches drawn—with a 165-lb. draw weight, and a 13.5-inch power stroke. It's an efficient (and sufficient) design.
Reducing the duress of drawing is the integration of either the ACU-52 or ACUdraw cocking aid into the buttstock; having it integral also eliminates the possibility of misplacing it. Smart. Like the barrel, the stock is cloaked in aesthetically-pleasing Mossy Oak Treestand camouflage and has the coupling of large flanges and a hand-capturing grip on the fore-end to save your precious digits. Overall length is 37¾ inches. Weight is 6.6 lbs. Like other TenPoint products, the Invader G3 has an automatic safety and anti-dry-fire system standard.
Most reviewers of the Invader G3 commented about the importance of the accessories accompanying the crossbow. Those items are: TenPoint 3X Multi-Line scope, Wicked Ridge Instant-Detach, Three-Arrow Quiver, three, 400-gr. Wicked Ridge bolts with field points and, of course, a decal. Kidding aside, with a suggested retail price of $549 (with ACU-52) or $649 (with ACUdraw), the Invader is a real value. Reviewer Keith concurred, writing, "Best crossbow for the money and a great product." Well said.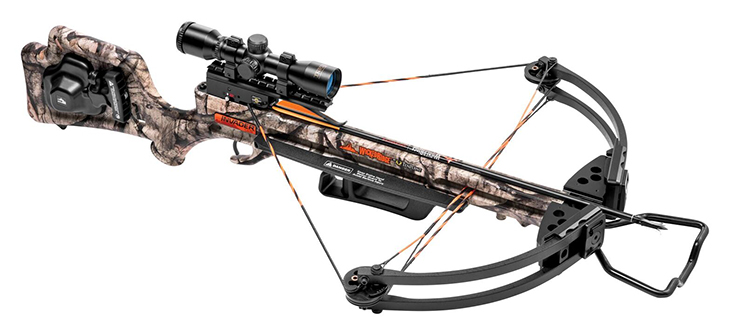 TenPoint Crossbows Eclipse RCX
With a nine-crossbow lineup ranging from $819 to $2,519, one might muse the TenPoint model that has the finest of crucial features without price-inflating frills. Priced at $1,119 to $1,219, the answer is the Eclipse RCX.
Here's why: The compact Eclipse RCX attains a speedy, 370 f.p.s. when using TenPoint 370-gr. Pro Lite bolts and 350 f.p.s. if TenPoint 425-gr. Pro Elite bolts are utilized. Nothing special, right? Wrong! The aforementioned velocities are attained despite having a light, 140-lb. draw, a 14-inch power stroke, and a cocked, axle-to-axle width of only 13.5 inches. That number increases to 17 inches when un-cocked. Its compactness makes it a respectable choice for hard-to-maneuver hunting spots, such as blinds and small-footprint stands. The efficiency of the design results in a crossbow that's quieter than most such high-performance models in the marketplace—an appreciated attribute.
Pairing a carbon-injected barrel with the lightweight, Realtree Xtra-finished FSB stock keeps the Eclipse RCX's weight to 6.9 lbs.—not overly light, but not unreasonable, either. The ACU draw-50 or ACUdraw are integral to the buttstock and greatly reduce the draw weight. Overall length is 34¾ inches. Like the other TenPoint crossbows, the Eclipse RCX has an automatic safety and anti-dry-fire system. Trigger pull is reported to be around three pounds and, based on several reviews, has desirable characteristics. One described it as "really nice."
Accompanying the Eclipse RCX is a TenPoint 3X Pro-View, pre-installed string-dampening rods, Instant-Detach Three-Arrow Quiver, and three TenPoint Pro-Elite carbon bolts with field points. These extras, when in addition to the features built into the crossbow, illustrate why it's difficult to justify moving beyond the Eclipse RCX.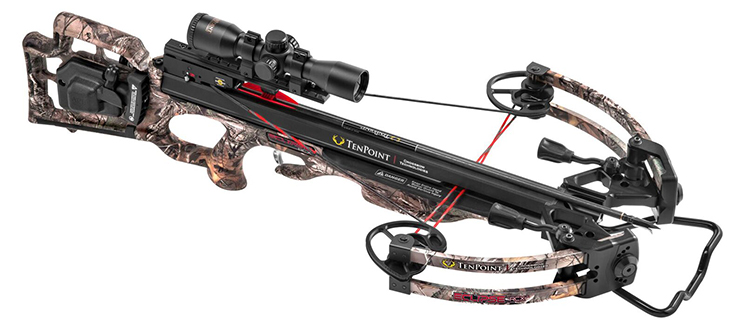 Stryker Katana 360
One-upping an older sibling is commonplace—including among crossbows. In a review last year, I described the Katana 385 as offering "the equilibrium of velocity, dimensions, draw weight, and features." The same statement also applies to—if not more so—the Katana 360. As its name hints, the new Katana attains a reasonable 360 f.p.s. By sacrificing six percent of the Katana 385's speed, the 360 has a lighter, 150-lb. draw weight and is, purportedly, much quieter. Assisting that "back-saving" draw weight are the limb design, reverse-draw cams, and a 13-inch power stroke. It's very efficient. At rest, the axle-to-axle width is 20 3/16 inches, and when cocked it's 17½ inches.
Clad in Realtree Xtra camouflage, the Katana's bullpup-style stock aids balance. It comes with a bilateral cheekpiece, too, making it shooter-friendly for shooters of all statures. To save bits, the fore-end has oversize finger guards, while rubber inserts on both the fore-end and the pistol grip aid purchase. Finger grooves augment the latter. Firing the Stryker 360 is a crisp, 2.5-lb. trigger, while anti-dry-fire technology prevents a crossbow-destroying blunder. Despite its aluminum barrel and add-ons, the Katana 360's overall weight is only 6.5 lbs.
Thanks to Stryker's affiliation with Excalibur Crossbow, Inc., the Katana 360 features Excalibur's ability to de-cock without firing. Among compound-style crossbows, that's as rare as are honest lemon-selling car salesmen. Sure, you can simply fire a crossbow post hunt to relax the limbs; however, wear from doing so accumulates quickly and, in time, forces you to replace your string prematurely. Kudos to Stryker for integrating the money-saving feature.
With actual pricing around $899 (lancasterarchery.com), the Stryker 360 (with accessories) represents a good value. It leaves little to be desired.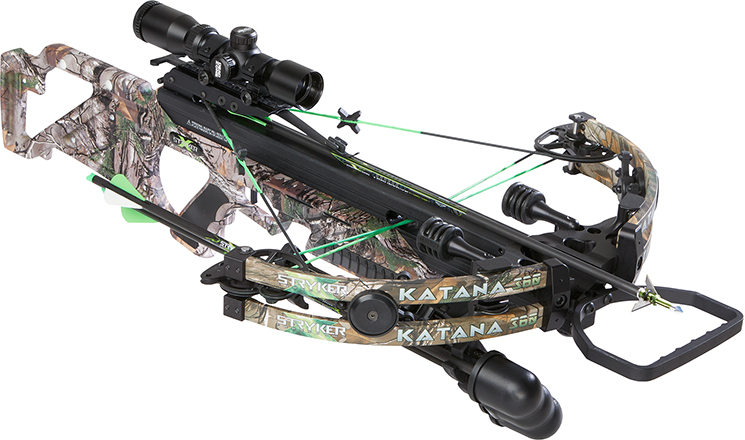 Barnett Ghost 420
Did you see that? Probably not, and neither will the deer. From the 185-lb. limbs of the Barnett's new ghostly crossbow, a 380-gr. bolt reaches an eye-deceiving 420 f.p.s. for 153 ft.-lbs. of kinetic energy. Such performance earned the Ghost 420 the title of Barnett's fastest (and thus most powerful) crossbow to-date—vanish Ghost 410! The crossbow measures 20.175 inches axle-to-axle and has a lengthy, 15 3/8-inch long power stroke.
The Ghost 420 has more "treats" than a bowl of Halloween candy. For example, the crossbow has an innovative, step-through riser that also serves as the foot stirrup, which helps keep the overall length to 37.4 inches. Unleashing the Ghost is a premium, 3-lb. TriggerTech metal-injection-molded (MIM) trigger that has frictionless release technology (FRT)—arguably among the best available. How? Essentially, a free-floating roller is positioned between the sear and trigger for an improved pull—less weight and creep. For added safety, the Ghost 420 has nock sensors an anti-dry-fire system in place.
There's a scary side to the Ghost—its weight; despite its lightweight carbonlite riser, the crossbow still weighs 7.6 lbs.—the heaviest model on this list. It's not one you'll want to carry great distances. In my mind, though, offsetting the extra weight is the thoughtful stock design, which has elements to improve fit, enhance purchase, and increase safety. The Mossy Oak Treestand Monochromatic camouflage is a nice addition, too.
Included with the Barnett Ghost 420 package is a 1.5-5X 32 mm illuminated scope, rope cocking aid, side-mount quiver, two, 22-inch Headhunter arrows, sling, string dampeners, and lubrication wax. Price is $1,199. Knowing what you now do, "who you gonna call?" Yep, that's right: Barnett.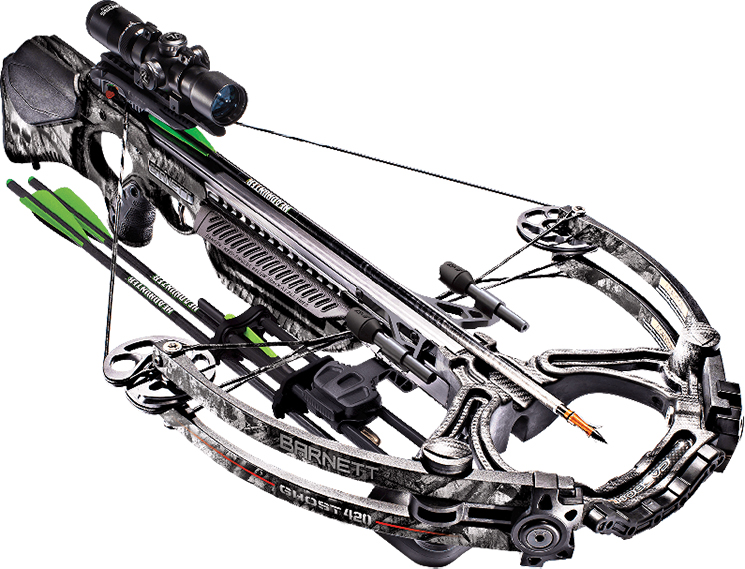 Killer Instinct Michael Waddell's Furious 370
Of the outdoor television personalities, Michael Waddell is among the most recognizable. For 2017, Killer Instinct Crossbows has teamed up with the phenom of "Michael Waddell's Bone Collector" and "Realtree Road Trips" for a special edition of its Furious 370 crossbow. The resulting accrual of qualities and features is phenomenal.
For starters, the crossbow attains 370 f.p.s. from the combination of a 185-lb. draw weight and 13.5-inch power stroke—not bad. Moreover, it has a diminutive, 14.5-inch axle-to-axle measurement when cocked, which will endear it to treestand and ground blind hunters alike. Like the above-mentioned Barnett crossbow, the Furious 370 has a TriggerTech trigger that's set to 3.5 lbs. and has FRT technology (described elsewhere). Despite its modest price ($599.99), the Furious 370 still has a machined, aluminum rail. But, it contributes to the crossbow's 7-lb. weight.
Fitted to the rear of the Furious 370 is a fully adjustable, five-position, bilateral, CCS AR-15-style stock. The benefit of the design is that it enables the user to personalize the length of pull and accommodate changes in clothing thickness. Depending on the buttstock setting, overall length ranges from 31- to 34-inches. Like the buttstock, the pistol grip's origin resides in the ubiquitous AR-15. This is fortunate because the existing pistol grip can be replaced with any that are suitable for the AR-15. The forearm can be swapped, too. Lastly, when not in use, the foot stirrup folds out of the way to help reduce the overall length. Overmolding on the stirrup helps reduce noise.
As impressive as the Michael Waddell's Furious 370 crossbow is, the package accompanying it makes it an even better deal. The Furious Pro Package includes: a Killer Instinct Lumix illuminated scope; three KillerTech Pro Black Eagle bolts; string suppressors; a five-arrow quiver; a single point sling; a rope cocker; and rail lube. The Connekt ICS crank-cocking winch isn't included but can be added. Talk about value!
Whether you're a speed demon, tight-fisted, or seeking equilibrium from a crossbow, there's something on this list for you. Now the tough part: choosing one.