by
posted on March 31, 2020
Support NRA American Hunter
DONATE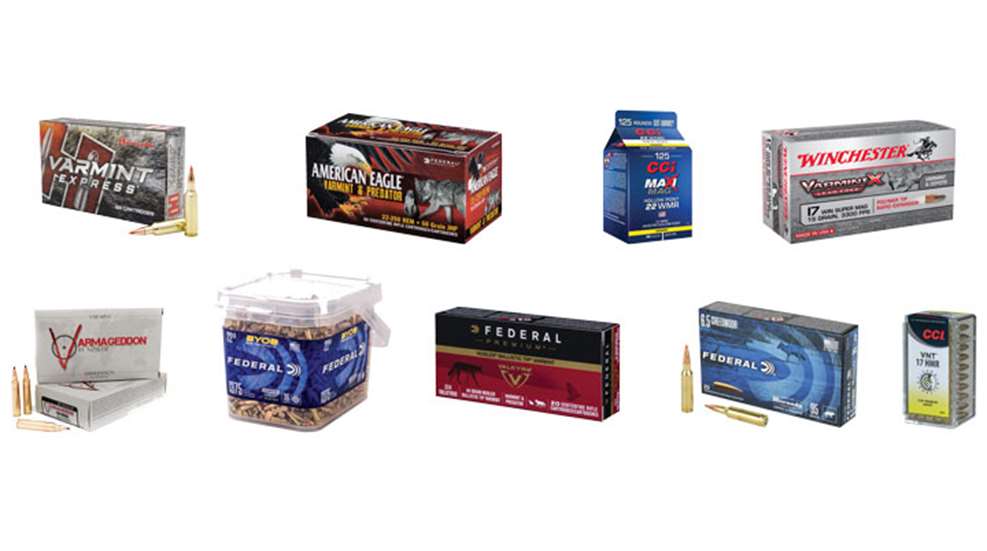 From rimfires to long-range screamers, there are a number of cartridge and ammunition offerings uniquely designed to perform on varmint and predators. Many manufacturers offer ballistic-tipped ammunition that delivers rapid expansion, while others rely on a cost-effective, hollow-point construction ideal for moderate ranges and devastating wound channels.
Whether you're looking to thin out a prairie dog colony or stack coyote furs, there are more than a few exceptional cartridge and load selections to get the job done. Thanks to widespread availability and quality manufacturing, many of these loads are fairly inexpensive, but highly reliable. Here's a look at the top 10 varmint and predator loads available right now.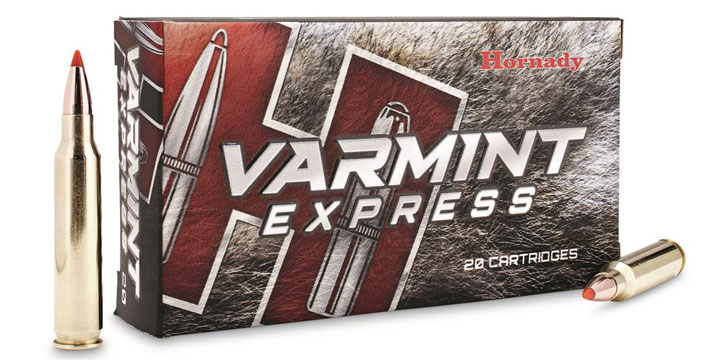 Hornady .223 Remington V-Max Varmint Express
One of the all-time great varmint and predator cartridges, the .223 Rem. has never been more popular than in the 55-grain V-Max load from Hornady. Available in the Varmint Express line, the .223 Rem. load features a polymer-tipped V-Max bullet that's great at range, and delivers hard-hitting performance on small game. Not only will it make a prairie dog do a gymnastic routine worthy of Olympic gold, the V-Max will stop a 'yote in its tracks. The 55-grain bullet leaves the barrel at roughly 3200 fps with 1,280 ft.-lbs. of energy—more than enough for long-range hunting purposes. MSRP: $24 per 20 rnd. box; hornady.com.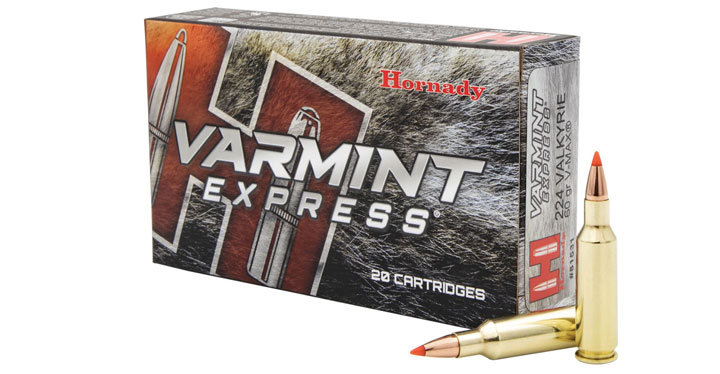 Hornady .224 Valkyrie V-Max Varmint Express
If you loved the .223 Rem., you'll certainly love one of the newest .22-caliber offerings: the .224 Valkyrie in 60-grain V-Max. Introduced a little over a year ago, Hornady's V-Max bullet offers rapid expansion to the Valkyrie's long-range prowess. Faster than the .223 Rem. by about 100 fps and carrying roughly 200 ft.-lbs. more energy, the Valkyrie drops less and is less susceptible to wind drift, which is especially noticeable at extreme range. The other benefit is that at distances inside 200 yards, the .224 Valkyrie is incredibly flat shooting. Simply hold on that coyote and squeeze the trigger. MSRP: $24 per 20-rnd. box; hornady.com.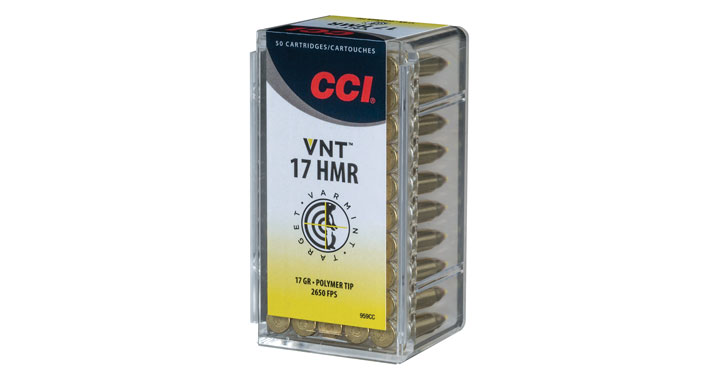 CCI .17 Hornady Magnum Rimfire VNT
Bigger isn't always better, which is certainly the case with CCI's .17 HMR VNT offering. Designed for varmint and small game, the polymer-tipped, 17-grain bullet is remarkably flat-shooting and highly accurate even to extended ranges. Best of all, it produces devastating terminal performance on small critters, from prairie dogs to coyotes. The small-caliber 17-grain Speer VNT bullet is often employed by coyote hunters because it does less pelt damage than more high-powered centerfires. MSRP: $12 per 20-rnd. box; cci-ammunition.com.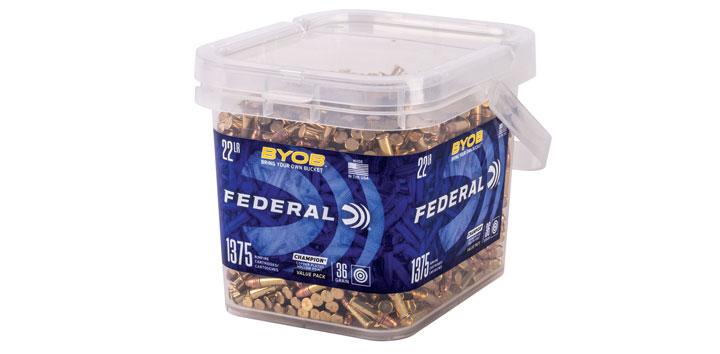 Federal .22 Long Rifle CPHP
No varmint-load list would be complete without a .22 LR offering. Relatively inexpensive to shoot, low recoiling and accurate at close ranges, the .22 LR is by far the most popular rimfire the world has ever known. It's also great for dispatching varmint at short distances. Federal's 36-grain CPHP (copper-plated hollow-point) load is not only inexpensive, it's highly effective at dispatching a wide variety of small critters. The .22 LR offering is now available from Federal in several round counts, including a bucket of 1,375 for $86, perfect for those long weekends spent shooting at prairie dogs, ground squirrels or rabbits. MSRP: $86 per 1,375-rnd. bucket; federalpremium.com.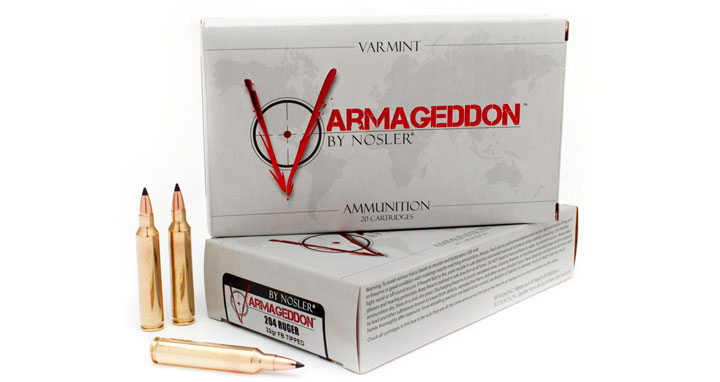 Nosler .204 Ruger Varmageddon
Developed from the .222 Remington, the .204 Ruger was introduced in 2004 and continues to be one of the most effective long-range varmint and predator rounds on the market today. Screaming out of the barrel at more than 4200 fps, the .204 Ruger generally houses a 32- to 40-grain projectile, and is absolutely lights-out on small game. Nosler's varmint-specific 32-grain Varmageddon load is ideal for sending prairie dogs into orbit, and features an ultra-thin-jacketed bullet with a polymer tip for violent expansion and impressive accuracy. MSRP: $27 per 20 rnd. box; nosler.com.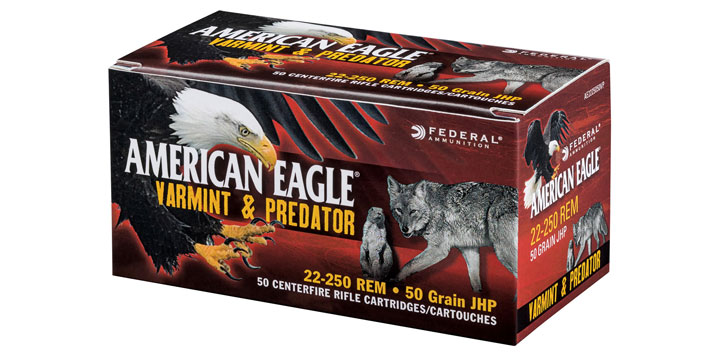 American Eagle .22-250 Remington JHP
At such an affordable price point, it's hard to believe American Eagle's varmint and predator ammunition is as accurate and lethal as it is. Available in bulk quantities, the .22-250 Rem. load features a 50-grain JHP (jacketed hollow-point) bullet that's devastating on small critters. Pushing 3850 fps, the .22-250 is a long-distance workhorse that many a coyote hunter has fallen in love with. MSRP: $43 per 50-rnd. box; federalpremium.com.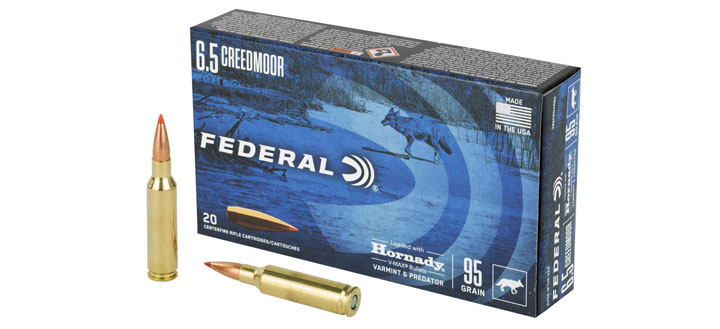 Federal 6.5 Creedmoor Varmint
Who says varmint cartridges have to be small caliber? Federal's 95-grain projectile in a 6.5 Creedmoor varmint load is an exceptional option for coyotes and other predators, particularly when you want to stretch the distance. The V-Max bullet offers rapid expansion, while the polymer tip ensures accuracy. Leaving the muzzle at 3300 fps with 2,300 ft.-lbs. of energy, Federal's varmint load is more than capable of taking down toughest critters. MSRP: $23 per 20-rnd. box; federalpremium.com.
Federal Premium .224 Valkyrie Nosler Ballistic Tip
Nosler ballistic tip ammunition has been a favorite among varmint and predator hunters for quite some time, and for good reason. The ballistic tip produces phenomenal accuracy and rapid expansion, making for quick kills and lethal performance. The .224 Valkyrie offering helps extend your range thanks to a 60-grain projectile that leaves the muzzle at 3300 fps. MSRP: $33 per 20-rnd. box; federalpremium.com.

CCI .22 Winchester Magnum Rimfire HP
The .22 WMR, or .22 Magnum, is one of the most loved and effective rimfire cartridges of all time. It's great for small game and extends the range of the typical LR cartridge. Thanks to CCI, it's now available in bulk cartons of 125, in either VNT or hollow-point variants. Accurate, reliable and great for closer-range shooting, the .22 WMR HP is an exceptional varmint round. MSRP: $36 per 125 rnd. box; cci-ammunition.com.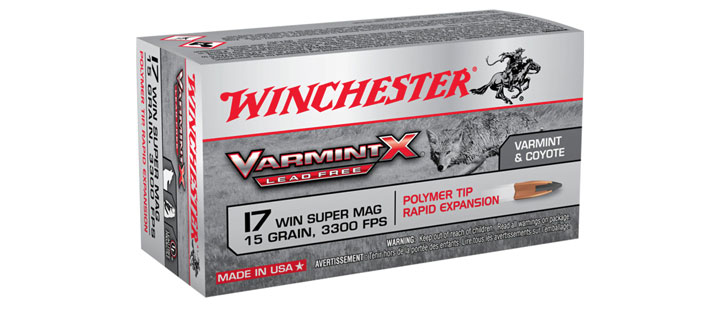 Winchester .17 Winchester Super Magnum Varmint X
The .17 WSM is one of the more impressive rimfire cartridges, capable of sending a 15-grain projectile out of the muzzle at 3300 fps. It's a favorite among coyote hunters because it does minimal damage to pelts and is effective out to significant distances. Winchester offers the load in its Varmint X line, with a lead-free, polymer-tipped bullet that expands rapidly and creates devastating terminal performance. Available in bulk packs, the Varmint X load is relatively cheap and highly effective. MSRP: $18 per 50-rnd. box; winchester.com.