Spring has arrived and it's time to start thinking about turkey hunting. In the coming weeks, most states will kick off their spring season, and that's the perfect excuse to call in sick to work, gather a few friends and hit the road in search of gobblers. Turkey hunts are affordable and accessible for out-of-state hunters, and with so many great turkey hunting destinations around the country, you're probably closer than you think to prime hunting grounds. Whether you're looking to complete your Grand Slam or simply trying to find a place where you and your buddies can fill a tag this spring, our guide to the best turkey hunting states will help you get started.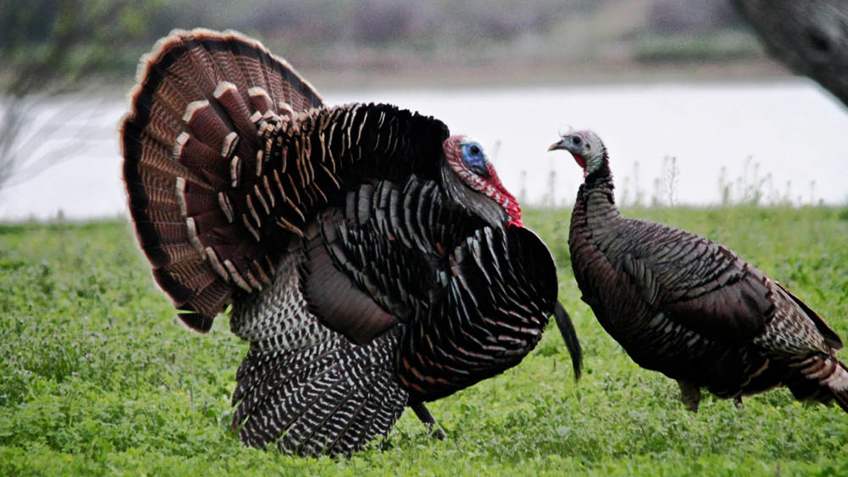 1. Texas
Texas offers abundant turkey hunting opportunities and three subspecies of birds. The Rio Grande species is the primary target, and the state is home to roughly a half-million birds, although Eastern and Merriam's are also present in the Lone Star State. What's more, Texas offers an opportunity to harvest upwards of four birds, although only one of those can be an Eastern. There are a handful of Wildlife Management Areas (WMA) in Texas that allow turkey hunting with special permits, but the bulk of opportunities in this state are guided or semi-guided hunts on private land. That being said, the odds of taking a gobbler on a guided hunt are high, and there are many affordable guided hunt options across the state. For more information, visit tpwd.texas.gov.
2. Florida
Florida is a prime destination for turkey hunters seeking to complete their Grand Slam because it's the only place to bag an Osceola. Regardless of whether you're trying to complete your Slam, this is a great destination to bag your gobbler. The state is home to more than 100,000 Osceolas, but there are also roughly 40,000 Eastern birds in the Sunshine State, with plenty of public land opportunities. Plus, you won't have to worry about late snows, although bugs and snakes can be a nuisance. In most areas of the state, you'll be able to bag two bearded birds, but some areas require quota permits. If you're looking for an Eastern, focus on the panhandle counties. If you've got your sights on an Osceola, head to the central or southern portion of the state. For more information, visit myfwc.com/hunting.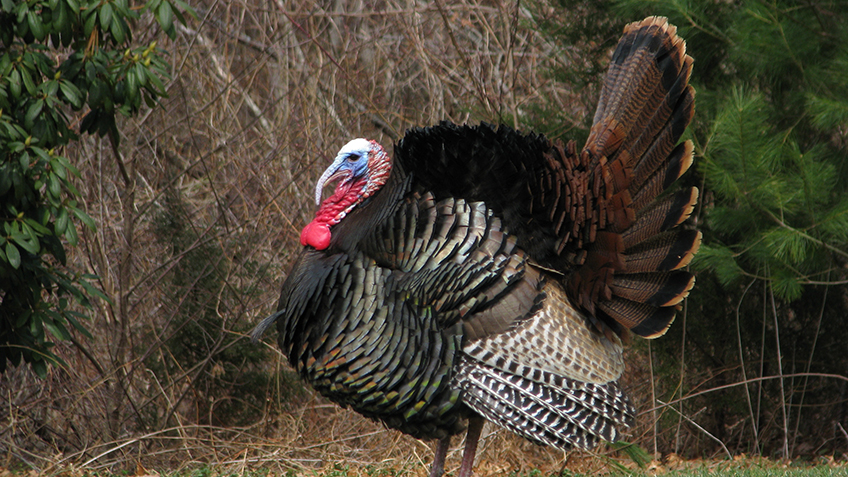 3. Alabama
Alabama is one of the best turkey hunting destinations in the country, and with a population that's approaching a half-million birds and an annual harvest of around 40,000 turkeys, this is a prime location for an out-of-state hunt. In addition, you can harvest as many as five birds total during the spring and fall seasons—one of the most generous limits in the country. The Eastern subspecies is the target here, and if you're looking for a great, affordable turkey hunt, concentrate your efforts on the Black Belt region across the central portion of the state. There are plenty of public land areas to hunt, but guided hunts here are among the most affordable in the country. For more information, visit outdooralabama.com.
4. Kentucky
The Bluegrass State is a superb option for out-of-state turkey hunters. There are over 200,000 Easterns in Kentucky, and there's also plenty of public hunting areas here as well including the sprawling Land Between the Lakes National Recreation Area. But other, smaller WMAs like Clay, Peabody, and Kentucky River also offer excellent opportunities for public land birds. The regular season runs through the first week of May, and Kentucky allows hunters to harvest up to two bearded birds during the season. If you don't have time to scout public land, there are also plenty of private land guided hunts available for less than $2,000. For more information, visit fw.ky.gov.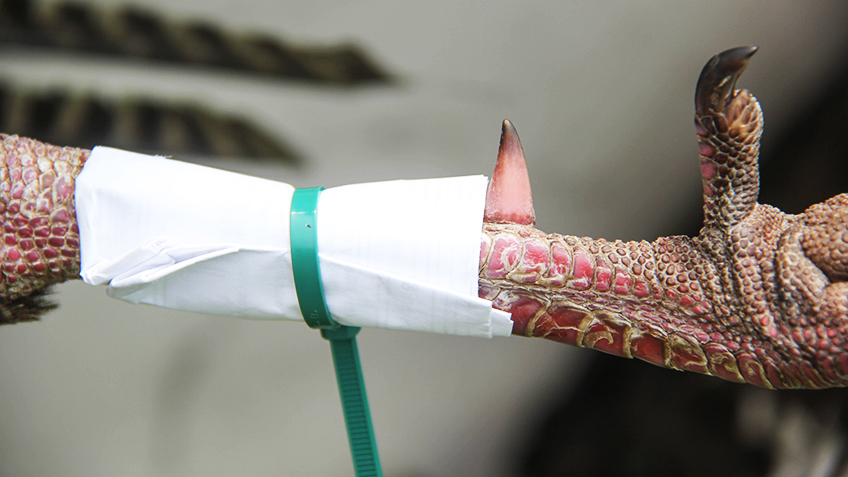 5. Missouri
No rundown of the best turkey hunting states could ever be complete without mentioning Missouri. The Show Me State serves up some of the best turkey hunting in the nation, and with a population north of 300,000 Eastern turkeys and an annual harvest that pushes 50,000 birds, this is a great destination for your next turkey hunting road trip. Hunters are allowed to harvest two bearded birds in the state, and with a little luck, you can make that happen on public land. The Whetstone Creek and Gist Ranch Conservation Areas are both superb and can be easily accessed. Both Conservation Areas produce plenty of birds each season. For more information, visit mdc.mo.gov.
6. Nebraska
Nebraska is a great destination for the hunter who wants to obtain a Grand Slam, as the state is home to three subspecies of turkeys—Merriam's, Easterns, and Rios. Which species you target will depend on where you hunt: Merriam's are most commonly found in the western and northwestern portion of the state, Easterns in the extreme eastern portion, and Rios in central Nebraska. Regardless of the species, Nebraska offers great turkey hunting. There are roughly 140,000 birds in the state, but the 2017 spring harvest was 20,431 birds, which rivals states with much higher turkey populations. With the appropriate permits, you can harvest upwards of three bearded birds, and the Pine Ridge area in the northwestern portion of the state offers plenty of access and a great opportunity to harvest a Merriam's. For more information, visit outdoornebraska.gov.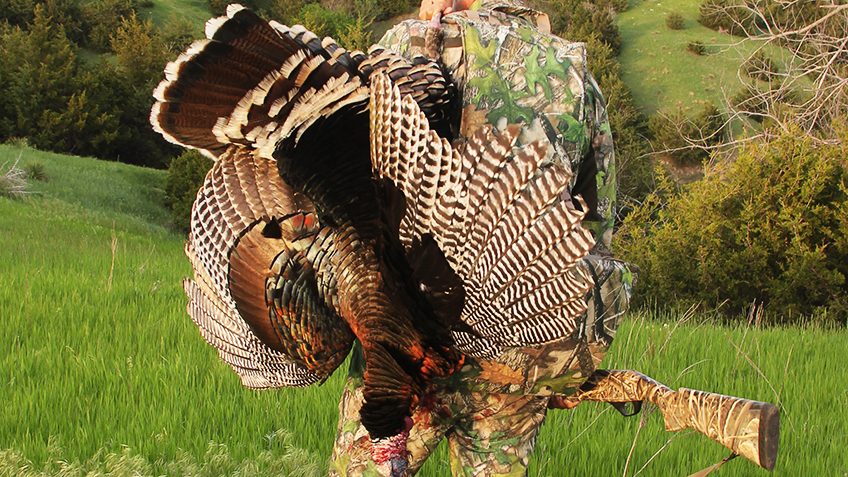 7. Tennessee
The Volunteer State is home to roughly a quarter-million Eastern turkeys, and opportunities for public-land hunting abound, making this a prime destination for gobblers. You can harvest up to four birds, and finding public land to hunt is not difficult. For the more adventurous hunter, stalking deep into the steep hills of the Cherokee National Forest is about as close to a true wilderness turkey hunt you'll find, and there are other WMAs across the state that offer lots of birds and plenty of elbow room. Your odds of finding a bird on public land are about as good here as anywhere, so Tennessee should be on the short list for non-residents. Additionally, the state's generous bag limits mean you can fill the freezer. For more information, visit tn.gov/twra.
8. Kansas
Kansas is home to the World Turkey Hunting Championship, and as you might imagine, there are plenty of opportunities for birds throughout the state. There are an estimated 300,000-plus turkeys, about half of which are Rios, though there are also plenty of Easterns and hybrid birds running around the farmlands and forested creek drainages. Kansas' Walk-In Hunting Area (WIA) program, which is supported by the National Wild Turkey Federation (NWTF), leases about 160,000 acres of private land for public access, so there are fantastic opportunities to find a bird without a guide. With so many birds and so much opportunity, Kansas should be at the top of your list for an out-of-state, DIY turkey hunt. Hunters can harvest up to two birds with the appropriate permits, and the spring turkey season lasts through the end of May. For more information, visit ksoutdoors.com.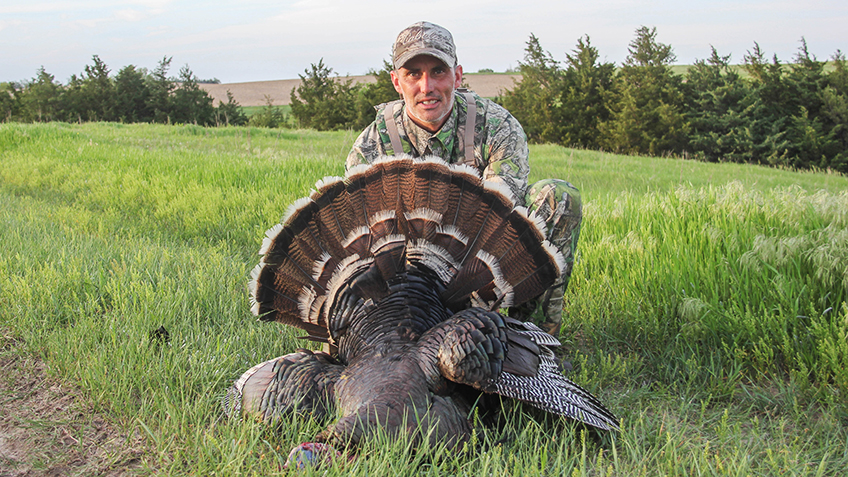 9. Mississippi
Mississippi is certainly one of the top turkey destinations in the country, thanks to a booming population of birds (roughly a quarter-million at last estimate), a six-week season and a liberal bag limit of three birds. Certain WMAs have special regulations and require a permit, but it's well worth the effort when you consider the abundance of turkeys in the Magnolia State. The Upper Sardis, Caston Creek, Sandy Creek and Caney Creek WMAs are all places to circle on your turkey hunting map, for they provide access to tens of thousands of acres of the best public-land turkey hunting in the nation. For more information, visit mdwfp.com.
10. Ohio
The Buckeye State may be best known for big bucks, but there are great turkey hunting opportunities as well. Ohio is home to about 165,000 Easterns, and if you're planning a hunt, begin by looking at the Appalachian Foothills in the southeastern portion of the state. The Salt Fork Wildlife Area is a great option, and there are plenty of birds in the rolling hill country there. The 63,000-acre Shawnee State Forest in the southern portion of the state is also a great destination, as creek bottoms and timbered hills provide plenty of prime turkey habitat and ample opportunities for birds—especially for hunters who are willing to get off the beaten path. Ohio allows hunters to take up to two bearded birds with the proper permits. For more information, visit wildlife.ohiodnr.gov.