by
posted on August 30, 2010
Support NRA American Hunter
DONATE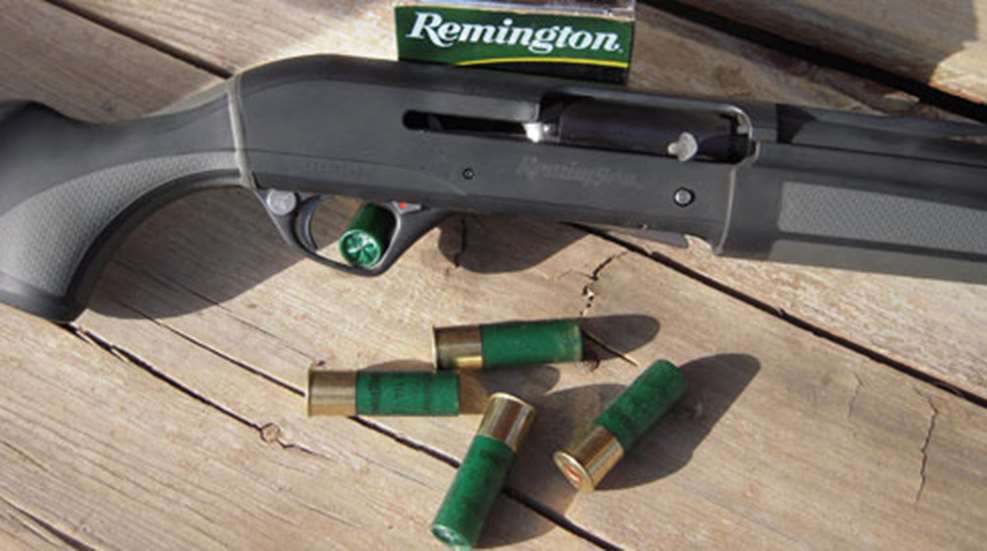 I recently got one of those phone calls that just makes you want to jump up and down. I was invited to spend a week in Argentina. The week would involve shooting dove, pigeon, ducks and perdiz. And we would be shooting with a new autoloading shotgun from Remington. I'm thinking, "Now the downside is...?"
Well, as you might imagine, there was no downside. A group of us had a wonderful time shooting birds with Luis Sier in the San Luis province of Argentina. And, while we had a wonderful time, the real story is this new shotgun from Remington, called the VersaMax.
The Remington VersaMax is a gas-operated, autoloading shotgun in 12 gauge that uses two gas pistons to cycle the action. The gun is chambered for 2 ¾-, 3-, and 3 ½-inch shells, and handles the three shell lengths interchangeably, without any adjustment.
The reason for this feature—to handle a variety of shell lengths—is that the Remington VersaMax makes use of seven gas ports that are strategically located in the shotgun's chamber area. The length of the shell dictates how many ports allow gas to escape, thereby cycling the action. The 2 ¾-inch shell exposes all seven ports, the 3-inch shell exposes only four ports, while the 3 ½-inch shell allows only three ports to function. You could load all three sizes of 12 gauge shells into the gun, at the same time, and they all would cycle reliably, with minimum recoil. While this gas system is an exciting feature, the VersaMax has even more going for it.
The shotgun disassembles into five major components without the use of any tools; no screwdrivers, tire tools or pry bars are needed. The gun is designed so that it can be taken apart completely by hand and the shooter only uses the firing pin to punch out a couple of pins. After a wet day in the duck blind, or pheasant field, a sportsman can easily take his gun down for cleaning and protective lubrication.
The VersaMax features an anodized aluminum receiver, which helps to keep the weight down to a manageable 7.7 pounds. It has a TriNyte coated barrel, and all of the internal parts are plated with nickel Teflon. So this gun is designed to take a lot of abuse, with only a little bit of TLC.
All VersaMax shotguns come with a synthetic stock with rubber overmolded grip panels. In addition, they have a soft rubber over-mold at the top of the pistol grip for shooter comfort. A SuperCell recoil pad is standard equipment. Out of the box, length-of-pull is 14 ¼ inches and the gun comes with two shims to lengthen the stock, if needed.
Another interesting feature of the VersaMax is that it has interchangeable stock combs. The comb is popped out by hand, and extra combs of differing heights are available to fit the gun to a particular shooter. While the shotgun comb is off, an adjustment plate can be accessed that allows the shooter to change stock drop and cast to suit his particular needs. The stock shims and extra combs are included with the standard VersaMax package.
VersaMax stocks can be ordered in an attractive black synthetic with gray over molded grips, or in Mossy Oak Duck Blind cam with black over molded grips. A VersaMax with Realtree AP-HD camo and black grips, will be available in January, 2011.
Currently, the VersaMax is being shipped with a 28-inch vent-rib barrel, with a 26-inch version coming in January. The gun comes standard with ProBore screw-in choke tubes and features a lengthened forcing cone and a Hi-Viz front sight.
Remington's idea is to provide the shotgunner with an autoloader he can adjust to his own particular size and shooting style. Obviously, being able to quickly change the gun's length-of-pull is important to the guy who hunts dove in a T-shirt and, later in the year, will hunt ducks wearing all the clothes that he can put on. Being able to adjust the comb, drop and cast of a particular gun just goes toward customizing it to fit better. And the gun that fits better hits better.
The particular VersaMax that was shipped to me for use in Argentina was the 28-inch shotgun featuring the black synthetic stock with gray stock panels. While I did not have time to shoot the gun on a patterning board or at clay birds, it seemed to fit me pretty well and seemed to be nicely balanced. As attractive as it looked, I wouldn't be satisfied until I could see what it would do in the field.
Our Argentine hunt began with a day of cross-shooting dove and pigeon on a ranch near the town of San Luis. July in Argentina is winter time and, would you believe, it snowed on us just about the whole day. However, the pigeon and dove were flying like mad. Taking a stand at the edge of some woods, we enjoyed some fast action as the birds sailed over us. You could hear the shooters calling, "Mas cartuches (more cartridges)", as birds fell all around us.
My initial impression of the VersaMax was that it came to shoulder in an effortless fashion. More importantly, it shot where I looked. I had chosen to install the Improved Cylinder choke and that turned out to be a good choice, as the birds could easily be taken at 30 yards or closer.
Other interesting days were those spent at a local feedlot, shooting the thousands of doves and pigeons that swarmed around the place and dove shooting on a local ranch. They were days of falling birds, hot shotgun barrels and bird boys running to bring "mas cartuches." The ranch had sandy soil and an Argentine variety of mesquite trees. You'd have thought, for all the world, that we were hunting on the King Ranch down in South Texas.
We also drove down near the Patagonian border to hunt at a hunting lodge near Mercedes, San Luis Province. The several lakes on the property were teaming with ducks for our shooting pleasure. And the pastures abounded with the local upland bird, called a "perdiz."
Throughout it all, the VersaMax shotgun performed like a trooper. Regardless, I had a few suggestions for Remington to improve on their product. They need to offer a left-hand safety for us southpaws and they need to change the shape of the front of the shell lifter. The latter tends to pinch the thumb when one is cramming shells into the gun so that he can get back into the action. I was pleased that the Remington folks took note of my suggestions and are willing to consider them.
I found that the VersaMax balanced well and, as I mentioned, shot where I looked. While I realize that felt recoil is a very subjective thing, I have to say that I found the VersaMax very comfortable to shoot. I lost count, but I'm sure that I fired more than 3,000 shotshells through the gun during my Argentine adventure. My shoulder did not bruise at all and there was no accompanying stiffness. The gun is just darned comfortable to shoot and even does a lot to tame the 3 ½-inch shells.
I believe the Remington VersaMax will be just as much at home in the upland fields as it will be in the duck blind. Maximum versatility appears to be what the Remington VersaMax is all about.