"My son Sunjay is 14 and he's big into deer hunting, and so one day he says to me, 'Dad, you need to do a better job with your motels to bring in more hunters. There's a lot of us, you know,'" says Suresh Chawla, president of Chawla Management, which operates 16 different motels and hotels in the Mississippi Delta, from Tunica to the Gulf Coast. "So now I'm taking business ideas from my kid," Chawla adds, laughing. "And it's a great idea!"
We are sitting in the breakfast area just off the lobby in one of Chawla's properties, the Hampton Inn in Yazoo City, Miss., and Chawla begins ticking off the many reasons that catering to hunters will be good for his lodging business.
First, he notes, the prime hunting season months of November through February are traditionally the lowest occupancy months for motels. With less than 40 percent of rooms filled on any one night, it makes good business sense to do whatever is possible to get rooms booked. And hunters, of course, are out and about at exactly this time of the year.
Second, "I call the Mississippi Delta God's Country for Hunting," says Chawla. "We already have thousands of people coming here every fall and winter for our hunting. You should see the duck feathers in our parking lots during waterfowl season! But there's a lot more we can do to attract hunters."
One reason the Delta attracts so many hunters? A wealth of public lands. In a 30-mile radius around Yazoo City, for example, there are more than 100,000 acres of public hunting lands, including the 45,000-acre Panther Swamp National Wildlife Refuge, the bulk of which is open to various deer, duck and turkey hunting opportunities.
Consider the three state wildlife management areas in or bordering Yazoo County: Lake George, Sunflower and Twin Oaks. They total more than 73,000 acres of huntable public lands, and last year the state recorded more than 13,000 "man days" of hunting there, just for deer. (A man day is recorded if someone hunts a property for part to all of one day.) Turkey, waterfowl, small game and hogs accounted for thousands more hours of hunting. And no doubt most of those hours were logged by local hunters, meaning there was lots of land and plenty of opportunity left over for the visiting hunter.
To make the motels more hunter-friendly, Chawla started making changes at the Yazoo City Hampton Inn last hunting season. Already in place when we talked in January 2015: bag breakfasts ready on request and at the front desk by 4 a.m., and a big pot of hot coffee all ready for hunters' travel mugs; free use of the inn's storage area near the parking lot for bulky decoys, layout blinds and other gear; and later check-out times available for those doing a last-morning hunt.
This fall, hunting season amenities here will include boot dryers in selected rooms, coolers to rent out on a day rate, and a boot-cleaning station outside near the parking areas. Chawla was also considering adding a game-cleaning table in a rear area of the facility.
"We need to let hunters know what we're up to, so we're looking at various promotions to run and will advertise them with the local chambers of commerce," Chawla adds. "I'd like to set up weekend and three-day hunting packages with special rates, and advertise all the things we're doing to make our facility a place hunters can really use."
"Yazoo County is a hidden gem in the state of Mississippi," says Whitney Hurt, executive director of the Yazoo County Convention and Visitor's Bureau. "Between duck, deer and hogs—and don't forget the fishing—we have something for nearly every outdoor enthusiast. Our local public hunting lands attract thousands of hunters every year. And when hunting season starts, all our merchants report increased sales."
Hurt and her chamber are working with Chawla to create hunter packages, where hunters would stay at the Hampton for a reduced rate, and additionally be eligible for various dining discounts offered by local eateries. A flyer or brochure would highlight area merchants selling hunting and non-hunting supplies visitors might need during a stay in Yazoo County.
If all this starts producing results at the Yazoo City Hampton Inn, Chawla wants to make similar changes at some of his other facilities. However, he adds, most of his company's properties are national franchises and different franchise rules apply at different motels. At some of the properties, for example, hunting dogs could be allowed in specified "pet" rooms; at others, franchise rules would prohibit it.
Other motels in other states certainly are "hunter-focused," too.
At the Antler Motel and Suites in Greybull, Wyo., hunters find discounts on room rates, a backroom "hunter's hangout," where cigar smoke and muddy boots are always allowed, space and equipment to hang and butcher game, and even freezer space.
Deer and moose hunters have stayed at Bishop's Country Inn Motel in Jackman, Maine, for nearly five decades, and for good reason. Not only is the motel located in the heart of some of Maine's best trophy deer and moose hunting, the Bishops can refer you to a local guide or help you plan a do-it-yourself hunt on the abundant public lands in the area. Bishop's Store, located across the street, is a combo sporting goods store, delicatessen and gas station all in one, and it's a state registration station for deer and moose hunters.
Of course these hunter-friendly examples in Wyoming and Maine and other states are local one-offs. For now, Chawla's "hunter-friendly" plan may be the first time a franchised motel operator has aimed his enterprise squarely at the hunting market—with a little prodding from his teenaged, deer-hunting son.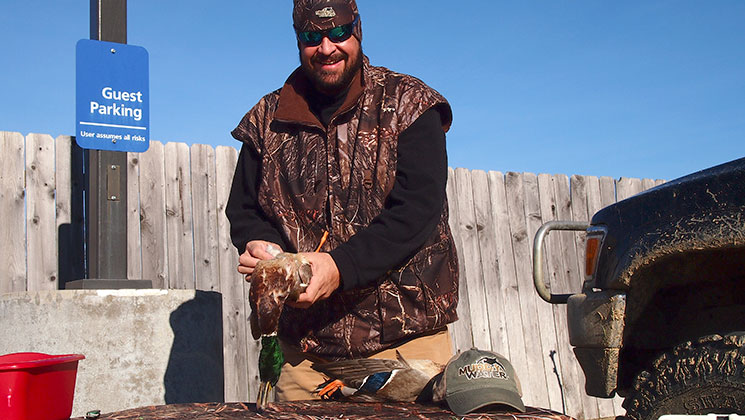 Considering fall and winter are lower occupancy times of year for many lodging establishments, those that market and cater to hunters and their four-legged companions may have found the ideal business plan.