According to National Shooting Sports Foundation (NSSF) data from 2016, 20 percent of "all hunters" are female, but only five percent of "avid hunters" are female. The word 'avid' is derived from the Latin word 'avere,' meaning 'crave,' and if you fall within this category, you know what it means to crave the hunt. Rachel Ahtila is one of the women classified as the "avid five percent."   
She believes that actions speak louder than words and isn't afraid of getting dirty. She doesn't need help using a compass, carrying her rifle or finding her target. She quarters and packs out her own animals, and she's always preparing for her next hunt. She is independent, strong, confident, tough and humble. Hunting is her life—she craves it.  
As I speak to Rachel on the phone, I can hear the hushed sound of the road in the background and she apologizes in advance if she loses reception. She's driving on the back roads in rural Montana—she just picked up a new rifle, and she's swinging by to feed, water and love on her "critters," then she's headed out to a desolate range to get her new Kimber sighted in. I imagine that lonely road winding through Montana's soft hills under that wide open sky, and I feel a twinge of longing. As I look around my cold grey office and hear the busy traffic outside of my window, I can't help but to be both in awe and a little jealous of Rachel's lifestyle. I want to understand how she, and the other women in the "avid five percent" category, have successfully turned a passion into a lifestyle—I want to know her story.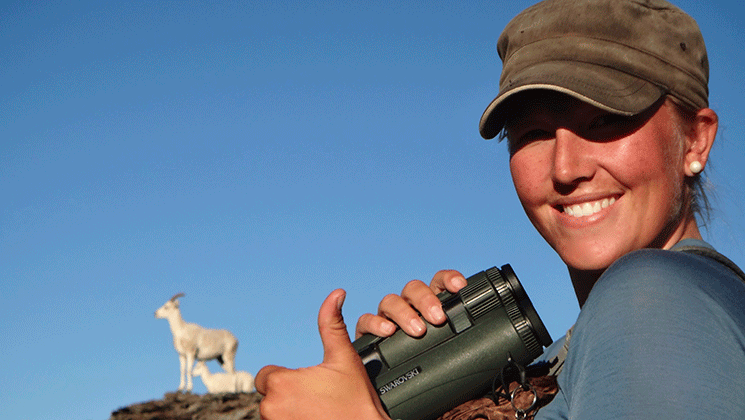 Rachel has always loved the outdoors. She grew up fishing, hunting and camping, then at age 11, she attended a hunting camp in Northern British Columbia, which was where her "eyes really got opened up to it in a big way." Fast-forward to present day: Rachel has served as director for the Wild Sheep Society of British Columbia, is embarking on her 4th year as a director for the Rocky Mountain Goat Alliance and is one of the youngest stakeholders to participate in the international Thinhorn Summit and Symposium, hosted by the Wild Sheep Foundation. She's an active guide in the Northwest Territories and British Columbia with a satisfaction rate at an amazing 97 percent, and she works with companies within the hunting industry like Sitka Gear, Yeti Coolers, Leupold Optics and Mathews Archery. Rachel participated in the creation of the Women of Weatherby program, and helped to design the Vanguard Camilla rifle. She's also been hard at work on a new endeavor, the Full Curl Podcast.
Her accomplishments are impressive, and her work ethic is inspirational. She was raised with a "keep your head down, and let your actions speak for themselves" kind of attitude. "As a guide, I have had clients not want to hunt with me because I am a woman," Ahtila said. When she started guiding for different outfits, some places wouldn't even return her phone calls. She was disappointed to realize that she wasn't being judged solely on her guiding abilities. After that initial realization, she had to make the conscious decision not to let it bother her anymore, and continue doing the best job she can do, for herself. "I know what I am capable of, and if someone doesn't want to hunt with me, that is just fine by me. I don't need to prove myself to anyone."
Rachel has a soft confidence about her—she is humble, gracious and vastly knowledgeable. Her dedication to her passions, and the lifestyle choices she has made to support her passions, are motivational. On personal hunting days, she gets up by 4:00 a.m. to feed her "critters" (horses), make coffee and breakfast, then saddle and stock her horses for the day. She gets her gear ready, packs spare clothes, checks rifles and then she's ready to ride out of camp.
Throughout the hunt, she continuously makes sure cinches aren't rubbing her horses wrong and monitors her feed stock. Her days end at dark—what time that is depends on the season. For her guided sheep hunts, she's up by 5:00 a.m., and the hunts can take all day and all night, depending on the sheep she's after. Once her client gets a sheep, she takes pictures, quarters the animal, and loads to pack out. It's not uncommon to return midday, the day after the excursion began. 
As I listened to Rachel speak, I felt a sense of awe. She is such a strong woman. She has identified her passion and takes full responsibility for making her own dreams come true, and for overcoming any obstacles that pop up along the way. As we chatted about her tips for success, I picked up on four major steps to crossing the threshold from being a hunter to becoming the avid five percent.
Identify your weakness and practice or research until you feel confident. 
Rachel has been hunting and shooting all of her life—and she still practices every day that she can. She takes her bow everywhere and goes out on evenings that she's got a few minutes to target shoot. "Whether it's learning to read maps, researching hunting areas or looking into gun calibers, figure out what you're uncomfortable with and make yourself comfortable," said Ahtila.
Ask for help.
Once you've identified areas of discomfort, you may not initially know where or how to make yourself comfortable. This is where it's important to ask for help. "Education is empowering, no matter what your aspirations are. If you're uncomfortable with your rifle, for example, reach out to your local firearms instructor, take classes, and practice,"said Ahtila. She recommends taking a look at resources such as Shoot Like a Girl, goHUNT, Becoming an Outdoors-Woman Programs, etc.
Start doing.
Rachel explains that she is still working on understanding the science behind it all—bullets, ammo, trajectory, draw weight, etc. She has observed that, in general, women want to study and know everything about what they're doing, and then go do it once they're confident in their knowledge. It's important to know and practice the basics, especially when it comes to safety—although it's also important to just start doing it so that you know where you're lacking confidence and thus where to focus.
Identify the lifestyle choices that are holding you back, and change them.
"If you want to be an avid hunter, you have to incorporate hunting as part of your lifestyle. If you live in the city, for example, some big lifestyle changes might be needed to become fully involved with hunting," said Ahtila. Incorporating hunting as a part of your life may be as simple as making time to go practice shooting or scouting your hunting spots, or it may be as complex as moving to a new place. 
As she spoke about her deliberate decisions—where she lives, what her daily routine looks like, etc., I understood that any sense of longing I felt as I sat in my own office, imagining those wide-open Montana roads, were my own choices.  Rachel has spent the time practicing, working hard, studying, educating herself and networking, to turn her passions into a lifestyle. It may be time for me to closely examine my own lifestyle choices—the simple and complex ones—that are holding me back from truly living out my own passions to become one of the avid 5 percent. Rachel is inspirational, and she has worked hard to become one of the few avid five percent. Hopefully her wisdom and advice can help more women tip the scale when it comes to the number of avid female hunters.