by
posted on July 7, 2020
Support NRA American Hunter
DONATE
When someone mentions Smith & Wesson revolvers and handgun hunting in the same sentence, the first thought that comes to mind is most likely the company's big-bore double-actions, like the massive Model 460XVR, or the sleek Model 629 chambered in .44 Magnum. While these are certainly handy options for harvesting medium and large game, they're a tad overpowered for squirrels, rabbits and pest control.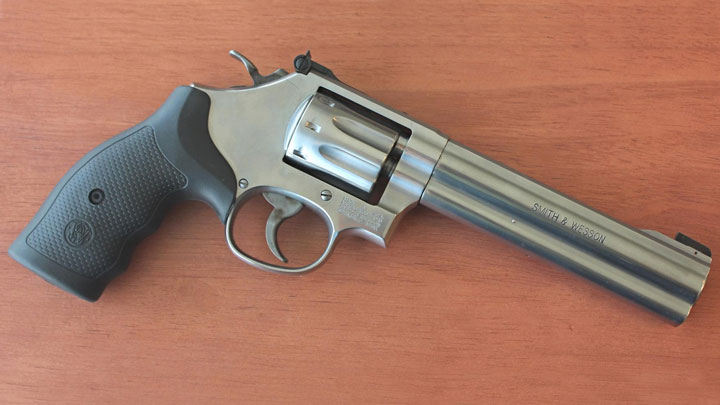 In 2019, Smith & Wesson revived the rimfire Model 648 chambered in .22 Winchester Magnum Rimfire (WMR), a slim little rimfire cartridge that packs more performance potential than some folks might expect. I've enjoyed shooting .22 WMR in a variety of platforms with its mild levels of felt recoil, along with greater reach and bullet energy than the much-loved .22 Long Rifle. Years ago I picked up a Model 617 chambered in .22 LR and learned for myself just how much fun Smith & Wesson rimfire revolvers can be. For that reason, I was eager to get my hands around this new 6-inch barreled version of the 648 to see what it could do.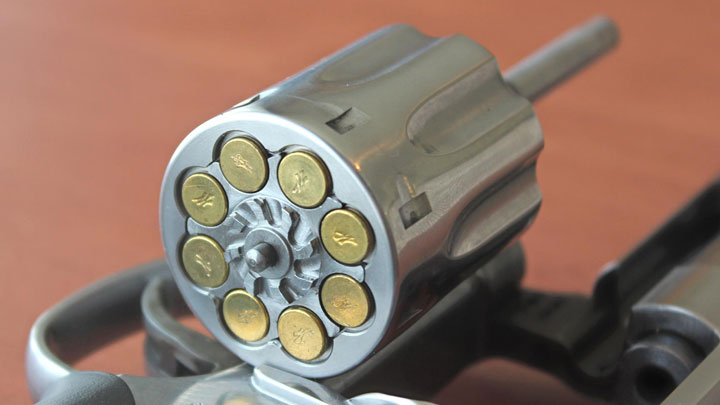 As a K-Frame double-action revolver, the new Model 648 shares the same frame and cylinder dimension as the classic Model 10 .38 Special once favored by law-enforcement officers. The number "6" in the model designation indicates this revolver features an all-stainless-steel construction, with the exception of the color-case-hardened trigger and hammer. The fluted cylinder holds eight rounds of ammunition instead of 10 rounds like the Model 617. This is because the .22 WMR operates at higher pressures than .22 LR.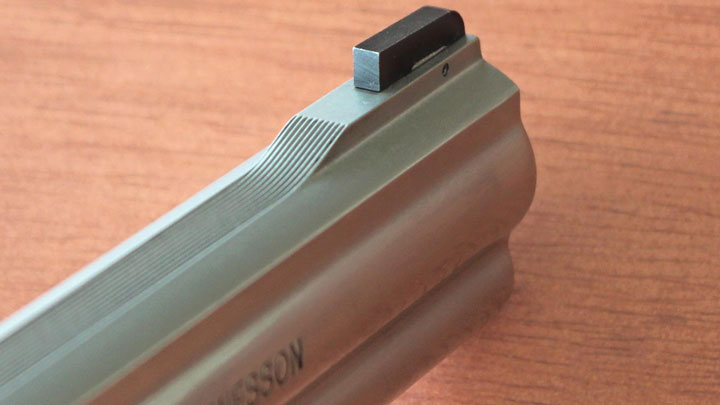 This revolver is topped with a target-shooting sight system consisting of a flat-faced Patridge front sight, and a fully adjustable square-notch rear sight. The top of the barrel is grooved with a matte finish to reduce glare. All other exposed surfaces have been polished and rounded, resulting in clean, smooth lines. The 6-inch barrel has a full underlug to help stabilize the muzzle for more precise shot placement. The lug also shrouds the ejector rod.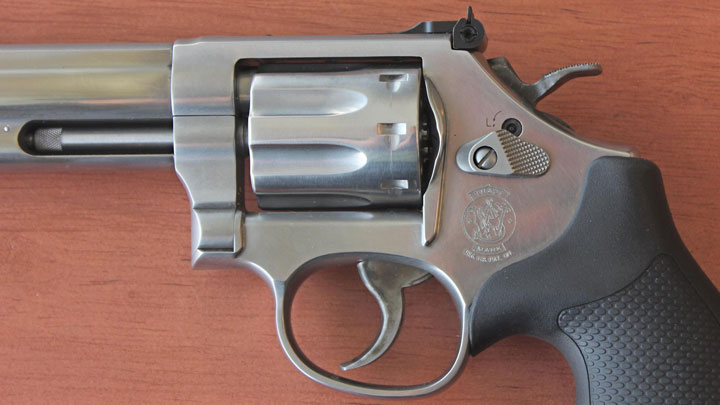 The wedge-shaped cylinder release is located on the left side of the frame. Pressing the release forward allows the cylinder to swing out to the left side of the frame for loading. The ejector rod is long enough to completely kick out spent cartridge cases. Just above the cylinder release, you'll find the key port for Smith & Wesson's integral locking mechanism. Using a specialized key, the action can be immobilized so as to prevent the revolver from firing. A cable lock that can be looped through the action is also provided.
This revolver arrived without a set of keys for the internal lock.This is not typical for Smith & Wesson products but sometimes small parts do get misplaced somewhere between the factory, the dealer and the customer. If you receive a factory fresh gun without these keys, call Customer Service at 1-800-331-0852, with the serial number, and the company will send you a set free of charge.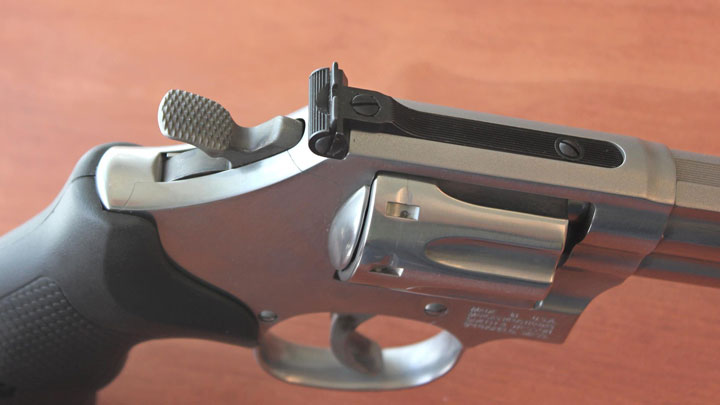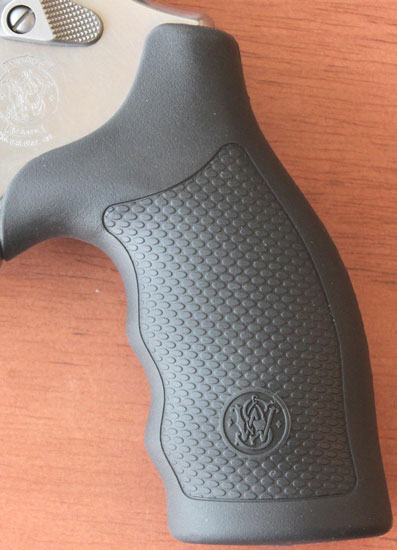 Recognizing that most of the shots taken with this revolver will be in single-action, the Model 648 has a longer and wider checkered hammer spur than Smith & Wesson's defensive revolvers. Cocking the hammer reveals a transfer bar safety system mounted inside the frame, which prevents the hammer from coming into contact with the firing pin unless the trigger is fully cycled. The rounded trigger guard houses a smooth-faced trigger. The revolver's grip frame is wrapped in a set of lightly textured synthetic rubber grips, with finger grooves along the front for added control.  
The smooth double-action trigger pull is relatively heavy with a long arch of travel. The trigger pull is over 12 pounds, which is as high as a Lyman's digital trigger gauge can measure. However, cocking the hammer for single-action fire shortens the trigger distance traveled and reduces trigger pull to a crisp, clean break with 5 pounds, 1 ounce of pressure.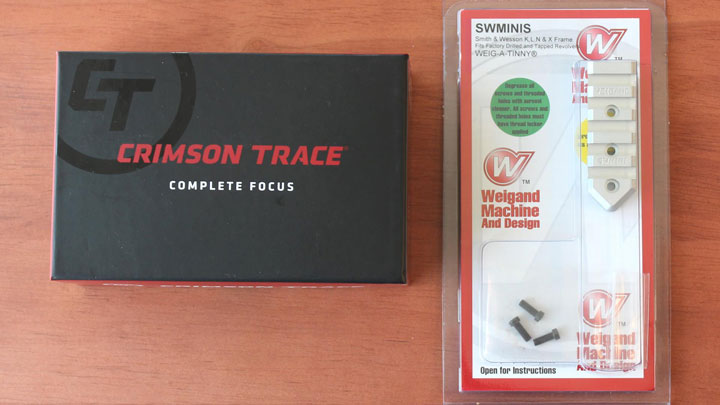 In the past, magnified handgun-hunting scopes were fairly bulky affairs that called for chunky scope bases. A modern red-dot optic provides a more svelte sighting solution with light, trim bases to match. For informal and formal accuracy testing, the rear-sight assembly was replaced with a Weigand Machine & Design WEIG-A-TINNY aluminum Mini Mount.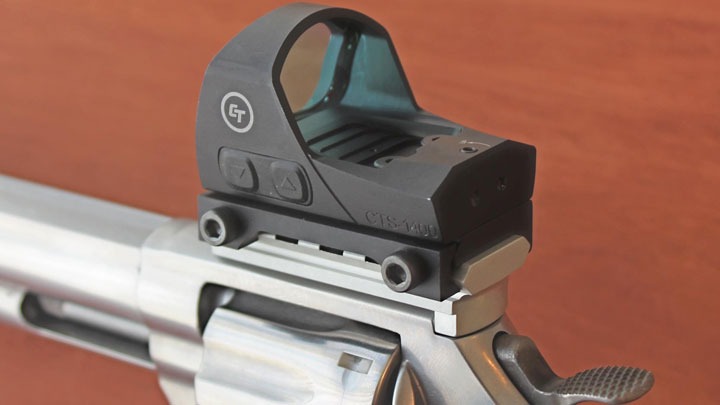 Instead of using one of the micro red-dot optics currently favored for competition and concealed carry, I opted for the Crimson Trace CTS-1400 Open Reflex Sight. This optic, with its 3.25 MOA red dot, is designed for rifles and shotguns. Small game can be quick, and the 1.4-inch-wide lens provides a clear view for quick target acquisition. The optic and base together only added 3.4 ounces to the overall weight of the gun, and the optic is nearly the same width as the cylinder, so it fits neatly into the revolver's factory storage case.

Defensive handgun marketing has convinced some folks that they should always be looking for the lightest models they can find. Although reduced weight certainly has its advantages for daily concealed carry, this is not necessarily the case with target shooting and hunting handguns. For these endeavors, balance and stability are the name of the game, and properly distributed weight contributes to both. With an unloaded weight of 46.2 ounces, the Model 648 balances nicely and holds steady once it's on target.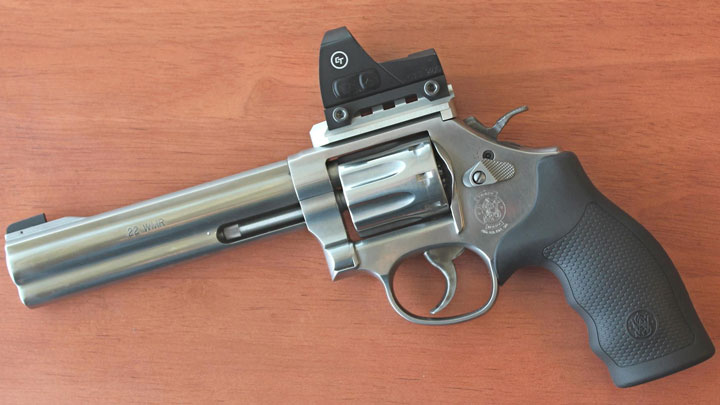 The Model 648 operated flawlessly throughout the testing process. The felt recoil produced by this gun and ammunition combination is mild, but the report is not. Despite its diminutive size, the .22 WMR is a rifle cartridge, and that shows in the muzzle blast and noise it produces when moved from a 20-inch-barreled bolt-action into a 6-inch-barrelled revolver. Like its smaller rimfire cousin, the .22 LR, it exhibits a significant drop in energy when fired from a handgun like this one. Nevertheless, it still generates a greater level of performance than a .22 LR pistol.
The following table shows how the Model 648 performed during formal bench-rested accuracy testing at 25-yards, while firing the revolver in single-action mode. Five, five-shot groups were fired with .22 WMR hunting loads manufactured by Armscor, Hornady and Winchester: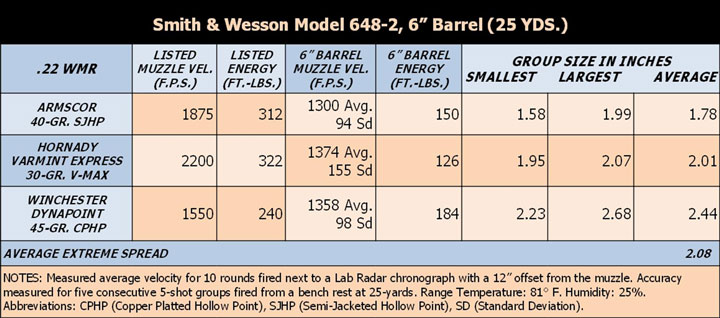 When fired from a similarly sized revolver, a high velocity .22 LR cartridge topped with a 40-grain bullet can generate somewhere around 1050 fps of velocity for about 98 ft.-lbs. of energy at the muzzle. The range results for the Model 648 show a marked drop in ammunition performance when compared to .22 WMR rifles. There is also noteworthy variation in individual bullet speeds (sectional density). Nevertheless, muzzle energy levels were on average 28- to 86-ft.-lbs. greater than a .22 LR. revolver.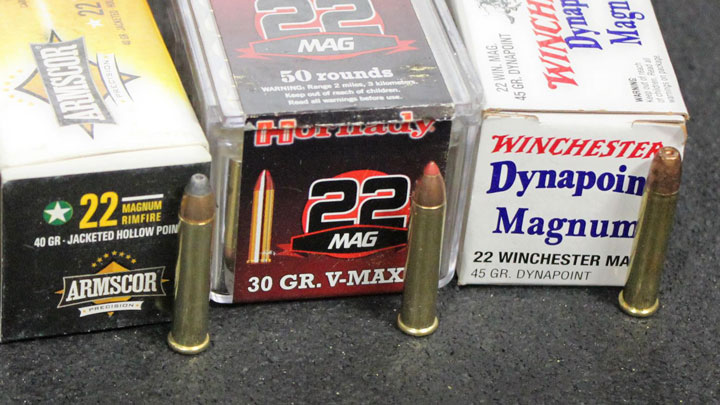 This combo turned out to be a tight group producer as well. Generally speaking, if I can tap out five-shot groups around 3 inches to 3.5 inches in size with the iron sights of a double-action revolver, I would say the gun, ammunition and trigger-operations manager are all doing their job. When groups are smaller than 3 inches, the gear is outperforming the guy testing it. The scoped Model 648 kept group sizes hovering between 1.75 inches to 2.50 inches, which is a better level of accuracy potential than I expected.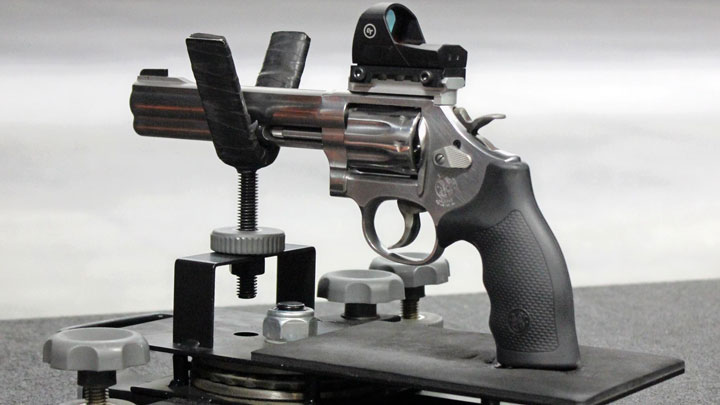 The return of the Smith & Wesson Model 648 is an auspicious one for double-action revolver and handgun-hunting enthusiasts alike. The .22 WMR is sometimes overlooked as a small-game option because the rimfire handguns chambered for this cartridge are limited. But if you're looking for more punch than a .22 LR pistol can provide, with tight groups to boot, this wheel gun deserves your consideration.
Technical Specifications
Model: 648-2 (SKU: 12460)
Action: single-action/double-action revolver
Caliber: .22 WMR (.22 Mag.)
Finish: satin stainless steel
Front Sight: Partridge
Rear Sight: adjustable
Grips: synthetic rubber
Double-Action Trigger Pull: over 12 lbs. (as tested)
Single-Action Trigger Pull: 5 lbs., 1 oz. (as tested)
Barrel Length: 6" full underlug
Overall Length: 11.1"
Height: 5.5"
Cylinder Width: 1.5"
Weight: 46.2 ozs.
Capacity: 8 rnds.
Accessories: hard-side case, cable lock, owner's manual, lock
MSRP: $752; smith-wesson.com
Scope Base: Weigand Machine & Design Aluminum WEIG-A-TINNY Mini Mount, Silver (SWMINIS); MSRP: $34.95
Optic: Crimson Trace CTS-1400 Open Reflex Sight, 3.25 MOA Red Dot; MSRP: $499.99