by
posted on September 6, 2023
Support NRA American Hunter
DONATE
The use of rifle-caliber handguns for hunting is a practice that's been around for quite some time. Few gun manufacturers in business today have as much experience with launching rifle rounds from handguns as Magnum Research, Inc. (MRI), thanks to its extensive line-up of American-made BFR revolvers. In production since 2001, this revolver's acronym, BFR, has stood for Brainerd's First Revolver, Biggest Finest Revolver and Big Frame Revolver, the last one becoming the official moniker when MRI was acquired by Kahr Firearms.
Whatever you choose to call this wheel gun, it is a modern single-action manufactured to strictly monitored tolerances. When discussing it with Jim Tertin, the professional gunsmith who refined the design for MRI and oversaw their manufacture for many years, he said there are no 'off the rack' BFRs. Every single one is hand fitted by top-notch gunsmiths whether they have factory standard features, like the gun discussed here, or they are custom guns made to order.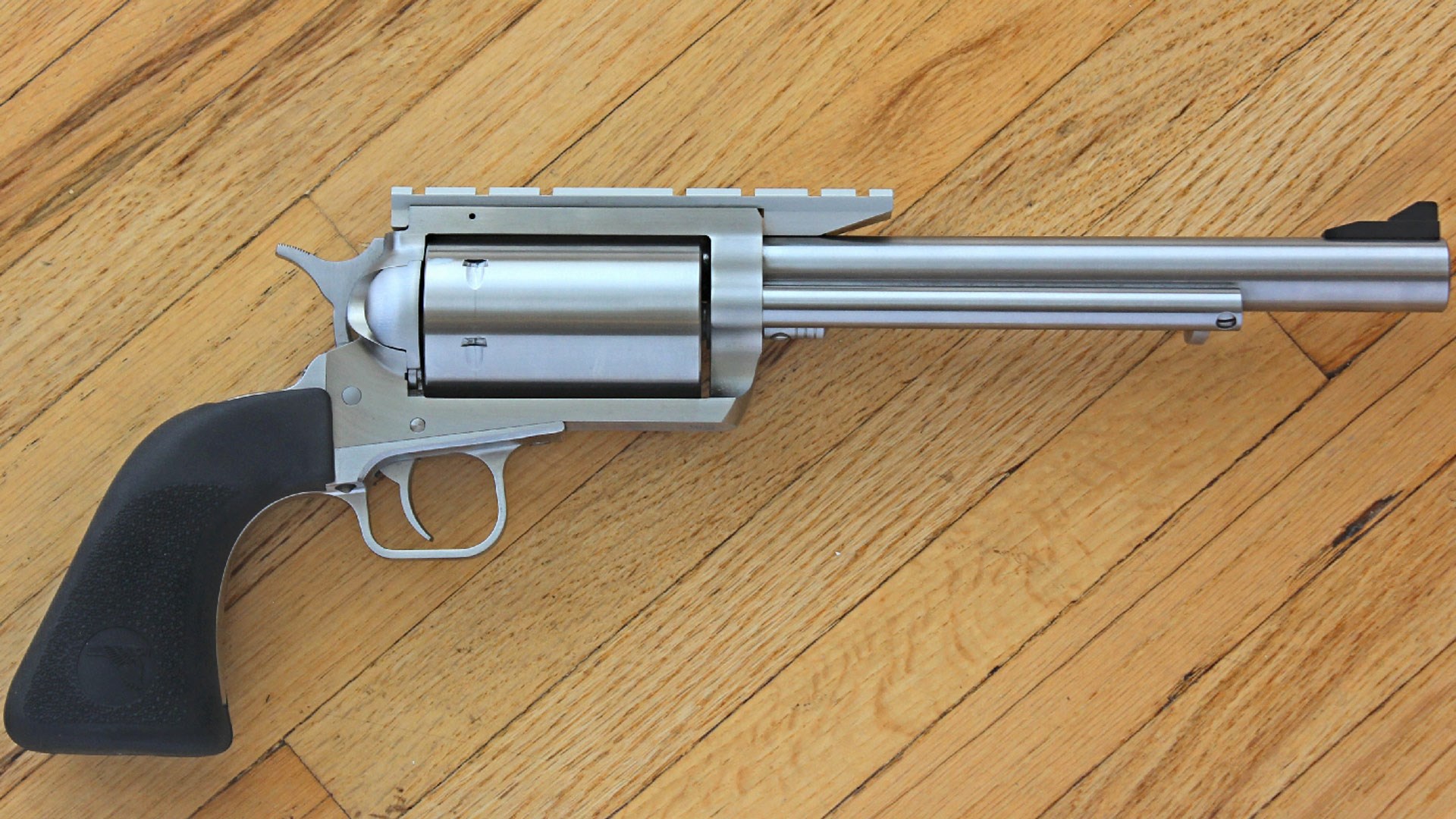 Magnum Research has been willing to make bold moves to grow the BFR catalog from the get go. Their five-shot, long-cylinder rifle caliber options include .30-30 Winchester, .444 Marlin and .45-70 Government. In 2019, the company launched long anticipated six-shot versions in both the short and long cylinder lines. Due to its relatively slim profile, the straight walled, semi-auto 350 Legend cartridge was a logical addition to the long-cylinder caliber options. Here is a closer look at the 7.5-inch barrel, six-shot model chambered in this relatively new .357-caliber rifle round.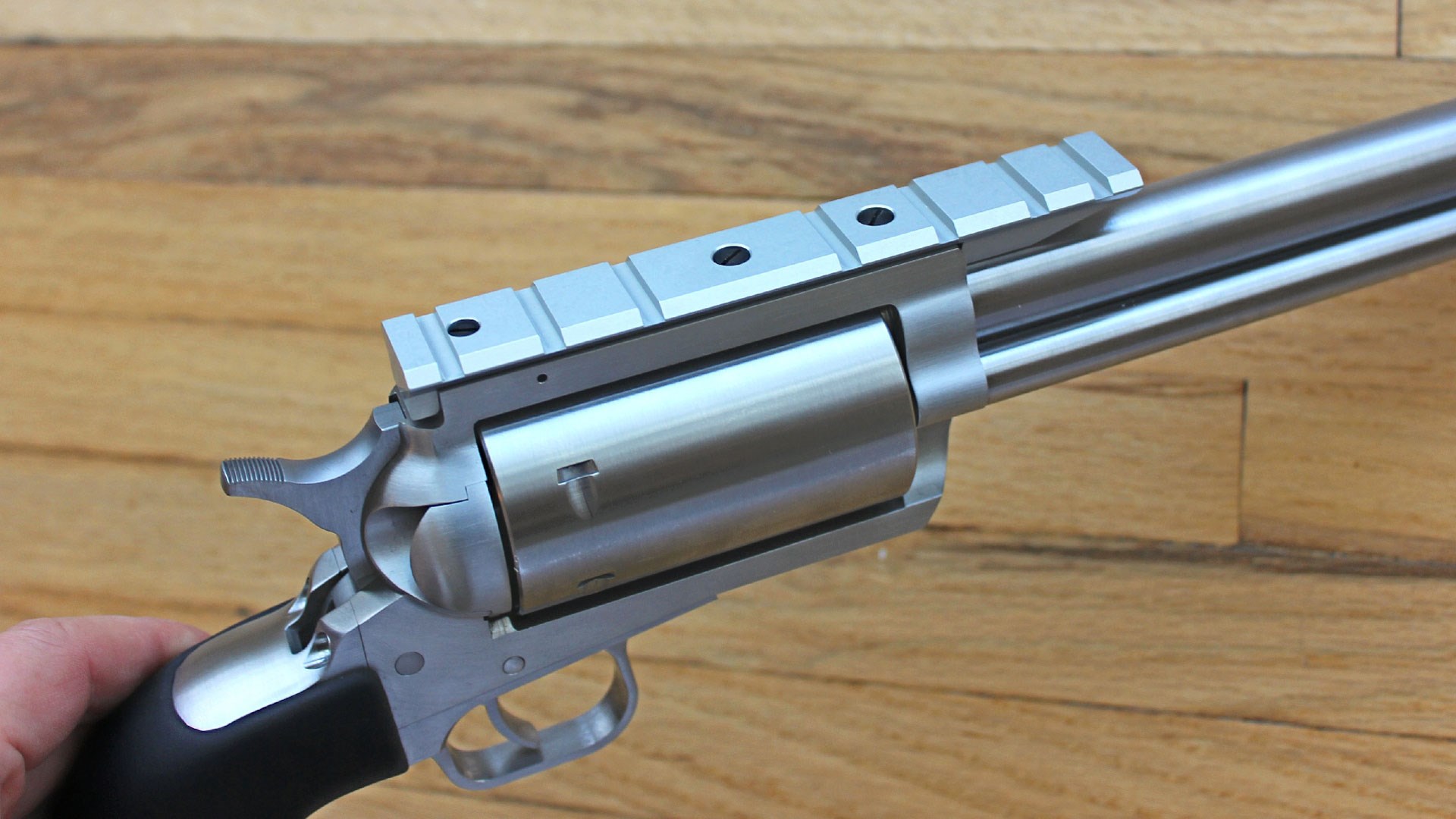 Externally, this BFR follows the same formula as most factory-configured, standard-feature models. This includes a non-reflective silver all-stainless steel construction consisting of five different alloys to allow for proper hardening of the various components. The round-profile barrel is fitted with a 5.25-inch stainless steel ejector housing and a fixed front sight with a height selected to match the rifling twist rate and common bullet weights for the caliber. The rear square-notch sight is adjustable for height and windage. This BFR ships with an aluminum Weaver optics rail which can be installed in place of the rear sight.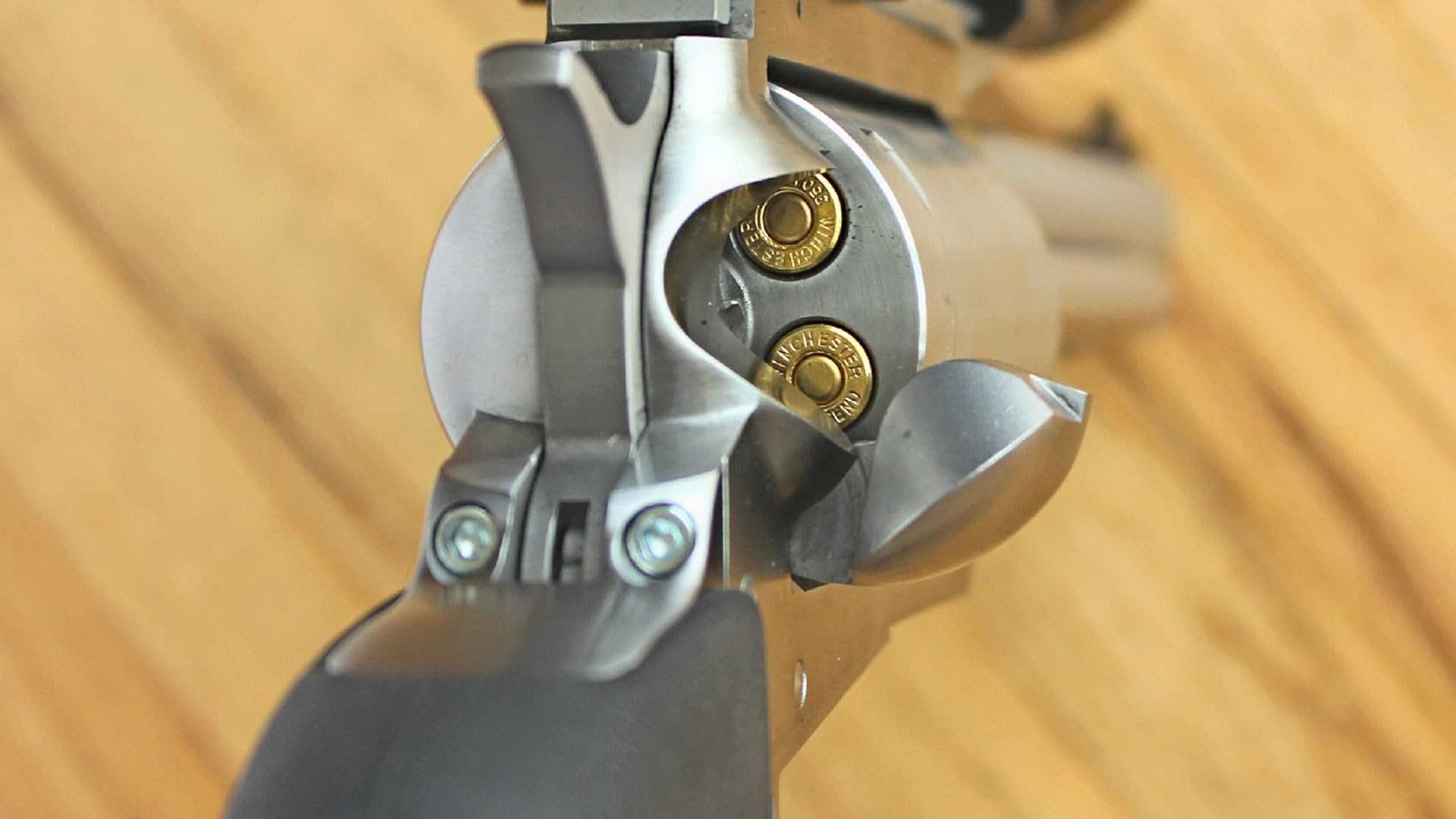 The BFR's slim exposed hammer spur is textured, for improved purchase, and paired with a modern transfer bar safety. This safety ensures the revolver will not fire unless the trigger is pressed and allows the BFR to be safely carried with all chambers loaded. The un-fluted cylinder is free-wheeling, meaning it can be rotated to the right or left when loading the BFR or ejecting spent cases. This feature comes in handy when dealing with sticky spent cartridge cases. The plough-share-style grip frame is fitted with a monolithic, soft-rubber grip that has pebbled texturing. 
Because the 350 Legend is a rifle cartridge, manufacturers' listed long-gun performance data is not going to line up with a 7.5-inch barrel revolver's results. During testing, the shorter barrel and pressure shift caused by the cylinder gap resulted in average bullet velocities dropping between 252 fps to 366 fps, depending on the load fired. This contributed to a corresponding drop in muzzle energy of 415 ft.-lbs. to 531 ft.-lbs.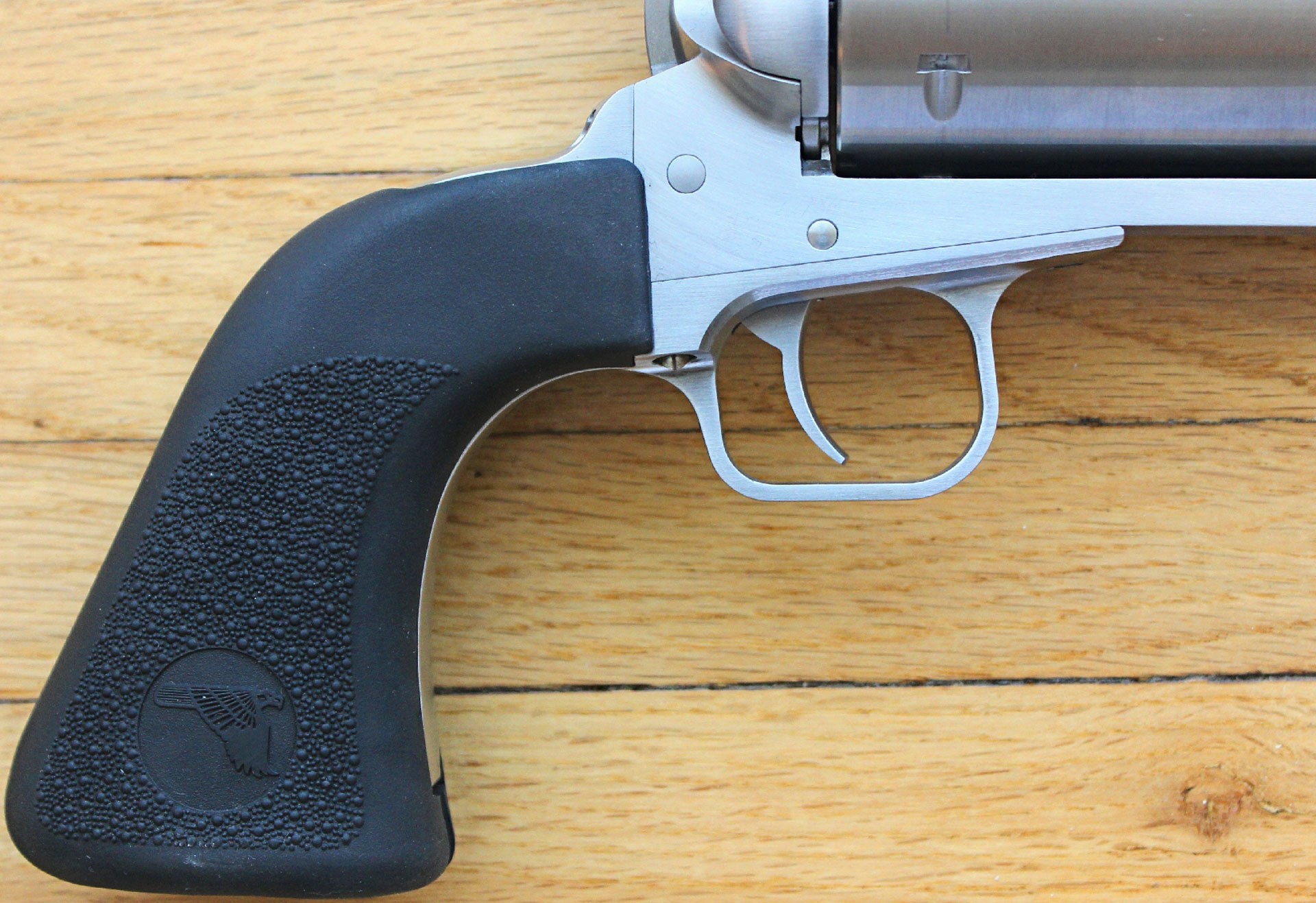 This may leave readers wondering why someone might pick a hunting revolver chambered in this rifle caliber. Comparing ammunition performance and value can be a bit tricky since an apples-to-apples comparison with big-bore revolver cartridges is usually not available. But in this case, the range test for this particular BFR and 350 Legend combo generated velocity and energy numbers in the same wheelhouse as some revolvers chambered in .454 Casull. Please note that I'm making this comparison with the understanding that these cartridges' behavior is not an exact match but close enough for government work.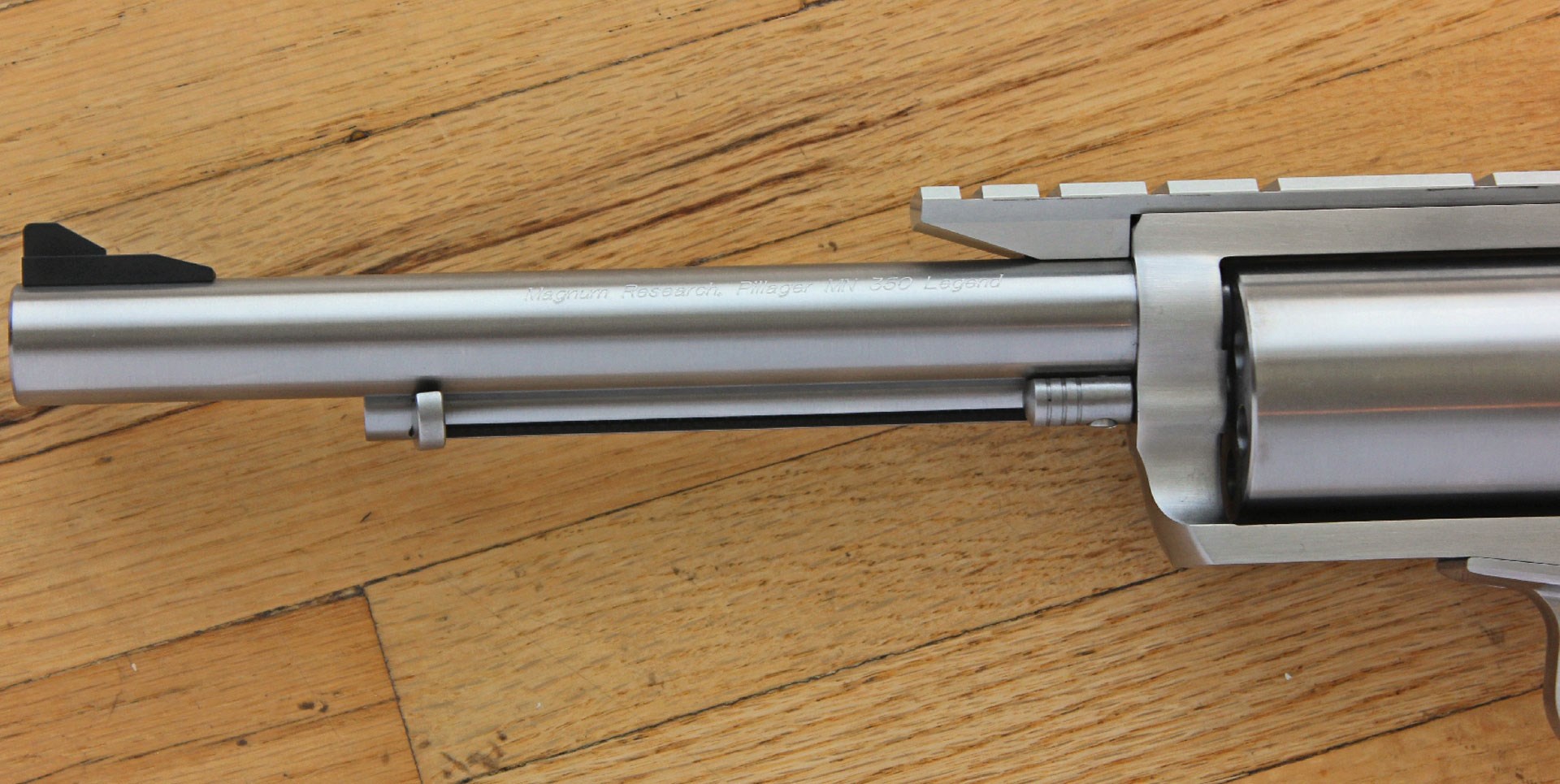 When fired from a handgun, the 350 Legend is a fast, flat shooter with bullet speeds at the higher end of the .454 Casull's velocity range. However, the Legend's potential muzzle energy levels are at the lower end of the .454 scale due to relatively light bullet weights of 125-grain to 280-grain For this evaluation, the loads fired were topped with projectiles between 150-grain and 180-grain. The .454 Casull can launch bullets between 240-grains and 400-grain. However, the trade off for more bullet mass is increased levels of felt recoil. The BFR in 350 Legend tips the scales at 4 pounds 14 ounces. Nevertheless, it's still a hold-on-tight proposition when it comes to recoil since its .357-caliber bullets yield between 1228 ft.-lbs. and 1385 ft.-lbs. of muzzle energy. But it's not the wrist pounder that .454 Casull revolvers usually prove to be.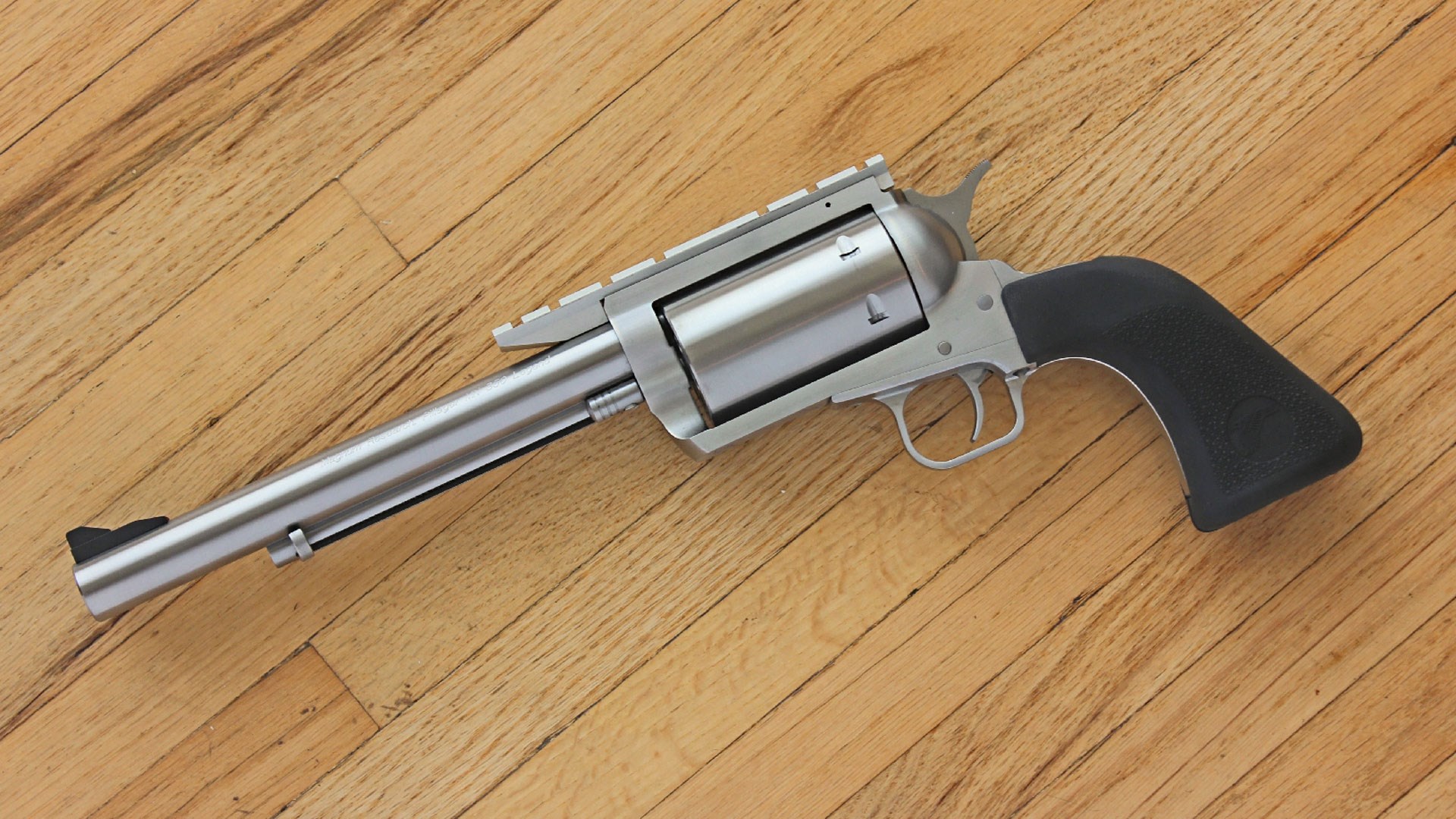 In regards to value, the 350 Legend offers a more affordable ammunition selection than many handgun hunting options. Because this is an AR-15-compatible round, ammunition manufacturers recognize that folks who adopt this cartridge are going to want to plink and target shoot with it as well as hunt. As of this writing, hunting-grade 350 Legend ammo is selling for around $1.50 to $2 a shot, which isn't bargain-basement pricing but is not particularly exorbitant either. However, full-metal-jacket practice loads can be found in the $0.75 to $0.90 per-round price range. That's a big difference in cost which allows for more trigger time and shooting for enjoyment without flinching at each pull of the trigger.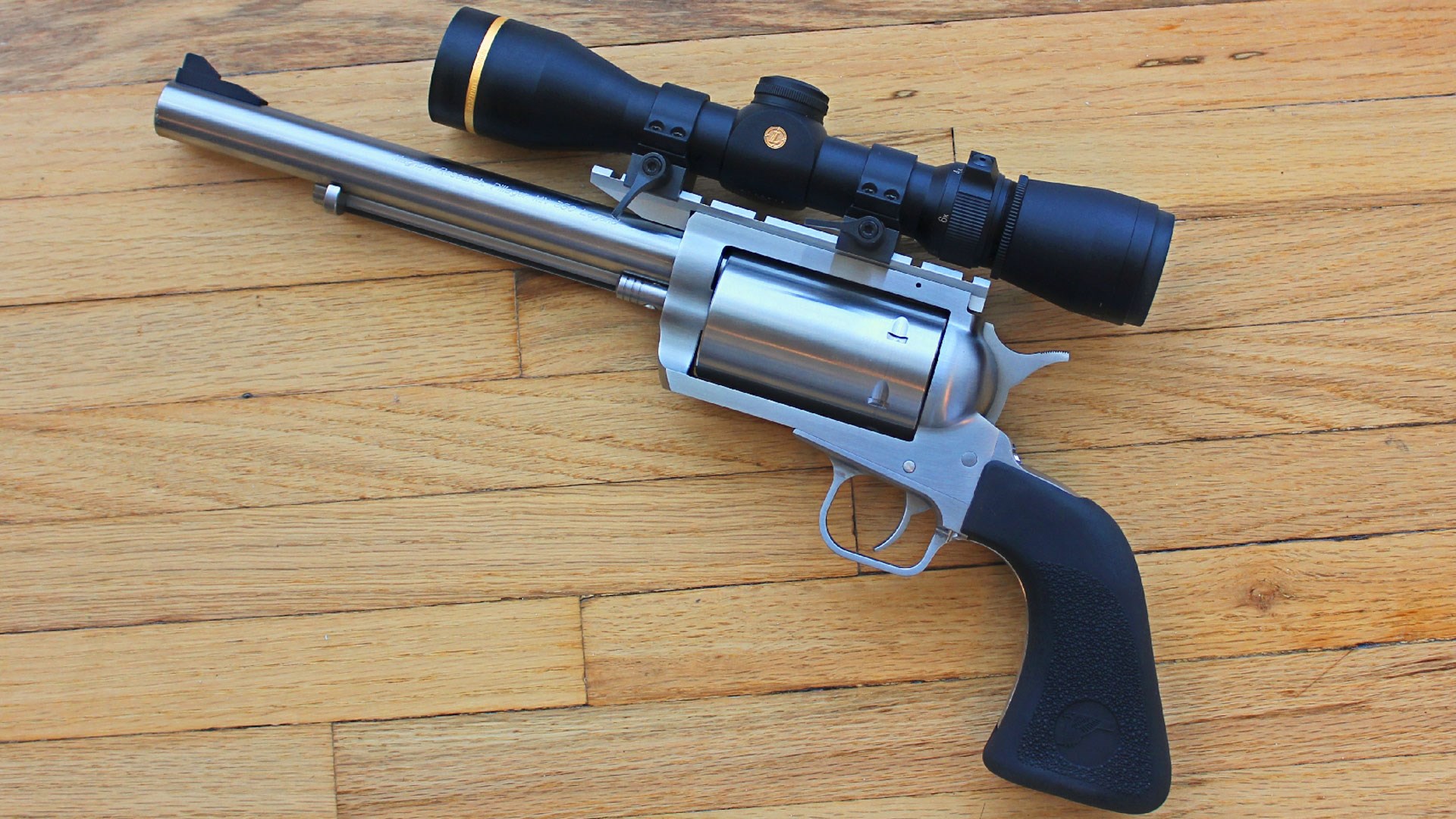 Formal accuracy testing was conducted using the provided BFR optics rail to mount an 'old-school' Leupold VX-3 Handgun 2.5-8x32mm Duplex (#67825) handgun scope with a set of Leupold quick-release rings. I understand there are plenty of quality micro red-dot optics to choose from these days which are a great fit for handgun hunting. They are intuitive to use and you don't have to wrestle with eye relief and magnification adjustments. For those who do want to see up close, the VX-3 provides a clear, sharp view with a broad magnification adjustment range and a useful reticle. Being electronics-free, there is no battery to wink out at an inopportune moment.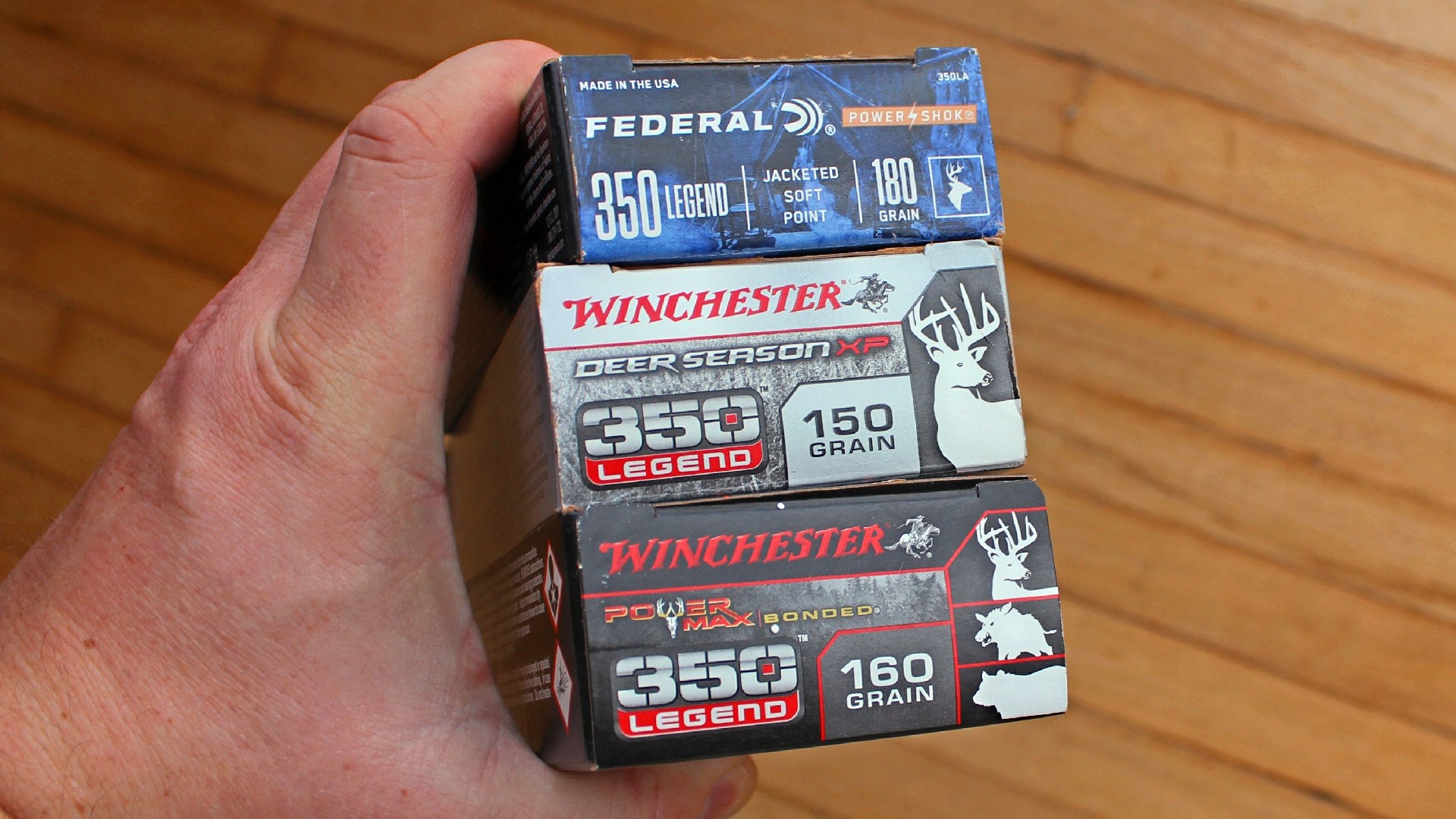 The ammunition tested was used to fire five, five-shot groups at 25-yards. The lightest bullet was the Winchester 150-grain Deer Season Extreme pointed polymer tip which punched out a best group of 1.56-inches with a five group average of 1.74 inches. Winchester's 160-grain Power Max Bonded jacketed hollow point yielded a best group of 1.94 inches with an average of 2.11 inches. Federal Premium's 180-grain Power Shok jacketed soft point's best group was 1.61 inches with an average of 1.88 inches. With the formal testing completed, I rolled the targets out to 50-yards to fire a few more groups to see what the gun, scope, and the guy pulling the trigger could pull off. At that range, groups were between 2.86 inches and 3.02 inches.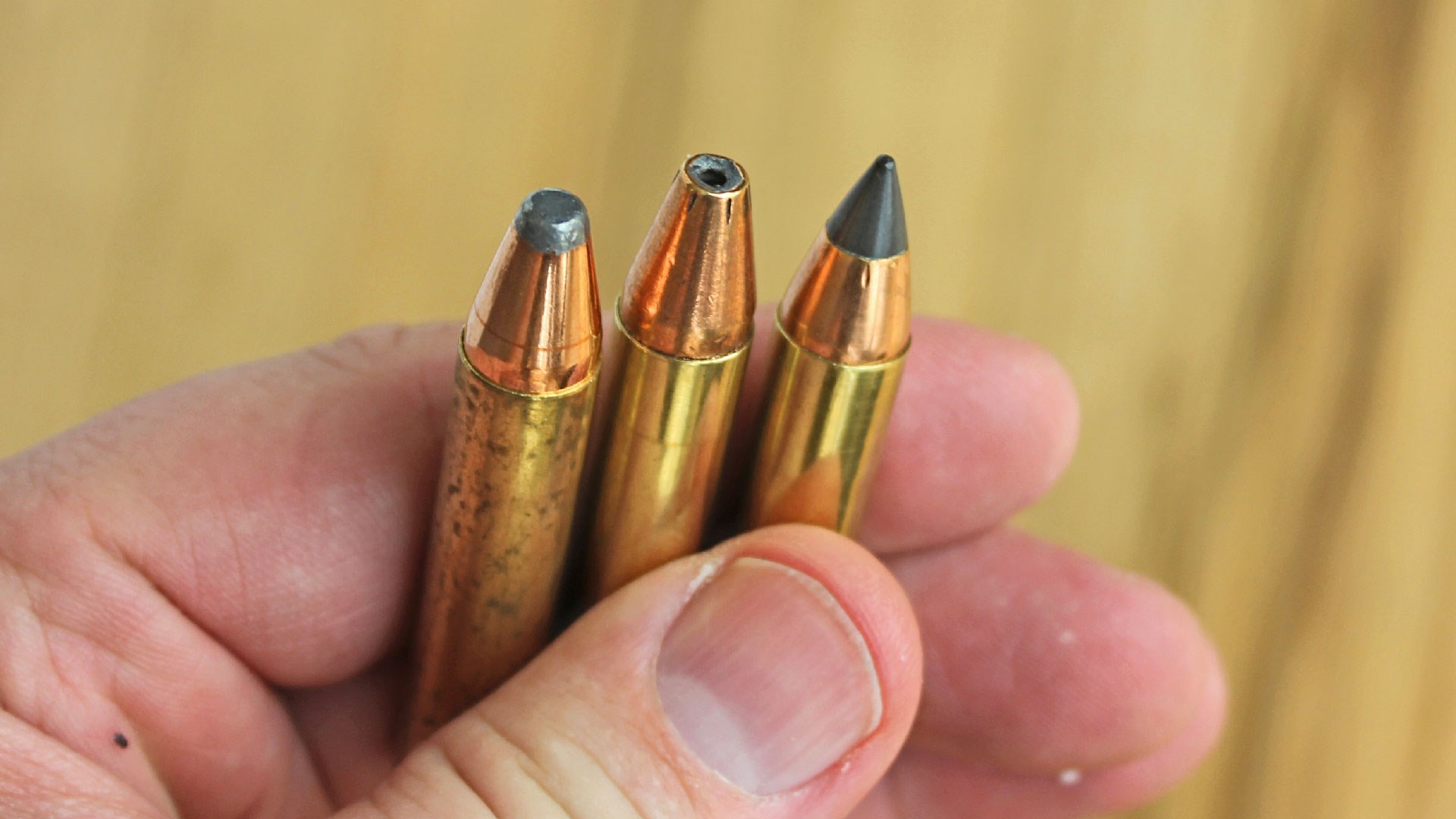 I've shot a few different BFRs over the years, including models chambered in .45-70 Government, .475 Linebaugh and .30-30 Win. I enjoyed this six-shot version's more manageable levels of recoil and the bonus round in the chamber. If what you've seen here is not quite your cup of tea, take a look at the Magnum Research Custom's website. There you can virtually build a BFR with a variety of barrel lengths, finishes and features. And for those who are eyeing the recently released rimmed 360 Buckhammer lever-gun load, the six-shot BFR is now available chambered in this round as well.