by
posted on August 29, 2019
Support NRA American Hunter
DONATE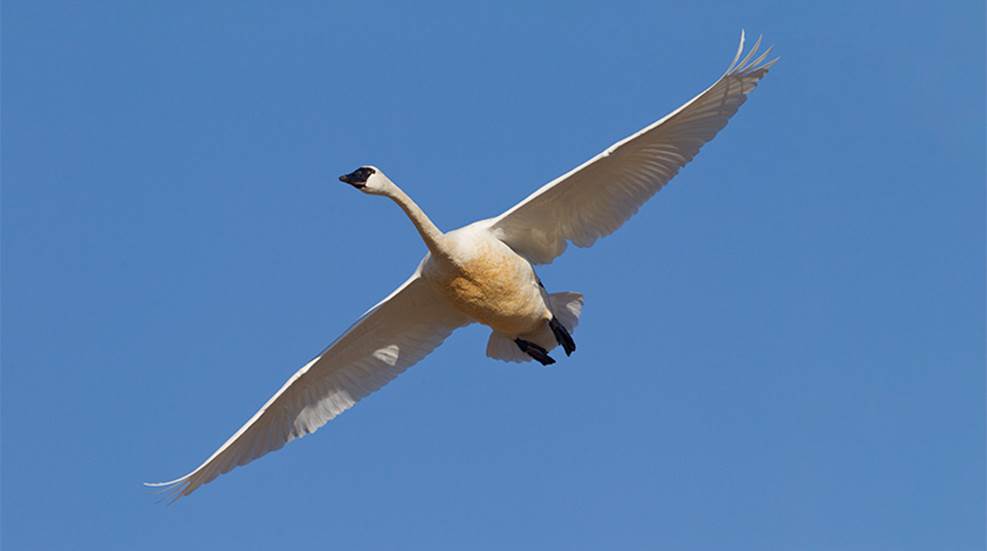 There are few true trophies to be had for the North American waterfowl hunter, at least in the traditional sense. A mature bird differs little from another mature bird of the same species, and there are no 131-year-old organizations founded by former U.S. presidents that exist to score your mallard drake or even that pretty canvasback you peppered with the old 870 you inherited from your grandfather half a lifetime ago. Thing is, waterfowlers don't seem to mind. They brave ice-choked waterways or climb into holes in the ground, hoping for the kind of weather that would prove problematic for some big-game hunters, because that's what betters their chances of going home with a limit.
That's not to say bird hunters don't have dreams to chase or notches to make on the proverbial belt. Some might decorate their call lanyard with the jewelry they've collected from banded birds over the years—I know I've been in more than a few blinds that are suddenly full of "claimers" when a band-sporting duck or goose hits the ground during a group volley. And others keep tabs on the species they've had the good fortune of shooting out of the sky over the years. To each his own.
That second one eventually led to the North American Waterfowl Slam, a bird-oriented take on the famous North American Super Slam, which focuses entirely on the traditional 29 big-game species native to our continent. The Waterfowl Slam follows the same approach, but it features 41 entries.
The largest bird among them isn't easy to come by. It can only be hunted in a handful of locales and, in a rare twist in the waterfowl community, requires a tag draw before it can be hunted, which is enough to make it a trophy in its own right. I speak, of course, of the tundra swan.
Meet the Tundra Swan
Though Cygnus columbianus is actually one of the smaller subspecies of swan, it has only one true challenger in terms of sheer size among the Waterfowl Slam species: the sandhill crane, which is still definitively second place. Mature male tundra swans can have wingspans ranging 66-83 inches in breadth (which means they can top out close to 7 feet from wingtip to wingtip, if you're scoring at home) and will typically weigh between 15-20 pounds. That, in short, is a lot of bird.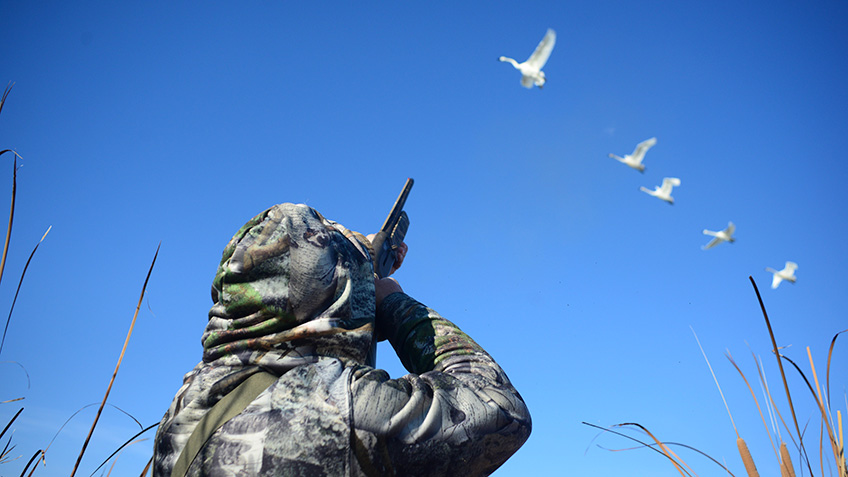 The tundra swan—with its snow-white plumage and a black bill that usually sports a striking yellow spot at the base—breeds in the Arctic and subarctic tundra; the birds prefer to inhabit shallow pools, lakes and rivers. Like the other Arctic swan species, they're migratory in nature. Winter habitats tend to be grassland and marshland, often near a coast. The southern migration typically starts around October and, depending on the breeding ground, most birds find their way to coastal states on one side of the U.S. or the other. (Both the western and eastern populations have been steadily rising in recent years). Some do push inland, resulting in substantial seasonal populations in states like Utah. That's where my story begins and ends, two years apart.
Welcome to Utah
Killing a tundra swan didn't have to involve a visit to the fertile hunting grounds surrounding the Great Salt Lake. Not in the least—heck, I'd just spent six years living in Virginia, where the big white birds were very much on the table, so long as you could draw a tag and find somewhere to hunt them along the coast. But I'd decided in 2015 that this particular trophy was coming from Utah, or not at all.
See, while on a previous assignment for American Hunter ("Every Flyway, My Way," December 2016) I joined local firefighter and Avery pro-staffer Chad Yamane for two days of duck hunting. I was in the midst of hitting all four North American flyways (Pacific, Central, Mississippi, Atlantic) in a single calendar season. Utah represented the Pacific flyway entry and had treated me well—over two days we'd hammered teal and spoonbills on the lake proper and a variety of diving ducks on nearby Willard's Spur. The Spur sits north of the Great Salt Lake, but remains connected to the lake's overall ecosystem; it also doesn't come with nearly the saline levels.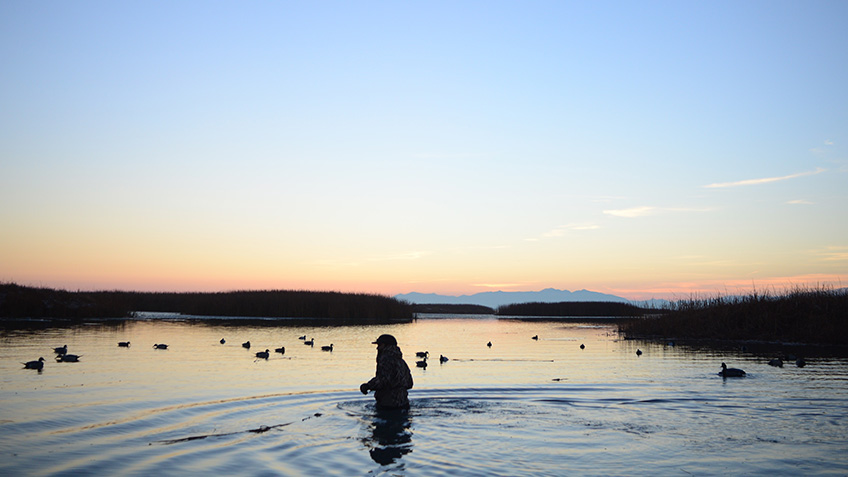 It was on the Spur, while I was snug in a layout blind that rested on a solid sheet of ice, that I decided I'd have to come back and hunt Utah for waterfowl again. Chad and his friend Travis had introduced me to duck hunting in Utah by way of piling up goldeneyes from the ice. We spent most of the morning anticipating the unmistakable whistling of the goldeneyes' wings as they locked up and prepared to land, and we rarely had to wait long. Near lunch time, a new, lone bird took a lazy glide through our decoy spread, searching for a friend. It called at us a few times as it circled, giving me a good look. It was actually more gray than white—a juvenile. But it gave me a good, long look.
Chad casually mentioned that he'd drawn a tag that year, and would have taken a shot if it weren't a juvie. My reaction was immediate and foretelling.
"Wait, there's a season here for those?"
Making Plans
As it turns out, there was. Utah is one of eight states with some sort of tundra swan season, and has been for a great many years. (Not having hunted there for waterfowl until 2015, I'd just never considered the prospect.) As swans are a trophy, they require a lottery draw. The process is simple enough: Apply for a tag and pay a very small fee before the annual July deadline and wait your turn.
In Utah's case, you also have to pass an online course that exists to ensure you can spot the differences between the tundra swan and the protected trumpeter swan. The most noticeable differences, for the record, are the trumpeter's greater size, its straight bill and the way that bill is connected to its eyes with dark skin. A tundra swan has a concave bill and usually sports a distinctive yellow spot in front of its eye.
Nowadays, waiting your turn in Utah typically means building up points for two years before drawing on your subsequent third. Tundra swans are in demand and the Great Salt Lake region offers both a healthy population and ease of access for hunters that live in the western half of the country. A couple thousand permits are typically issued each year. Nonresidents are welcome to join the fun; there's no additional charge for a nonresident swan application and, so long as you're patient, you will draw your tag in time. There's another small charge when you actually draw your tag; for the 2018 season, it was $10 to apply and another $15 for your tag, if you drew. To hunt, of course, you'll also need a nonresident license. In Utah, the season usually runs from early October through early December. When the hunting is best in that window depends entirely on the weather in a given year, and how the birds react to it.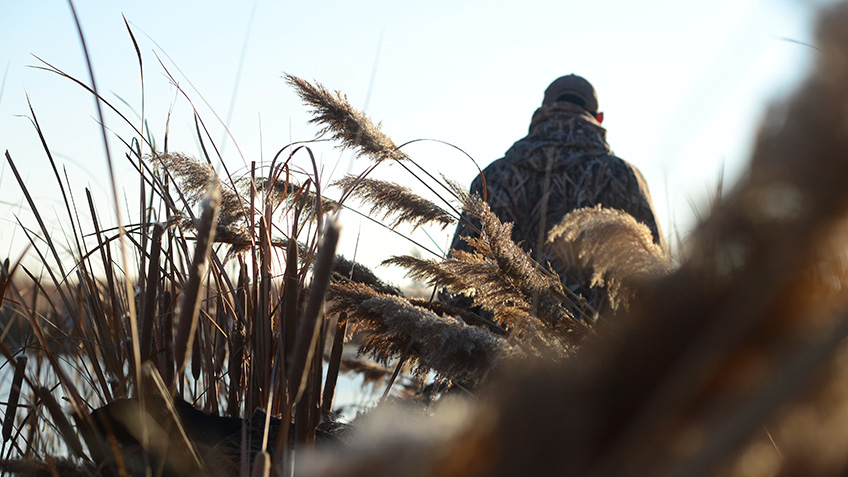 I got lucky. I didn't draw, and thus accumulated my first point, in 2016. I got a pleasant surprise the following summer, though, when the 2017 results were announced and I scored on just my second try. I sent Chad a text the very day I saw the additional $15 charge hit my bank account, and we started plotting. See, I got lucky twice. Not only was I going swan hunting a year or two earlier than some of the other folks who started applying about the time I did, I was going to be joining one of the very best swan hunting guides in the business.
When Chad's not on duty with the Salt Lake City Fire Department, he's guiding with Fried Feathers Outfitters, which he and friend Rob Friedel own and operate. Fried Feathers specializes in goose, duck and, yes, swan hunts throughout northern Utah. While there are undoubtedly numerous tundra swans killed by tag-holders each year with passing shots or as targets of opportunity during mixed hunts, Chad and Rob provide their clients with the opportunity to kill a decoying swan; they've got a rig entirely dedicated to swans and are adept at bringing in the great white birds by simulating their bugling calls.
Now that I've been present to see a tundra work a spread, bow up and begin its graceful descent before ultimately meeting its maker, I wouldn't recommend doing it any other way. It's a hell of a lot more exciting than setting up on a dike and trying to knock down a bird as it glides along, heading to or from food. Granted, that might serve as your only option if you don't have the decoys and boat (in Utah that might mean an airboat) required to hunt swans in a more conventional manner. But if you can find a friend with the necessities or fork over a little cash for a guide, do it. The memories will be worth it.
Big Bird Down
I, for one, won't soon forget my first swan hunt. We got out early, breaking the ice floe with the Fried Feathers airboat before settling into our mobile blind (sprung from a mud boat) in the phragmites prevalent throughout waterways surrounding the Great Salt Lake. We killed a few ducks as we waited, but were prepped for the start for swans, which Chad warned would be an afternoon flight. When the birds did get up from the nearby refuge, though, we heard them. Before long, we had a pair begin to work our spread, one all-white (a mature bird) the other a juvie. Chad's trilling call hollered back at them.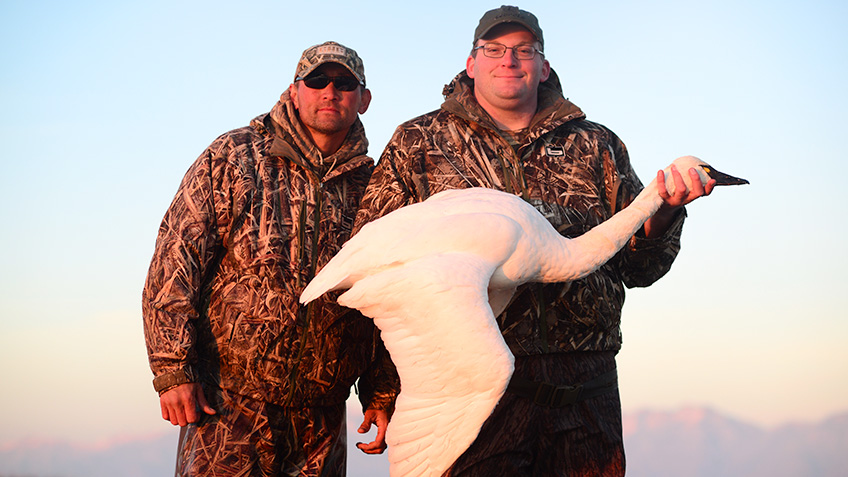 As it became clear that I'd get a shot, I tried to prep myself for the moment. It's not uncommon to miss behind a swan—their size betrays how quickly they're moving through the air, and sheer human instinct often leads hunters to want to aim at the great center mass presented by that 6-foot wingspan, when what you really need is a generous lead. "Behind him!" are two words Chad bellows at his hunters on a regular basis every year.
So, of course, when Chad gives me the go-ahead, I put the front bead of my Browning somewhere around the mature bird's breast. Clean miss.
That second shot, though, was true. Talk about a splash.
---

Where to Hunt Swans
Swan hunting isn't quite prevalent nationwide, but there are several states where you can try your luck. Though the author chose to hunt in Utah, swan seasons are also open in seven other states: Alaska, Montana, Nevada, North Carolina, North Dakota, South Dakota and Virginia. Regulations vary from state to state, but one thing remains the same: Swans are treated as trophy birds and therefore hunters must enter a lottery draw to acquire a tag. Most states also require prospective hunters to take a course—and sometimes pass a test—designed to ensure they can tell the difference between the more common tundra swan and the endangered trumpeter swan.
---
Browning Maxus Wicked Wing
Having gear you can count on is clutch if you're after a bird you might draw a tag for only once every few years. My shotgun of choice was the new
Browning Maxus Wicked Wing
. At its core, the Maxus Wicked Wing is still very much the top-shelf scattergun that became Browning's flagship gas-operated semi-auto when it launched nearly a decade ago, but with upgrades.

The Speed Lock Forearm attachment system makes taking down the Maxus for cleaning or storage fast, and attaching or removing a sling simple. The Lightning Trigger offers a crisp break with minimal travel. Speed Load Plus permits quickly loading shells into an empty gun or unloading a full magazine without manipulating the bolt. Aluminum alloy construction keeps weight down. The Power Drive Gas System is reliable in all conditions and, when partnered with the shotgun's other features, keeps the Maxus soft-shooting and limits muzzle jump.


The
Wicked Wing
edition delivers a handful of upgrades—some aesthetic, others practical. Its finish is part Mossy Oak Shadow Grass Blades, part burnt-bronze Cerakote to look at home in any blind. An oversize bolt release is easier to manipulate with gloves, and a fully chromed bore adds corrosion resistance and longevity. The Wicked Wing also features what Browning calls "Banded" choke tubes—named as such because they're crafted to resemble the leg bands waterfowl hunters covet. These aren't just stock chokes, either—they're produced by Briley. Three are included: full, modified and improved cylinder. The end result is a gorgeous shotgun that also delivers top-of-the-line performance.
MSRP: $1,899.99; browning.com.