by
posted on April 3, 2014
Support NRA American Hunter
DONATE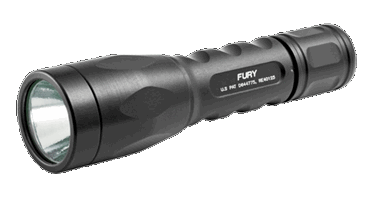 SureFire flashlights are bright, but how much light do you really need in the woods? Depends on what you're doing. If I'm trying to find droplets of liver blood on damp, dark-brown oak leaves when I should be at home in bed, I'd like to have something along the lines of those rigs roadworkers use during the night shift. Since I can't drag a generator and a light stand around the places I hunt, I'll settle for the SureFire P2X Fury.
This little powerhouse is less than 6 inches long, so it easily fits in a pack or pocket, but it puts out a whopping 500 lumens of light. Trying to comprehend 500 lumens is like trying to picture a million bucks in one dollar bills--you can't appreciate the quantity until you see it spread out before you. In both cases, it's quite staggering.
Held at my eye level, which is about 6 feet above the ground, and pointed straight down, the Fury casts a bright white beam that's about 6 feet in diameter. It's wider at farther distances because of the shape of the light's reflector, but when the trail is tough, I'm usually looking for hope just beyond the toes of my boots. Still, 6 feet affords some room for error in my follow-up if a deer takes a sudden turn--which it will.
The aerospace-aluminum body is hard-anodized to resist scrapes and scratches, and it's sealed from the elements. SureFire calls it "weatherproof" instead of "waterproof," but I don't know how extreme the weather has to be to make the Fury stop working. I used the light in a downpour to check my wife's car after tornado-strength winds blew a tree onto it, and two years later, the Fury is still running fine (the car, too).
All that power comes at a cost to battery life, of course. SureFire gives the light a "tactical runtime" of 1.5 hours with two 123A batteries. The company defines "tactical runtime" by a continuous output of at least 50 lumens. You won't get 500 lumens for 1.5 hours straight, but you won't be in the dark after 90 minutes, either. If you want to keep the light cranked, have fresh batteries on hand in a compact Spares Carrier and change after about an hour or so. The Fury also has a low setting of 15 lumens, which prolongs battery life, of course, and is adequate for dressing the deer once you find it.
Then, too, is the cost: $155. Why pay that much for a flashlight? Because beating the coyotes to that 9-pointer you arrowed during the last five minutes of shooting light is worth it.