by
posted on May 25, 2020
Support NRA American Hunter
DONATE
It's hanging on the refrigerator every time you open the door for a food or beverage pick-me-up. Yes, I'm talking about the dreaded chore list, and now I'm suggesting you add a second list to the magnet cluster titled "summer whitetail chores."
Knocking out whitetail chores now saves you precious hunting time later. Plus, any bold, invasive disturbances you make have a month or more to disappear in the paranoia clutter of a whitetail's mind. Weigh the following as you ponder vacations, ball games and that trimming battle that begins before the mower engine even cools.
Landlord Notification
Nobody wants a landlord eviction notice, you included. That's why a preseason visit to your hunting property contact makes sense, unless you hold a deed to the land with only your name on it. Changes occur with land ownership, management practices and hunting rights.
Even if you have family ties to a property, a nephew suddenly interested in hunting could push you to the end of the line for access. A Jeff Bezos tycoon may have flashed a wad of bills so big in front of a farmer that suddenly the property has new hunting tenants. And there are always land management changes that could be a huge surprise if you don't stop by in the offseason. Increased grazing, wildfire, crop rotations and the like could pump the brakes on whitetail success or possibly boost the attractiveness of a property.
A summer visit gives you the chance to re-secure hunting permission. You should ask for consent to place blinds, stands and trim foliage at the same time. Years back I shared hunting rights on an incredible property with a popular video hunter. That person trimmed an especially large limb to open a shooting lane, a landscaping task which ended their hunting access forever.
As a goodwill gesture, ask the landowner if they need any help in the offseason. A weekend of hauling hay is invaluable in keeping a gate open to hunting.
Ambush Assembly Required
With landowner approval, the real chores begin. Start with setting up ambushes. Placing treestands and ground blinds a month or more ahead of the season seems like jumping the gun, but not if you must infringe on critical whitetail habitat. Forging into dense cover and into the edges of bedding habitat could give your whitetail target a shocking surprise. By busting in weeks before the season, it's an intrusion that is soon forgotten amongst daily coyote stalks, farming disruptions and other ongoing whitetail anxieties.
You could march in like the Macy's Thanksgiving Day Parade, but in addition to setting up ambushes, your incursion should map out invisible access to that site. Hunting apps can aid in the route selection, but a boots-on-the-ground approach confirms the best terrain to duck behind during your later hunting season forays. Vegetation also provides a vital screen for disappearing, but keep in mind the dropping of autumn foliage and upcoming crop harvest. A great ambush location doesn't look so great during hunting season when you're trying to stay undetected from hordes of deer loitering before and after shooting light. Map out that escape exit now to stay out of sight later.
Cleanup In Shooting Aisle 3
After staking a blind or hanging a stand, the next order of business is removing shot obstructions within potential shooting lanes. Twigs, limbs, clumps of grass and other deflectors, courtesy of Mother Nature, could bring a great encounter to a demoralizing end. Any trimming should be targeted, but don't overdo it. Again, be mindful of the first hard frost and its power to strip limbs of colorful flora in following weeks.
Limbs around treestands and blinds should only be removed if they restrict shooting opportunities. Otherwise, the natural cover helps your ambush melt into the backdrop. The early deployment of stands and blinds also creates contentment later as whitetails gradually become accustomed to the human relics.
After clearing potential shooting lanes, turn your attention to pathway clearing. This simple step is often overlooked—like the household chore list on the refrigerator. Your exit strategy should hide your entire presence in more ways than just your form.
By removing all limbs, saplings and vegetation on your trail, especially the last 100 yards to your stand, you remove noise and scent warning signals. Branches hitting your bow or rifle could make foreign noises alerting nearby deer to your presence. Plus, foliage provides a possible scent-catcher, leaving a clue you've been there any time you brush up against it. With a debris-free trail, you simply have to spray down your boots to erase foot scent and make your way to your stand like an apparition.
Ruse Readiness
A final major chore to check off your list is ruse readiness. Decoys, mock scrapes, rubbing posts, mini food plots and other stopping tricks should be prepared now.
Consider establishing mock scrapes in the perfect shooting window. When established in shooting lanes, these natural stopping points give you seconds to steady and smoothly get off the shot as deer investigate. Preseason mock scrapes also aid in establishing early travel patterns. During the preseason, use the setup to capture images with standard urine scents dripping an invite. Wildlife Research Center just released a unique Active-Cam scent specifically designed for scouting.
Another trending ruse includes the placement of rub posts in strategic shot locations. Think aromatic fence posts, like cedar, and plant one right along a trail near your hideout to make a buck not only stop, but position for textbook shots.
If your location includes a sunlit opening, think about scratching in a mini food plot. Clover, winter wheat, turnips and other crops compatible with your climate can turn a garden-variety gap into a 7-Eleven quick stop. Even an overgrazed locale makes deer pause to see if the grocery store has been restocked.
Finally, consider transporting those clunky decoys to the woods prior to the season. Sunlight and weather can fade them, so stash them in blinds or under a tarp covered with limbs. When the time is right for deployment, you won't sweat during the toiling insertion, and the quiet set up only adds to your overall con.
Unlike cleaning out the gutters, these refrigerator-posted chores have the potential to actually refill the freezer section of your fridge with tasty, white packages. Get busy.
---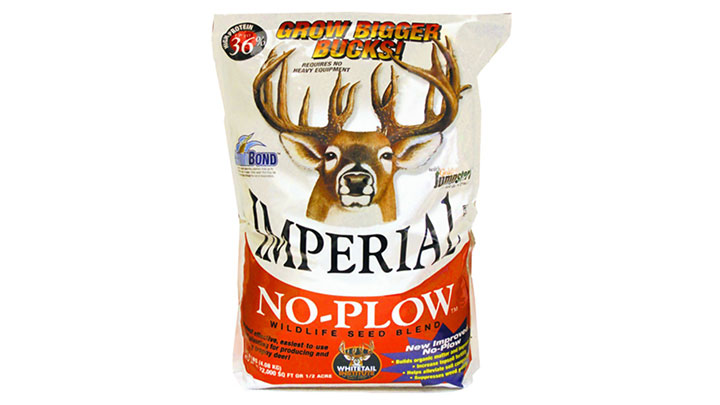 Establishing food plots during early summer provides nutrients to boost the overall health of your herd. During the fall and winter, food plots can draw and keep deer in a particular area. As the name implies, Imperial No-Plow seed blend from Whitetail Institute—a mix of clover and brassica and radish—requires little to no site prep for planting. MSRP: $39.98/9-pound bag; whitetailinstitute.com.