by
posted on April 6, 2015
Support NRA American Hunter
DONATE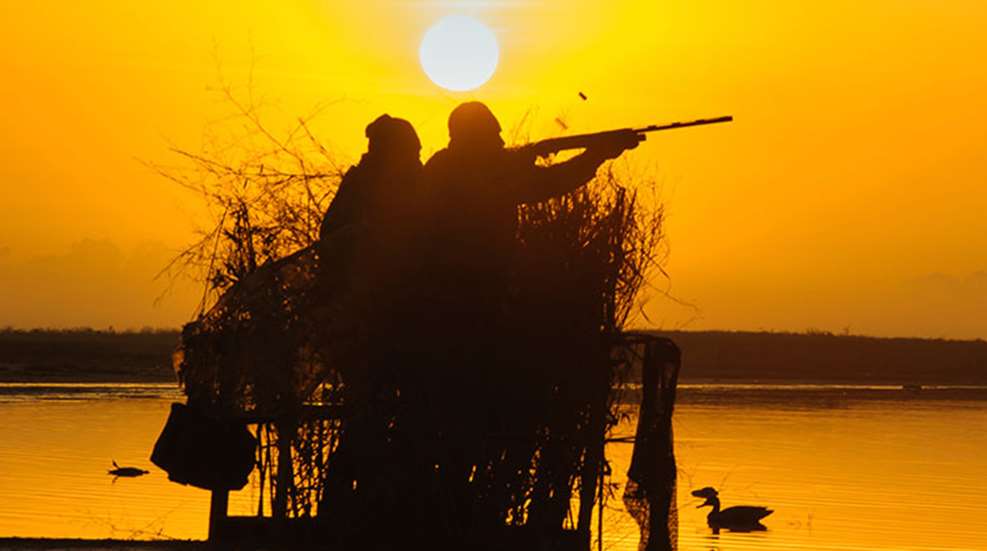 A lot of time, effort and hard-earned cash goes into booking an outfitted hunt. Sometimes it's a trip you've been planning for years. Other times it's one that's just recently caught your eye, maybe thanks to an outdoor-themed TV show. And other times still, it's a trip that others have recommended to you. If you're looking for something new, though—something that your hunting buddies might not have thought of—we've got six, largely unheralded, outfitted hunts for you.
To get an inside track on some of the industry's biggest up and comers, we went to Greg Ray, national sales manager for NRA's Hunter Services and complete outfitter booking service, NRA Outdoors. Get the full scoop on the hunts you need to be tracking below.
Oklahoma Waterfowl
When asked where they'd like to go on an outfitted waterfowl hunt, most folks will land in either the Duck Hunting Capital of the United States (known more commonly as Stuttgart, Arkansas, I suppose), or name a province from the Great White North. And, hey, that's all well and good—either of those locales would make for a fantastic trip. But there's no shortage of fine waterfowling in other parts of the continent, too. Like, say, in Oklahoma. A couple of outfitters are happy to put hunters on ducks in the Sooner State—which offers hunter-friendly bag limits that should definitely pique your interest.
"I've been fortunate enough to hunt waterfowl in some of the popular destinations such as Alberta and Saskatchewan," Ray says, "But I promise that duck hunting in Oklahoma during the peak of season will rival that of some of the more popular destinations, without the cost and time of having to travel outside the U.S."
New Mexico Black Bear
Like the aforementioned waterfowl, hunters looking to open the wallet for a guided black bear hunt might immediately think of Canada. There's no need to break out the old passport, though. Ray's contact, Dave Garret—who operates out of New Mexico—offers a whole new approach to tagging a big ol' black—or color phase—bruin.
"There are a lot of black bear hunts out there, with the majority of them being over bait," Ray says. "But if you're looking for something that's a little more of an adrenaline rush you should check out our New Mexico outfitter, who hunts bears by calling them in like you would on a coyote hunt. There is nothing like calling for a 300-plus pound hungry predator to get your heart rate going."
Wyoming Whitetail
Wyoming's no secret—it's a popular destination for traveling hunters throughout the country when it comes to mule deer, elk and antelope. But it's not often that you'll find someone booking a trip to Wyoming to hunt whitetail—which is why it's one of the better kept secrets in the industry. One of the top NRA Outdoors operations in the region is in the northeastern part of the state.
"There's great opportunity for whitetail hunters," Ray said. "We hunt the northeast part of the state and run as close to 100 percent opportunity on as many 130-plus class deer as possible. Every year we have clients who take deer in the 150-plus class category, too."
Nebraska Mule Deer
Given that Nebraska's surrounded by some of the nation's most successful mule deer hotbeds, it's surprising that so few hunters consider it when booking that big muley hunt. Ray recommends Scott Fink.
"Most hunters overlook Nebraska as a possibility, and they really shouldn't," Ray says. "The central part of the state in the Sand Hills makes for some great mule deer habitat. You might not see some of the giants that you do out further west, but you still have the possibilities of a 150 to 170 class buck. Plus, with the close-by river bottoms, if you don't see a muley that meets your requirements, your tag is also good for a whitetail."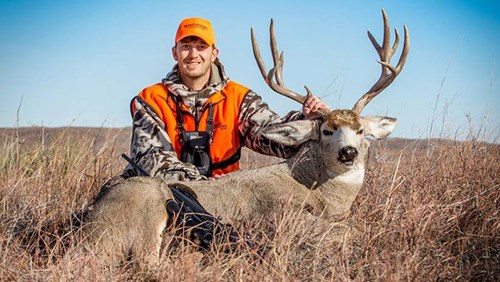 Idaho Wolf Hunting
There's probably no more difficult apex predator to put down than a wolf—at least not in North America. Canada has been the best choice for prospective wolf hunters in recent years, at least in terms of success rates, but new laws in Idaho have provided a domestic option. One NRA Outdoors outfitter—who our own editor in chief, J. Scott Olmsted, joined for a hunt earlier this year—now offers baited wolf trips.
"Some states are learning from our wolf hunting friends across the northern border and now allow for baited hunts," Ray says. "I'm often asked where my favorite place to hunt is and most people are surprised when I put Idaho in the top three. You will not find a more scenic or challenging state to hunt, and now with a heavy wolf population, it's my go to spot."
Utah Mountain Lions on Dry Ground
If you're looking to sate your taste for a big-cat hunt, but don't have Africa in the budget, a mountain lion should be on your radar. Given how much easier it tends to make cougar hunting, some outfitters prefer to wait for snowfall. But Ray has a connection that can get you in on the action this spring.
"I hunted with him in May of 2014 on dry ground, we treed four cats in three days," Ray said. "The outfitter is a third generation hound breeder/trainer and has tracking mountain lions figured out. He's on lions before his competitors get started and still trees cats after they've finished."
For more info on these exciting hunts and more, visit NRAoutdoors.com, or contact Greg Ray at [email protected].