by
posted on August 14, 2019
Support NRA American Hunter
DONATE
SIG Sauer is diversifying its big-game ammunition with Elite Hunter Tipped (EHT), a new line engineered for versatile performance at all effective ranges, and especially when long-range precision is critical. The key component is its polymer-tipped bullet—a first from SIG—whose sharp ogive and sleek, boattail profile translate to increased ballistic coefficients (BC). The practical advantages downrange include flat trajectory, ability to buck the wind and high retained energy.
"Our new Elite Hunter Tipped line of premium rifle ammunition is designed and engineered to be a devastating game load with exceptional long-range accuracy and performance," said Brad Criner, Senior Director, Brand Management and Business Development. "SIG Elite Hunter Tipped delivers superior downrange energy and controlled expansion for a clean kill whether you are hunting whitetail, mule deer, antelope, elk, predators or a variety of other game species."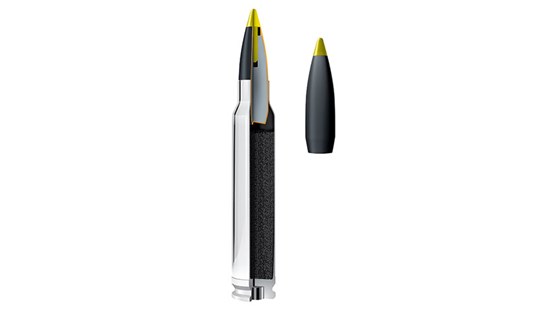 Loaded at SIG's high-tech ammo plant in Jacksonville, Ark., EHT receives the same stringent quality control that has earned awards for the brand and in short order created a buzz in the ammunition market for a company chiefly known for producing tactical firearms. Hunters now can choose between the new loads bearing the tipped, jacketed-lead alloy projectiles and the earlier Elite Copper Hunting line featuring tough all-copper bullets that maximize deep-punch penetration. All SIG hunting cartridges feature smooth-cycling nickel-plated cases and exclusive propellent blends formulated for consistent velocities in all weather conditions.
The translucent-yellow-tipped EHT bullets are supplied by Sierra, custom maker renowned for accuracy, but come with an exclusive blackened jacket made to SIG's specification. In ballistic-gelatin tests, EHT bullets reportedly penetrated 20 or more inches without fail and expanded to nearly double their original diameter, exactly the metrics demanding hunters want when selecting premium ammunition.
Elite Hunter Tipped ammunition is available in the following loads:
• .243 Win./90-grain—velocity, 3115 fps; energy, 1939 ft.-lbs.; G1 BC, 0.490
• 6mm Creedmoor/100-grain—velocity, 2970 fps; energy, 1958 ft.-lbs.; G1 BC, 0.515
• 6.5mm Creedmoor/130-grain—velocity, 2850 fps; energy, 2344 ft.-lbs.; G1 BC, 0.510
• .260 Rem./130-grain—velocity, 2820 fps; energy = 2295 ft.-lbs.; G1 BC, 0.510
• .270 Win./140-grain—velocity, 2950 fps;  energy, 2705 ft.-lbs.; G1 BC = 0.508
• .308 Win./165-grain—velocity, 2840 fps;  energy, 2956 ft.-lbs.; G1 BC = 0.530
• .30-06 Springfield/165-grain—velocity, 2950 fps; energy,3188 ft.-lbs.; G1 BC = 0.530
• .300 Win. Mag./180-grain—velocity, 2960 fps; energy = 3502 ft.-lbs.; G1 BC = 0.515
(Velocity and energy figures at the muzzle.)
For more information on the new Elite Hunter Tipped ammunition, visit sigsauer.com.