by
posted on March 3, 2020
Support NRA American Hunter
DONATE
SIG Sauer's ambition to become a force in U.S. ammunition manufacturing has taken two big steps of interest to hunters. In mid-2019, the company introduced Elite Hunter Tipped (EHT), a new line engineered to perform at all effective ranges, and especially when long-range precision is critical. And as we prepare this to go to press, SIG has unveiled a brand new cartridge—the .277 SIG Fury—to spearhead the introduction of its newest gun, the bolt-action Cross, described as "a true crossover" between "a hunting rifle and a precision rifle." See below for further details on this developing story.

Though firearm companies long ago began diversifying into ammo production, SIG's approach since beginning in 2012 has been notably bold. Rather than having an established loader "private label" SIG ammo for them, the tactical-gun powerhouse tooled up a temporary facility in Kentucky, and went to work making its own. A few years later, SIG ammo moved into a permanent, ultra-modern home base in Jacksonville, Ark. The initial output—personal-defense loads featuring the innovative V-Crown bullet—logically paired with the brand's popular handguns. However, soon after relocating to Arkansas, SIG addressed America's big-game hunters as well with the Elite Copper Hunting line that included rifle calibers not then available in any SIG-branded firearm. The tough all-copper bullets maximize penetration, while, according to SIG, typically delivering 1.8X expansion. With availability in calibers ranging from .223 Rem. to .300 Win. Mag., the line neatly covers the gamut of North American big game. Elite Copper loads in AR-calibers also are optimized for reliable feeding in semi-automatic-platform rifles.
However, many hunters aren't inclined to shoot copper bullets, and so the addition of the jacketed lead-core EHT will help SIG reach new customers. "This premium line is designed and engineered to be a devastating game load with exceptional long-range accuracy and performance," said Brad Criner, senior director of brand management and business development. "SIG Elite Hunter Tipped delivers superior downrange energy and controlled expansion for a clean kill whether you are hunting whitetail, mule deer, antelope, elk, predators or a variety of other game species." The key component is its polymer-tipped bullet—a first from SIG—whose sharp ogive and sleek boattail profile translate to increased ballistic coefficients (BC). The practical advantages downrange include flat trajectory, ability to buck the wind and high retained energy.
Loaded at SIG's high-tech factory, EHT receives the same stringent quality control as the award-winning V-Crown loading, including checks for overall cartridge length, primer depth, propellant charge consistency and case-neck tension.
All SIG hunting cartridges feature smooth-cycling nickel-plated cases and exclusive propellant blends formulated for consistent velocities in all weather conditions. The translucent-yellow-tipped EHT bullets are supplied by Sierra, the custom maker renowned for accuracy, and come with an exclusive blackened jacket made to SIG's specification. The gilding-metal jacket grows progressively thicker at the base to ensure the bullet retains weight on impact.
We bench-tested the 130-grain 6.5 Creedmoor and 165-grain .308 EHT loads in multiple rifles and, based on 100-yard groups, soon concluded that any misses would be the shooter's fault. While the very best groups (less than .75 inch) came from heavy-barreled, chassis-stocked rifles, well-worn lightweight sporters in both calibers averaged around 1.25 inches with EHTs. In addition, two loads fired into ballistic gelatin confirmed penetration, expansion and weight retention claims. Where the 130-grain Creedmoor penetrated 16 inches, a 165-grain .30-06 slug burrowed 19 inches into the gel. Expansion of both bullets exceeded SIG's 1.8X standard, and in fact the '06 very nearly doubled in diameter. Retained weight was 61 percent for the 6.5 and 69 percent for the .30-06. Those test metrics are right in line with what hunters want in a fast-expanding, tipped bullet in premium ammunition.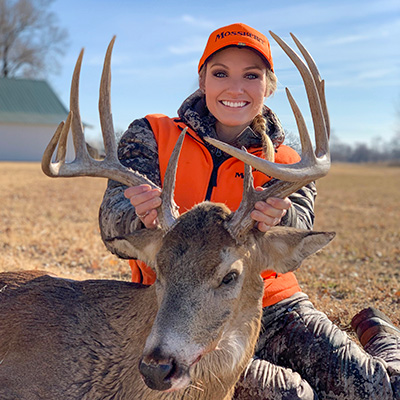 Making the most of our limited opportunity to hunt with EHT, Managing Editor Rose Bier used the .308 Win. 165-grain load to take her biggest whitetail to date, a Kansas brute in the 150-inch class. "The buck was slightly quartered away at 200 yards when I shot, and it dropped in less than 10 yards," said Bier. "The bullet entered through the rib cage, penetrated the heart and lungs, and came to rest on the off-side shoulder. It expanded perfectly, more than doubling in diameter to .75 inch."
Technical Specifications
• Caliber: .243 Win., 6mm Creedmoor, 6.5 Creedmoor, .260 Rem., .270 Win., .308 Win., .30-06 Sprg., .300 Win. Mag.
• Bullet: 90 gr. (.243 Win.), 100 gr. (6mm Creedmoor), 130 gr. (6.5 Creedmoor, .260 Rem.), 140 gr. (.270 Win.), 165 gr. (.308 Win., .30-06 Sprg.), 180 gr. (.300 Win. Mag.), Controlled Expansion Tip bullets (made by Sierra)
• Ballistic Coefficient (G1): .490 (.243 Win.), .515 (6mm Creedmoor), .510 (6.5 Creedmoor, .260 Rem.), .508 (.270 Win.), .530 (.308 Win., .30-06 Sprg.), .515 (.300 Win. Mag.)
• Muzzle Velocity (adv. fps): 3115 (.243 Win.), 2970 (6mm Creedmoor), 2850 (6.5 Creedmoor), 2820 (.260 Rem.), 2950 (.270 Win.), 2840 (.308 Win.), 2950 (.30-06 Sprg.), 2960 (.300 Win. Mag.),
• Muzzle Energy (adv. ft.-lbs.): 1939 (.243 Win.), 1958 (6mm Creedmoor), 2344 (6.5 Creedmoor), 2295 (.260 Rem.), 2705 (.270 Win.), 2956 (.308 Win.), 3188 (.30-06 Sprg.), 3502 (.300 Win. Mag.)
• MSRP: $36.95-$51.95 (per 20-rnd. box); sigsauer.com
---
SIG Precision: New Rifle and Cartridge
SIG Sauer's answer to a U.S. military call for new ammo for its Next Generation Squad Weapons is the .277 SIG Fury. Commercial loads will come with either 135-grain match-grade or 140-grain Sierra Tipped GameKing bullets housed in a unique hybrid case that mates a steel base with a brass body. These rounds are reportedly lighter than conventional ammo, and yet can operate safely at higher chamber pressures. SIG states, "[The] hybrid case technology defies all ballistic theory by producing more energy on target in a smaller, lighter package." SIG-supplied comparisons with the 6.5 Creedmoor show a gain of 20 to 25 percent terminal energy and 6 to 9 feet less drop at 1,000 yards with the Fury. Cross rifles chambered for the new round are expected to be ready for delivery later this year, and be assured we will provide a more in-depth report at that time.