by
posted on January 28, 2011
Support NRA American Hunter
DONATE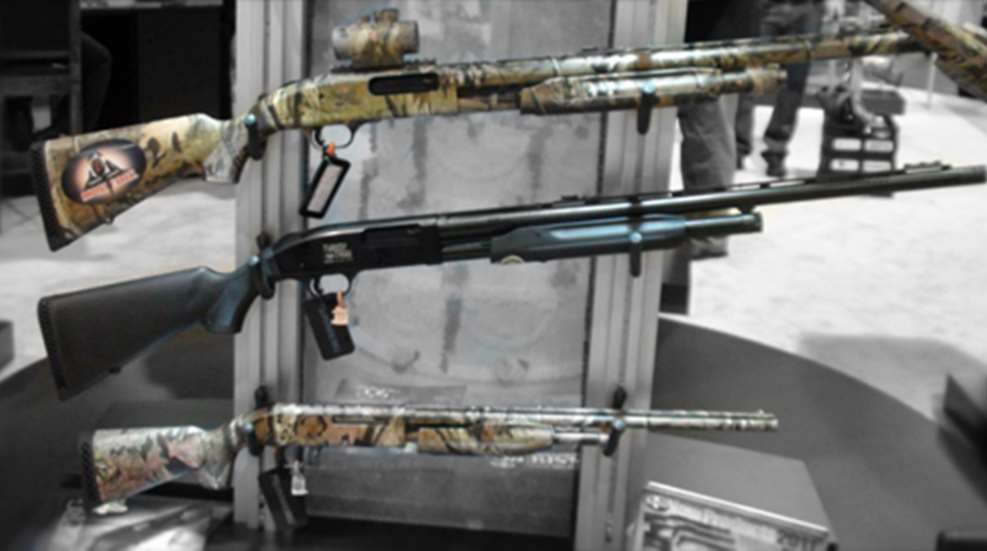 With thousands of manufacturers rolling out new products at the 2011 SHOT Show, the AmericanHunter.org team knew it had to have a game plan. What was our strategy? To find as many new hunting guns as we could get our hands on. After fondling more than our share of new deer slayers, duck killers and a few surprises, we've picked the 10 best hunting guns from SHOT Show 2011 (in no particular order).
Mossberg Turkey Thug Shotgun
Mossberg is stepping up its efforts to serve turkey hunters everywhere this year with the new Turkey Thug line of shotguns. There will be four models offered which come complete with the Lightning Pump Action (LPA) trigger system, adjustable fiber optic sights and an engraving on the receiver that reads "Turkey THUG Series." The shotguns will be exclusively featured on Mossy Oak's Turkey Thug show in 2011-12, which airs on the Pursuit Channel. Despite its unconventional name, the Turkey Thug is said to perform flawlessly in the field. We'll be testing that notion this spring. You can pick up the top of the line model, the Turkey Thug 835, for only $642.
Benelli Super Vinci
Benelli USA is maintaining the reputation it gained for marketing genius in 2009 with its efforts at the 2011 SHOT Show. They're calling the newest addition "the evolution of the revolution." The Super Vinci comes complete with a catchy new commercial, user-friendly website and the aforementioned slogan. The shotgun's In-Line inertia driven system has been redesigned to handle 3 1/2-inch magnum loads. It also features the QuadraFit buttstock, the ComforTech Plus recoil reduction system and a newly styled lower receiver. With improved ergonomics and an enlarged safety button and trigger guard, this gun should please every waterfowler in your crew. It can be yours for a low MSRP of $1,750.

Nosler Custom M48 Legacy
The new NoslerCustom Model 48 Legacy Rifle is guaranteed to deliver ¾-inch or better, three-shot groups at 100 yards using Nosler ammo. The Model 48 action is glass-pillar bedded and mated to a hand-lapped, free-floating 24-inch match grade chrome barrel that has been custom chambered for each cartridge. The Legacy Rifle integrates a midnight-colored cerakote finish on all exterior metals along with the unique MicroSlick coating on interior metal surfaces. The select American black-walnut stock is an absolute beauty, making this complete-package rifle fit to bare the Nosler name. The MSRP for the Model 48 Legacy is $2,195.
Gamo Varmint Hunter HP .22 Cal.
Gamo has added a durable, all-weather solution for pest control and small-game hunting to its line with the new Varmint Hunter HP. This .22 caliber air rifle comes with a lightweight, molded synthetic stock; fluted polymer jacketed rifled steel 18-inch barrel and a heavy duty power plant that produces 1,000 fps with PBA ammo. The package also comes with a 4x32 riflescope with rings, a laser sight and flashlight. This airgun has all the reliability and power of every Gamo offering with the ability to track down your target at night. The upgraded version Varmint Hunter Series is available for $289.95.
Ruger Gunsite Scout Rifle
No, this rifle wasn't built exclusively for hunting purposes, but it's such a perfect display of precision that it can undoubtedly handle any shooting task with ease. In short, it's one wicked gun. Developed with help from Gunsite instructor Ed Head, it's a new platform in the Ruger M77 family. While the Scout Rifle has M77 features such as controlled round feed and integral scope mounts (scope rings included), the 10-round detachable box magazine gives it a distinctly tactical look. A Mini-14/SR-556 flash suppressor takes care of the pesky muzzle flash that is often the result of a .308 Winchester load combined with a 16 ½-inch barrel. The best part is that it's available for only $995.00.
Beretta A400 Xplor Light
Following the example of Benelli and its new Super Vinci, Beretta has evolved last year's revolutionary A400 Xplor Unico shotgun. It now comes in a "Light" version. Weighing in at just over six pounds, the new A400 Xplor uses an exclusive exhaust valve that allows the shotgun to shoot a broad range of ammunition. The Light is also designed to reduce the already low felt recoil. Beretta has given shooters all the innovation of the original model in a lighter, less-punishing 12-gauge. You can pick one of these up for $1,400.
Browning A-Bolt Shotgun
The Browning A-Bolt is back and better than ever for 2011. After a 13-year absence, Browning is bringing back this slug gun in hopes that it will rekindle its old flame in the growing number of shotgun-only states—some of which are right in the center of the Midwest whitetail paradise. The A-Bolt, which looks stylish with a low-luster blued barrel and a Mossy Oak Break-Up Infinity composite stock, comes standard with a 3-inch chamber, 60-degree bolt lift, detachable two-round magazine and recoil pad. Go ahead, purchase a piece of nostalgia for this deer season, it will only cost $1,240 MSRP.
Taurus Raging Judge
Taurus announced the Raging Judge revolver chambered for 28 gauge during the SHOT Show last week. OK, so we know this isn't the traditional bird hunting gun, but once again, it's too cool to leave off this list. "With this gun, the Judge not only gets a bigger bore," wrote American Rifleman Editor in Chief Mark Keefe, "but also the features that made the Raging Bull in .454 so distinctive and more friendly to the shooter when it comes recoil, including a cushioned insert grip." Taurus has created a new breed of handgun with the Raging Judge, and the rumors have been flying regarding an impending ATF ruling in regards to shotguns and "sporting purposes," but we've learned they have nothing to do with this 28-gauge.
Weatherby Vanguard S2
Weatherby is adding to its top selling line with a new version of the Vanguard rifle. The new Series 2 (S2) is guaranteed to shoot SUB-MOA with factory or premium ammunition and comes in almost every popular caliber. It accomplishes this feat with a new two-stage Match Quality Target Trigger, Griptonite stock with non-slip panels and a right-side palm swell and the legendary Mark V action. Throw in the full-length, cold hammer forged 24-inch barrel that is known to provide maximum velocity and there's no reason not to spend $450 to $630 on this rifle.
Winchester Model 1886 Short Rifle
Winchester is reviltalizing several of its classic lever-action rifles this year, and the reliable action of Winchester Model 1886 is among the finest. The Model 1886 Short Rifle, designed by John Moses Browning, was built to handle the then-new, heavier 45-70 Govt. cartridge, way back in 1873. The Model 1886 Short Rifle features a deep blue receiver, barrel and lever, along with a matching blued steel end cap and steel crescent buttplate. Like the other historical rifle models being offered by Winchester this year, production is limited. You can own this piece of history for only $1,269.