Support NRA American Hunter
DONATE
The late Finn Aagaard and I were glassing for aoudad on his place near Llano, Texas. We weren't seeing any aoudad at the moment, but I spotted a couple of small, dark animals stealing along the edge of some thick stuff. They weren't hogs and they weren't whitetails. "Those are sika deer," said Finn. "Not sure where they came from, but we see them now and again, very difficult to hunt."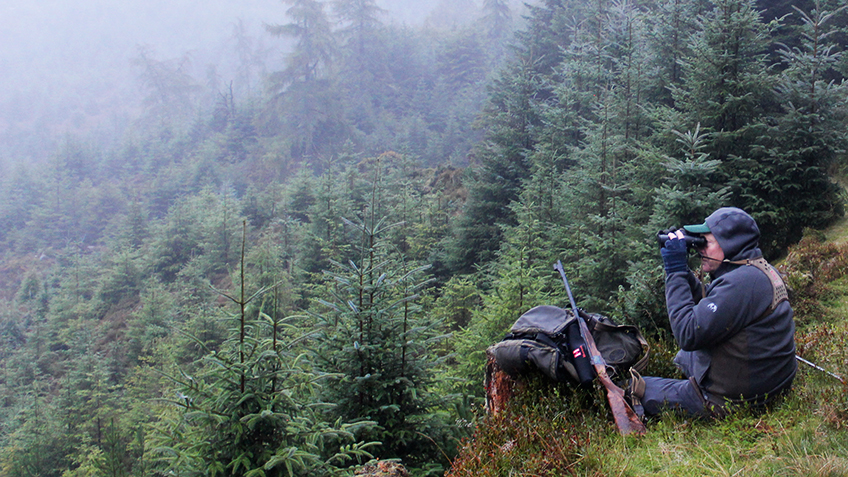 This was 40 years ago, long before Finn's work graced the pages of this magazine. The Texas Hill Country, where the Aagaard clan relocated after Kenya closed hunting, is the epicenter for non-native species in the U.S. Aoudad, axis deer, sika deer and more have established free-range populations here. These were the first sika deer I'd ever seen … but I was young and there were a lot of things I hadn't seen. To this day I've never hunted sika in Texas, but I've seen them in a number of places. Two things Finn said have generally rung true: Wherever encountered, it's common for locals to shake their heads and wonder where they came from … and, always, sika deer are difficult to hunt!
The Japanese Deer
Sika comes from the Japanese shika, meaning "deer." The sika deer, Cervus nippon, is native to the Japanese islands, but also to eastern Asia from Vietnam up through Korea, China and into Siberia. There are more than a dozen subspecies, some extinct. In both Japan and on the mainland, sika deer were moved around for centuries, so many gene pools are uncertain. Size varies tremendously; small Japanese races may weigh just 50 pounds, while the big Manchurian and Dybowski can weigh 250 pounds.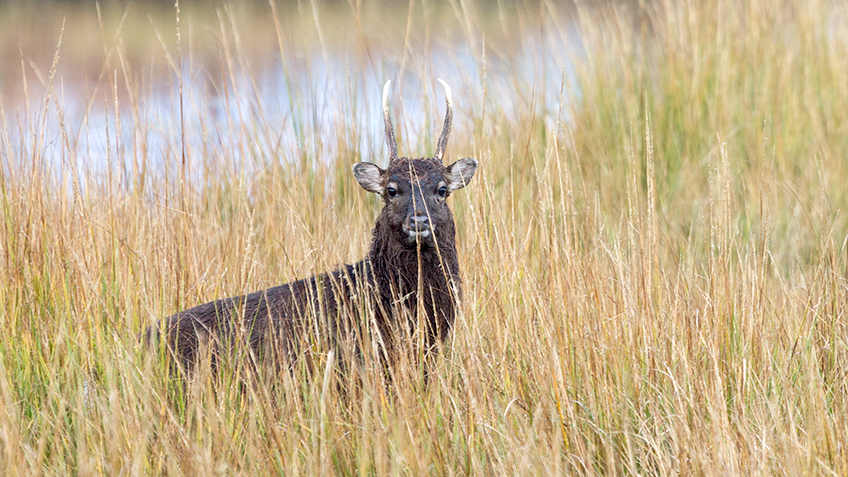 The sika is one of few deer species that retain spots throughout their lives, but some races are very dark, while others are brown with muted white spots—and there are differences between winter and summer coats. Like many Old World deer, the sika is a "round-antlered" deer, typically with brow tines and a major fork near the end of the beam. The smaller races will usually have three points per side at full maturity. Larger races grow antlers commensurate with body size, and often develop an additional point jutting forward two-thirds up the main beam, making a total of eight points, but extra points are occasionally seen.
Although shy, cover-loving and fairly nocturnal, during the rut sika stags are aggressive and vocal, giving a loud, high-pitched bugle that seems impossible to emanate from such a small deer. Wherever found the sika deer is difficult and challenging game. But if you can catch the rut, hearing stags scream all around you is a hair-raising experience.
All Over the Map
I have never hunted sika deer in native range, but there are opportunities in Siberia, and there is hunting in Japan, though difficult for outsiders. Better news is that the sika deer is one of the world's most widely introduced species, with populations in more than 20 countries, including Europe, North America and New Zealand. Worldwide, there are numerous opportunities to hunt free-range sika deer.
In Europe there are scattered populations in the Baltic states as well as the Eastern and Western regions, but perhaps the best hunting opportunities are in the British Isles. Scotland has numerous pockets of sika deer, but in Ireland the sika rivals the red deer as a primary quarry among Irish hunters.
In North America the best-known sika herds are in the Texas Hill Country and Maryland, but you never know exactly where you might run into them. Sika are known to have been introduced into at least 15 states. There is a free-range population not far from my farm in southeast Kansas, believed to have started with escapees from a small zoo. Friends see them in their back yards now and again.
Sika in the Rain
New Zealand (NZ) offered ideal habitat, but naturally had no large mammals, so early settlers experimented with introductions of numerous species, partly for meat sources and perhaps to make their distant new land seem a bit more like home. Some attempts, including mule deer, didn't take hold. Moose did well for a time, but are believed to be gone. Whitetail deer took hold, but never spread out and are limited to two primary South Island populations.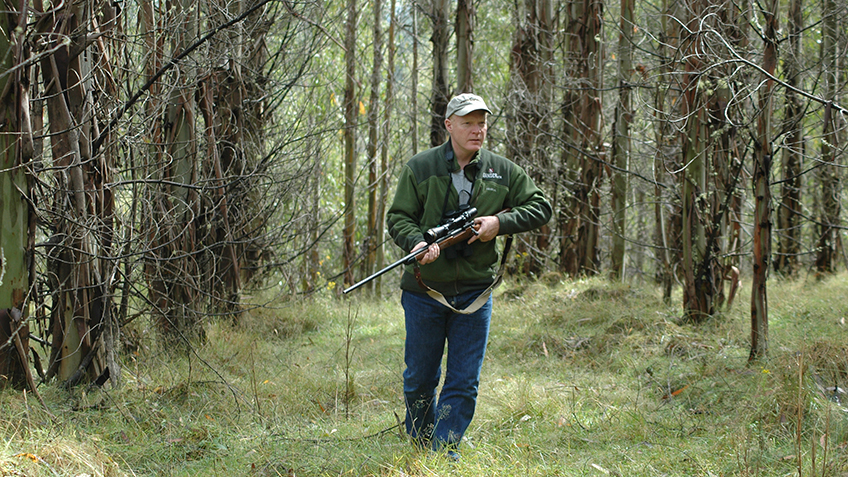 New Zealand's most widespread deer species are red deer and fallow deer, found on both North and South Islands. Most species are found on just one island, but not both. Himalayan tahr and alpine chamois are South Island specialties. North Island has isolated pockets of sambar and rusa, but in central North Island sika is the dominant deer, avidly pursued by Kiwi hunters.
Like all NZ species, sika deer can be hunted both on estates and free range. I had a long-term project to take all the South Pacific species "wild and free," largely instigated by my buddy and pioneer outfitter, the late Bob Penfold. The quest took nearly 25 years, including multiple failures on sambar, whitetail and hog deer. I only hunted in New Zealand once for sika deer … and it wasn't easy!
Penfold set me up on Poronui, right in the middle of the North Island: big, hilly country cut by a marvelous trout stream, and right in the middle of primary sika habitat. I was there in April, NZ's autumn. The stags were roaring, but it was also raining cats and dogs! We still-hunted along trails through dripping forest, hoping for a break, catching quick glimpses of occasional hinds and young stags, but recognizing the weather was completely against us.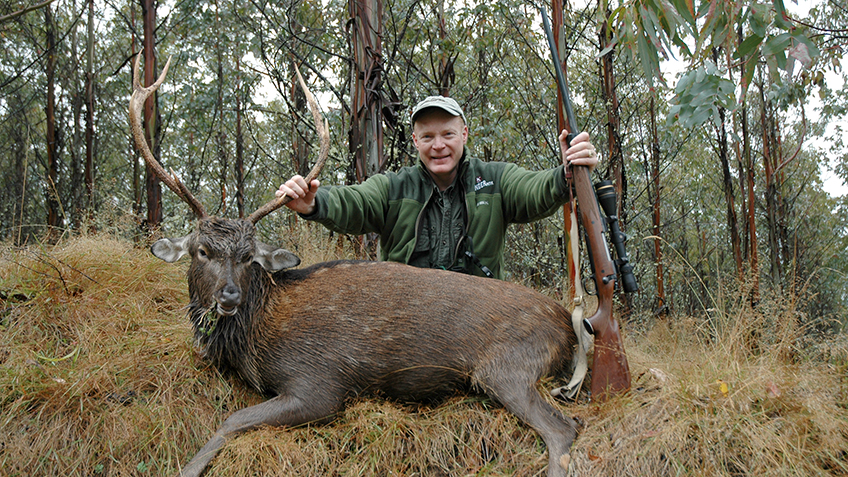 The exact pedigree of NZ sika deer seems lost. These are big deer, probably of a mainland race, dark brown with muted spots and big antlers. After a couple of rainy days and not much happening I was in doubt, but the only option was to keep trying.
One morning, as rain turned to mist, I was in a thick valley alongside a little stream, unseen stags bugling close by but no hint of movement. The sound retreated so I followed slowly, staying on a path, narrow but quiet with grass underfoot. Silence now except for dripping rain. The trail turned right, up a gentle slope through a grove. At the top of the rise, antlers, tall antlers. Thick antlers, long points. I raised the rifle slowly, froze, and the stag walked out of the mist and into the field of view. At 60 yards, I just had to keep the crosshairs steady and press the trigger.
Sika in the Swamps
1916 is cited as the year when Clement Henry released a "half dozen" sika deer onto James Island along Maryland's Eastern Shore. A parallel version of the story holds that a barge carrying the deer grounded on a sandbar and the deer swam ashore … but exactly what the deer were doing on the barge seems foggy. Without question they prospered! Today there might be 10,000 sika deer along the Eastern Shore. The population is centered in southern Dorchester County, also spilling out into adjacent counties and Assateague Island.
In Maryland sika deer are creatures of the marshes and forested wetlands, with large public hunting opportunities on Blackwater National Wildlife Refuge and Fishing Bay Wildlife Management Area. This region is one of America's most famous waterfowl areas, but whitetail hunting is excellent, too, and local sportsmen and outfitters avidly pursue sika deer.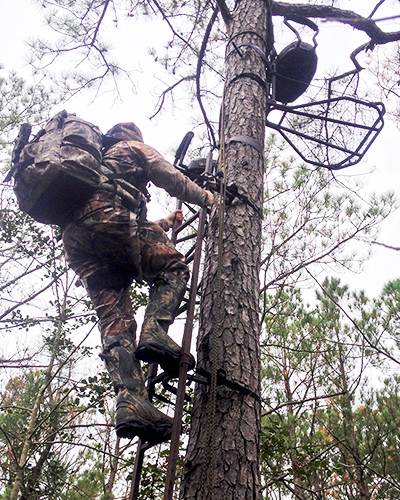 Over the years I've enjoyed some great goose hunting here. I knew about the sika deer, but didn't know how to break the code. I laid it on my old friend John Astle, also a retired Marine colonel and long a Maryland state senator, based in Annapolis. Here's the deal: Sika hunting is essentially wide open on the Eastern Shore; the deer are only hunted concurrently with whitetails; the same methods of take apply. In Maryland sika deer rut in October, during archery season. Hunting the marshes is tough, so this is considered the best time to have a decent chance.
Astle set us up for an October crossbow hunt on the edge of the Blackwater refuge, joined by our mutual friend (and, in other lives, former commander) Gen. Walt Boomer. None of us are avid bowhunters and the TenPoint crossbows were unfamiliar, but we did some checking and zeroing and felt reasonably confident.
Turns out we were in the right place at the right time, and the next few days were some of the most exciting deer hunting I've ever done! Except: Either rain and sika go together, or I draw rain clouds wherever I hunt them. The marshes are plenty wet anyway, but we drew a week of intermittent rain. Thanks to good raingear it didn't matter much to us … and didn't seem to bother these deer at all. As we hunted from a combination of tall treestands and pop-up blinds, the rut was in full swing and on most outings we had sika deer screaming all around us. One afternoon, hunting from a very high stand almost surrounded by deep water, I must have had a dozen different stags screaming in all directions, one of the most amazing days I've ever spent afield. Hearing and seeing is not the same; some were very close, but although I saw several hinds I only saw one stag. I heard him coming, splashing like a hippo … but he was a big spike and I let him pass.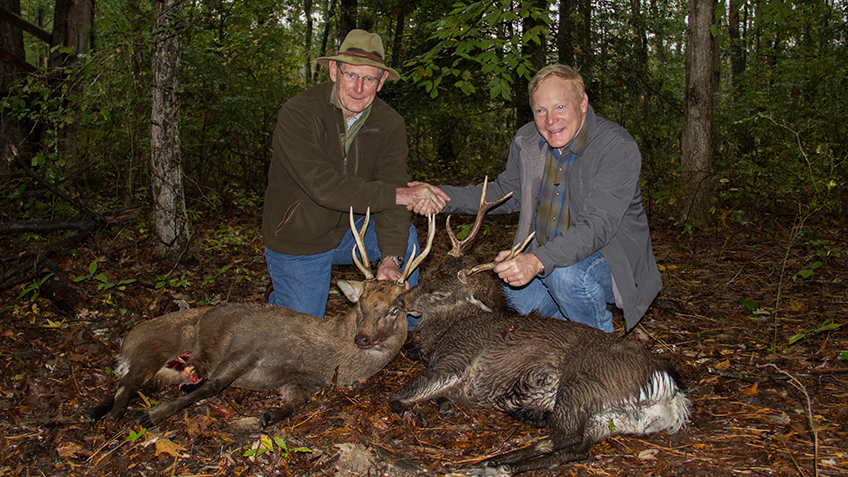 Maryland sika deer are small and dark, my guess originally a Japanese race, but (as usual) exact origin is unclear. Whatever, in any unfamiliar situation it's difficult to know how to play the cards. The first day John saw a nice 3x3. He didn't take the shot but took a picture … and that was the only chance he had! Armed with his photo, Walt Boomer and I now knew what we were looking for. On the second evening, in steady rain, Walt took a big 3x3, his first animal with a crossbow. I think it was the next evening that I saw that spike. You bet I was tempted.
My last morning, hunting from a ground blind, departure imminent, I had stags screaming all around me in the dark. Just at gray, dripping dawn several hinds came in behind me, followed by a nearly black stag with bone-white antlers. Somehow, I got the crossbow to bear, guessed at 30 yards and got the shot off. We found the bolt, centered in a tree … blood on shaft and fletching. My stag lay at the edge of the swamp 50 yards farther, a fine way to end an amazing deer hunt.
A Bit o' the Irish
Years ago, I took a sika stag in Scotland. Scotland has good free-range sika hunting but, honest, we were actually hunting red deer. In October 2018, in the Wicklow Mountains of southern Ireland, I was definitely hunting sika deer! We don't hear too much about hunting in Ireland, but there's an avid Irish hunting culture, and Irish folks are quick to point out that, although part of the British Isles, the Republic of Ireland is not part of the United Kingdom! Temporary firearm permits and hunting licenses were easily obtained. My wife, Donna, and I flew directly from the U.S. to Dublin, where customs and clearances were quick and simple. We hunted with James Nolan and son Jamie of Glacial Valley Hunting in County Wicklow, an hour south of Dublin.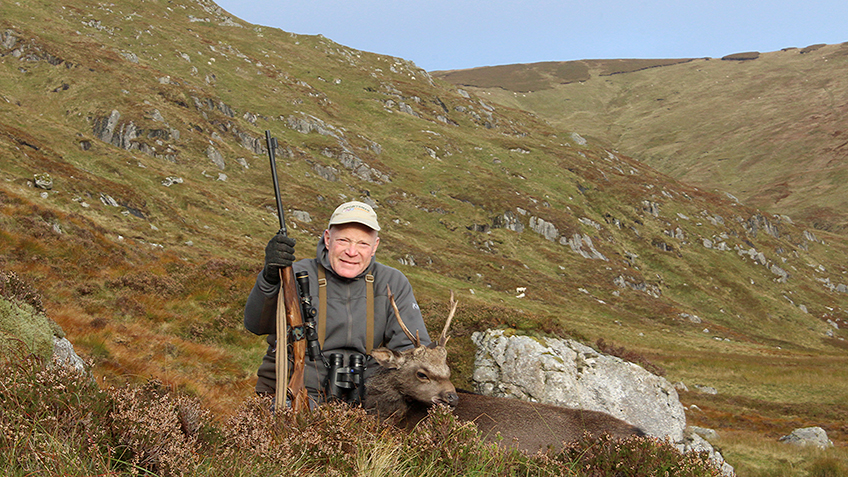 I met James Nolan at a convention last year. Honest, I hadn't given much thought to Ireland, but we'd never been there, and he made it sound like fun. There are native red deer, similar in quality to Scottish "hill stags," and there are fallow deer in lower valleys. Sika deer were introduced from England in 1860 and are probably the most plentiful and widespread deer in Ireland. Interestingly, in Nolan's rugged hills, sika deer are found from top to bottom. Up high they bump against native red deer, and hybrids are not uncommon. Down low, where cover is thicker, you have to dig them out of the thick stuff and, just like everywhere else, I found them plenty challenging.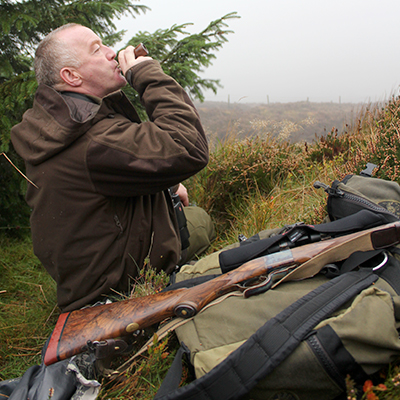 In early October they should have been screaming their heads off, but it was a warm fall, still awaiting frost. And of course, as usual when I'm hunting sika deer, it rained. Wind and fog chimed in, making for tough hunting. The first morning we started up a long valley, gusty and threatening rain—but deer were everywhere! I shot a weird buck with funky antlers, knowing it wasn't big. But we were seeing so many deer I figured I'd "improve" on him. I saw several small bucks and a couple of "unreachable" good bucks, but that was the only shot I fired. A few days later, also fighting wind and rain, Donna and Jamie got into a sheltered pocket just at dark. Using her Blaser .270, she took a fine sika stag with a 250-yard shot.
Honest, right to the end I fully expected to get a good one. Despite the weather we were seeing lots of deer, and the major rut was about to kick in. On my next-to-last evening we saw a wonderful stag, big-bodied, with tall, heavy antlers, tending a half-dozen hinds far up on an open hillside. There was no way to move on him, and the closest we got was 470 yards. With strong wind and me shooting a 7x57 with 2x-7x scope, trying it was out of the question. James and I went back into that valley early the last morning, me fully expecting to find that buck and shoot him. Instead we found low scudding clouds and zero visibility—no chance whatsoever.
On the last evening James and I rolled the dice on a sheltered hole, a perfect place. Dusk came with no bucks sighted, but we heard our friend Megan Fonte, who was hunting not so far away with Jamie, shoot. When fading light closed in, James and I retreated to the vehicle and drove to the end of the road, finding Jamie huffing and puffing up the bank with exactly the kind of deer Megan had hoped for: a red/sika hybrid so old it hardly had a tooth left in its head.
And then we all retreated to our "camp" at Glenmalure Lodge, a fine little pub in a beautiful valley, snug and warm no matter how much wind and rain, with wonderful Irish fare in the kitchen and plenty of Guinness Stout in frothy mugs. Ireland was another awesome sika deer experience, still difficult … but maybe we'll have to do that one again!