by
posted on September 14, 2015
Support NRA American Hunter
DONATE
One of the most famous, respected and revered hunting rifles of the 20th century was also one of the rarest. From the first sold in 1912 to the last built around the start of World War II, only 189 genuine, London-built .416 Rigby Mausers were ever produced. Until now. 
John Rigby & Co. of London is reborn. After changing ownership several times, including twice in the United States, Rigby is resettled in its former city and again building its iconic, bolt-action, repeating "magazine rifle": the Rigby Special .416 Bore for Big Game. Every rifle is being made with genuine German Mauser Model 98 barreled actions, just as they were more than a century ago. The new .416 Rigby Mausers look, feel and shoot like the originals, only better, thanks to a more modern, straight-line stock configuration and the latest, high-quality steel. A low-glare, extremely hard, rust-resistant, plasma-nitride metal finish also contributes increased durability to a dangerous-game hunting rifle that still looks classic.
Rifle aficionados are often surprised to learn that Rigby never has built its barreled actions. Recognizing the brilliant design of the Mauser M98, Rigby eschewed reinventing the wheel. Instead he arranged to become the exclusive importer and distributor of Mauser actions in Britain way back in 1897. Then he commissioned Mauser to engineer a longer, magnum action to fit his rimmed .400/350 Rigby and, undoubtedly, any potential, new rounds to come, like the .416 Rigby. This was the age of rapid advancements in cartridges due to the 1889 British invention of cordite.
With its high-energy, nitroglycerin base, this smokeless powder generated much higher pressures than blackpowder ever could. New cartridges and rifles were needed to take advantage of this, and the rimless .416 Rigby was one of the best.
The surprisingly small number of original .416 Rigby Mausers manufactured can be blamed on limited demand coupled with interruptions in production brought on by two world wars, both of which saw Mauser and Rigby on opposite sides. World War I interfered not only with sporting rifle production, but ammo availability and demand. Few able-bodied men or women were then free to roam the game fields of the world. Post-war rebuilding hampered a quick return to civilian rifle production, and just about the time materials again became abundant, the Great Depression restrained demand. Then World War II intervened.

The other damper on .416 Rigby sales was the caliber itself. There was never a huge demand for a .41 caliber that recoiled with about 50 ft.-lbs. of cheek-jarring energy while throwing a 410-grain bullet 2370 fps, fast enough to generate 5,100 ft.-lbs. of muzzle energy. Bit much for deer, what? But Rigby wasn't aiming for the deer-hunter market when he designed the rifle in 1911. He was firing a shot at the big-bore dangerous-game double rifle then in fashion. Chambered in .450, .470, .475 and .500 Nitro Express, these side-by-sides were expensive but required tools for commercial ivory hunters. European royals also used them on long, expensive safaris. The wealthy could afford the most expensive doubles, but the professional hunters who guided them often could not. Nor could many of the British military officers stationed in Africa and India where they indulged in sport hunting when they could and sorted out man-eating lions, tigers and leopards as well as crop-raiding elephants, buffalo, hippo and rhino when necessary. They found the .416 Rigby attractive because it sold for a third the cost of most doubles.
As for power, the rimless .416 Rigby cartridge matched the punch of all but the .500 NE. While rugged, durable and reliable, the bolt-action Mauser couldn't match the bang-bang two-shot speed of the doubles, but beat them four ways to Sunday for five. That could matter when buffalo or elephant charged in numbers.
Given historically low sales 100 years ago, one might question the need for the .416 Rigby today, but a close examination of dangerous-game hunting opportunities answers that. Cape buffalo hunting today is more accessible than ever. Working men and women who couldn't have managed an African buffalo hunt in 1930 can afford one now. Travel is faster and less expensive, and safaris can be finished in a week. In Australia and parts of South America, feral water buffalo require culling. Rampaging hippos and even elephants must be controlled where they severely overpopulate national parks and wildlands. In North America, brown bears and bison suggest judicious application of a .416 Rigby.
With such adventures in mind, I recently tested one of the new .416 Rigby rifles. It was a 10-pound, 8-ounce loaner that had already been to Africa. In addition, as a SHOT Show demonstration rifle for the shooting press, it had been range-fired at least 400 times. A quick examination with a Hawkeye borescope revealed some of the worst copper fouling I've ever had the shock to discover in a rifled bore. The stuff was literally three dimensional, arranged in waves and swirls atop the lands. Even after dozens of scrubbings with a bronze brush and copper solvent, that bore remained a viable copper mine. Would this rifle even keep three rounds in a minute of buffalo?
Oh yeah. From a portable bench at 50 yards using the express sights, I was able to cluster three 400-grain A-Frames from a Federal load nearly touching. The 400-grain Federal Sledgehammer Solid load put two nearly touching and one about an inch out, and so did the Double Tap 450-grain Woodleigh Weldcore. Clearly this rifle was put together properly, so I got out the screwdrivers to determine why.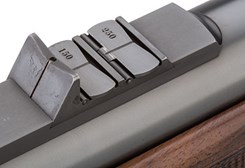 As expected, this is a flat-bottomed Mauser action with an integral recoil lug beneath the front receiver ring. Not expected is the advanced "steel-on-steel" bedding system by which it is attached to the classic walnut stock. Forget the old "warping walnut" fears. This Rigby mates steel-on-steel. Both front and rear bedding screws pass through precisely fitted steel posts that bear directly on the steel receiver, fore and aft. But that's not the end of the steel connection. The recoil lug anchors atop and against a color-casehardened, rectangular crossbar bolster just ahead of the magazine well. Torquing the bedding screws puts minimal or no pressure on the wood. The consistent and repeatable bedding pressure not only contributes to consistent accuracy, but consistent function because it holds the magazine box at the perfect distance from the receiver for flawless cartridge feeding, which is a hallmark of the Mauser action.
The 22-inch, hammer-forged, two-stepped barrel is thick and heavy to contain pressures, dampen oscillations and tame recoil. It is fitted with a sling swivel mount, hooded blade front sight and a quarter rib on which is affixed an express sight with flip-up blades for 150 and 250 yards.
The single square bridge action is classic Magnum Mauser built long enough to easily accommodate 3.75-inch-long .416 Rigby cartridges. These are fat containers, too, measuring .590 inch at the head, yet four fit within the steel, drop-box magazine, which opens via the familiar hinged floorplate. The controlled-round-feed bolt snatches rounds smartly from the magazine, after which that iconic, big claw extractor clasps them to the bolt face for a straight-line trip into battery. Two massive front lugs lock into deep recesses within the front receiver ring.
A standing blade slides through a groove in the left recoil lug to push cartridges off the bolt face. With this simple, mechanical setup, one need never fear a small extractor hook or ejector spring breaking at an inopportune moment. Pull back gently to catch cases in your hand. Snap back aggressively and this rifle throws them several feet to the side.
The traditional, three-position, flip-over flag safety looks clunky and is slower to manipulate than more modern push-forward safeties, but provides a service other safeties do not. When at its far right (down) position, it blocks the trigger and securely locks down the bolt handle. This prevents accidentally opening when the bolt handle catches on limbs, belts or clothing. Rotated to the vertical position, the safety flag unlocks the bolt handle, but continues to block the trigger so a round can be pulled safely from the chamber without fear of accidental discharge. Rotated fully left, the safety is completely disengaged and the rifle ready to fire. The extra service is visual. When upright in its second position, the flag blocks the sights as a visual reminder to the shooter. Anyone who's accidentally nudged a Winchester M70-style three-position safety only as far as its middle position and then tried to shoot will appreciate this feature. Few things are as disconcerting as trying to squeeze off a controlled shot when you think the safety is off—but it's not.
The flag safety is quite loud as it clicks into each position, suggesting this is not the best option for a stealthy hunter. I'm not convinced that isn't a valid point, but I did once stalk within 70 yards of a Cape buffalo with a classic .416 Rigby Mauser, ease off the safety and direct a 400-grain Swift A-Frame through the beast's heart without it ever knowing I was in the vicinity. Gripping the safety lever between thumb and forefinger dulls the mechanical clicks, but merely flipping it allows them to resonate with a loud, double click-clock. One solution is to move the flag into the middle position when a shot at game seems imminent. Animals that hear the final click to the fire position are as likely to stop and stare as flee. Well, maybe not spooky whitetails, but not many of us are likely to stalk the whitetail woods with a 10-pound .416 Rigby.
While it's easy to consider the grade-5 Turkish walnut stock on this rifle as just a lovely looking handle, it's much more. Everything about it, from length of pull to checkering, is designed to tame recoil and control the rifle. When compared to early 20th century Rigbys, the stock of the new gun shows a straighter, higher-comb buttstock. I discovered that this helps direct recoil straight back into the shoulder rather than up into the face. A wide, gently rounded comb and raised cheekpiece additionally softened any remnant cheek slap. The open grip curve prevented pinched fingers and sharp, 22-lines-per-inch checkering fore and aft helped me maintain control during rapid fire. During testing, I was able to cycle and fire four shots, standing, in about six seconds. I was pleasantly surprised to discover I could shoot the rifle comfortably and repeatedly from classic sitting positions.

In keeping with tradition, the hard, red rubber recoil pad offers about as much flex as raw walnut. Surprisingly, this didn't seem to enhance felt recoil, probably because it provided plenty of surface area for distributing the forces. The hard rubber might have another benefit. Because it doesn't depress an inch like many of today's super squishy pads, it aids in keeping a shooter's nose well back from his grip-hand thumb. This, combined with the stock's 14.5-inch length of pull, should prevent even incurable "stock creepers" from suffering abrupt thumb-to-nose trauma.
Like the original Rigby Mausers, this one includes a case-colored trapdoor grip cap for storing a spare front sight. Given the substantial steel hood protecting the long, bead-fronted blade sight, I can't imagine easily knocking it off. 
For all this rifle's features, function, accuracy, rugged durability and handsome looks, the question remains: Do you really need a .416 Rigby? But the answer also remains: What's need got to do with it? A rifle of this quality in a caliber of this size is justification enough. Whether you choose to engage pachyderms and buffalo or merely shoot feral hogs and paper targets, doing so with a .416 Rigby means doing it in style.
Technical Specifications
• Type: bolt-action centerfire rifle
• Caliber: .416 Rigby (tested), .450 Rigby
• Barrel: 22"; hammer-forged; 2-step
• Magazine: drop floorplate; 4+1
• Trigger: single-stage; 2 lb., 14 oz. pull
• Sights: express rear, hooded front
• Safety: 3-position flag
• Stock: grade-5 Turkish walnut; LOP 14.5"
• Metal Finish: plasma-nitride
• Overall Length: 441/8"
• Weight: 10 lbs., 8 ozs.
• MSRP: $13,558 (base)