by
posted on April 5, 2021
Support NRA American Hunter
DONATE
It's not a hunting slogan, but it should be: "In hunting rifles, light makes right." In which case Sauer's new 101 Highland XTC should be one "right" hunting rifle. It weighs just 5.5 pounds. That's not just light. That's ultralight.


Before you discount any 5.5-pound rifle as too insubstantial to be accurate—or bearable to shoot—allow me to put this in perspective. Ultralight rifles and I met in 1988 when I was a 30-something hunter just beginning my adventures in the world's high wilderness. Whitetails, mule deer and elk were under my belt, a pack was on my back, and sheep, goats, ibex, grizzlies, mountain caribou and moose were in my sights.
By then I'd had just enough experience with 8- to 10-pound rifles in steep country to know that I didn't want to be saddled with one. I'd been cutting handles off my backpacking toothbrushes since 1976. Surely I could shave a few ounces from a rifle.
Like most serious riflemen, I'd read that an 8-pound rig was as light as you wanted for ideal, steady, offhand precision. But I wasn't offhand shooting at mountain game. I was taking careful shots, prone over a pack or sitting with fore-end support from a bipod. So I procured a 5-pound Ultra Light Arms Model 20 in .284 Win. and proceeded to cut a swath.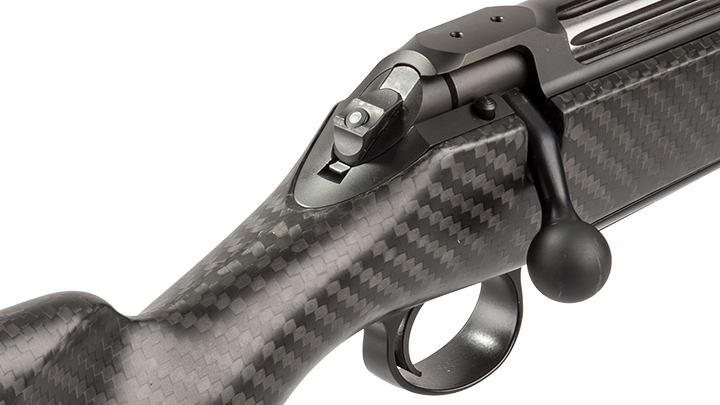 Bighorns. Dall's. Elk. Mountain goats. Up I went. Down they came. No recoil headaches. No reconstructive shoulder surgery required.
A dozen different ultralight rifles accompanied me afield during the next two decades, each directing bullets where I aimed them, some landing as far as 450 yards out. This success inspired me to try those same ultralight rigs on whitetails, coyotes and more. I was never disappointed. "Light" did, indeed, make my field shooting "right."
With this background I welcomed the chance to review this new Sauer, that company's lightest bolt-action repeater to date. Here's what I've discovered.
With its 20-inch fluted barrel and a Swarovski Z3 3x-9x-36mm scope mounted via Talley One-Piece rings, the S101 weighs 6 pounds, 10 ounces. It is sprightly, well balanced, easy to carry and fast, and the muzzle is threaded for aftermarket attachments. If you'd handed it to me while I was blindfolded, I'd have hoisted it, shouldered it, swung it and declared it a fine whitetail woods rifle. And shooting it wouldn't have changed my mind. Yes, recoil is fairly sharp, but it does not bring to mind a mule.
Of course, I was not blindfolded when I met the Highland, but my assessment remains the same. This would be a nearly ideal bolt-action woods rifle for trackers and still-hunters, but I doubt that's what Sauer designers were aiming at. They were undoubtedly looking up with visions of ibex and sheep dancing in their heads. And the Highland should be ideal there, too.
One can quibble that a cold-hammer-forged 20-inch barrel does not wring the last foot-per-second velocity from even the .308 Winchester for which this sample rifle is chambered. But sacrificing 50 to as many as 150 fps in this age of laser ranging is no big deal. You determine your trajectory curve, measure your range, choose your sub-reticle or dial your turret and drop one spot on.
From a portable Stukey bench, I shot eight different factory loads with bullets from 135 grains to 185 grains. They chronographed from 2765 fps to 2554 fps. I believe a 185-grain .308 bullet at 2554 fps would not bounce off a moose at any reasonable engagement distance. At 400 yards it's still hauling 1,400 ft.-lbs. of energy. (No ibuprofen were needed after the shooting of these groups.)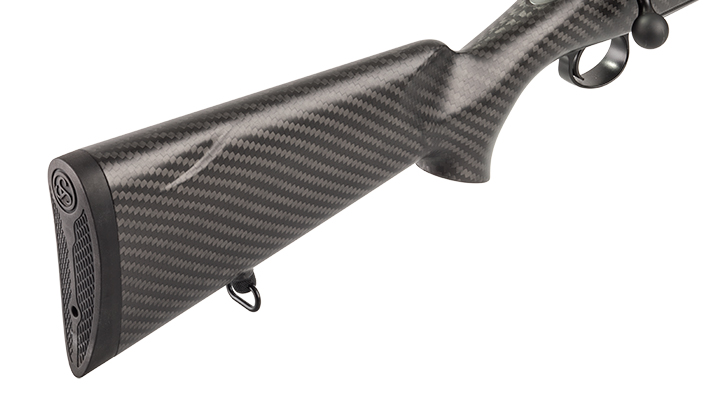 Three-shot groups measured from .388 inch to 2.8 inches, with most coming in at MOA to 1.4 MOA. I'd call that deadly hunting accuracy in any big-game rifle, particularly an ultralight. And this is a new barrel shooting factory ammo. I've no doubt I could work up some hyper-accurate handloads.
What makes the Highland so light is, of course, its 1-pound, 4-ounce, hand laid carbon-fiber stock, a type becoming increasingly familiar to informed shooters. Carbon layups are part and parcel of high-end cameras and military aircraft, so ought to be more than good enough for a hunting rifle. Straight-line fluting of the bolt body shaves a bit of weight, too, as does the fluting of the barrel. Instead of blued or ceramic-coated steel, Sauer applies what it calls a DLC (Diamond Like Carbon) finish that's 40-times thinner than human hair. It doesn't coat the steel, but impregnates or melds with it to be virtually a part of it, scratchproof, rustproof, permanent with a noticeably smooth, silky feel without the glare of highly polished, blued barrels.
The Highland's action is the proven, six-lug, push-feed S101 with dual plunger ejectors. The six locking lugs mate into the barrel itself, not the front receiver ring. This barrel extension is heat-fitted to the receiver, cooling to an extremely tight, wiggle-free connection. Bolt lift is a short 60 degrees. The safety switch is on the back of the bolt body (shroud) and silent in operation. It blocks the firing pin and must be pushed forward and up to release, but an integral lock button must be depressed to allow this. It prevents accidental nudging of the safety to the "off" position, but doesn't interfere with an intentional release. The safety locks the bolt, but a button on the receiver's right side just back of the bolt handle notch unlocks the bolt without unlocking the safety for perfectly safe cycling of a live round from the chamber.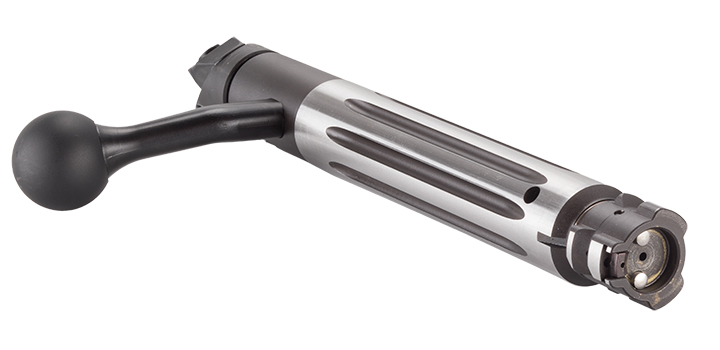 The five-round polymer magazine snaps in and out of a one-piece bottom metal/trigger bow. A deeply recessed release button virtually eliminates chances for an accidental magazine dump. In standard chamberings the polymer, dual stack mag box holds five rounds, accepts them easily and smoothly and feeds with equal efficiency.
Sauer's technique for mating the stock and barreled action involves a small aluminum bedding block epoxied into the stock just forward of the magazine well. It mates precisely to twin posts jutting down from the receiver ring. The front bedding screw draws these parts together for a metal-to-metal fit.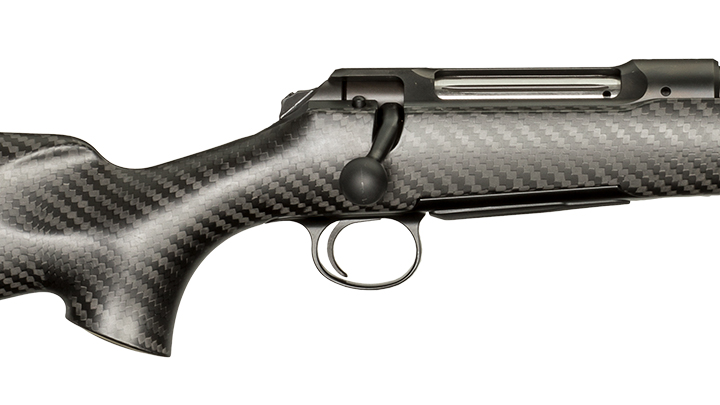 Swivel mounts are flush and push button, but non-rotating, the front one mounted in the schnabel nose facing forward instead of down. This prevents hand/stud and sandbag/stud snagging during recoil.
Stock shape is appropriately sleek and slim with a gently rounded belly, full comb, dual palm swells, and a 14.25-inch length of pull. Trigger pull, advertised as 2 pounds and crisp with no over-travel, was all of that except my pull gauges pegged it at 2.5 pounds.
Among all the ultralight rifles I've had the pleasure of shooting over the past 30 years, this Sauer Highland ranks well toward the top. I would slightly prefer a 22-inch barrel and a chambering of .260 Rem., 7mm-08 Rem. or .284 Win. My only real complaints are two: the stock, like most hollow, synthetic lightweights, is a bit noisy when whacked, and, with no checkering or texture on the grips or fore-end, rather slippery. 


Technical Specifications
• Type: bolt-action centerfire rifle
• Caliber: .243 Win., .270 Win., 6.5x55 Swedish, 7x64, .308 Win. (tested), .30-06 Spring., 8mm Mauser, 9.3x62mm, .300 Win. Mag., 7mm Rem. Mag.
• Barrel: 20" (tested), 22" (magnum); standard contour; cold-hammer-forged; 1:11" RH twist (.308 Win.); fluted, threaded muzzle, DLS metal treatment
• Magazine: detachable polymer box; 5-rnd. capacity (standard), 4-rnd. capacity (magnum)
• Trigger: single-stage; 2-lb. pull weight
• Sights: none, drilled and tapped for optic bases
• Safety: two-position, bolt-shroud mounted slider w/push button
• Stock: ultra-lightweight carbon-fiber; 14.25" LOP; straight comb; schnabel fore-end
• Metal Finish: matte black
• Overall Length: 40" (standard), 42" (magnum)
• Weight: 5.5 lbs. (standard), 5.7 lbs. (magnum)
• MSRP: $3,000; sauer.de/en