by
posted on September 5, 2023
Support NRA American Hunter
DONATE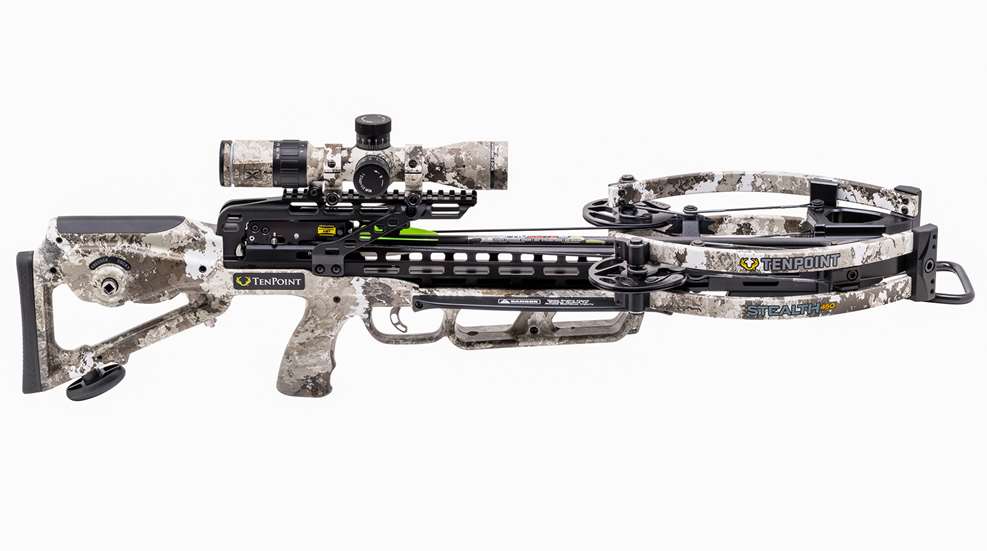 Crossbow technology is growing in leaps and bounds. To see this, one doesn't have to look further than TenPoint Crossbows Technologies, often acknowledged for making the reverse-draw system popular. It is almost as if hunters have forgotten how many deer have been taken with conventional forward-draw bows. Just as we have watched the race between bolt-action and semi-automatic rifles result in better versions of both, a similar harmonious growth between these two styles of crossbows is starting to take place. Last year, the Ohio-based manufacturer set a velocity record with the TenPoint Nitro 505, which, of course, made the most of the reverse-draw's ultra-efficient power stroke; however, it came with a price tag. For 2023 the company is once again setting a speed record, except this time with a forward-draw unit. Meet the Stealth 450, the fastest conventional crossbow on the market, offering lightning speed at a price that is a good bit easier to swallow.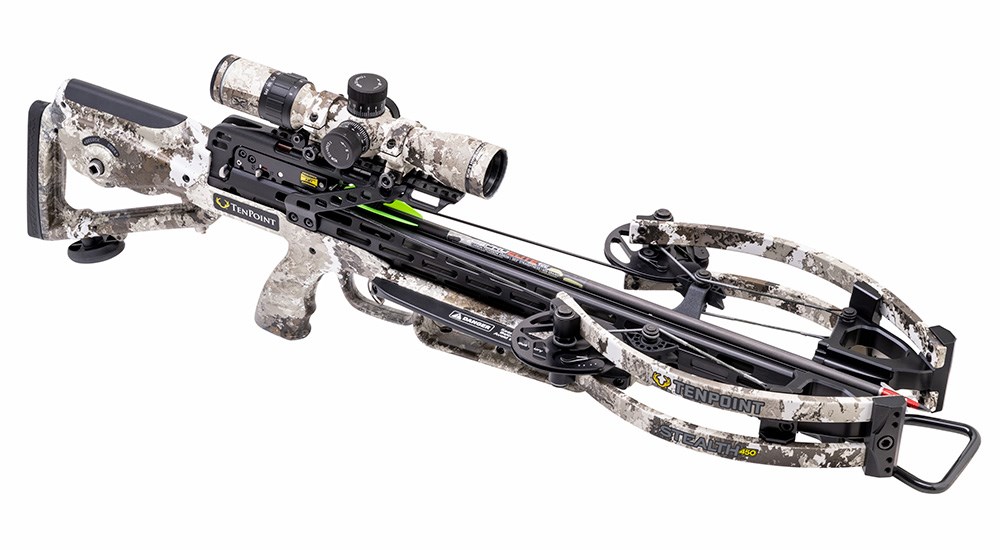 Just like several other models in the TenPoint family, the number associated with the moniker represents its velocity rating, and 450 fps with a 400-grain arrow is scorching. At just 33 inches long and tipping the scale at 7.5 pounds, this is indeed one compact powerhouse. The Stealth generates this energy through the use of its RX6 cams and its 13-inch power stroke. Additionally, it runs a four-cable system known as the Vector-Quad, which utilizes twice the amount of cables to produce more power while accurizing the bow by eliminating cam lean. Combined with split-limb technology and a solid aluminum riser, the stage is set for success in the field.
The Stealth 450 is one of TenPoint's first bows to employ its latest scope mount, which is based on a dual-strut setup and features an extra 1.5 inches of rail space for affixing today's longer optics, particularly thermals. TenPoint offers the 450 with one of two included aiming devices; the EVO-X Marksman Elite Scope, which features conventional arrow-drop technology, or the electronic Burris Oracle X with a fully integrated rangefinding system that provides holdover points with the press of a button. While I'm a sucker for good tech, I kept my request modest and asked for a test sample with the standard EVO-X optic. Besides, I was only going to be harvesting an arrow bag at known distances; I might as well leave an extra Oracle X in the pool for somebody who's looking to fill their freezer.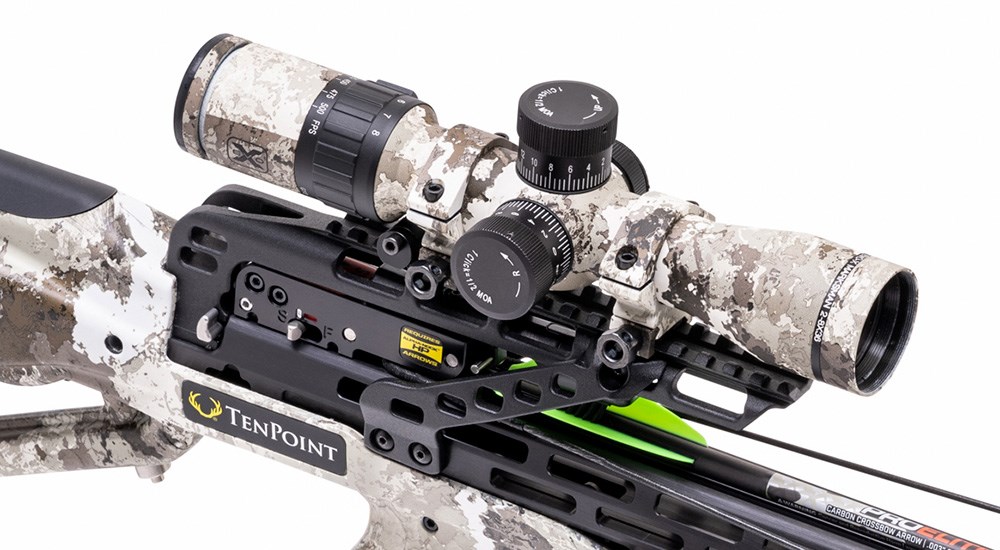 Set the 100-yard EVO-X Marksman Elite scope to your bow's measured velocity to accurately match stadia lines in the reticle out to 100 yards.
When it arrived, I was thoroughly impressed with the entire package, but my eye immediately was drawn to the new scope integration system. It didn't take a master's degree in engineering to see that it was obviously more rigid. A reduction in sight flex, however slight, is going to pay dividends in the field, particularly at extended distances. I was also glad to see that TenPoint carried over its MICRO-TRAC barrel that barely touches the bowstring, increasing its lifespan and reducing drag, which, in turn, also increases velocity. Another legacy feature that caught my eye was the ACUslide Cocking and De-Cocking System, which idiot-proofs the loading and unloading process. The first time I wound up a modern crossbow, I was paranoid that I would slip and then suffer the consequences of dry fire or get whacked by the rebounding crank handle. The ACUslide allows the user to start and stop the cocking or decocking process whenever they wish and even allows them to take their hand completely off the crank. Sergeant Safety approves of this feature, and should I start to slip out of my tree stand during a reload, I no longer have to decide between holding onto the bow or keeping myself from testing out my harness. I also was fond of the extended safety guard that ensures your fingers wouldn't find themselves within the string's path when your eye is focused on that buck you spent three years chasing.
TenPoint ships each Stealth 450 with a three-pack of Pro Elite 400 Carbon arrows so all that was left to do was grab a chronograph and hit the range. I was fortunate enough to have a morning absent of wind, providing perfect conditions to draw the utmost accuracy out of this crossbow. As the center mark in the scope is for 20 yards, I set up a bench-rested position at that distance and began the loading process. Calling it a "process" isn't quite fair, as preparing the Stealth 450 to fire is relatively easy. After pressing a button to release the trigger box, all that is left to do is click it into the string and start cranking it back. Once the string is all the way back, the last steps are to back-wind the crank two complete turns then one last one while holding the gear stop button. During the cocking procedure, an automatic safety is engaged, so try to keep that in mind, as it's easy to forget to take off when you're stricken with buck fever. After squaring off to the target, I released one arrow and then another, nearly Robin Hooding the pair. The shots were not only concise but dead silent, demonstrating from where TenPoint got the name "Stealth." Snapping off a third arrow was a risky venture as it almost destroyed all three, but it was necessary to confirm consistency. That first 20-yard group measured less than .5 inch and told me that from here on, I was going to have to keep it to just one arrow per target. Utilizing this method, I was able to apply a pinpoint 20-yard zero before walking back in 10-yard increments to check the drop-compensation hash marks.

With the crossbow now safely zeroed, I set up my chronograph for the 30-yard three-shot group and determined an average velocity of 458 fps, beating the advertised speed by close to 2 percent. Furthermore, the arrows were right where they should have been in a cluster that barely measured an inch. Moving back through the full spectrum, which was out to and including 100 yards, produced the same repeatable results and group sizes that were well within proportion to the given distances. Needless to say, I found the entire package extraordinarily effective.
My time with TenPoint's latest forward-draw crossbow was limited to target practice; however, I cannot wait to take it out for early-season whitetails come September. As the name implies, the Stealth 450 not only hits its speed mark but it is amazingly quiet as well. A bow like this might just see the light of day during squirrel season, as I can likely reach my bag limit before a single one knows what is going on. The only thing quieter than the Stealth 450 would be the woods, which would be entirely devoid of tree rats that seem to spend the colder months doing their best to sound like a deer.
Technical Specifications
• Type: forward-draw compound crossbow
• Riser: aluminum
• Limbs: split
• Stock: injection-molded polymer composite
• Axle-to-Axle Width: 11" uncocked, 6.5" cocked
• Draw Weight: 300 lbs.
• Power Stroke: 13"
• IBO Speed Rating: 450 fps
• Overall Weight: 7.5 lbs.
• Overall Length: 33" (w/o foot stirrup)
• Length Of Pull: 13.5"
• Trigger: two-stage; 3.5-lb. pull weight
• Safety: two-position toggle, automatic
• Finish: Veil Alpine camo
• Accessories: EVO-X Marksman Elite Camo Precision scope; 3-pack Pro Elite 400 Carbon crossbow arrows; Six-Arrow Tech quiver; bubble level
• MSRP: $2,149.99; tenpointcrossbows.com