Support NRA American Hunter
DONATE
My education as a youth interested in hunting and firearms began in the early 1970s, and the unwritten but very clear rules about shotguns were:
• .410-bore shotguns were made for kids.
• 20-gauge shotguns were relegated to teens and women.
• Men used 12-gauge shotguns.
Old "rules" get stuck in aging minds, and as an adult hunter I've always opted for 12-gauge shotguns. They throw more lead, so of course, they give you a better chance of hitting your intended target, right? True, considerably more recoil than smaller gauges—but men don't mind that. Right? Actually, I'm no fan of shoulder-pounding recoil, and technology has improved the effectiveness of today's 20-gauge loads considerably. So when I heard Savage Arms had launched the bolt-action Model 212 Turkey and 220 Turkey shotguns in time for the 2019 turkey hunting season, chambered in 12- and 20-gauge respectively, I wanted to run the Model 220 Turkey and various 20-gauge turkey loads to see what I might have been missing.

I had the chance to use the Savage 220 Turkey at the range and in the field during the first week in April at the Spike Box Ranch in Benjamin, Texas, chasing Rio Grande turkeys. The hunt was at the invitation of Savage Arms, Federal, Aimpoint and the National Wild Turkey Federation (NWTF).
While in Texas, I discovered that the Model 220 Turkey is a very effective hunting shotgun—it's accurate and dependable. And for a guy who prefers rifles, the bolt-action Model 220 Turkey felt and handled like a rifle, adding to my comfort with the firearm. Originally, Savage only offered the Model 212 and 220 through the gun maker's Savage Special Order Office. Now, they are available at FFL's across the country. Both shotguns are built around Savage's popular and durable Model 110 rifle action. That action is machined from steel bar stock and secured three-dimensionally along its entire length by the AccuStock internal chassis. The blued, 22-inch carbon steel barrels are free-floating and secured to the receiver using a Model 110-style locking nut.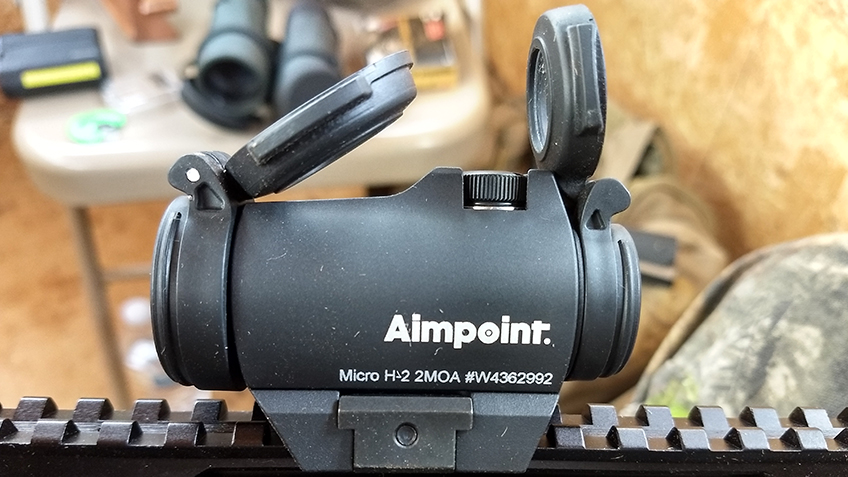 The shotgun doesn't come with sights, but it does sport a nice rail atop the receiver. My first move was to outfit my Savage 220 Turkey with an Aimpoint Micro H-2 red dot. With 12 illumination settings, the optic's coated lenses lit up targets nicely and provided precision images at the range and in the field.
At the shooting range at the Spike Box Ranch,  I zeroed the Micro H-2,  then tried out four different turkey loads: two Federal Heavyweight TSS options, the No. 7, 9 shot combination load and the No. 8, 10 combination load (both loads weighing 1⅝ ounces); Federal 3rd Degree with Heavyweight TSS loads with No. 5,6, 7 combination shot at 1½ ounces;  and Remington Nitro Turkey with 1 ¼ ounces of No. 5 shot.
I set up my turkey targets at 35 yards. Accuracy was impressive, especially with the three TSS loads, each of which put 20 or more pellets into the vital zones.
In the field, I hunted with the Federal Heavyweight TSS No. 7, 9 loads. On my last day—after a good deal of calling, waiting and hiking—I finally got close to a Rio tom and took him down with one shot at 31 yards. I counted at least a dozen pellet strikes to the head itself.
The bolt on my Model 220 Turkey cycled smoothly and effectively loaded shells into the chamber. The bolt, though, does have one quirk. The bolt handle must be secured all the way down or the firing pin won't advance far enough to ignite the primer, resulting in a light strike. This didn't happen to me, but did occur once with another member of my hunting party. After her experience—which cost her a chance at a tom—JJ Reich of Savage's marketing department took her Model 220 Turkey to the range and was able to replicate the light strike.
That led me to test out my bolt. I found that while the bolt seemed to lock down firmly, in fact the bolt handle came up about a quarter-inch with relatively little pressure. So even if the bolt handle was down, bumping the over-sized bolt handle could cause the bolt to lift just enough for a light strike. From then on, I made sure to check that my bolt was in place when I moved from spot to spot.
The Model 220 Turkey sports Savage's user-adjustable AccuTrigger. The trigger on my 220 Turkey had a crisp pull at a fairly-light 3.5 pounds, and I felt no need to adjust the pull weight. However, the AccuTrigger can be set between 2.5 to 6 pounds of pull, depending on hunter preference.
The Model 220 Turkey also features Savage's AccuFit stock system, which allows users to customize length of pull from 12.5 to 13.5 inches in ¼-inch increments. The standard 13.5-inch length of pull fit me fine, so I didn't need to adjust it, but could have done so in just a few minutes with only a Philips head screw driver. The shotgun comes with five different combs which can be snapped easily into place once the butt pad is removed. Drop at comb can be adjusted from 1¼ to ¾ inches, in ⅛-inch increments.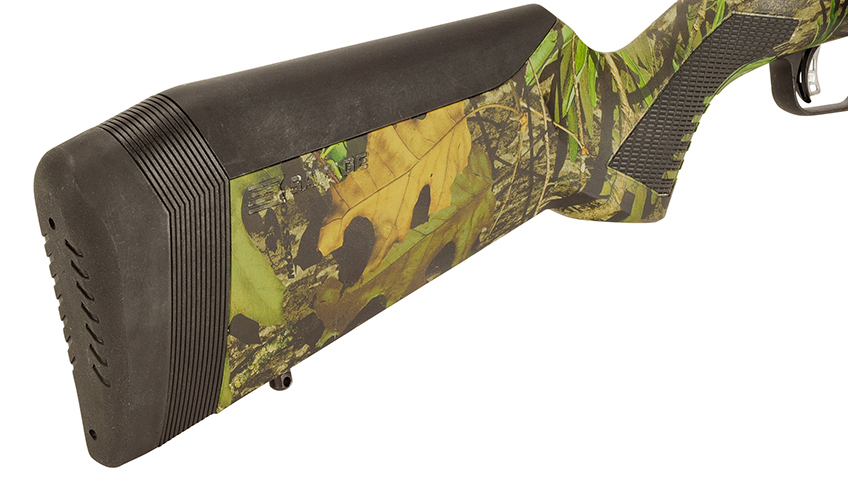 The detachable, two-round magazine is easy to load, though it takes some sustained pressure to fit it up into the bottom on the receiver. It also was a little difficult to remove the magazine, though that did get easier with use. It features a three-position safety (Safe-Unload-Fire) located on the tang.
The 220 Turkey's synthetic stock is finished in Mossy Oak Obsession, the NWTF's signature camouflage pattern. The stock features grippy inserts fixed in the pistol grip and forend for a firm hold, even when my hands were sweaty and grimy from hours in the north Texas heat and dust. The shotgun also comes standard with an interchangeable extra-full turkey choke with Winchester choke treading.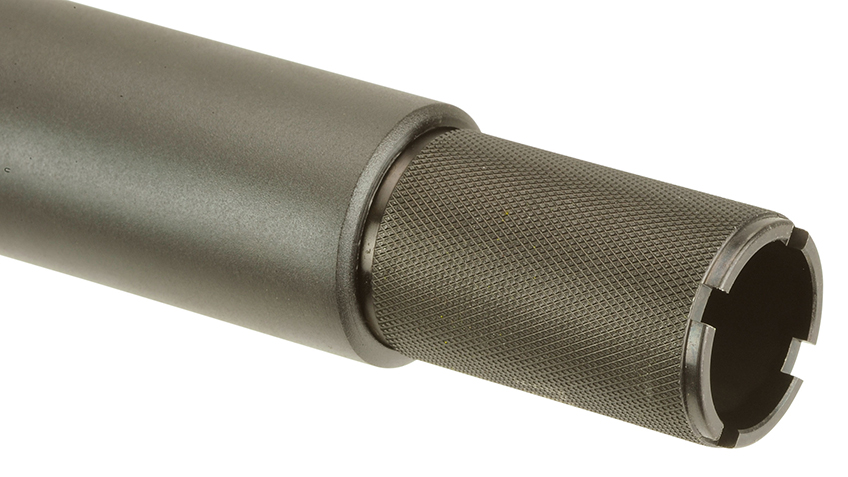 Recoil? Thanks to the 20-gauge chambering and the substantial butt pad, recoil on the shotgun was easy on my shoulder.
The Model 220 Turkey is a solid option for turkey hunters, and out of the box should provide 40 to 45 yards of effective range with most turkey hunting loads. But when mated with Federal Premium's Heavyweight TSS loads, the Model 220 Turkey is good for 50-plus yards. One of our hunters had only a head shot at 53 yards, took it, and her tom dropped instantly, using the Heavyweight TSS No. 8, 10 combo load.
If you were willing to swap out different after-market turkey chokes and try various turkey loads?  The above-mentioned hunting ranges could well be extended another ten yards. Yes, this 20-gauge, 50-plus yard turkey killer proves that yet another of the hunting "rules" of my youth has faded into rather quaint history.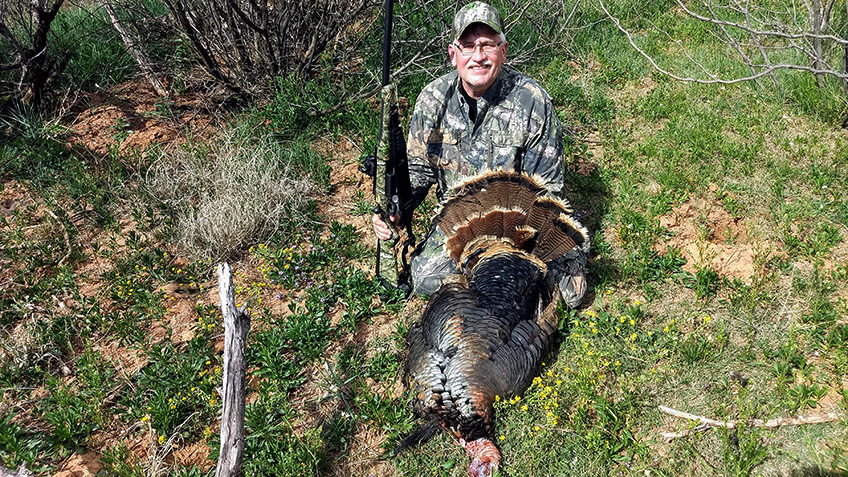 Technical Specifications
• Type: bolt-action shotgun
• Gauge: 20
• Barrel Length: 22″
• Barrel Finish: matte black
• Stock: synthetic, AccuTip
• Stock Finish: Mossy Oak Obsession
• Sights: N/A; one-piece rail for optics
• Trigger Pull: adjustable 2.5- to 6-lb. pull weight
• Overall Length: 43.75″
• Weight: 7 lbs.
• MSRP: $695; savagearms.com