by
posted on June 20, 2023
Support NRA American Hunter
DONATE
The AR-15 platform has become the most popular rifle in America and so has found a home with hunters. For proven big-game cartridges like the .308 Winchester family, a hunter had to move up to the larger, heavier, AR-10 or AR-L (AR-Large) style of rifle. But the joy wears off soon enough as lugging a gun weighing double digits with optics becomes burdensome.
Remington/DPMS took a run at the problem with their Gen II line of AR-L rifles. These were lighter and scaled down from their previous AR-L rifles. Great guns, but now a bankrupt company.

Now we have the Ruger Small Frame Autoloading Rifle (SFAR) picking up and running with the flag. This new, groundbreaking, .308 introduction is nearly identical in size to the AR-15-style rifle, yet it's chambered in .308 Winchester, a serious hunting cartridge. I would fully expect the line to be expanded soon to include 6.5 Creedmoor, .243 Winchester and perhaps others.
The rifle with a 16.1-inch barrel weighs only 6.8 pounds. That's the same as a standard Ruger 5.56 rifle in similar configuration. Most other AR-L .308 rifles will be a pound to 2 pounds heavier.
The rifle comes in two barrel lengths, 16.1 inch and 20 inches. As this is a hunting gun, I didn't hesitate to order the 20-inch barrel, even though it adds .4 pound to the weight. I have found over the years in testing the .308 in a lot of barrel lengths that it forfeits a considerable amount of velocity in short barrels.
The gun comes with a very effective Ruger two-port Boomer muzzle brake fitted on a ⅝ -24 muzzle thread. This of course means the gun is compatible with other brakes, flash hiders and suppressors. "Boomer" is a good description; like any brake, it's loud. For hunting I would remove the brake and install a thread protector or more likely install my Silencer Central Banish 30 Gold suppressor.
The black oxide-coated, heavy-profile, hammer-forged barrel is 4140 chrome-moly steel and has 5R rifling. The 15-inch free-floating aluminum handguard uses Magpul M-LOK accessory attachments. It also has a full-length Picatinny top rail. Sockets for quick-disconnect (QD) sling swivels are located at the muzzle end of the handguard, the back of the lower receiver and in the adjustable-length buttstock. This allows using a two-point sling, which is in my never humble opinion the best option to carry the rifle while hunting.
The SFAR has a rifle-length gas system with a .75-inch diameter, four-position rotary-regulator gas block. The shooter can adjust it to a wide range of ammo and for using a suppressor. Adjustment is easy with a 3/16-inch Allen wrench. Conveniently, one such wrench is hidden inside the pistol grip behind a trap door.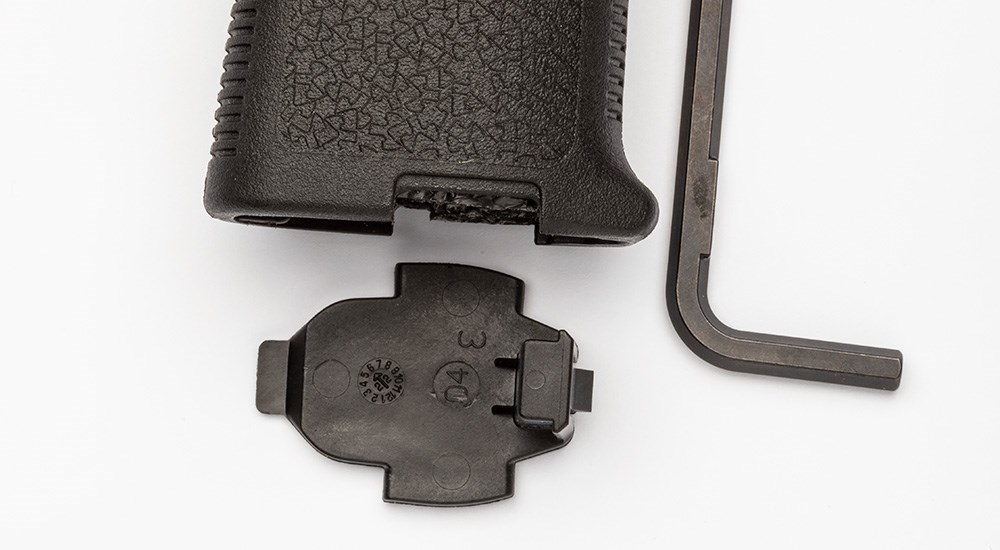 The bolt and barrel extension are CNC-machined from high-strength steel that Ruger says will outperform traditional C158 bolts. Tapered lug geometry further strengthens the breech to support larger short-action cartridges.
It has a chrome-lined 8620 steel bolt carrier and nitride-processed gas key staked in place. The titanium firing pin has been DLC (Diamond Like Carbon) coated. The bolt includes dual ejectors and a purpose-designed extractor as well as an enlarged ejection port.
The trigger is Ruger's Elite two-stage. Trigger pull averages 3 pounds, 14 ounces. The first stage is just over 2 pounds, so to complete the pull takes less than 2 pounds. The second stage has some mushy travel and there is a bit of overtravel after it breaks, but overall, it's one of the better factory AR triggers I have tried. A full-strength hammer spring and lightweight hammer ensure fast lock times and consistent primer ignition, important with .308 ammo. I had no function issues when shooting the gun, even with some surplus military ammo.
The forged receivers are 7075-T6 hard-coat anodized aluminum. The upper includes the traditional brass deflector and forward assist. The upper also has a full-length Picatinny rail. The lower receiver has a flared magazine well. There are safety vent holes in the upper receiver, barrel extension and bolt carrier to direct the gas safely away from the shooter in the event of a case failure. The buttstock is a Magpul MOE SL and the grip is a Magpul MOE as well. All controls are standard AR-style in right-hand only.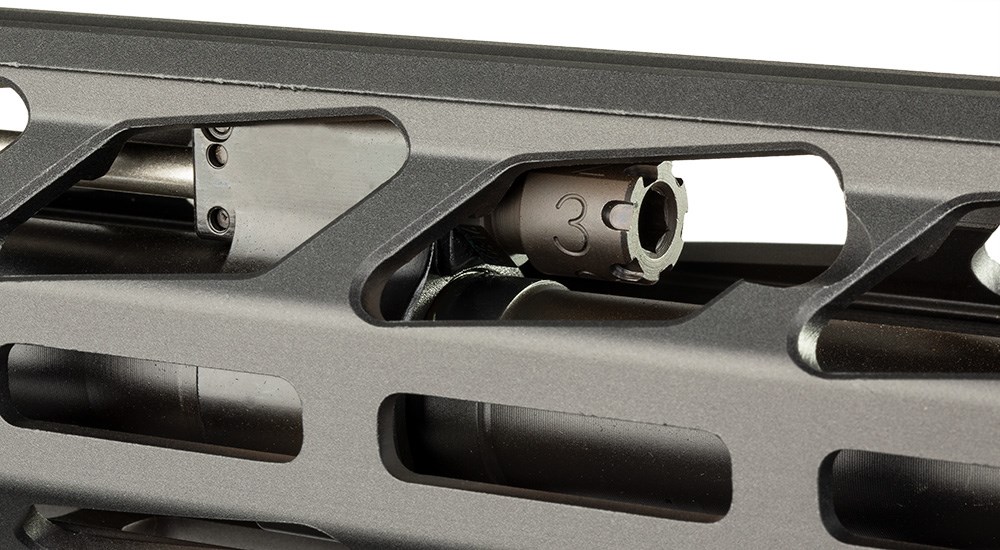 While many of the components are specific to the SFAR, the rifle is also compatible with mil-spec MSR trigger groups, receiver end plates, charging handles, pistol grips and adjustable stocks.
The gun normally comes with one, 20-round Magpul PMAG magazine and is compatible with SR25/AR-10-pattern .308 Win./7.62 NATO magazines. In my case, I live in the communist state of Vermont, so it shipped with a 10-round magazine. However, I have a lot of older magazines that were grandfathered when the smears in Montpelier passed the magazine ban. These all work well, including some 30-round magazines I tried.
I first installed a 6-24X Swarovski scope for the formal range test. I was amazed at the accuracy this gun is capable of producing. It loves the Remington 168-grain Match ammo, which resulted in several tiny groups. Every ammo I tried was accurate, but this stuff was amazing in this rifle.
We tried shooting at 100 yards from field positions. Mike Brookman and I were easily able to run our MGM Know Your Limits target, hitting all targets including the 2-inch final target.
I replaced the big scope with a Bushnell 1-6.5x30mm with an illuminated dot. I also plan to use this gun for competition, plinking, for home defense and hunting, so this is a very good all-around optic.
This gun is fun to shoot and makes a day at the range enjoyable. Why is this important to a hunting gun? It builds familiarity, skills and confidence in the rifle. Learning to be decisive and to shoot fast has helped me take a lot of deer over the years. With luck, I'll add a few more with this rifle this fall.

Technical Specifications
• Type: semi-auto centerfire rifle
• Caliber: .308 Win.
• Magazine: Magpul PMAG; 20-rnd. capacity (10-rnd. capacity mags available); compatible with SR25/AR-10-pattern .308 Win./7.62 NATO magazines
• Barrel: 16.1", 20" (tested); heavy contour; 5R rifling; 1:10" RH twist; threaded ⅝"-24 w/Ruger two-port Boomer muzzle brake
• Gas-System Length: rifle
• Trigger: Ruger Elite 452; two-stage; 4.5-lb. pull weight
• Sights: none; Picatinny rail for optics
• Safety: AR-style, two-position
• Stock: Magpul MOE SL; Magpul MOE grip; 11"-14.25" LOP; tubular aluminum, free-floating, 15" handguard w/M-LOK slots; full-length Picatinny top rail; QD sling swivels
• Metal Finish: Type III, hard-coat anodized
• Overall Length: 38"-41.25"
• Weight: 7.3 lbs.
• Accessories: gas-block adjustment tool
• MSRP: $1,329; ruger.com