by
posted on December 23, 2016
Support NRA American Hunter
DONATE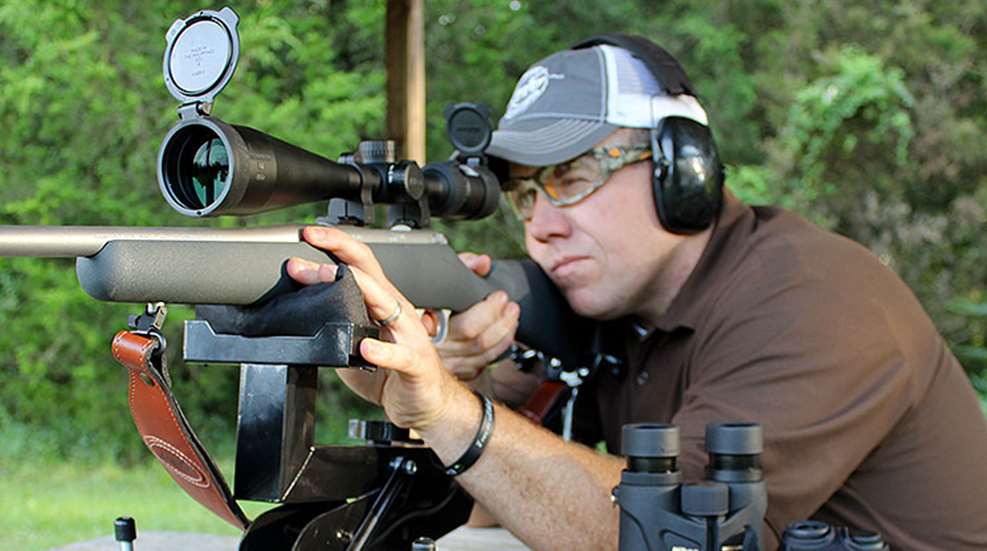 This past winter I was fortunate enough to be able to go to western Oklahoma on a four-day coyote hunt. During the hunt there was a particular stand we made that left me feeling like I didn't have the right equipment for the job. Our setup was a large wheat field bottom that had a creek on the right side, a brushy red dirt hill on the left side, an oil rig behind us and what seemed like an endless field of lush wheat in front of us. Ten minutes into our calling regime, a coyote came out along the fence line. In between our set up and the coyote was a flock of Merriam's turkeys that spread from one side of the field to the other. My guess would be close to 250 turkeys. Needless to say, the coyote wouldn't come any closer to us because of the rather apparent distraction that sat between us. Among the four shooters that made up our group, I was carrying a .243 and the other three hunters carried .223's. I watched the coyote stall for several minutes while he watched the multitude of feeding turkeys. I recall one of my fellow hunters saying that the shot would be 400-500 yards. None of us had the gun to make the shot, so we ended up watching the coyote walk along the fence line before eventually disappearing into the creek bed never to be seen again. With a different firearm on hand, the story may have ended differently. Not long after that incident, I added the Kimber Montana chambered in 6.5 Creedmoor to my arsenal of predator rifles.
Why the 6.5 Creedmoor? After the hunt in western Oklahoma, I wanted a caliber that I felt could make a shot like the one I had encountered. I talked to some folks at Hornady and they explained that historically, smaller centerfire cartridges in .204 and .22 caliber have been the most popular for predator hunting. But they also noted that 6.5 Creedmoor had a tendency to shine when the shots were more difficult due to distance or wind. If you have ever hunted western Oklahoma, you know the wind blows everyday. Hornady reps explained that the 6.5 mm bullets benefit from a higher ballistic coefficient compared to traditional varmint/predator bullets, which help them to be less affected by wind. Whereas, smaller caliber bullets may not have much energy left after 300 yards. The 6.5 Creedmoor carries and retains much more energy down range, they said. That was all I needed to hear.
So when asked to review the Montana, I decided to review it largely from a predator hunter's perspective. I wanted to put it to the test on the range as well as in the field. Once I received the gun I decided to top it with a Nikon Monarch 5 in a 5-25x50. On the range I used Hornady's Precision Hunter ELD-X 143-grain loads. That's probably a little much for coyotes, especially if you're worried about pelt damage. The ELD-X bullet is a match accurate hunting bullet with a very sleek profile. A 120-grain A-Max bullet is what I will probably end up hunting with. That said, the 143-grain ELD-X will have more knockdown power at the longer ranges.
Once I got the gun to the range, I began by placing a target at 100 yards. It took four shots to hit directly in the bullseye. That's not bad, considering that all I'd done to that point was take the gun out of the box and install the scope. Once I got it dialed in, I loosed four more shots, and all of them hit within an inch of my desired target. Then I switched over to a coyote target from Birchwood Casey, so I could start getting a feel for what my targets would be like in real life. On my first shot, I targeted the vitals. On the second and third, I simply put my crosshairs on the hole left by that first bullet. My group was right at 1½-inches. Not bad—so I went ahead and moved the target back to 200 yards. My second group was, again, right around 1½-inches, just with a little drop. During my patterning, I was quick to notice how smooth the Montana's bolt was. The Mauser-style extractor is flawless as well. I didn't notice a distinct drop in accuracy, even after I emptied the rifle a few more times and began to warm up the barrel. I attributed that to the glass bedding.
I did take a few shots at 300 and 400 yards, and found that my shots weren't dropping as much as I thought they would. I used the Nikon Spot On app, which said to set sights to shoot -4.46" low at 200 yards for a 100 yard zone, but it seemed to be a little less than that. On the ballistics table at 350 yards it shows 1788 FPS with a drop of 39.1 inches, compared to 2422 FPS at 100 yards. The next time I have a coyote hung up at 400 yards like I did in Oklahoma, I won't be letting it walk away.
Content with my zero, I took the Montana on a predator hunt in southern Missouri. I carried the gun for about an hour and a half that first morning, up and down the ozark hills. I was hunting a large cattle farm, which usually means lots of open pasture land. Even though I was carrying an electronic caller, rabbit decoys and binoculars, it was like the gun wasn't even there—it was very lightweight. The Montana allows for nimble handling and rapid target acquisition. With the thin barrel contour, light, durable Kevlar stock and an action that is scaled to the caliber of the gun, the Montana makes sure you never have more gun than you need. The Kevlar stock is ideal for predator hunters, who can put a beating on a rifle. The downside, for predator hunters, at least, is the box magazine. For most folks, though, it shouldn't be a problem. Even with that aside, from this predator hunter's perspective, the Kimber Montana is a home run.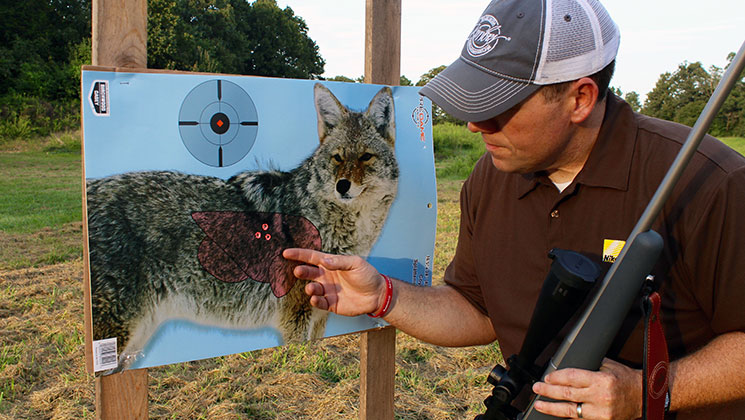 Technical Specifications:
• Type: bolt-action centerfire rifle
• Caliber: 6.5 Creedmoor (tested), .300 Win. Mag., .338 Win. Mag., .270 WSM, .300 WSM, .25-06 Rem., .270 Win., .30-06 Sprg., .280 Ack. Imp., .223 Rem., .243 Win., .257 Roberts, .308 Win., .22-250 Rem., 7mm-08 Rem.
• Barrel: 26"; stainless steel; 4 grooves, 1:10" RH twist
• Trigger: single-stage, adjustable; 3.5-lb. pull weight
• Sights: none; receiver drilled and tapped for scope bases
• Safety: three-position wing
• Metal Finish: stainless steel
• Overall Length: 41.25"
• Weight: 5.2 lbs.
• MSRP: $1427