by
posted on June 2, 2017
Support NRA American Hunter
DONATE
There is one undeniable principle when it comes to shooting, and especially to hunting with a rifle: the ability to deliver a bullet, of proper construction, accurately upon the target, is paramount. We must also recognize that both powder and bullet have evolved and transformed to offer us more choices than we've ever had. The quality of our factory ammunition is better than it's ever been, but there are times where those choices offered by the major manufacturers either don't agree with our barrels, or perhaps you're after a different bullet/cartridge combination. Reloading is one option—one which I have pursued for decades—but that's not for everybody either. So, you'll need to find a custom ammunition company to fulfill the needs for the rarities.
There are choices—my own Massaro Ballistic Laboratories, being one, though I've become so busy as a writer I don't do much now—which will custom make ammunition to suit your needs. It usually comes at a premium, as it should, but the results can be absolutely fantastic. Knowing what it takes to produce quality, consistent handloaded ammunition, I know Choice Ammunition from Montana is a sound provider of such a product. Firstly, Choice Ammunition is using premium components for the construction of their ammunition, including all new component brass. Their selection of bullets represents those common to many factory loads, though they have a different level of attention when it comes to the assembly process.
As hunters, the folks at Choice Ammunition understand exactly what we're up against, and strive to produce hunting ammunition that will best serve for the intended purpose. There are numerous options within each caliber—45 different rifle calibers and 18 pistol calibers in their pipeline—for any sort of hunter. Berger, Nosler, Hornady, Barnes; there are many premium bullets to choose from when you place an order with Choice Ammunition, and all have been proven in sporting rifle barrels. There are long-range loads—built around bullets like the Berger VLD Hunting and Nosler AccuBond—and hard-hitting, big bore loads, built around the Barnes TSX and the correlative Barnes Banded Solid. The varmint loads from Choice Ammunition use a variety of frangible choices, from the Nosler Ballistic Tip, to the Hornady V-Max, to the Nosler Varmageddon. The medium calibers—say 6.5mm to .338—have the widest array of choices, including the Hornady ELD-X, Nosler Partition, and the aforementioned Barnes bullets.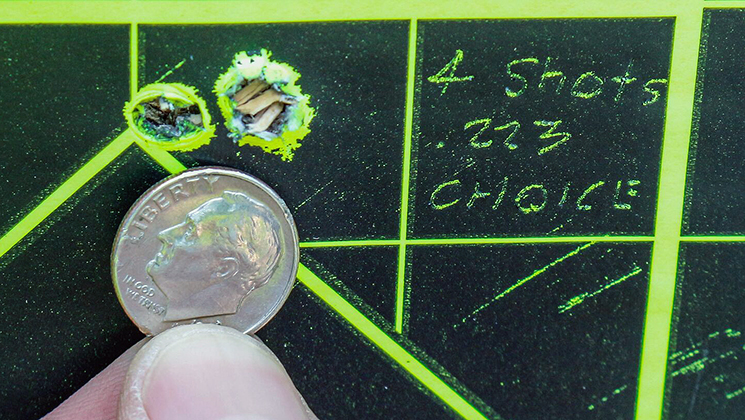 Rifle ammunition isn't all Choice Ammunition does, though. There are a wide variety of defensive and hunting loads for handgunners. There are the plated bullets that we love so much, as well as many handloads built around the excellent Hornady XTP hollowpoint bullet. Choice also takes the Cowboy Action Shooters into consideration, offering traditional cast-lead bullets in many of the classic wheelgun calibers like .45 Colt, .44 Magnum and .38 Special.
So why go this route, when there are so many factory choices available? Well, attention to detail is the foremost answer. Yes, you may get on just fine with the existing factory ammunition, but then again, you may be seeking a higher level of performance. Choice Ammunition also offers some of the rarities, like the .404 Jeffery I like so much, many of the Weatherby calibers and the full complement of the Remington Ultra Magnum calibers. I like the fact that Choice loads a Barnes Solid bullet for the .375 Remington Ultra Magnum, a combination I believe to be heretofore unavailable. The .375 Ruger and .416 Ruger are available as well, filling the demand for different options within these relative newcomers.
How does it perform? I received test ammo from Choice Ammunition in several different rifle and handgun calibers, and immediately headed to the bench with an arm full of guns to put it to the test. I first grabbed the box of .300 Winchester Magnum—loaded with 185-grain Berger VLD Hunting bullets at 2,900 fps—and my buddy Marty's rifle, a 98 Mauser that drives tacks. The rifle's reputation held true, as it put three shots into ¾-inch group at 100 yards, with velocities measuring 2870 fps on the Oehler 35P chronograph. I switched gears, dropping down to the Choice .223 Remington stuff, loaded with 50-grain Hornady V-Max bullets. Marty had brought along his Rock River AR-15, another notoriously accurate gun. I watched the target receive the first shot, and the next shot was in the hole of the first. A four shot group measured under ½-inch, which reaffirms the rifle's qualities, but verifies the Choice Ammunition load.
Next up, I grabbed my Legendary Arms Works CAPRA rifle in 6.5 Creedmoor and a box of Choice Ammunition, loaded with the 140-grain Nosler AccuBond. Loaded to an advertized 2690 fps, we arrived at our first and only problem. The accuracy was acceptable—hanging around an inch—but the primers were definitely showing the effects of high pressure. Personally, I'd load this cartridge/bullet combination down a bit.
My old workhorse predator rifle—a Ruger 77 MkII in .22-250 Remington—got the chance to test the Choice load built around the 55-grain Hornady V-Max bullet, and it did very well. Three shots into a ¾" group, at a velocity of 3420 fps, will certainly seal the deal on any coyote, anywhere.
Last up for the rifle ammunition was the Choice .375 H&H ammo, centered around the 270-grain Barnes TSX monometal hollowpoint; a sensible choice for big bears or Cape buffalo. I grabbed my wife Suzie's Legendary Arms Works Big Five rifle, and proceeded to print 1.1-inch three shot groups with that fine rifle. Velocities were within 20 fps of the advertised 2730 fps, making this choice an excellent all-around load for any .375 H&H, be it for buffalo, grizzly, elk or moose.
Choice had sent a box of their .45 Colt ammo, featuring the 250-grain lead round nosed, flat point bullets, so I was happy to grab my Ruger Blackhawk pistol to send some lead downrange. At 40 yards, I had no problem keeping shots in a four-inch group, and ringing 12-inch steel at 80 yards wasn't an issue either. The roll-crimp on all cartridges was perfect, and all loaded and extracted easily. This pistol, with a 7½-inch pipe and fully adjustable sights, is a good hunting rig, which will handle the 300-grain slugs easily. However, it was nice to use the cowboy-action style loads, with very little recoil, allowing for very accurate shooting practice, and I'm certain these bullets—at 820 fps, would certainly handle whitetail deer.
Being a picayune handloader, I can attest to the consistency of Choice's ammunition; all primers were seated to a uniform, correct depth, and overall length was consistent. Choice is definitely putting in the effort with their product.
Is Choice Ammunition as affordable as some factory ammo? Certainly not. However, just like a custom pair of shoes or hand engraving on a color case-hardened receiver, you can't expect to receive an accelerated level of attention for nothing. And furthermore, if your ammunition performs the way you want it to, the additional cost is well worth it.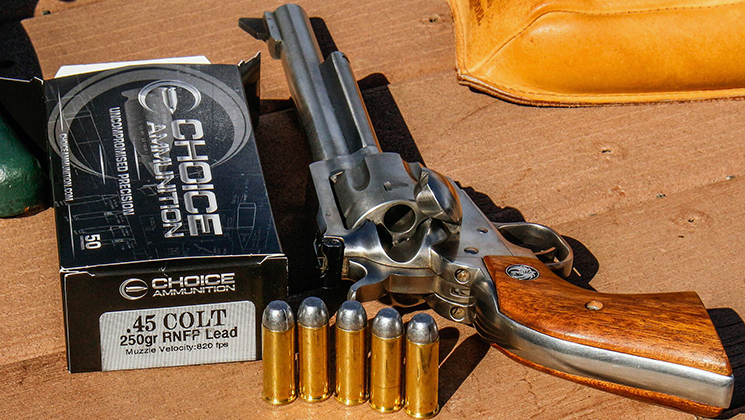 Want to read more from Philip Massaro? Check out the stories below:
• An Ode to the .223 Remington
• Top 5 Coyote Cartridges
• The Ultimate Long-Range Hunting Cartridge
• The Greatest Whitetail Cartridge Ever Designed
• An Ode to the Browning BAR
• Top 5 Bear Bullets
• Do You Really Need a Magnum Cartridge?
• Why the Ruger No. 1 is Not No. 2
• Top 10 Mythical Game Species
• Top 5 Monometal Soft-Point Bullets
• Top 5 Subsonic .22 Long Rifle Loads
• The Most American Rifle Cartridge
• Tips for the Traveling Hunter
• How to Choose a Gun Safe
• Best Gun Cases for the Traveling Hunter
• An Ode to the .30-06 Springfield
• Top 5 Boutique Bullet Companies
• Top 5 .22 Long Rifle Loads
• 5 Reasons Round-Nose Bullets Are Still Cool
• Top 5 Dangerous Game Loads
• Top 5 Turkey Loads
• 5 Rifle Cartridges That Need to Make a Comeback
• Top 5 Safari Calibers
• 5 New Year's Resolutions for Hunters
• What Your Favorite Rifle Cartridge Says About You
• America's Most Wanted Cartridges
• America's Strangest Game Laws
• What Your Favorite Rifle Cartridge Says About You, Part II
• Top 5 Overrated Rifle Cartridges
• Top 5 Underrated Rifle Cartridges
• 5 Cartridges You Might Not Know About
• Top 5 Wildcat Cartridges
• An Ode to the Ruger Mini-14
• Top 5 Hog Loads
• Top 5 Deer Bullets
• Why .30-30 Winchester Will Never Die