Support NRA American Hunter
DONATE
Every bowhunter knows that a rangefinder can be one of the most important tools they can carry into the field. Five yards can make the difference between a perfect shot and an injured game animal. The batteries that most rangefinders use last awhile, but not forever, and it's a bowhunter's nightmare to have it die in the field. Personally, I'm always afraid that I'm going to drop my rangefinder out of my stand. But what if you didn't always have to carry that rangefinder with you?
Burris Optics has introduced an alternative to carrying a rangefinder with you in the field. The Oracle is a one-of-a-kind rangefinding bow sight. True, it is not the first bow sight with a built-in rangefinder, however, the Oracle has remedied many of the issues users had with competition bow sights. For example, the Oracle doesn't have a glass screen, and the battery has been tested to withstand most temperatures. It's also been tested to withstand gentle falls—but don't go throwing your bow off a mountain.
I won't lie, this new bow sight will add weight and could make your setup a bit top-heavy, however, it only weighs 17 ounces, therefore it isn't too difficult to get used to. While I didn't get my test model until long after bow season was over, I still took it to the local archery range and tested the rangefinding capabilities out to 100 yards. (No, I didn't shoot my bow at that distance.)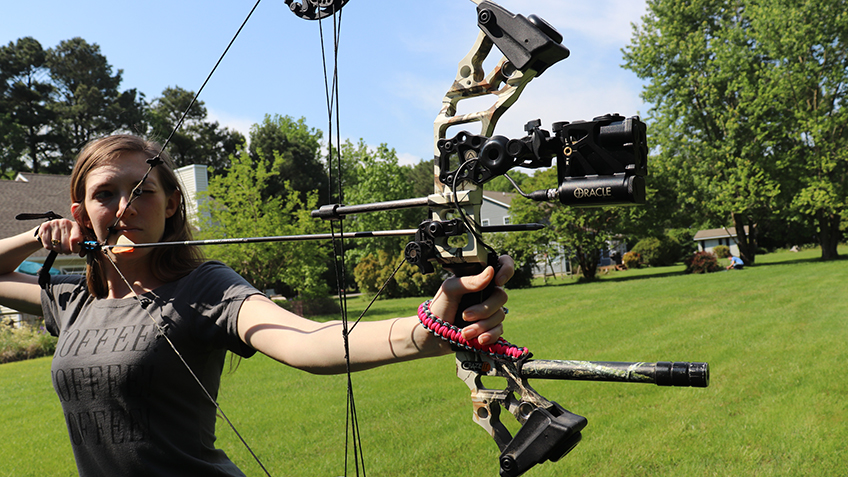 Some of you might be wondering what kind of bows would the Oracle is compatible with. The answer is any bow! I shoot a Mission Craze II set at about a 35-pound draw weight, and it worked great on my bow once I sighted in the 20 yard pin. It's a fixed pin, allowing the user to sight in the rest of the system based on their bow, like a traditional bow sight. However, unlike a normal bow sight in which you have to sight in each pin, the Oracle is smart. Once you sight in the 20 yard pin, you sight in 2 additional distances—I did 30 and 40 yards, since your distances need to be at least 10 yards from each set distance—then the Oracle calculates the trajectory of your arrow to figure out the rest of the distances. It will also store a second arrow profile, so if you use one type of arrows for hunting and a different type for competitions, you can use the same sight and simply change arrow profiles with the push of a button.
It measures the exact distance to the target while at full draw then instantly calculates the trajectory compensation for distance and shot angle. The exact aiming point is displayed along a vertical LED bar centered in the sight. The LED bar is capable of displaying numerous aiming points along its vertical axis. Up to 176 MOA of adjustment (184 inches of drop at 100 yards) is accommodated.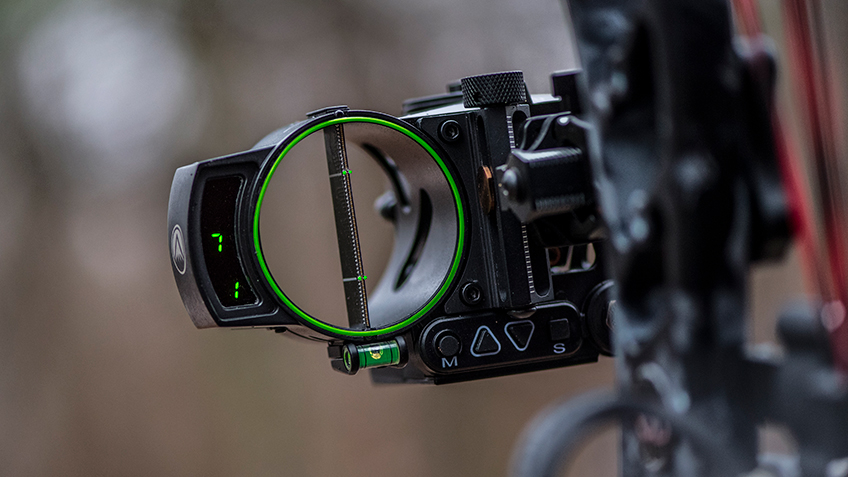 The manual includes all the instructions you need to set up the sight along with the target needed to sight in the pins. Overall, the Oracle is easy to use, and once you are sighted in, you should feel confident about hitting the woods. Additionally, the Oracle can be used whether you're right or left-handed. It's shipped in a right-handed configuration, but manual includes instructions for switching it to a left-hand configuration.
The Oracle rangefinding bow sight has an MSRP of $829.99. For more information, visit burrisoptics.com.