Support NRA American Hunter
DONATE
If you chase wild gobblers throughout the spring, you might be looking for new ways to cook and enjoy them. Spring seasons equal spring rolls. Grinding the breast and thigh meat from your spring turkeys drastically increases your options for recipes. Legs are not recommended for grinding, as the small bones are often missed, and you don't want them in the mince.
Spring rolls are loaded with flavor, and the light, crisp skin adds mouthwatering texture to the equation. The light filling of vegetables and rich turkey meat is a delight to your taste buds, where each ingredient can be distinguished and enjoyed. You can easily double the recipe and freeze extras.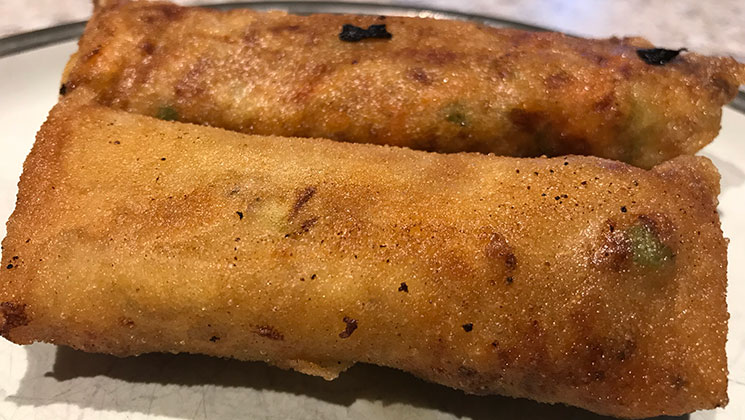 Ingredients
• 1 tablespoon canola oil
• 1 teaspoon sesame oil
• 1 lb. ground turkey
• 2 cloves garlic, minced
• 2 teaspoons grated fresh ginger
• 2 teaspoons salt
• ¼ teaspoon ground black pepper
• 3 cups green cabbage, thinly sliced
• 4 carrots, thinly sliced
• 4 green onions
• ¼ cup soy sauce
• 1 teaspoon cornstarch
• 2 eggs, beaten
• 24 spring roll wrappers
• 2 tablespoons cornstarch
• 2 teaspoons water
• Canola or peanut oil, for frying
Directions
1. In a large skillet, heat canola and sesame oil over medium heat and cook turkey, garlic, ginger, salt and pepper for about 5 minutes until the meat is almost cooked. Stir in cabbage, carrots, green onions, soy sauce and cornstarch, cooking the entire mixture for 2 minutes so vegetables soften slightly but remain crisp. Remove from heat and place in large bowl and let cool slightly before stirring in the eggs.
2. Place spring roll wrappers so they are in a diamond shape in front of you. Place about ¼ cup of the filling in the center of the spring roll wrapper and fold up the bottom point. Brush edges of wrapper with a slurry made from two tablespoons of cornstarch and two tablespoons of water. Fold in sides or outside diamond points and roll up tightly to cover and seal the filling. Repeat with remaining filling and wrappers. *See the video embedded above for a demonstration of this step. 
3. Heat canola or peanut oil for frying in a heavy skillet and cook the spring rolls for 3 to 4 minutes, turning once until golden brown on both sides. Remove to a rack, as placing them on a plate will cause moisture to soften the wrappers. Just 1 ½ inches of oil in a flat-bottomed, Camp Chef cast iron frying pan, heated to 350 degrees is ideal. The cast iron holds the heat consistently and is deep enough to cook the rolls evenly.
Tips
• There are two sides to the spring roll wrapper, and you want the smoothest looking one on the outside of your rolls. The difference is mostly cosmetic, but the smooth side fries up more even with a consistent crispy finish.

• More is not better. An overfilled wrapper will often burst when being fried. If anything, use less filling for small, uniform spring rolls.

• Keep the wrappers covered at all times, as they dry out fast. A damp paper towel works great as a cover while you are working.

• Freeze fried spring rolls by placing them on a baking sheet with parchment paper. Place in the freezer until the rolls are frozen, then store in a sealable bag or container to enjoy in the future. Reheat on a baking sheet covered with parchment paper and bake at 350 degrees until crispy, which normally takes 7 to 8 minutes. Turn once halfway through the process. The spring rolls should be as crispy as when they came out of the oil after initial cooking.