by
posted on April 9, 2022
Support NRA American Hunter
DONATE
Cordon bleu has its originas in Swizerland and France, as veal or pork pounded thin and stuffed with ham and swiss cheese, which was then breaded and fried like a schnitzel. The term "cordon bleu" translates to "blue ribbon," a symbol of pride and success around the globe. It is a great combination that also works with venison cutlets. Rounds steaks cut and pounded thin work great, or you can use a tenderizer machine to simplify the process.
Several combinations can be generated from the original recipe, like using prosciutto instead of ham, or gouda cheese in place of swiss. Gravy is an integral part of schnitzel, and a hunter's gravy contains mushrooms.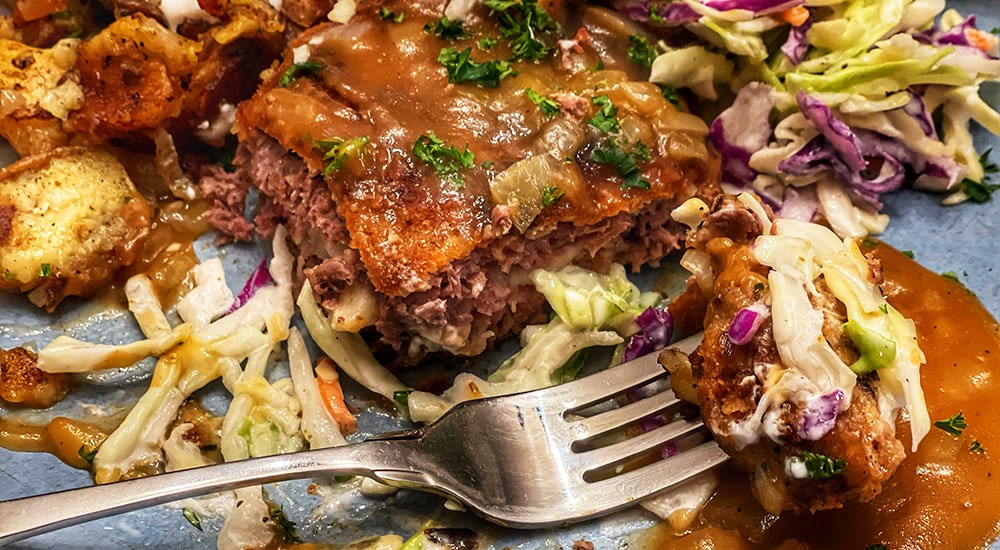 Get creative, develop a signature recipe for your favorite game, and get schitzeling. The best part of this recipe is that it is quick and easy to build. It can be made with a wide variety of meats, including deer, elk, moose, bison, wild hog, antelope, and even goose or pheasant breasts.
Schnitzel Cordon Bleu Ingredients
• 6 venison inside round steaks
• 1 cup bread crumbs
• 2 eggs
• ½ cup flour
• 6 slices cooked ham or prosciutto
• 6 slices Swiss cheese
• ½ tsp sweet paprika
• salt and pepper
• ¼ cup frying oil
Directions
1. Run the round steaks through a tenderizer, or cover with plastic wrap and pound with a meat mallet to make ¼-inch thick cutlets. Pat dry with a paper towel.
2. Mix the sweet paprika, salt and pepper and sprinkle the mix evenly on each schnitzel.
3. Place a slice of ham or prosciutto and a slice of swiss cheese on half of each schnitzel.
4. Fold each schnitzel in half and fix it with a meat needle or toothpick.
5. Beat the eggs together in a shallow bowl.
6. Place the flour on one plate and the breadcrumbs on another. Use ¼ of each to start until more is required.
7. Dredge the cordon bleu in the flour, dip in the egg and finish with breadcrumbs until fully coated.
8. Heat the oil in a large Camp Chef cast iron frying pan. Place the cordon bleu in the hot oil on medium-high heat. Fry to brown on both sides, then reduce heat to medium for five minutes, turning once.
Gravy Ingredients
• 1 small onion, diced
• ½ cup mushrooms, diced
• ½ cup beef broth
• ½ cup red wine
• 2 Tbsp flour
• salt and pepper
Directions
1. Remove the cordon bleu from the pan and sauté a finely chopped onion until transparent, along with mushrooms.
2. Add red wine. Bring the contents to a boil. Whisk the flour and beef broth, and add to the gravy, bringing the contents to a slow boil. Add the salt and pepper and reduce to simmer for one minute while whisking.
To make it an authentic German dish, serve with fried potatoes and onions, potato salad, vegetables, red cabbage or coleslaw.
For more delicious wild-game recipes, click here.