by
posted on March 21, 2020
Support NRA American Hunter
DONATE
In North America, a pot pie is usually made with a flaky pie crust on top. The filling can be baked in a pie shell, or on a dish with just the top crust. Pot pies are easy to put together, and the only challenge is to decide on a store-bought pie crust or to make them from scratch.
Meat pies with a top and bottom crust have a downhome warmth, providing that sense of comfort that many recipes can deliver. When you add wild turkey as the base to the ingredients, you can develop an organic meal, like our early settlers used to prepare.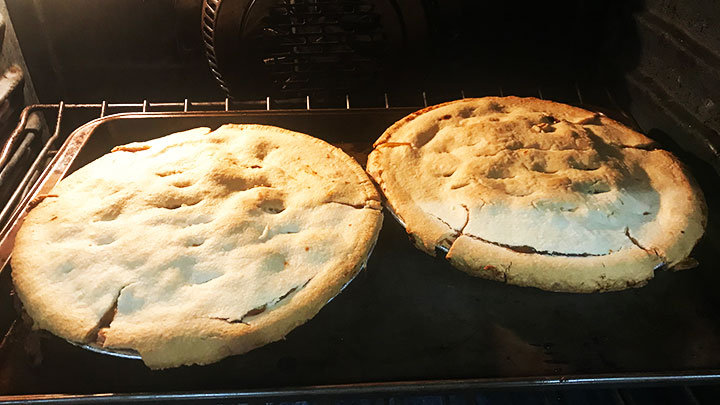 It is that time of year—when you either find freezer-burned turkey from last season still in the ice chest or dream of getting out to tag a fresh bird. Wild turkeys have a more varied diet and slightly darker meat than domestic birds and deliver significantly more flavor because of it.
Turkey legs and thighs are coveted items in our house. Some hunters only take breast meat, but legs and thighs provide the same amount of weight and volume as the breasts and lend themselves to slow cooking and rich gravy. A crockpot or Instant Pot is ideal for breaking down the meat off the legs and thighs to use in a variety of recipes. Using the deboned meat and subsequent stock provides the perfect base for a turkey thigh pot pie.
The pastry is easy to make by following the directions on lard or shortening containers. You can purchase frozen pastry shells that make the job even easier, especially if you are in hunting camp and anxious to get back out in the field.
Take a turkey pot pie to camp, and convince all hunters to save the legs and thighs off any birds they are fortunate to harvest.
Ingredients
• 2 turkey legs and thighs
• 1 quart chicken stock
• 2 celery ribs, chopped coarsely
* Strain and reserve stock after cooking
• 4 cups turkey stock (from braising legs and thighs) 1 cup reserved
• 3 cups deboned turkey meat, chopped
• 3 carrots, finely chopped
• 3 potatoes, cubed
• 2 celery ribs, finely chopped
• 1 onion, chopped
• 1 tablespoon poultry seasoning
• 2 cloves garlic, crushed
• ½ cup flour
• 2 frozen deep-dish pie shells
• 1 egg, for glazing
Making Turkey Stock and Braising Meat
1. Separate the leg from the thigh but cutting through the joint. Place chopped celery in a crockpot, followed by the turkey legs and thighs, and pour chicken stock over the top. Add water, if needed, to cover the meat. Gently simmer for six to eight hours or until the meat is fork-tender.
2. Remove the legs and thighs from the crockpot and let cool. Debone the meat with your fingers, feeling for the small bones in the legs.
3. Strain the stock through a fine-mesh sieve.
Directions for Building the Pie
1. In a large stockpot, heat oil and add the carrots, potatoes, celery, onion, poultry seasoning and garlic. Cook for five minutes stirring regularly.
2. Add the turkey meat and stock to the pot and bring to a simmer. Whisk the flour into the reserved turkey stock and slowly stir into the simmering ingredients. Bring to a slow boil, then remove from heat. Cool the mixture to room temperature to prepare it for the pie shells.
3. Line a 12-inch pie plate with pastry and trim the edges. Pour the turkey and vegetable mixture into the pie shell and add a top layer of pastry and press the edges together. This recipe makes enough filling for two deep-dish pies or one large casserole dish with just the top pastry shell. Make a few slits in the top pastry layer with a knife to release steam during baking. Brush the top pastry with a beaten egg. Place into the oven at 400°F for 45 minutes, allowing the pastry to rise and turn golden brown. Remove and serve hot.
For more delicious wild-game recipes, click here.