by
posted on May 16, 2020
Support NRA American Hunter
DONATE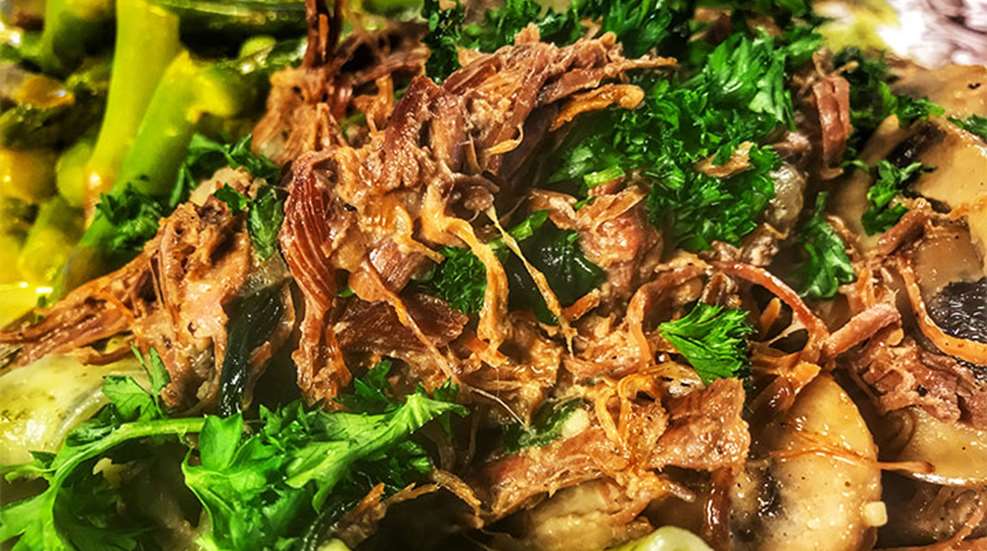 Some cuts and pieces of wild game get overlooked for their flavor and diversity for creating new dishes. Venison shank and neck are a good example. Whether one discusses waterfowl or turkey, the legs and thighs are often omitted from future dinner plans.
Wild turkey legs and thighs provide about the same amount of meat as the breasts. The dark meat has more flavor but needs to be cooked long and slow to ensure it is tender. Braising in a crockpot is a traditional way of preparing the muscles that allow a turkey to outrun some shotgun patterns. The modern convenience of an Instant Pot means quick preparation of the legs and thighs in 30 to 45 minutes, depending on the size and age of the bird. The meat falls off the bone when done and is ready to transform into a culinary treat.
Building a sauce with layers of flavor is a great way to utilize the dark meat from an old gobbler. Make sure to save the broth from preparing the legs and thighs, as it also has a richness that cannot be duplicated by something from the grocery store.
Adding mushrooms and herbs sourced in the outdoors is an excellent reminder that we can live off the land and utilize all edible parts of what we harvest.
Ingredients: Turkey Preparation
• 2 wild turkey legs and thighs
• 4 cups water
• 1 yellow onion
• 1 celery stalk
• 1 carrot
Place the turkey legs and thighs in an Instant Pot with four cups of water. Add a quartered onion, coarsely chopped celery stick and a carrot cut into four to add to the flavor of the broth—cook under high pressure for up to 45 minutes. Let the turkey cool, then remove the meat from the bones.
Ingredients: Cream Sauce
• 2 tablespoons butter
• 2 tablespoons olive oil
• 1 large yellow onion, diced
• 4 cloves garlic, minced
• 4 cups fresh mushrooms, sliced
• 1 teaspoon ground sage
• 1 teaspoon salt
• 1 cup white wine
• 2 cups turkey stock—reserved from braising the legs and thighs
• 2 cups heavy cream
• 4 cups deboned, shredded turkey leg and thigh meat
• 4 cups fresh spinach, packed
• Parsley, chopped
Directions
1. In a large stockpot, melt the butter and add the olive oil over medium heat. Add the onion, garlic and mushrooms, and cook for five minutes, stirring often.
2. Add the sage, salt, white wine and turkey stock and stir to blend. Bring the mixture to a simmer for 10 to 12 minutes, allowing the liquid to reduce.
3. Slowly stir in the cream, blending it well before adding more. Bring the contents back to simmer and let it reduce for 15 minutes, stirring often.
4. Add the wild turkey and allow it to heat through before adding the spinach. When the spinach wilts, remove the sauce from the heat.
5. Serve the thick and creamy sauce over egg noodles or boiled potatoes. Garnish with fresh parsley.
For more delicious wild-game recipes, click here.