by
posted on July 17, 2021
Support NRA American Hunter
DONATE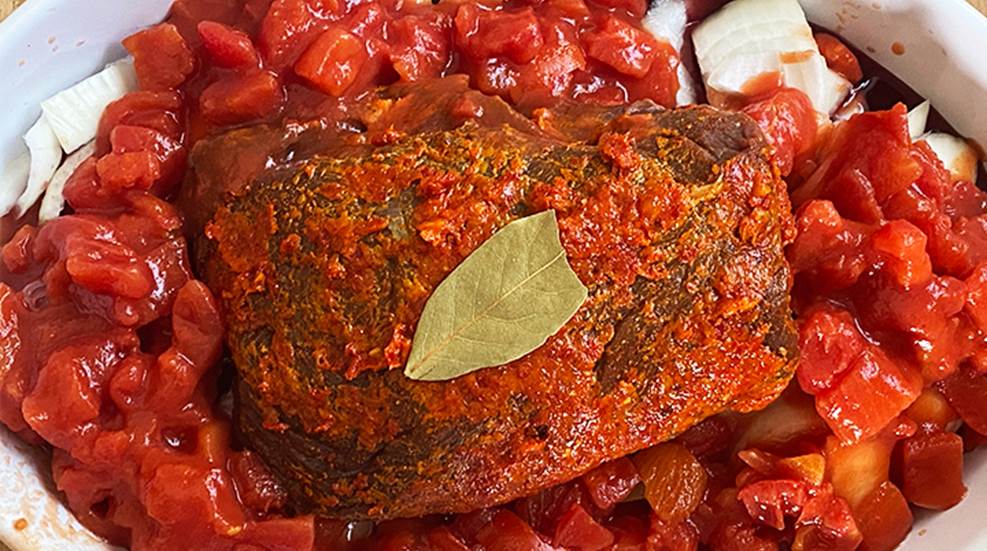 Portugal may be best-known for sardines, smoked meat, various wines like Madeira and sherry, and beer. Situated in southwest Europe on the Atlantic Ocean the diversity of spices used speaks to its geography and importance to early explorers and world trade.
Capsicum peppers are an essential part of Portuguese cuisine. Small fiery peppers form the base of Piri Piri sauce, while bell peppers make up various ground paprika spices, including sweet, smoked, and hot. To test paprika for levels of sweetness or heat, shake a small amount in the palm of your hand and taste it on the tip of your finger.
As the only member of the capsicum genus that does not produce capsaicin, bell peppers are generally sweet and do not have any heat. The rich and bold flavors are wonderful for cooking red meat and fish. North Americans are used to tomato paste, but paprika paste, which is easy to make, is standard in Portugal.
The salty paprika paste makes a tremendous rub on a venison roast, baking to a crusty finish with a bold taste. Make your paprika paste and add a little heat if desired. Chances are, you will try it on other forms of game and fish.
Roast Ingredients
• 4 lbs. venison bottom round roast
• 1 large onion, sliced
• 2 cloves garlic, minced
• 2 dried bay leaves
• 1 tsp paprika (hot or sweet)
• 1 tsp smoked paprika
• pepper to taste
• 2-3 Tbsp red pepper-paprika paste
• olive oil
• 1 cup red wine (or beer)
• 1 28-oz. can tomatoes
Paprika Paste (Massa de Pimentão) Ingredients
• 3 red bell peppers
• 2 Tbsp Kosher salt or coarse sea salt
• 4 cloves garlic
• 2-4 Tbsp extra virgin olive oil
Directions for Paprika Paste
1. Core and seeds the peppers and cut into 2-inch-wide strips. Place the pepper strips in a bowl and sprinkle them with the salt. Refrigerate, and allow the peppers to soak for 12 to 24 hours.
2. Rinse the peppers thoroughly to remove most of the salt and dry them with a paper towel.
3. Preheat the oven to 250°F. Place the peppers and garlic on a cookie sheet and roast in the oven for two hours until they become soft and tender. Alternately, grill the strips over medium heat until the peppers soften, and the skin becomes charred and blisters. Then use the garlic raw.
4. Allow the peppers to cool slightly and peel most of the skin off of each strip. If desired, put the peppers in a container with a lid for a few minutes to let them sweat, making the skin easier to remove.
5. Place the peppers in a food processor with the garlic and pulse, adding the olive oil slowly until a smooth paste forms.
6. Place pepper paste into a clean jar and refrigerate. It will keep up to three weeks.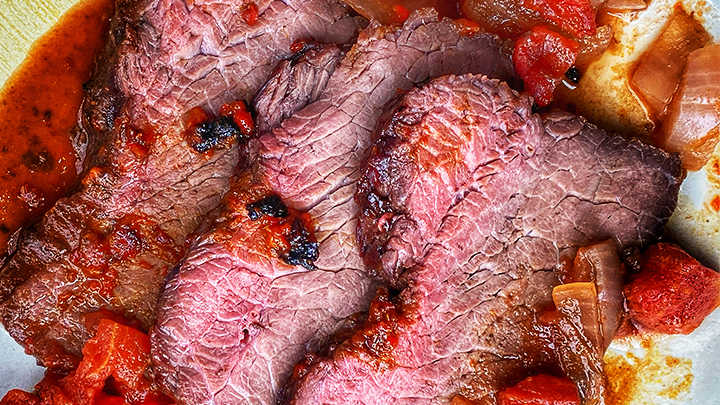 Directions for Cooking Roast
1. Drizzle the roast with olive oil. Mix the paprikas and pepper, and rub it over the roast with the minced garlic. Spoon the paprika paste on the roast and smooth over the roast with the back of a spoon.
2. Distribute the onions in a baking dish and place the roast on top. Pour the wine and tomatoes around the roast. Place one bay leaf underneath the roast and one bay leaf on top.
3. Preheat the oven to 375°F, place the roast on the center rack uncovered, and bake for 60 to 90 minutes until the roast has an internal temperature of 135°F (use a meat thermometer to monitor).
4. Remove from oven and let rest for 15 minutes before slicing. Serve warm with pan juices, onions and tomatoes poured over each slice.
For more delicious wild-game recipes, click here.