by
posted on March 3, 2018
Support NRA American Hunter
DONATE
Turkey and stuffing are holiday staples on most dinner tables, but why wait for the next special occasion to cook up a breast from a wild bird? Wild turkey gets a bad rap for being tough and dry, but they are rich in flavor. The secret to preparing any wild turkey is ensuring you don't overcook it—it's lean, so it cooks fast. A whole breast will roast in 15 minutes or less, and if you aren't watching the clock, you will have a tough time chewing or enjoying it.
Stuffing a turkey breast with moist, Mediterranean ingredients will help keep your turkey from drying out. Pine nuts, olives and feta cheese are likely to become your favorite accompaniments to a spring gobbler. With turkey season just around the corner, it's time to cook up any birds still in the freezer from last year, or print out a recipe to work magic on a strutter in the coming months.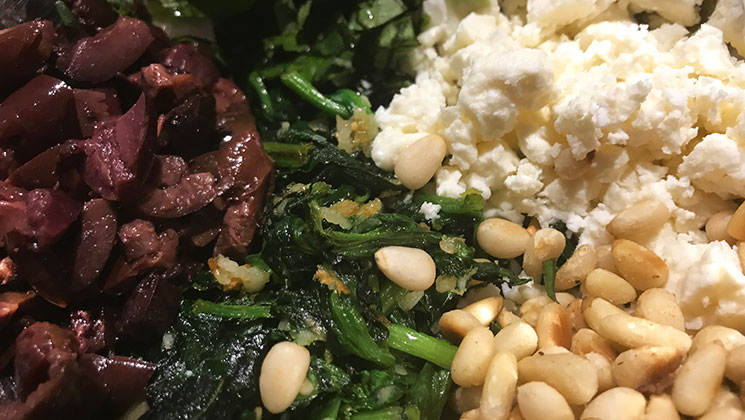 If you shoot an old bird, you may want to take the breasts, place them in plastic wrap and pound them out with a mallet before stuffing them. Weston Supply makes a manual cuber/meat tenderizer that works magic on turkey breasts, which can be tough. Multiple blades break down tough meat fibers, making them much more palatable. Don't give up on cooking turkey breast until you've tried one Mediterranean style.
Ingredients:
• 1 tablespoon + 1 teaspoon olive oil (divided)
• 3 cups fresh spinach, chopped
• ¼ teaspoon crushed red pepper flakes
• 2 garlic cloves, minced
• 2 tablespoons crumbled feta cheese
• 2 tablespoons pine nuts, toasted
• 2 tablespoons black Kalamata olives, chopped
• 3 fresh basil leaves, chopped
• 2 teaspoon fresh lemon juice
• 1 skinless, boneless turkey breast
• salt and freshly cracked pepper, to taste
• ½ cup chicken broth
Directions:
1. Heat a large cast iron pan over medium-high heat. Add 1 teaspoon of olive oil to the pan then add the spinach. Cook for one minute or until spinach starts to wilt, stirring constantly.
2. Add the crushed red pepper flakes and minced garlic to the spinach, and stir for 30 seconds. Remove from the pan and set aside. Wipe the pan clean.
3. Combine spinach, feta cheese, pine nuts, olives, basil and lemon juice in a bowl, and mix well. Cut a horizontal slit through the thickest portion of the turkey breast to form a pocket. Stuff the filling into the pocket and seal with wooden toothpicks. Season both sides of the turkey with sea salt and freshly cracked pepper to taste.
4. Heat 1 tablespoon of olive oil in a pan over medium-high heat. Place the stuffed turkey breast into the hot oil and cook for 3 minutes on each side or until golden brown.
5. Pour the chicken broth over the breast, and cover the pan with a lid. Place pan into the oven preheated to 350°F and bake for 15 minutes, or until turkey has cooked through.
6. Remove from the oven and wrap the breast in foil so it can rest for 5 minutes before slicing and serving. Drizzle the pan juices over the sliced turkey. The slices should be made against the grain of the meat, so you have the Mediterranean stuffing encased in turkey breast.