by
posted on September 11, 2021
Support NRA American Hunter
DONATE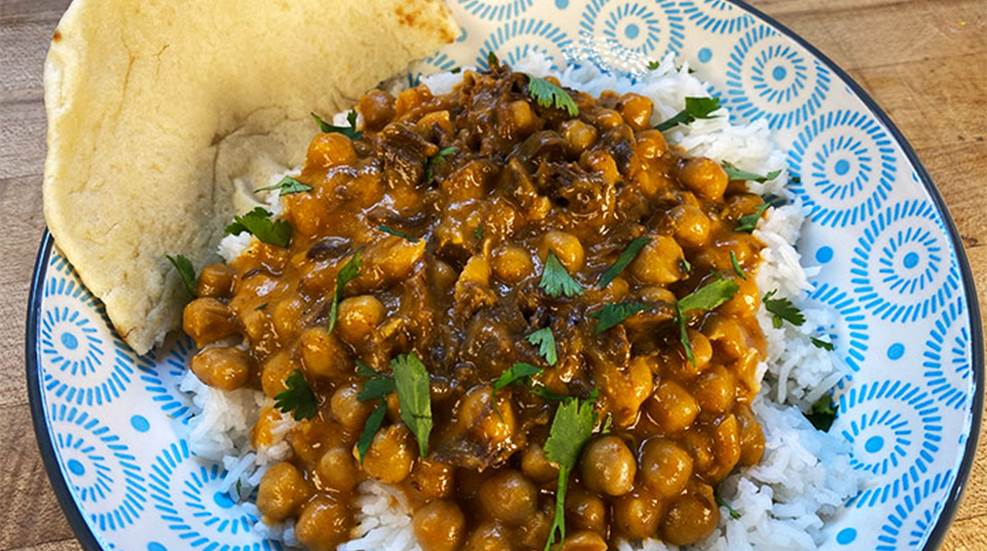 Meals at hunting camp are typically high in protein to ward off hunger and carbohydrates for energy to provide strength and endurance. Stew or baked beans are good examples.
Consider a dish with chickpeas, also known as garbanzo beans, instead of navy beans. Add some tender venison stewing meat. Chana is chickpea in India and is one of the oldest legumes known to humankind. Chickpeas offer many health benefits, but the main reason to consider them is that they taste great with a blend of spices known as masala. Typically, masala is made of whole spices including cinnamon, mace, peppercorns, coriander seeds, cumin seeds and cardamom pods toasted in a pan to release their aromatic flavors, then ground to a powder.
A couple of things to remember are to soak the dried chickpeas before using them and simmer the dish for a long time to ensure a rich flavor and tender legumes and meat. An Instant Pot significantly reduces time, but this recipe can be made in a large pot or crockpot. This recipe works well with any venison or wild hog.
Ingredients
Aromatics
• 1 Tbsp vegetable oil
• 2 Thai red chilis
• 2 bay leaves
• 2 black cardamom pods
• 6 green cardamom pods
• 1 cinnamon stick
• 2 tsp cumin seeds
Onion Paste
• 1 large onion, chopped
• 2-inch piece fresh ginger root, chopped
Complete the Dish
• 2 lbs. venison roast, cubed into 1-inch pieces
• 1 tsp turmeric, ground
• 1½ Tbsp coriander, ground
• 1 tsp chili powder
• 1 tsp garam masala
• 1 Tbsp salt
• 14 oz. can tomato puree or chopped tomatoes
• 2 cups dried chickpeas (soaked overnight)
• reserved water from soaking the chickpeas
• 2 Tbsp fresh lemon juice
• 2 Tbsp cilantro, finely chopped
• 1 can coconut cream
Directions
1. Rinse the chickpeas under cold water and soak with 4 cups of water in a bowl overnight. Drain the water and reserve.
2. Make the onion paste by pureeing the onion and ginger root in a food processor.
3. Turn the Instant Pot to "Sauté" mode. Once preheated, add 1 tablespoon of oil to the pot, then add the red chilis, bay leaves, cardamom, cinnamon and cumin. Sauté for 30 seconds. Stir in the onion paste and continue sautéing for 5-7 minutes, occasionally stirring until the onions become tender and brown slightly.
4. Push the onions to the side, add the meat, and brown on all sides for 4-5 minutes.
5. Stir in turmeric, coriander, chili powder, garam masala, salt and tomatoes. Cook for another 5 minutes with the lid on the pot to prevent splattering.
6. Add the chickpeas and reserved water and stir well to combine. Turn the "Sauté" function off and secure the Instant Pot lid with the sealing valve set to "Seal." Cook on High Pressure for 45 minutes. Once the cooking time has elapsed, follow the "Natural Pressure Release" method, and allow the unit to depressurize. After the float valve has dropped and the lid unlocks, stir in the lemon juice, cilantro and coconut cream. Allow to sit for another 10 minutes before serving with rice or naan.
For more delicious wild-game recipes, click here.