by
posted on November 9, 2016
Support NRA American Hunter
DONATE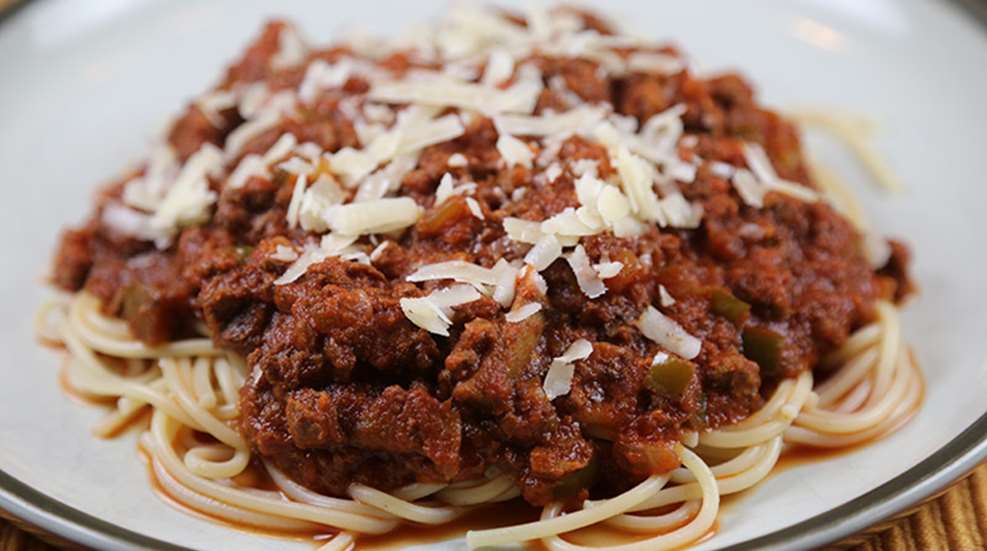 Spaghetti is a great meal for family get-togethers, hunting camp, cold dreary nights or just when you crave some good-old wholesome comfort food. A thick, rich meat sauce to top the pasta takes things over the top for me and I've tried many different recipes over the years.
Pasta and sauce is very Italian and the dish is best built upon a good foundation of tomatoes and sauce. However, there are many twists you can make on the Italian classic to develop a recipe the entire family will be asking for. Good friends of mine have perfected their favorite meat sauce and I've customized their recipe to suit the tastes in our household. And, when it's the best darn sauce you've ever had, whey not call it the World's Best Spaghetti Meat Sauce?
Serves 6-8
Brown the following ingredients in a frying pan. Cook on medium heat to prevent venison from drying out.
• 3 pounds venison burger
• 1½ large onions coarsely chopped
• 3 cloves of minced fresh garlic
Once above ingredients have been browned, transfer to a large slow cooker, or Dutch oven, and add the following ingredients:
• ½ tsp salt
• 1 tsp fresh ground black pepper
• 3½ tsp oregano
• 1 tbsp sweet basil
• 1 tsp paprika
• ¼ tsp marjoram
• 3 cloves minced garlic
• 2 ½ cups sliced fresh mushrooms
• 3 5 ounce cans of tomato paste
• 4 14 ounce cans of tomato sauce
• ¼ cup grated cheddar cheese
• ¼ cup grated parmesan cheese
• 2 tbsp Louisiana Hot Sauce
• ½ finely chopped green pepper           
• 2 finely chopped jalapeño peppers
Simmer at least two hours on low. This recipe can be simmered for six to eight hours to make it even more thick and flavorful. The longer it cooks the better, making it ideal for hunting camp or work days when you can put it in the slow cooker and return at the end of the day to a delicious meal. Serve the meat sauce over spaghetti or any other favorite pasta. A side of garlic toast and a bold red wine should have you singing Italian love songs by the end of the meal.
If you're short on cheese, try substituting the cheddar and parmesan for 3 tbsp. of Cheese Whiz. It might make your Italian grandmother cringe, but it works.