by
posted on November 3, 2018
Support NRA American Hunter
DONATE
Cabbage rolls are a favorite traditional recipe for many people during the holidays. For others, the rolls are a staple enjoyed throughout the year. Some nationalities prefer to stuff the rolls with meat, while others just stuff them with rice.
In my family, meat rules, and wild game is the base for our filling. To change things up, we often use Swiss chard leaves to make the rolls instead of cabbage. They're tender, yet strong enough to roll without tearing, and if fresh, you don't have to blanch them ahead of time. Using Swiss chard offers a different flavor, and in my experience, is often preferred by guests trying them for the first time.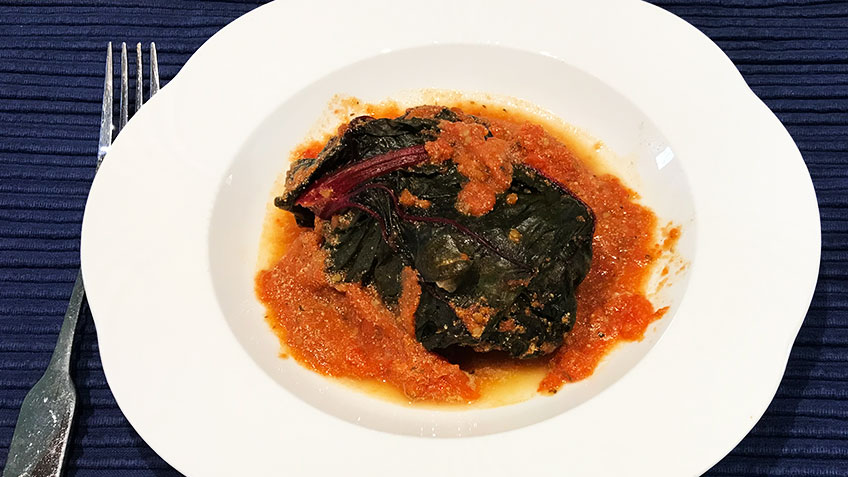 The large swiss chard leaves add color to the presentation, with red, orange or yellow stems. Any ground venison will work for Swiss chard rolls, but elk is always a sure bet around my house.
Ingredients
Chard Rolls
2 tablespoons olive oil
1 yellow onion, chopped
2 garlic cloves, minced
2 tablespoons tomato paste
2 tablespoons flat-leaf parsley, chopped
2 lbs. ground elk
1 egg
1½ cups cooked white rice
1 teaspoon salt
1 teaspoon freshly ground black pepper
20 large Swiss chard leaves
Tomato Sauce
2 tablespoons butter
2 tablespoons flour
2 28 oz. cans crushed tomatoes (frozen tomatoes also work well—if you're a gardener)
2 garlic cloves, pressed
2 tablespoons white vinegar
1 teaspoon salt
1 teaspoon freshly ground black pepper
Directions
1. Heat the oil in a frying pan over medium heat. Sauté the onion and garlic until soft. Stir in the tomato paste and parsley, then take it off the heat.
2. Place the ground elk in a large mixing bowl. Add the egg, cooked rice, sautéed onion and garlic mixture, and salt and pepper. Mix ingredients together with your hands until blended.
3. Spread out Swiss chard leaves face up and add filling mixture. Using a spoon helps shape the mixture like a log to fit the leaf. Large leaves will use about ¼ cup of the mixture to fill the roll. If your leaves crack or break when rolling, blanch remaining leaves for one minute in boiling water, then place immediately in cold water. The blanching process will make rolling easier.
4. Roll leaves from the top edge, tucking in the sides as you go. When complete, place rolls tightly together in a baking dish, seam side down.
5. Cover rolls with the tomato sauce (instructions below). You can cover the rolls with whole Swiss chard leaves to help keep in the moisture.
6. Cover the baking dish with foil and place in an oven preheated to 350°F and cook for 1 hour.
Sauce Directions
1. Make a roux for the tomato sauce by melting the butter in a small saucepan over low/medium heat, then add the flour and continue cooking for another minute while whisking to combine well.
2. Add tomatoes, garlic, vinegar, salt and pepper, and let the mixture simmer until it thickens.