by
posted on July 21, 2019
Support NRA American Hunter
DONATE
This dish hails from the once-German town known as Königsberg. The meatballs may seem a little on the plain side, as it's the salty, tangy sauce that's really the star of the show. The recipe uses very simple ingredients most of us would have on hand, except maybe the capers which are essential to this traditional Prussian dish. Königsberg is now an enclave known as Kaliningrad and is part of the Russian Federation after being annexed by the Soviet Union post-World War II. 
If you're short on time and want to make a meal that tastes as if you've slaved over the development of a gourmet sauce, this recipe will have your family and friends begging for more.
Meatball Ingredients:
1¼ lb. ground venison or elk
¾ lb. ground pork
2 eggs
¼ cup finely chopped curly parsley
⅓ cup bread crumbs
½ cup minced shallots or onion
salt and pepper, to taste
4 cups chicken stock (or heavily salted water)
Sauce Ingredients:
3 tablespoons butter
3 tablespoons flour
4 cups reserved stock from poaching the meatballs
salt and pepper, to taste
¼ cup capers
one .3.5 oz jar of capers (about 3 Tbsp juice and ⅓ cup capers)
1 lemon to get a ¼ teaspoon of zest and 1½ tablespoon lemon juice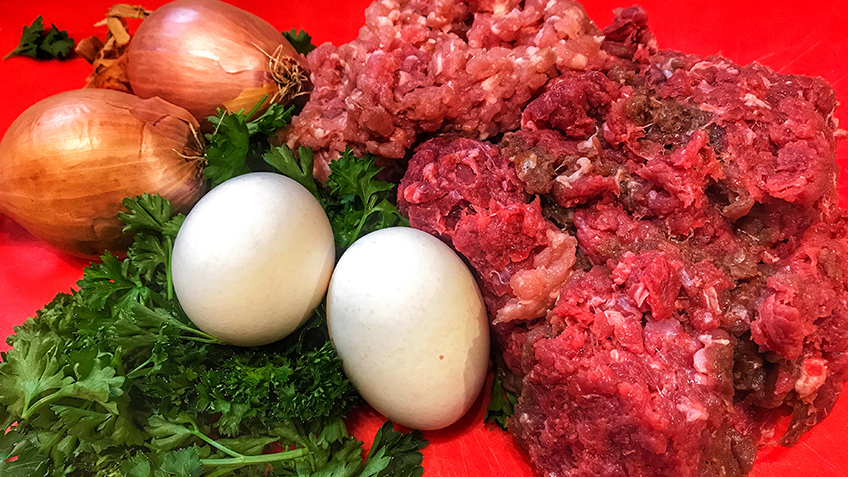 Directions:
1. To make the meatballs, combine all the ingredients except the stock in a large bowl and mix well. Using about 3 tablespoons of the meat mixture at a time, form the meatballs by rolling them between the palms of your hands, and set aside. The mixture should yield about 30 meatballs.
2. In a large pot, bring the chicken stock (or salted water) to a boil. Reduce the heat to medium-low and add about half of the meatballs. At a gentle simmer, cook meatballs for about 10-15 minutes, or until they float to the top and slowly twirl in the liquid. Gently remove meatballs using a slotted spoon and set aside to rest. Using a fine-meshed sieve, strain the broth into a bowl, and reserve 4 cups of this poaching liquid. Repeat process with the remainder of the meatballs.
3. To make the sauce, make a roux by melting the butter over medium heat in a large pot or skillet with high sides. Whisk in the flour and cook for 1 minute. Slowly add a ½ cup of broth, return to a strong simmer, and cook 30 seconds. Add another ½ cup of broth, return to a simmer, and cook another 30 seconds. Continue to add the broth ½ cup to 1 cup at a time, whisking continually, bringing the sauce back up to a simmer each time and allowing it to cook for 30 – 60 seconds. Once all the broth is added, add salt and freshly ground black pepper, and simmer for 2-3 minutes to ensure the flour is well cooked.
4. Reduce heat to low, add the jar of capers, lemon zest, and fresh lemon juice, and whisk to combine.
5. Place the meatballs into the sauce to gently warm up. Serve with mashed or boiled potatoes, or white rice.