by
posted on March 23, 2019
Support NRA American Hunter
DONATE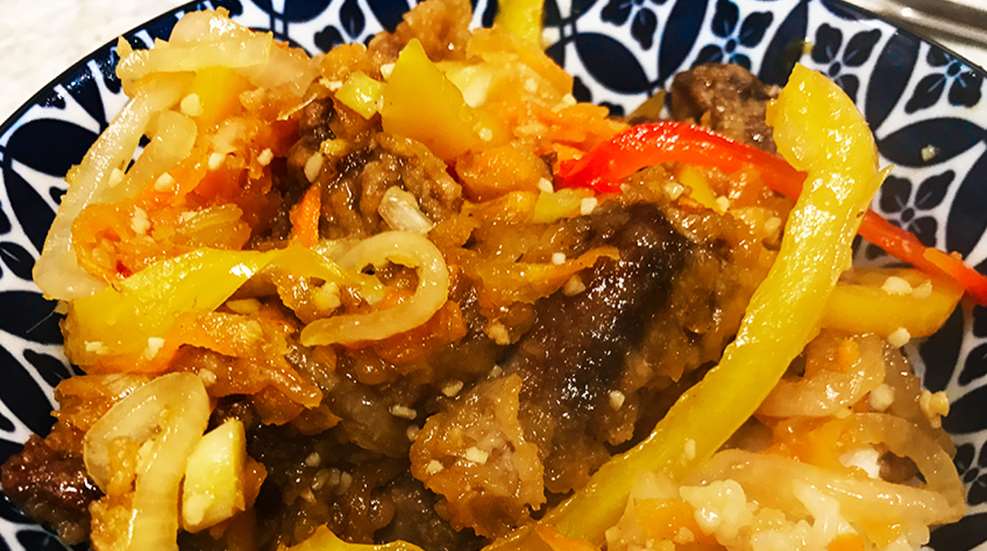 Ginger beef is a specialty dish created in Calgary, Alberta that has spread in popularity across North America. It's sweet, savory and has crispy texture that leaves you wanting more. It has always been a family favorite when eating in Chinese restaurants, so I adapted it to cook with venison. This recipe works great whether you have deer, elk, moose or antelope.
Once you've made this recipe, the prep time gets increasingly fast, meaning you can normally be eating a fresh batch in less than 40 minutes. This dish will impress your friends and family who doubt you can make venison taste good. It is always a winner in hunting camp, being easy to prepare on a Camp Chef stove in the great outdoors. A Camp Chef Dutch oven is a great vessel to fry the ingredients in and finish up this dish to stay hot.
Ingredients
• 2 lbs. venison roast, cut into thin strips (¼ by ½ and 2 to 3 inches long)
• ¾ cup cornstarch
• ½ cup water
• 2 eggs
• 1 cup canola oil, or as required
• 1 large carrot, julienned or coarsely grated
• 1 large yellow onion, sliced thin
• ½ yellow pepper, cut into long, thin strips
• ½ red pepper, cut into long, thin strips
• ¼ cup minced fresh ginger root
• 6 garlic cloves, minced
• ½ cup white sugar
• ¼ cup rice vinegar
• 3 tablespoons soy sauce
• ½ tablespoon sesame oil
• 1 teaspoon red pepper flakes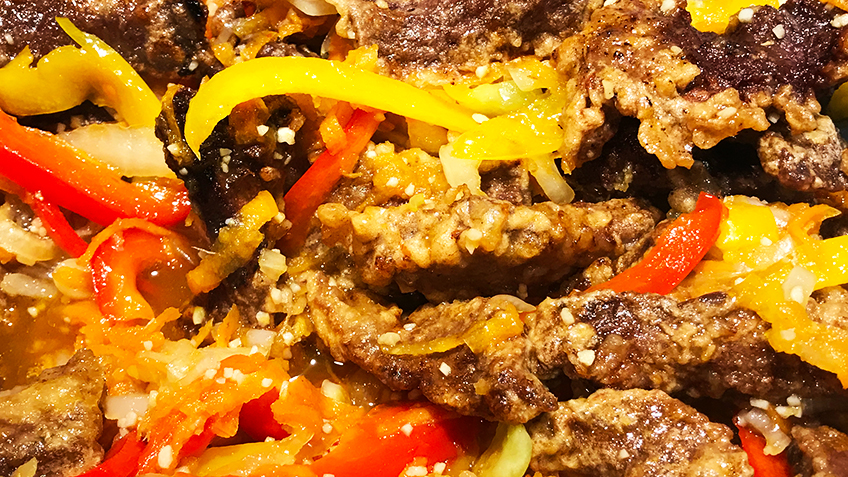 Directions
1. Place cornstarch in a large bowl and slowly whisk in the water until the mixture is firm but smooth. Whisk the eggs into the cornstarch mixture to make it into a batter. Place the meat strips into the mixture and toss to coat each piece entirely.
2. Pour canola oil into a wok or Camp Chef Dutch oven, until it is 1-inch deep. Heat the oil to medium-high and slowly place 1/3 of the meat into hot oil. Use tongs to separate the strips, so they don't stick together. Cook the meat, stir or turn the strips frequently until they are crisp and golden brown. Remove venison to drain on a paper towel and repeat the procedure until all the meat is cooked.
3. Pour off all but one tablespoon of the oil in the wok and stir fry the carrot, onion, peppers, ginger, and garlic over high heat until lightly browned but still crisp.
4. Mix sugar, rice vinegar, soy sauce, sesame oil and red pepper flakes in a small bowl and pour over the vegetables in the wok. Continue to heat the mixture until it starts to boil. Stir the crisp venison strips into vegetable mixture and serve immediately over or with rice.
*Tip: Freeze your peeled ginger root to make it easier to grate.